Phil The Prophet
PGA Championship 2021: This tweet Phil Mickelson sent 12 days ago is downright eerie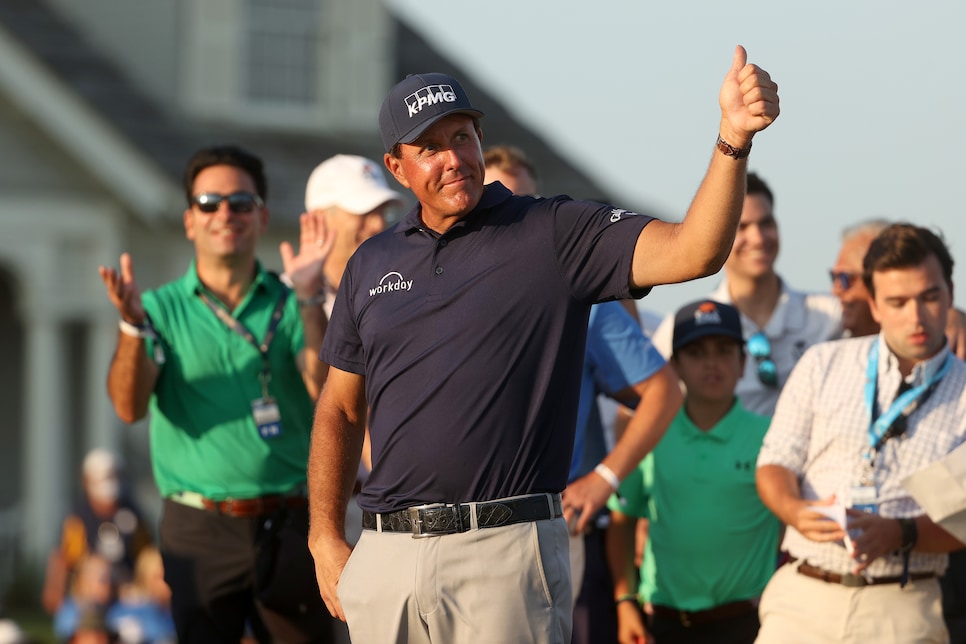 Phil Mickelson has always had a knack for speaking things into existence, even if it takes him a million tries. A tweet he sent 12 days ago, however, is a level of prophecy he's yet to achieve in his almost 51 years on this earth.
Twelve days ago, you may recall, Mickelson was just a few days removed from a roller coaster of a week at the Wells Fargo Championship. He had grabbed the first-round lead with a scintillating seven-under 64 at Quail Hollow, turning back the clock and giving his legion of fans hope that he still had some good golf left in him. Then, he proceeded to free fall down the leader board, shooting rounds of 75, 76 and 76 to finish in solo 69th. After leading the tournament, Mickelson failed to finish in the top 20 for an 18th straight start.
Two days after that disappointing ending, Mickelson was feeling spiritual, so he sent a tweet that ended up being quite prophetic (and downright eerie) given what transpired on Sunday at Kiawah Island:
Now that we've A. seen that hard work pay off in the form of a history-making win and B. seen just how unbelievably focused he was on the task at hand this week, this tweet is flat-out scary. Of course, if he finished T-37, it's just another tweet. But isn't that also the beauty of it? This was, in fact, just another tweet, one part of an arduous daily process that he hopes yields the result it did on Sunday at the PGA, but rarely does in this impossible-to-master sport. You fail way more than you succeed in golf, but the failures are all worth it when you do get it done on such a massive stage like he did. A lot of people not only gained respect for Phil the golfer this week, but for Phil the Prophet.