Memory Lane
33 things you don't remember from Tiger Woods' epic win at the 2008 U.S. Open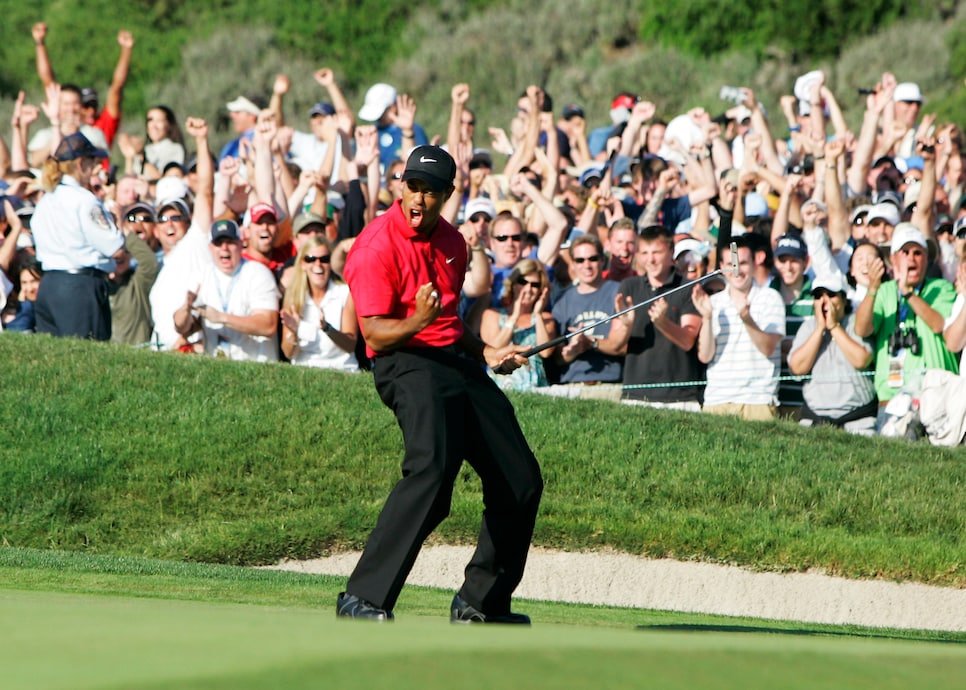 Photo By: Icon Sportswire
Editor's note: This story originally ran in 2018 for the 10-year anniversary of Tiger Woods' 2008 U.S. Open victory. Sadly, Woods, who is recovering from a February car crash, isn't in the field as the championship returns to Torrey Pines for the first time since. His presence will be missed, but you can be sure his gritty playoff win against Rocco Mediate will be mentioned A LOT during coverage of the event. Here's a look back at 33 things that took place during one of Tiger's most memorable triumphs.
A decade ago, I stood pacing around my parents' living room willing/begging/praying for a Tiger Woods putt to drop. I can admit to that since it would be another nine months until I landed a gig at Golf Digest and officially became a member of the golf media. In that moment, I was simply a fan, although the full term—fanatic—is more appropriate. My parents were both there, but hiding in the corners of the room out of fear for what I would do if he missed. Thankfully, he didn't.
That celebratory group hug remains a happy, vivid memory, but the rest of that week is a blur. Partly, because I was busy driving all over New York state covering high school baseball for The (Westchester, N.Y.) Journal News, and partly because it was 10 years ago. TEN freaking years. Can you believe it? Feeling all nostalgic—probably because I finally got SiriusXM and have the dial set to the '90s on 9 channel—I decided to go back and re-watch the tournament again. And while everyone can recall "The Putt," the playoff and Tiger playing through pain, here are some things you might not remember from that week.
1. At a stout 7,643 yards, Torrey Pines was actually THE LONGEST COURSE IN MAJOR CHAMPIONSHIP HISTORY at the time. This point was driven home by the crews at ESPN (Yes, Chris Berman was still covering U.S. Opens) and NBC. As was the fact that TORREY PINES IS A PUBLIC GOLF COURSE. Moving on …
2. For the first two days, the USGA made a "Dream Pairing" of World No. 1 Tiger woods, World No. 2 Phil Mickelson and World No. 3 Adam Scott. At the 2018 U.S. Open, Woods will also be part of a top-two pairing. Only now it's Justin Thomas and Dustin Johnson, two players who had yet to win a PGA Tour title in 2008 (to be fair, JT was 15) but are now 1-2, while Woods is No. 80. A lot can change in 10 years, huh?
3. With the entire golf world watching, Scott went with this argyle look on Day 1 and it was no big deal.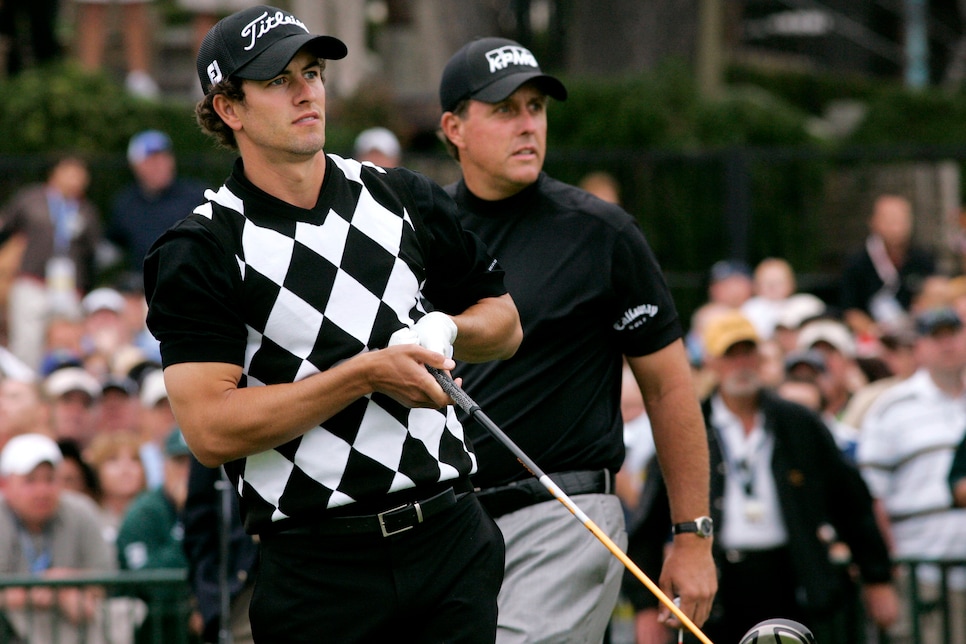 Again, a lot can change in 10 years.
4. Speaking of Scott, like Woods, he was playing despite suffering a recent injury. The Aussie's right hand had been broken a few weeks prior when a friend shut a car door on him by accident and it was still bad enough that he used his left hand to shake hands with Tiger and Phil. Despite this, Scott finished a rather heroic T-26.
5. Tiger double-bogeyed Torrey Pines' first hole on Thursday. Remarkably, he also did the same thing on Saturday and Sunday. On Friday, however, playing it as his 10th hole, Tiger made an incredible birdie after standing/slipping on a cart path during his approach shot.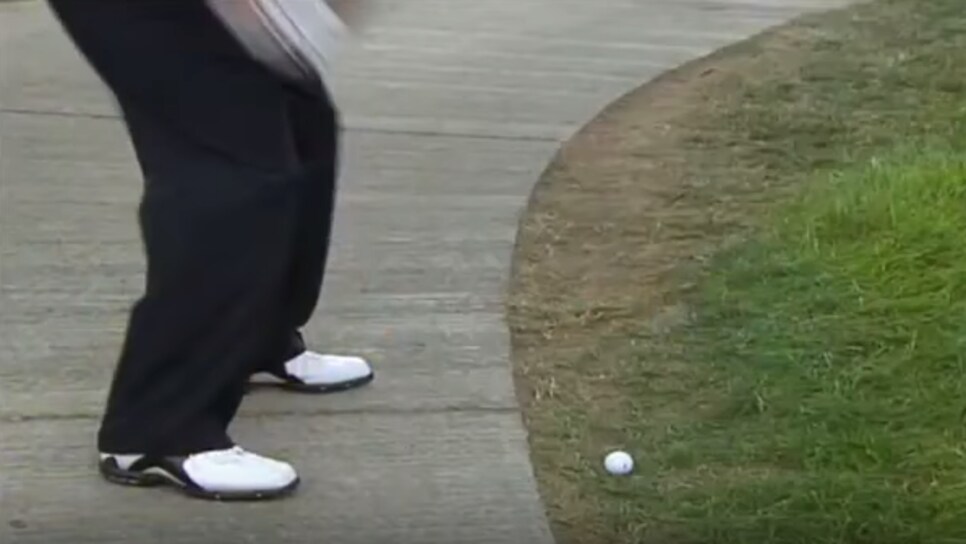 Not that the shot helped his bad leg.
6. Tiger badly bladed and chunked a pitch shot during his opening round. It wasn't enough to get anyone to whisper the "Y-word," but it was ugly. He opened with a one-over-par 72.
7. Tiger's grimaces weren't always on bad shots, contrary to what a certain co-worker who shall remain nameless (and many others) like to claim. In fact, he grimaced for the first time of the tournament as his Thursday tee shot on 18 split the fairway. So he's an equal-opportunity grimacer. Pipe down, haters.
8. Kevin Streelman and Justin Hicks led after Day 1 at three under, a score that would lead after each of the first three rounds. SPOILER ALERT: Neither Streelman or Hicks stayed near the top of the leader board for long.
9. Rocco Mediate missed a four-footer for eagle on No. 18 during the second round. That kept him one stroke behind 36-hole leader Stuart Appleby heading into the weekend. Tiger was also tied for second at two under, along with Robert Karlsson. It's tough to ever be too disappointed by making a birdie at a U.S. Open, but Rocco would have loved to count one fewer stroke come Sunday evening …
10. Tiger pulled himself into contention with a second-round 68 that included a back-nine 30. However, Miguel Angel Jimenez shot the day's low round of 66. And then probably took a long drive to Napa wine country to celebrate since he now had a late Saturday tee time.
11. Three amateurs made the cut, including some long-haired kid named Rickie Fowler. Whatever happened to him?
12. There was a lengthy weather delay on Day 3. Kidding! It never rains in the San Diego area. Maybe they should play more majors there, especially since the three-hour time difference allowed people on the East Coast to watch prime-time golf on Saturday night. I remember that, because it's the only reason I was able to see that magical finish while writing a H.S. baseball state championship game story from a hotel lobby. Ah, the glamorous lifestyle of a young sports reporter. Speaking of that unforgettable Saturday finish …
13. Johnny Miller (kind of) called Tiger's eagle on No. 13. Tiger had fallen five back when he reached the par 5 and blew a drive way right. As he set up for a difficult uphill shot from the rough to a front pin, Miller had a seemingly far-fetched thought.
"This eagle, if he could somehow get it," Miller said, "I think would change the whole championship. I really do."
Woods hit a great shot to the back of the green and then rammed in a 65-foot curler.
"There's that eagle I talked about that could change the championship!" said Miller, verbially patting himself on the back.
14. Tiger provided more fireworks with a one-hop chip-in for birdie on 17 that caused him to flash a sheepish smile.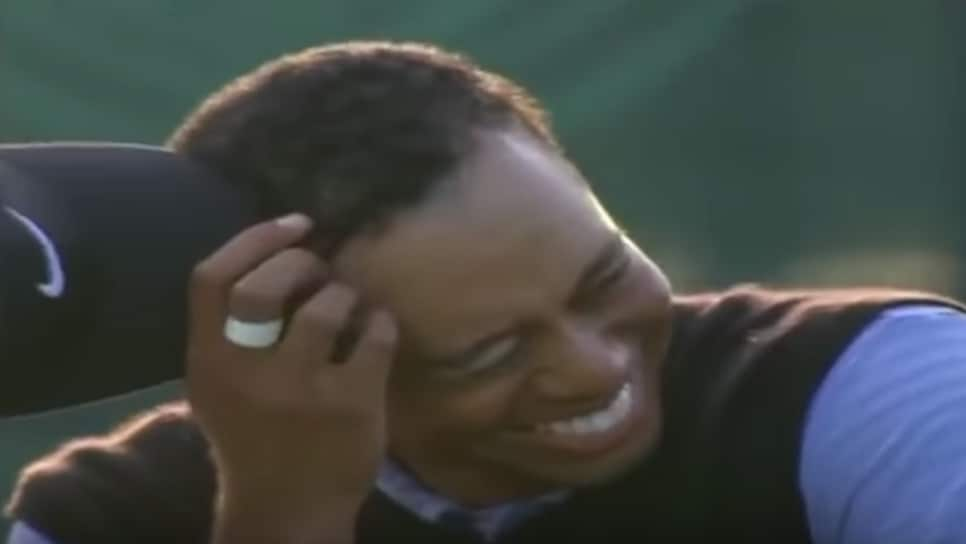 But a marshal in utter disbelief may have given the best reaction: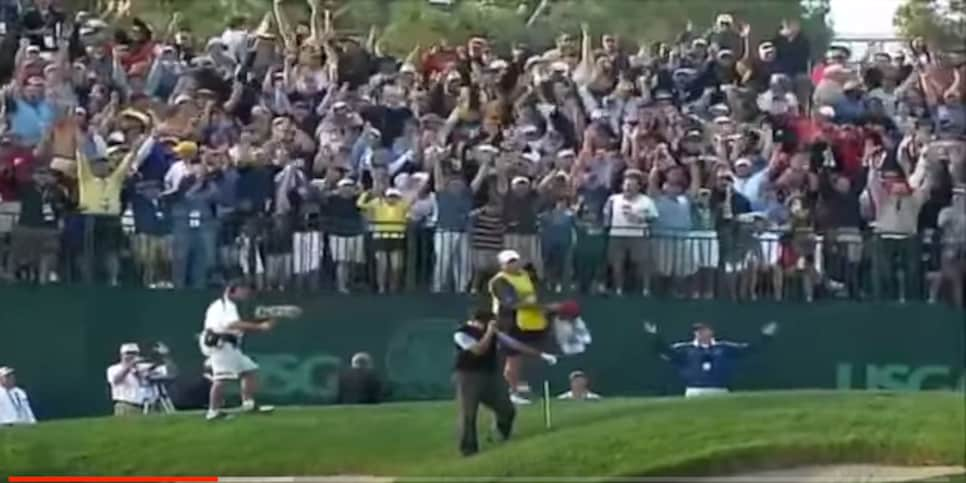 15. Woods grimaced/winced/dropped down a bit after striking a solid 5-wood from 226 to the center of the 18th green. (Look! More grimacing on good shots!) Of course, Woods would probably hit 5-iron from the same distance today. Technology, am I right?
16. Dan Hicks delivered his first great call on No. 18 after Woods converted a long double-breaker for another eagle.
"A second eagle on the back nine for Tiger Woods!" Hicks exclaimed. "That's what you call limping home!" Suddenly, Tiger had taken the lead.
17. Speaking of that limp, it should be noted that at the time, people thought Woods' pain was simply from returning too soon from arthroscopic surgery on his left knee following a runner-up at the Masters. In fact, Woods was playing with a torn ACL and a double stress fracture of his tibia he sustained during recovery. No one knew he was playing with a torn ligament and a BROKEN LEG until two days after this win when Woods announced he'd undergo another surgery and miss the rest of the season. Suddenly, an epic win was elevated to perhaps the greatest triumph in golf history. And again, the haters claiming Woods was being overly dramatic were silenced. But we still had a tournament to finish …
18. Seeming like a lock to win with that perfect record with a 54-hole lead in majors, Tiger double bogeyed the first hole to start his final round. I know I already said he doubled the hole three of four days, but it was particularly shocking seeing peak Tiger—injury or not—in Sunday red looking like a total chop. Meanwhile, Rocco birdied the second hole to take the solo lead, and after an extra-big grimace by Woods following a bad tee shot on No. 2, a Woods win actually seemed pretty unlikely.
19. The forgotten man in all of this drama is Lee Westwood. No one played better from tee to green that week, and the Brit probably should have won. Of course, he didn't, because he's never won a major and sadly, likely never will. And while many point to his feeble birdie attempt coming up short on No. 18, it was another putt on No. 8 that was even worse. After stuffing a tee shot to about six feet with a difficult pin position, Westwood whiffed on what would have given him a two-shot lead. Ouch.
20. Hicks is remembered for his fantastic call of Tiger's finishing birdie on Sunday ("EXPECT ANYTHING DIFFERENT?!"), but he actually gave a pretty similar proclamation a couple hours earlier when Woods rolled in a five-footer for birdie on No. 11 to take the lead.
"Would you have expected anything else?" No, but we also wouldn't have expected (in a different way) what happened two holes later.
21. After a great drive down the left side of the par-5 13th, the hole that began Tiger's thrilling Saturday charge, Woods inexplicably snap-hooked his second shot into the high stuff and made bogey. This was far from over.
22. Mediate made a closing par to finish at one-under 283 for 72 holes. After plucking his golf ball out of the hole, he looked at caddie Matthew Achatz with a half-smile and said, "I don't know. I don't know." Meanwhile, I don't know about Rocco's belt buckle …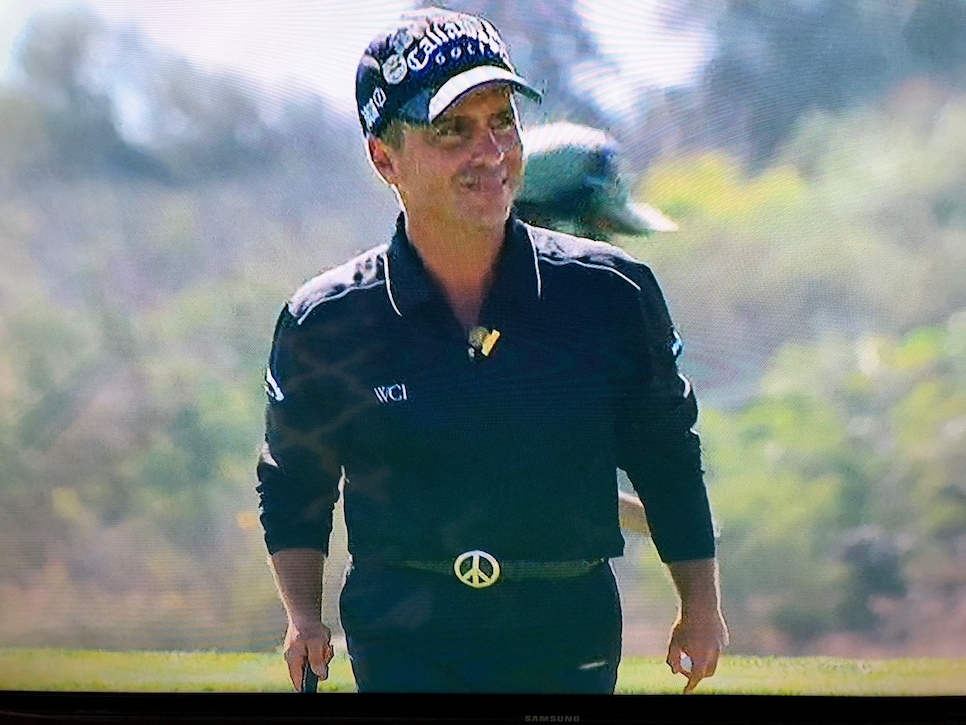 23. Miller (kind of) called Tiger's closing birdie. After Woods hit that pretty snazzy approach shot from the rough to about 12 feet, NBC's cameras showed Rocco in the scorer's area. "Don't check out of your hotel, Rocco." Boom.
24. Everyone remembers "the putt." Let's watch again, shall we?
And while you remember the reactions by Woods and Hicks, Rocco had a good one of his own.
"Unbelievable," he muttered. "I knew he'd make it." Poor Rocco.
25. Rocco wore a red shirt for the Monday playoff. BOLD.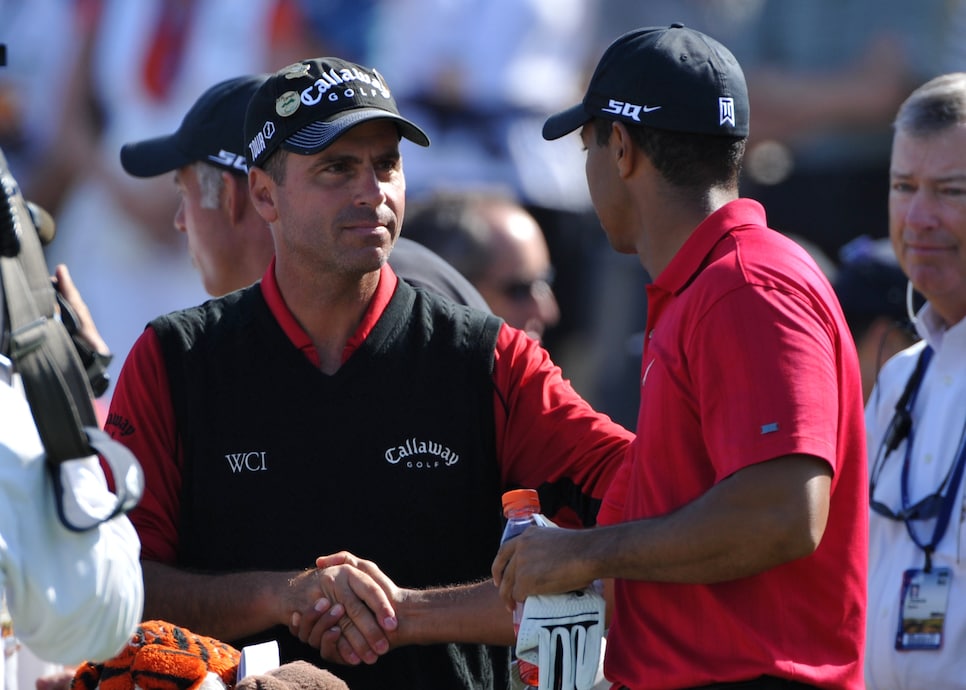 26. But Tiger didn't seem to mind Mediate's color choice. When he finally hit a good drive on No. 1 to begin the Monday 18-hole playoff (Someday, we'll have to be reminded the U.S. Open used to use this extra-hole format, which now goes down as the last 18-hole playoff in U.S. Open history), raised his arms in celebration and even joked around with Rocco.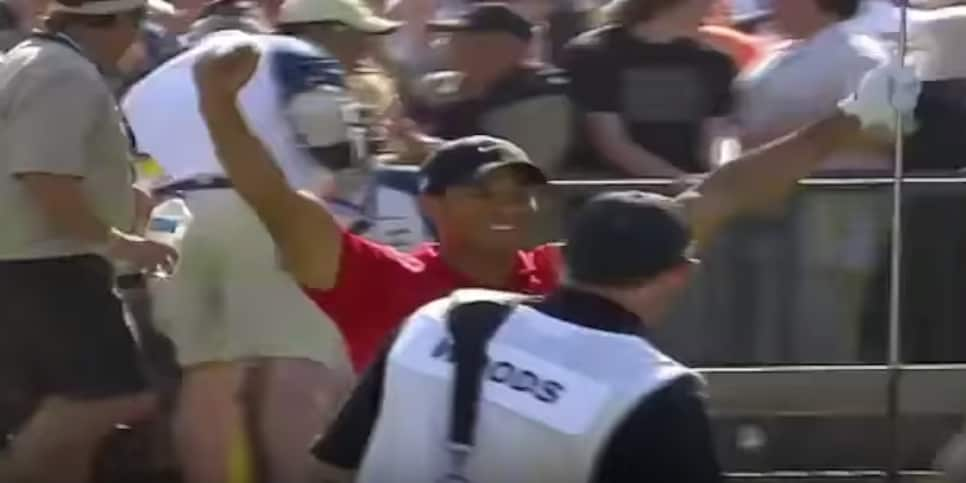 I definitely didn't remember Woods being this loose during such an intense moment. But maybe that's because I got called out of the office at the last moment to cover a local school celebrating a state title. Never had I been so ticked off about an assignment, and I let it show to the point where I was scolded by my boss a few days later. Whoops. Anyway, I'd have to settle for hearing much of Monday's playoff through the eyes of Mike Francesa, which if you've ever heard Mike Francesa talk about golf, is not a good thing.
27. So many 18-hole playoffs are lopsided, and this appeared to be another one after Woods made a 20-footer from the fringe for par on No. 10 and Rocco missed from five feet. Woods now had a three-shot lead. At a major. With eight holes to go. Despite his injury, Miller would have had to have deemed this a choke if Woods lost now …
28. Most fans remember Woods' remarkable recovery shot from a fairway bunker on No. 15—a fairway bunker from the ninth hole—but even more remarkable was that Rocco rolled in about a 30-footer for birdie while Woods missed from about 10 feet. Suddenly, Rocco was in front.
29. Both players had to sweat a little more than they should have on No. 18. Miller really, really liked Rocco's chances of winning after two good shots.
"I think he's got the perfect club, folks. This could be close with that trap draw of his and that slice wind. It's a green lighter." But Mediate only managed to hit it to 20 feet. "Not his best shot, but under pressure, that's pretty good."
Rocco had that 20-footer for the win, and … blew it a good three feet past. Meanwhile, Woods got pretty frisky with his long eagle attempt that wandered some four feet past the cup. Both converted, though, and we played on.
"Ninety holes through the 108th U.S. Open and still not enough to decide a champion," Hicks exclaimed.
30. With a win, Mediate would have become the oldest U.S. Open champ in history at 45, passing Hale Irwin by a few months. (Phil Mickelson will turn 48 on the Saturday of this year's tournament when he tries to finally complete that career Grand Slam.) But the last hole—the first sudden-death hole played on the par-4 seventh—was ugly. Rocco tugged his tee shot left into a fairway bunker, hit one farther left on his second and had to use a drop area. "Is the Cinderella story about to end?" Hicks wondered.
For a moment, it looked like it might continue when Woods' winning birdie putt came up juuuust short, which caused Rocco to crack a smile (not that it takes much to cause him to crack a smile). But he couldn't convert a 20-footer for par to keep it going.
"And in one of the most remarkable performances of his career," Hicks said, "Tiger Woods perseveres through Torrey Pines and wins a third U.S. Open championship."
31. Tiger and Steve Williams were boys: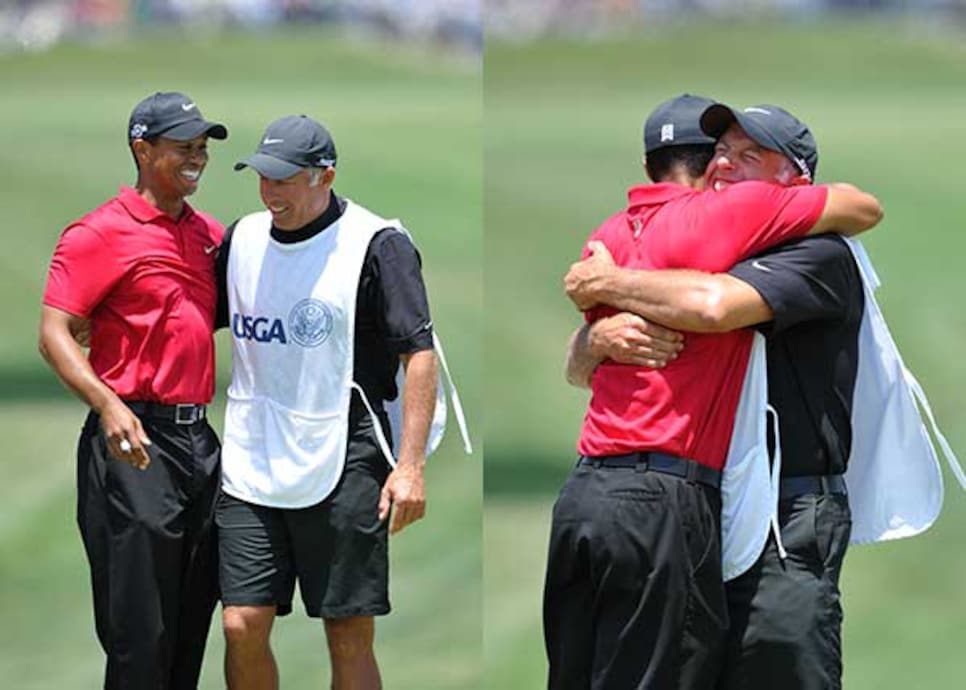 OK, maybe you do remember that, but I still wanted to point that out. Now? Not so much. . .
32. Bob Costas conducted great post-round interviews with both Rocco . . .
"I never quit. I've been beaten down a few times and I came back. And I got what I wanted. I got a chance to beat the best player in the world. I came up just a touch short, but I think I had him a little scared at once, which is great. He just said 'great fight' to me, and that means the world to me."
"I'm glad I'm done. I'm done," said Woods, now a 14-time major champ at 32, with a laugh. "All I can say is the atmosphere kept me going. The tournament, being a major championship here at Torrey Pines. All the people. I could never quit in front of these people. It wasn't going to happen."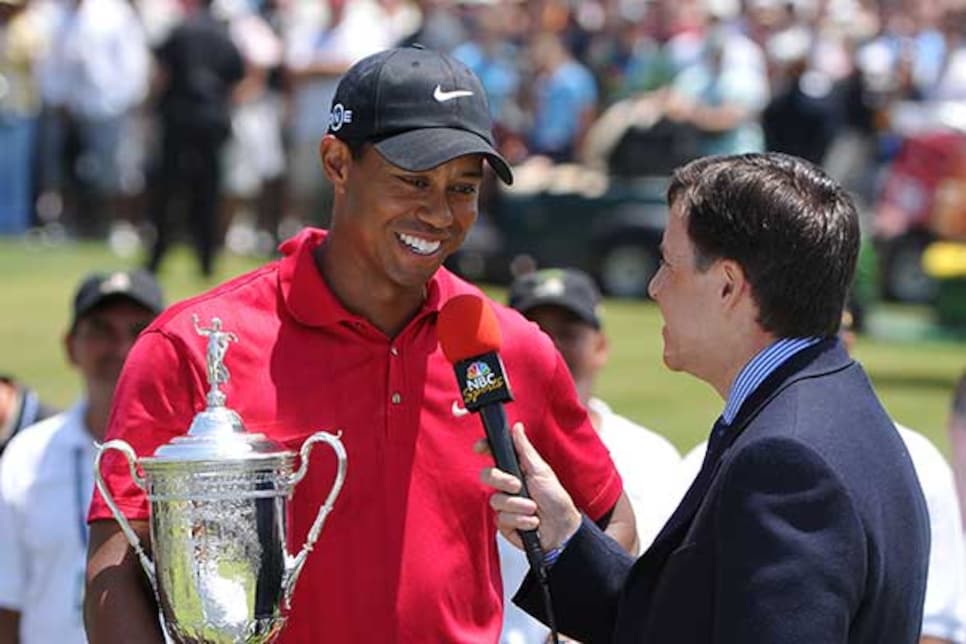 By the way, Costas was an integral part of the broadcast, from his opening monologues to his player interviews. I miss him doing golf. That dude is versatile. And what a beautiful head of hair.
33. Tiger's ex-wife, Elin Nordegren, and his daughter Sam, two days from her first birthday, were there for a belated Father's Day celebration.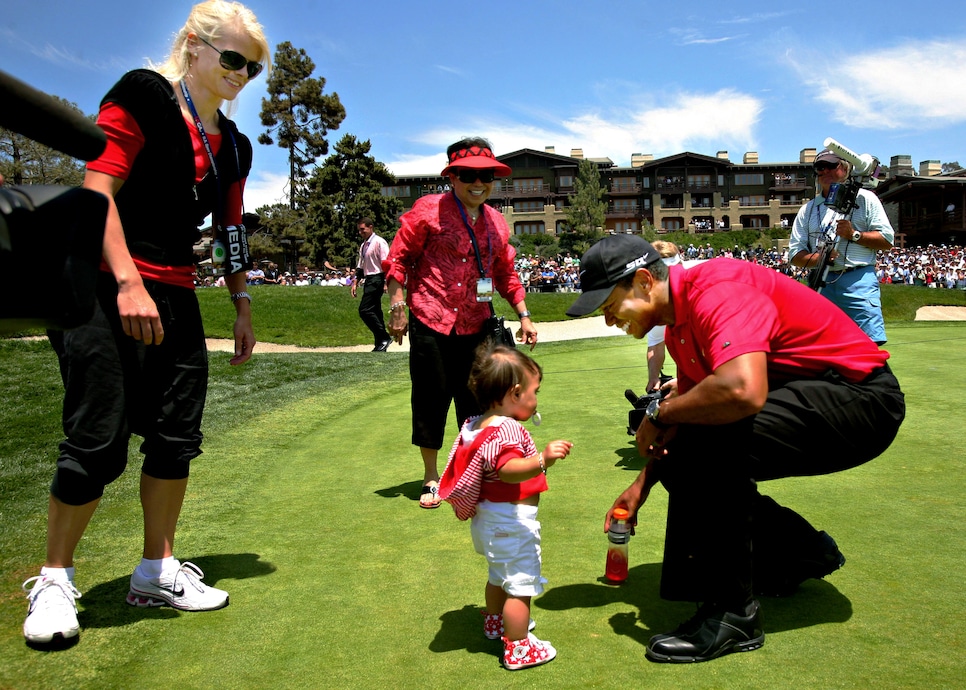 "You know, I lost my dad a couple years ago, and I know how special it was in 2002 to bring this home and talk to him about it and share it with him," Woods said. "I can't do that anymore, but now I'm a father, I'm on the other side now. This is probably the greatest tournament I've ever had."
I'm not going to argue. And I'm sure I'm not the only person who celebrated Woods' play that week with their parents—although, I might have been one of the oldest. Now a decade after Tiger's legendary victory, I have an infant daughter and a house of my own in which a giant—and I mean giant—framed photo of Woods' playoff-forcing putt (Plucked when Golf Digest moved offices … Shhh …) hangs on a wall in the basement. Hey, I only have so much sway these days.
In the time since Tiger's triumph at Torrey in 2008, it seems like just about everything has changed except Woods' major championship total (UPDATE: That changed too at the 2019 Masters!). But even if golf fans don't remember every detail from that week, it's safe to say we'll never forget how things turned out—and that we'll never see anything quite like it again.