Live Blog
British Open 2021 live updates: Louis Oosthuizen sets new Open scoring record with dazzling Friday finish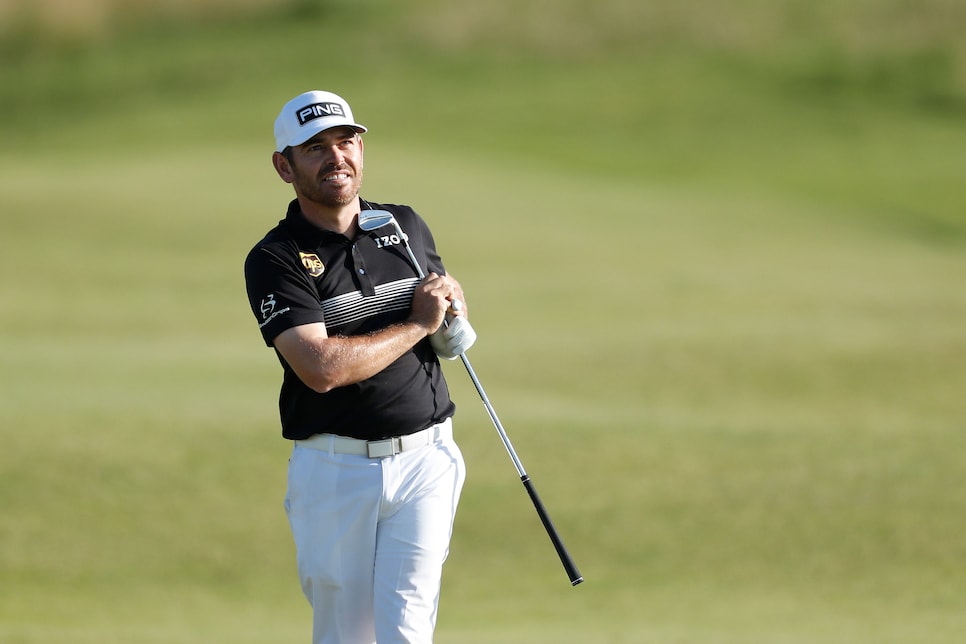 Forty-seven players broke par and 73 shot par or better on Day 1, leading our Dave Shedloski to label the course as Royal St. Gettable. Softer fairways and greens took some of the usual fire out of this links layout. The wind stayed down again on Friday, leading to a morning 64 from Collin Morikawa and an afternoon 64 from Jon Rahm. There were low scores thoughout the 15 hours or so of play again, and Oosthuizen remains your solo leader backing up his 64 with a 65 that could have been even better. The 129 mark after 36 holes set a new Open record, beating the old one held by Brandt Snedeker and Nick Faldo by a shot. It's a loaded group of chasers, however, with Morikawa, Spieth, Rahm, and DJ now, among others, in the hunt.
(Scroll down for the latest updates)
The latest videos from Golf Digest
3:20 p.m.: Scottie Scheffler gets safely into the house at seven under, pouring in a par-saving putt from about 15 feet at the last hole. There will be no "Horns Down" taunts in England this weekend with three Texas alums inside the top six in Spieth, Scheffler, and Dylan Frittelli.
3:08 p.m.: There's minimal cut-line drama as the sun sets in Sandwich. Martin Kaymer had a lengthy Hail Mary putt at the 18th to make the weekend, but just missed to go home early. Harris English, Erick Van Rooyen, and the amateur Yuxin Lin are the three players still out on the course and most in danger of bombing to the wrong side of the cut line. They're all at one over with two or three holes to go.
2:55 p.m.: It's good to see the no. 1 player in the world making himself a factor at a major championship in 2021. Dustin Johnson, who has been a no-show at the game's most important events this year following his monster finish to 2020, stormed into the Open picture with a late 65 on Friday. The round featured seven total birdies, including at the last thanks to a dart into the 18th pin. DJ is seven under and just four back of Oosthuizen, a welcome change for a world-class talent that's been a factor at the majors for the past decade.
2:35 p.m.: Oosthuizen taps in for a stress-free 65 that sets a new Open championship scoring record of 129 at the midpoint, edging the 130 mark set by both Brandt Snedeker and Nick Faldo at the oldest major in golf. He had a chance to break Brooks Koepka's overall majors scoring record for an opening 36 holes, but the 64-65 and Open record is plenty to hang his hat on with 36 more to play. The final tally is an eagle, ten birdies, and just one bogey at the 16th hole today. He'll play in the final group on Saturday, likely with Collin Morikawa unless Scottie Scheffler goes nuts coming into the clubhouse.
2:27 p.m.: Louis is not the only player dealing in his group, as Jon Rahm will go rumbling into the weekend likely matching, if not beating, the round of the week. Rahm just stuffed it close on 18 and will have a birdie chance to potentially post an inward 31 and second-round 63. Shane Lowry is also staring down a birdie putt to post his own round of 64. This says nothing of Oosthuizen being out front with a chance to post a second straight 64 of his own. The conditions have been gettable late in the day, but this has still been an absolute show from Game 45 today. Their combined best ball would be 12 under.
2:16 p.m.: The ballstriking troubles continue for Oosthuizen, who missed the green at 17 in one of the worst possible places to miss. But the South African avoided any damage to the scorecard with a nifty up-and-down converted on the back of 12-foot putt. It was a critical save as some loose shots have started to creep up as he tries to steer it into the house with a multi-shot cushion at the midpoint.
2:09 p.m.: Bryson DeChambeau avoids the MC hammer, converting a nervy par putt at the 18th hole to finish 36 holes at one over. That should put him through to the weekend on the number. His playing partner, Jordan Spieth, putted out for a 67. As Dan Hicks noted, the previous four times he started a major with consecutive rounds in the 60s, he won. Spieth has looked as good as he has in any major this year over the first two days at Royal St. George's.
2:04 p.m.: The bogey-free streak comes to an end for Louis, who bogeys the par-3 16th to drop his first shot of the championship. All things considered, and the distaster we've seen ensue from visits to that bunker, a simple bogey was not the worst outcome.
1:55 p.m.: Oh boy, Oosthuizen just made another loose swing—and finds himself in the same greenside bunker at the short par-3 16th hole where Thomas Bjorn lost The Open in 2003 here. This will determine whether Oostie will break or share the 36-hole scoring record of Koepka's.
1:48 p.m.: Oosthuizen missed just his second green of the day at 15—looking like he was in a precarious spot to get up and down. But no bother: Oostie plays an impressive spinner to about 3 feet and converts the up and down. He stays at 12-under heading to 16.
Jon Rahm has come ROARING back on Friday, birdieing three straight holes with another birdie at the 15th. The U.S. Open champ is now 5-under and in the MIX with his 6-under day.
1:35 p.m.: WOW, Louis Oosthuizen cannot miss right now. Oostie just poured in an eagle putt of probably 60 feet at 14, so he is now two clear of the pace of the 36-hole Open scoring record, now sitting at 12-under and three clear of Collin Morikawa, and four clear of Jordan Spieth.
1:24 p.m.: Wow, Jordan Spieth just three-putted the 15th hole to make just his second bogey of the day. Spieth falls back to two back of Louis Oosthuizen, who's at 10-under and in the middle of the fairway on the par-5 14th hole.
1:18 p.m.: The birdies keep coming for Louis Oosthuizen, who rolls in his second straight bird—this one at 13—to get to 10-under par. If he pars in, that would tie Nick Faldo (1992) and Brandt Snedeker (2012) for the lowest 36-hole marks at The Open. Of course, Oostie has a couple chances to add to that mark—including the very gettable par-5 14th coming up next—and surpass that record. So does Spieth—who now trails Oosthuizen by one.
1:01 p.m.: It's truly all happening now! Louis Oosthuizen sticks his approach to about two feet at the short par-4 12th hole and converts the putt to tie Jordan Spieth and Collin Morikawa atop the leader board. It seems likely one of those guys will get to double digits before Day 2 is over.
12:56 p.m.: THAT will go down as one of the highlights of the week. Man, 6-foot-9 Jonathan Thomson just aced the par-3 16th hole ... and that will make you feel all kinds of ways. Thomson has one of the most remarkable stories of the week—in addition to making history for being the tallest competitor in a major title, making it to The Open after battling leukemia as a child. Our Daniel Rapaport caught up with Thomson before the tournament. And watch his amazing ace below, getting him to under-par.
12:43 p.m.: What a tremendous finish for Brooks Koepka—the four-time major champion birdied his final three holes to get to 5-under. He's no longer lurking ... he's officially back in the mix after Day 2. Koepka's day included eight birdies, plus a double that costed him an even more special round. He'll settle for the 66.
Andddd as you might expect, in his post-round interview with Todd Lewis on the Golf Channel, Koepka couldn't resist taking a shot at all the Bryson driver drama. Even though Koepka hit just six out of 14 fairways on the day he said: "I drove the ball great ... I love my driver." That was a layup, but you know it will be shared as this Bryson/Koepka pillow fight continues on.
12:32 p.m.: For the first time in nearly four hours, Collin Morikawa has company atop the leader board. Jordan Spieth rolls in yet another birdie—this one from about 15-18 feet at the 12th hole—to move to 9-under—and four under on his round. The 27-year-old had missed a few makable putts earlier on his first nine, but this flat stick is heating up like vintage Jordy.
A soft golf course without much wind or rain has created a very gettable Royal St. George's. It has become target practice for these players—still requiring great shotmaking but not providing that defense like most Open Championships have. At least some point through the tournament. The forecast for the weekend looks like these benign conditions will continue. We'll most likely be inching toward a 15-20 under champion ... with a shoot out amongst others ensuing.
12:20 p.m.: Jon Rahm hits a fabulous approach at the ninth hole and converts the tricky 5-footer for his third birdie of his opening nine. He'll head to the final nine at 2-under, with a chance to play his way into contention with another strong nine holes. This is the Jon Rahm we've come used to watching over the past couple months.
But Rahm isn't World No. 1. Dustin Johnson reclaimed that spot. And DJ just rolled in a longggg, maybe 50-footer for birdie at the eighth hole. DJ gets it to 4-under, and you better believe he's in this thing with a chance to get a few back of Collin Morikawa's lead of 9-under.
12:05 p.m.: The Spieth swagger is oozing at Royal St. George's right now. We noted the missed birdie opportunity at the ninth below, but the 2017 champion came right back at the 10th hole and got a bonus birdie with one of those trademark Spieth putts from a lengthy distance. It also provoked that tempered, waist-high fist pump we've grown so accustomed to when he's cooking with his putter. He's just one off the lead and the wind is still down in Sandwich as he tries to overtake Collin Morikawa.
11:54 a.m.: The pre-tournament betting favorite is starting to climb in the right direction up the leader board. Given his form not just at the U.S. Open, which he won, but really all spring and summer, it was surprising to see Jon Rahm tumble in Thursday's first round. With the way he looked at the Scottish Open last week, another strong opening round and position somewhere in the top 10 or 20 felt likely. But the big Spaniard messed around in one of Royal St. George's pot bunkers and sputtered to a one over score. Well now he's entered the red for the first time this Open, making consecutive birdies to get to one under heading to the eighth tee. One of Rahm's great skills is that he can look absolutely lost for a nine-hole stretch, or even a whole day, and on the verge of a total eruption yet still be there come Sunday. We've seen it happen repeatedly this year and thoughout his young career. The talent overcomes and prevails over four days. So this could be the turnaround moment and the march toward another major contention for the best player in the world right now. Or not.
11:45 a.m.: Jordan Spieth goes out in 34, missing a good birdie chance at the 9th hole to stay two back of Morikawa's leading number. The pin at the 9th is in a nice bowl for the second round, and we've seen several players tuck it close there for short birdie putts. Spieth's ball flew a little too far to the top of the bowl behind the flag, and he left his birdie putt short. He seemed frustrated by the missed opportunity but the front nine, in toto, was a smooth march. That was one of the few times he appeared bothered. He looks dialed in again and totally relaxed with more scoring chances coming on the back nine.
11:30 a.m.: The perspective over floweth from Rory McIlroy after coming in at even par at the midpoint. Asked if he's been trying too hard to win majors, the 2014 Open champion responeded, "Not at all. I've got four of them. Geez, look, I've got -- I'm the luckiest guy in the world. I get to do what I love for a living. I have a beautiful family. My life is absolutely perfect at the minute. I want for nothing, so it's not a case of trying too hard for sure."
11:05 a.m.: The only tree left standing on the property, a blackthorn off to the side of the par-3 third hole, is not really supposed to be in play, especially for the best in the world. The no. 1 player in the world, however, somehow found tree trouble on this course when he flared one out and into that blackthorn. Dustin Johnson had to scramble and punch out onto the green, where he would make bogey and drop back down to one under. There's a long way to go in his second round, but DJ's underwhelming majors season has continued so far in England.
10:36 a.m.: Our 18-hole leader, Louis Oosthuizen, is off and running and has already added to his tally with an opening birdie to get to seven under. Oosthuizen is two shots back of Morikawa, who matched his day-one 64 in the morning wave on Friday. Given what we've seen from King Louis at every major championship round since mid-May, it's hard to see some great tumble or over-par score coming on Friday afternoon. If the wind stays down, it's likely we're looking at either (both?) Oosty or Spieth catching and perhaps passing Morikawa's early number.
10:09 a.m.: Rory McIlroy finishes with a game birdie to ignite some 18th-grandstand roars and pull him even par for the championship. He will make the cut but it would be rather inaccurate to suggest Rory's first 36 holes have been a display of shot making and steady putting. But given how shaky he's been all year, he has battled to at least keep the ship afloat when it's looked dire for stretches. It's also been a middling performance in line with many of his major appearances since he last won one. Which also means we're undoubtedly set up for a non-threatening top 10 close over the weekend.
9:54 a.m.: DeChambeau starts off his day with back-to-back pars. That would be two shots behind Spieth, who starts off birdie-birdie.
9:48 a.m.: Andy Sullivan, five under for the tournament, finds the green at the 13th. Long putt ahead but the Englishman is hanging tough...back at the first, Brian Harman misses a 12-footer to move to six under.
9:38 a.m.: Spieth is feeling himself, putting his approach to six feet at the first. Honestly, after missing the Open last year, we deserve a Spieth-Morikawa weekend bout. He makes the birdie, moving to six under. Strap in folks.
9:33 a.m.: Cam Smith! Rolls in a birdie at the 16th to get back to four under and stay in the noise. Dropping out is McIlroy, who can't get up-n-down out of a pot bunker, now at even for the championship.
9:25 a.m.: Spieth and Bryson are off. Spieth finds the fairway with his driver, Bryson also keeps it in the short stuff ... with an iron. After yesterday, would be great if Bryson decided just to hit irons to prove a point.
9:14 a.m.: OK, Siem is not just a funny B-list character anymore. He just birdied 18 to post a three-under 67, which puts him at six under for the tournament, which is T-2. The 41-year-old German is officially in contention at the Open Championship.
9:05 a.m.: Birdie for Siem at the 17th, which produces multiple electric fist pumps. The 41-year-old is FEELING it. He's at five under, four back.
8:54 a.m.: Bit of a lull as the afternoon wave is still getting underway / yet to fully get underway. One guy we have our eye on from the morning wave is Germany's Marcel Siem, who is four under with two holes to play. Two other four unders are still on the course, and both hail from England: Andy Sullivan, who just made the turn in 34, and Jack Senior, who birdied the opening hole. Tommy Fleetwood, who had a rough bogey-bogey stretch at No. 8 and 9, has climbed back to level par on the day with birdies at 10 and 14, putting him at three under for the week.
8:32 a.m.: Brutal 24 hours for Will Zalatoris, whose yip seen 'round the world was viewed nearly 400,000 times on social media. To add injury to insult, he just withdrew, citing a left leg / back injury that he suffered hacking a shot out of the long rough at the 15th hole on Thursday. "I have been advised not to risk any further damage to my back," he wrote on social media. Such a shame for Willy Z in his Open debut. He actually got off to a decent start, too, shooting a one-under 69 in Round 1. Hopefully he heals up soon.
8:25 a.m.: What a finish from Emiliano Grillo. Birdie-birdie at 17 and 18 to post a six-under 64, matching Morikawa's low round of the day. Without much wind and perfect weather, there are a ton of birdies to be had out there.
8:11 a.m.: While the broadcast crew and gallery attempt to will Rory McIlroy to red figures, to no avail, it's playing partner Cameron Smith who is actually making some noise. The young Aussie bogeyed two of his first three holes, but has fought all the way back to three under for the week with a birdie-birdie-par-birdie stretch between the eighth and 11th holes. With a par 5 still left, he'll have a good chance to join the large group at four under, which is currently tied for seventh.
Among that group at four under is Andy Sullivan, the current low Englishman on home soil. He's made one birdie and five pars on his first six holes. Back at No. 1, Brooks Koepka's second round is underway. He's on the first green in regulation, but faces a long birdie putt.
7:55 a.m.: Morikawa finds the 18th fairway off the tee, then hits another perfect approach to eight feet, setting up a really nice look at 63. Alas, it lips out, and he settles for a six-under 64. Unbelievably impressive round, but feels like it should have been at least a 63, and possibly a history-making 62. He's nine under, three clear of Louis Oosthuizen (tees off in two hours) and Daniel Van Tonder, who already completed his second round.
7:36 a.m.: Two sneaky solid rounds from New Zealand's Ryan Fox, who has gone 68-68 to post four under after 36 holes. His best finish in a major, a T-16, came in the 2019 Open at Royal Portrush.
7:26 a.m.: Morikawa's round has made a number of other player's rounds seem pedestrian, but they're still worth pointing out. Tony Finau has made a big move, posting a four-under 66 to pull within five. Finau's game was a bit of a mess coming into the week, but links golf has proven to be just what he needed. He's gone T-9, solo third his last two appearances in this event, and now will almost certaoinly head into the weekend inside the top 10.
Also now at four under is Argentina's Emiliano Grilllo, who just two-putted for birdie at the par-5 14th. Despite all his iron prowess, he's never posted a top 10 in a major. He's currently tied for sixth with Finau and Canada's Corey Conners, who once again is popping in a major. Conners, playing alongside Morikawa, is two under on his round, four under overall, with two to play. Morikawa just made his par at 16 to remain at nine under.
7:16 a.m.: Morikawa, after missing the 15th fairway, was on the verge of another all-world par save. His approach was short right, and he pitched it to around five feet. He hadn't missed all day, but this time the par effort snuck past the left edge, resulting in his first bogey since the fifth hole on Thursday. Still has a chance for 62 or 63, but he'll need to pick up two birdies on his final three holes. Not too much to complain about at nine under, though.
7:02 a.m.: Bang. Morikawa holes another birdie and moves to seven under on the day, 10 under for the championship. With four holes remaining, he's got a chance for something historic.
6:58 a.m.: There he is! After chopping out, Morikawa puts his third at the par-5 14th to five feet. A damn good chance to move to seven under on the day and 10 for the week. If that happens he would need two birdies over the final four for the major championship record.
6:54 a.m.: Tommy Lad continues to hang around, stays at three under through seven. Ahead Rickie Fowler, at -1, stays steady by finding the middle of the green. We'd give you an update on Morikawa but broadcast hasn't showed him since a wayward drive at the 14th.
6:50 a.m.: Tony Finau continues to hang around, and making moves, dropping a 25-footer at the 13th. It's his sixth birdie of the day, and Finau is now four under for the championship.
6:42 a.m.: Morikawa makes a miraculous save to keep the 61 alive. Not that you would know it by the announcing crew. Either they're also half asleep, had a bet that no one would break 62 this week or have no idea what's going on.
6:35 a.m.: Morikawa's drive at the 13th finds a bunker, forcing him to lay up. Lot of work left for par. But a major-championship record 61 is in play.
6:30 a.m.: Quick glance around the course: Fleetwood is still at three under, even on his day. Johannes Veerman is three under on his day and three under for the event. Amateur Matthais Schmid from Germany turns in a 65 to move to one under, moving him to the weekend. And unfortunately for Phil fans, your man's situation has not improved, two over on his day and +12 for the tournament.
6:22 a.m.: Rory birdies the fourth to get one back. Might not matter as Morikawa puts his approach on the 12th to a foot. He's going to be sniffing a 62 when it's all said and done.
6:16: Van Tonder finishes off with a birdie, 31 on his closing side to move to six under. Big possible weekend ahead for the big man.
6:12 a.m.: He. Is. ALIVE. Morikawa makes another birdie, this time at the 11th, moving to five under on the day and two clear of the field.
6:06 a.m. Daniel Van Toder, the large and in charge South African, flags his approach on the 18th, giving him a chance for his fourth birdie on the side to finish at six under through 36 holes. The 30-year-old is making his Open debut and making the most of it.
6:00 a.m.: Morikawa, another stuck approach, this at the par-3 11th. Darn good chance to move to eight under. If he gets to 10 don't think we're going to have afternoon conditions that will allow anyone to catch him.
5:50 a.m.: McIlroy has a poor chip at the second, leaving himself with an uncomfortable length to save par. His playing partner Smith drops a 20 footer for birdie to get back to 1 under. As for McIlroy, he makes another bogey. Getting late real early for the Ulsterman.
5:44 a.m.: Morikawa's pace is putting pressure on the rest of the field. Webb Simpson, who began his day four under, is three over through five and in danger of falling out of this thing. Patrick Reed misses the green at the second and faced a mean up-and-down to remain two over.
5:43 a.m.: Make that another birdie for Morikawa, making 3 at the ninth, and we now have a new leader. Open doesn't have its usual teeth at the moment, but Morikawa is making this look WAY too easy.
5:40 a.m.: McIlroy ends up making bogey at the first of a short-game mess, and now has to go into attack mode to stay in this event. Ahead Justin Thomas pours in a 30-footer to move to one over, which could be the spark his tournament needs.
5:32 a.m.: Morikawa is en fuego. Morikawa bounces back with a birdie at the eighth to move into a share of the lead with Louis Oosthuizen. Pretty damn good for a guy making his open debut.
5:28 a.m.: A poor drive forces Morikawa to make a par at the par-5 seventh. But par when things go bad is still good, as he hangs on at 5 under...Back at the first Cam Smith has to punch his second out of the high stuff, with Reed forced to do the same. McIlroy is somehow able to get his ball out and onto the green, and though a long putt awaits it's a heck of a save given how bad his drive was.
5:23 a.m.: Not the drive Rory McIlroy wanted out the first, sending his tee shot way right into the deep gorse. Going to be a struggle to save par. Rory needs to get into red and get there in a hurry if he harbors hopes of contending this weekend.
5:15 a.m.: Sorry for the delay; Tommy Fleetwood is wearing a cow-pasture pattern on his hat that caused us to pass out.
5:05 a.m.: Oh boy. Xander Schauffele's drive at the first finds the heavy stuff, and despite a mean pass at it, the ball's position has not improved. Schauffele is coming off a one-under 69 but not the start the man envisioned.
4:57 a.m.: Jazz Janewattananond holes a pitch out from 40 yards to move to two under, putting together a nice little round. Doing the same is Finau, making his third birdie of the day at the eighth to get to three under. Finau's coming off MCs at the U.S. Open and Travelers Championship, but clearly his game is on-point in the early going.
4:49 a.m.: Phil Mickelson is on the tee. After an opening-day 80, Mickelson likely needs a 65 to harbor any hopes of seeing Saturday. He finds the fairway with his opening drive.
4:38 a.m.: No, Frankie! His approach at the par-3 sixth found a pot bunker. His second found the wall of the pot bunker, then forcing Molinari to go out sideways. Molinari now has a brutal up-and-down awaiting to save double.
4:33 a.m.: Morikawa absolutely flushes one at the fifth, his approach coming to rest a few feet from the pin. That's all that remains to move to minus five. Better yet, the wind is starting to pick up. This is a delight.
4:27 a.m.: Webb Simpson gets his day kicked off with a drive into the right-hand gorse. Simpson put together a lovely Round 1 66, a much-need performance amid a good-but-not great campaign. Currently considered a captain's pick candidate yet needs to solidify his case; contending at Royal St. George's will do just that.
4:19 a.m.: Tony Finau ended Round 1 with a double, but has bounced back with two birdies in his first five holes to get to two under. Has a good look at the sixth for number three but rolls it past six feet. With Finau is Billy Horschel, who also buzzes the tower with a birdie attempt. Horschel needs a top 10 this week at worst to reinsert himself into Ryder Cup conversation. Currently sits at one under in the early going.
4:12 a.m.: Morikawa sends his drive at the fourth into the heather. Appears the R&A world feed will be highlighting the 2020 PGA champ for most of the morning...ahead on the green, Molinari makes a slippery seven footer for par to remain at two under.
4:05 a.m.: Now we're live! Morikawa makes pars at the second and third to stay at four under, while Ben Herbert, who turned in a first-round 66, bogeys the first. Still, conditions seem tame at the moment, given yesterday's afternoon wave a chance to make a move.
3:57 a.m.: Good morning from the Open! Well, good morning to all those watching the Open. Collin Morikawa birdied the first to move to four under for the event, with Frankie Molinari making an early move as well. But Golf Channel is still showing "Tommy's Honour" so we'll check back once the actual golf comes on.
MORE BRITISH OPEN 2021 STORIES FROM GOLF DIGEST: