Open Championship Preview
British Open 2021: From Royal St. George's With Love
Like his James Bond character, writer Ian Fleming had an affinity for golf, and the site of this year's Open Championship is where he felt most at home.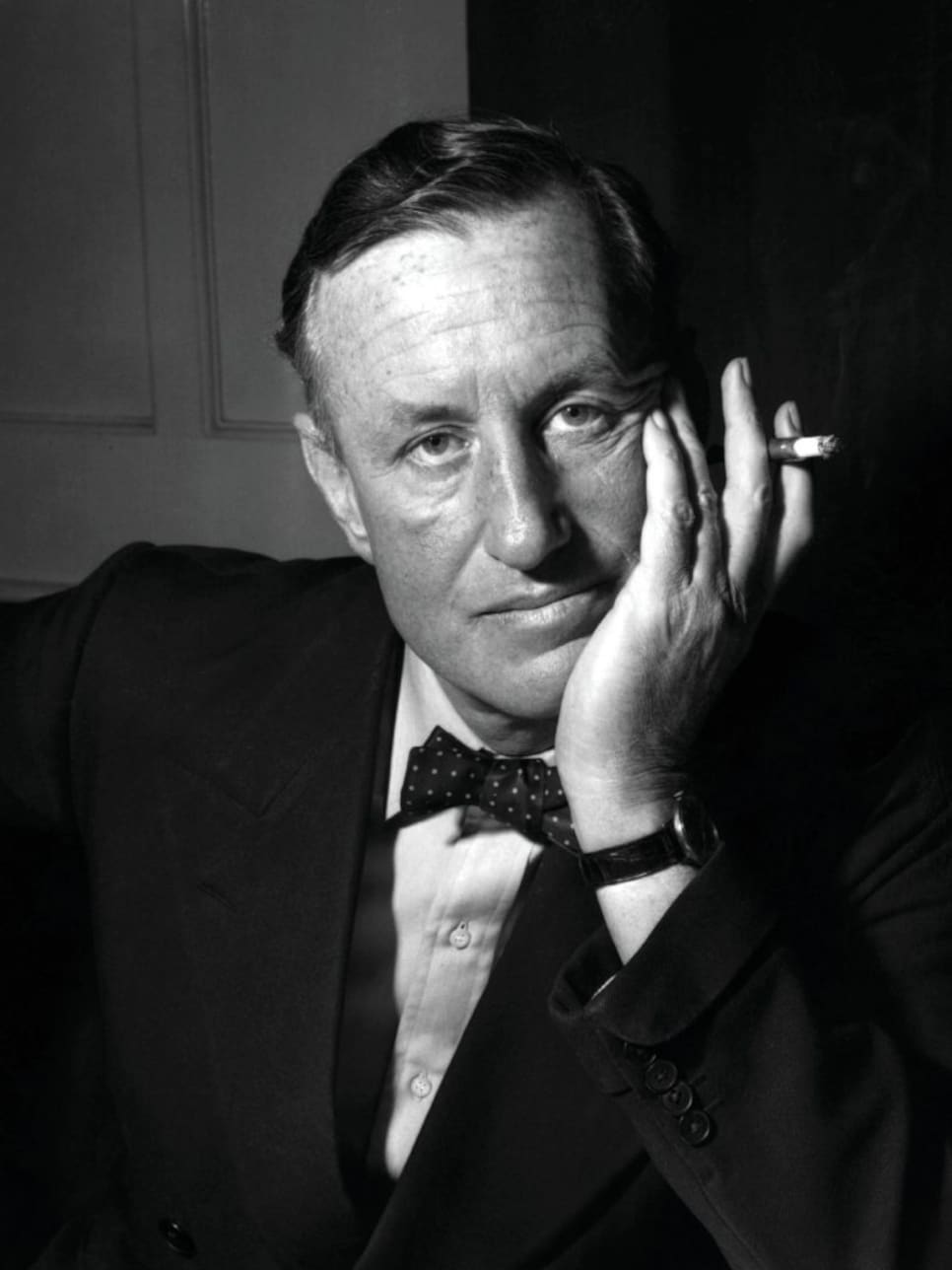 The club was founded in 1887 and has hosted 14 Open Championships—the 15th is scheduled for July 15-18. Yet the most famous encounter on these hard, fast fairways is a work of fiction. The 1959 novel Goldfinger is the seventh in the series of 14 Bond books by English author Ian Fleming. Fifty pages are devoted to the epic battle between the two men, and the golf segment in the movie adaptation still stands out as one of the best cinematic celebrations of the game.
Royal St. George's, named for England's patron saint but rechristened Royal St. Marks for the purposes of fiction, is where Bond as a teenager would often play 36 a day. The match with Goldfinger is his first return in 20 years. The old pro remembers him: "A bit of practice, Mr. James, and you'd be scratch," he says.
The latest videos from Golf Digest
We first meet Goldfinger in Florida. During a flight delay at the Miami airport, Bond is approached by a wealthy American, Junius Du Pont, part owner of a swanky beach resort nearby. The two had met years earlier at a casino in France. Du Pont asks Bond to help him with a problem: He'd been losing badly at two-handed canasta for four days straight to one of the guests at his hotel, Goldfinger. Bond rumbles the ruse—in Goldfinger's suite the next day he discovers a semi-clad young woman who sees Du Pont's cards through powerful binoculars and relays them to her boss via a transmitter in Goldfinger's ear. Bond gets Goldfinger to pay up, makes love all night with Goldfinger's now unclad binocular woman on a sleeper train to New York, then flies home.
Back in London, by an amazing coincidence, Bond learns that Goldfinger has attracted the attention of the intelligence services and the Bank of England; Bond is asked to investigate. Goldfinger is a Russian émigré to the United Kingdom who has set up a chain of pawnbrokers and jewelry stores as a cover for a gold-smuggling operation that made him the richest man in England and a suspected chief underwriter of Russian counterintelligence operations. Goldfinger lives in Reculver, on the "melancholy, forsaken reaches of the Thames," just along the coast from "St. Marks," where he plays most afternoons. After his humiliating unmasking as a cheat in Miami, Goldfinger sends a message to Bond, challenging him to a game.
The golf match thus takes on a great significance as a Cold War duel of good versus evil, and readers of the novel are left in no doubt as to which is which.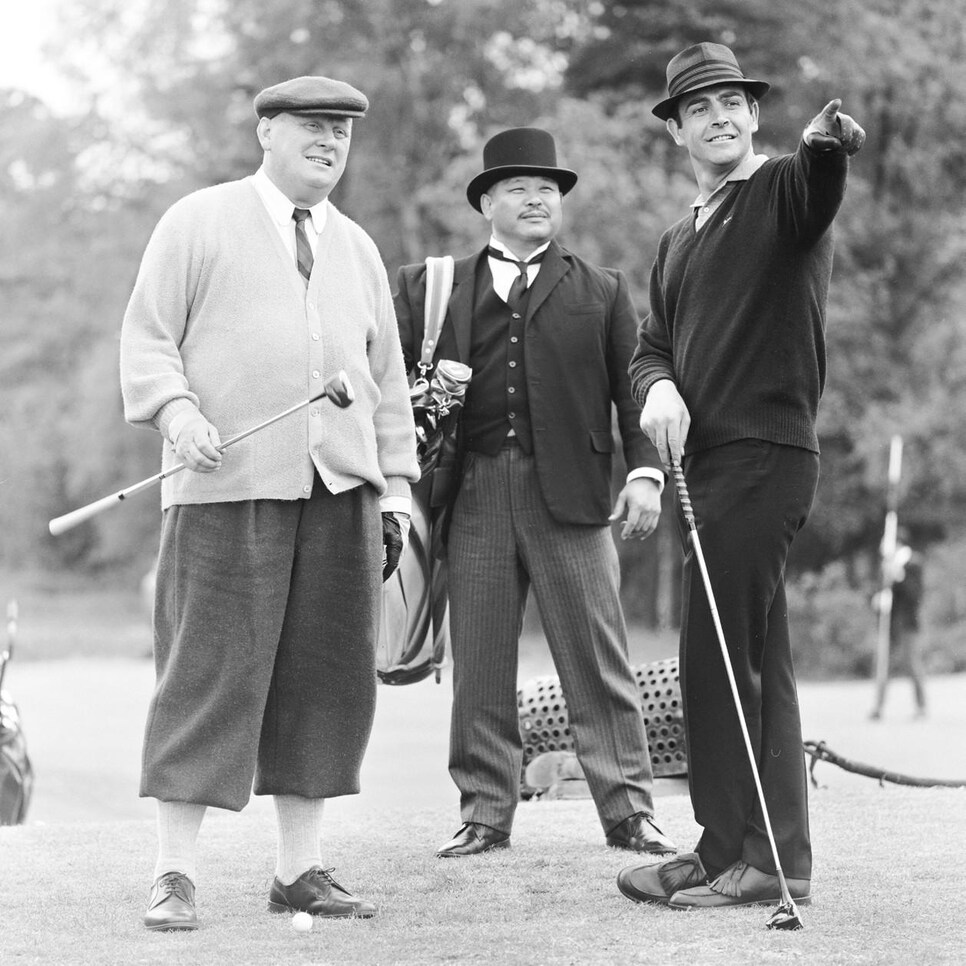 Original Bond Sean Connery (right) on the set of Goldfinger. (Daily Mirror/Mirrorpix Via Getty Images)
Goldfinger is short, barely five feet tall, and "it was the short men who caused all the trouble in the world." On top of his "thick body and blunt, peasant legs, was set, almost directly into the shoulders, a huge and it seemed exactly round head. It was as if Goldfinger had been put together with bits of other people's bodies." Bond plays in a battered old pair of spikes and a faded black windcheater; his opponent, by contrast, is unforgivably ostentatious. He arrives at the club in a chauffeur-driven armor-plated yellow Rolls-Royce. "Everything about the man had grated on Bond's teeth from the first moment he had seen him."
Goldfinger, of course, has a new set of clubs in a big leather bag. He "made an attempt to look smart at golf, and that is the only way of dressing that is incongruous on a links. Everything matched in a blaze of rust-colored tweed from the buttoned 'golfer's cap' centered on the huge, flaming red hair, to the brilliantly polished almost orange shoes."
The pro had warned Bond of Goldfinger's reputation as a cheat, and sure enough he frequently improves his lie by stepping behind the ball or "accidentally" drops his club or jangles change in his pocket when Bond is in full swing.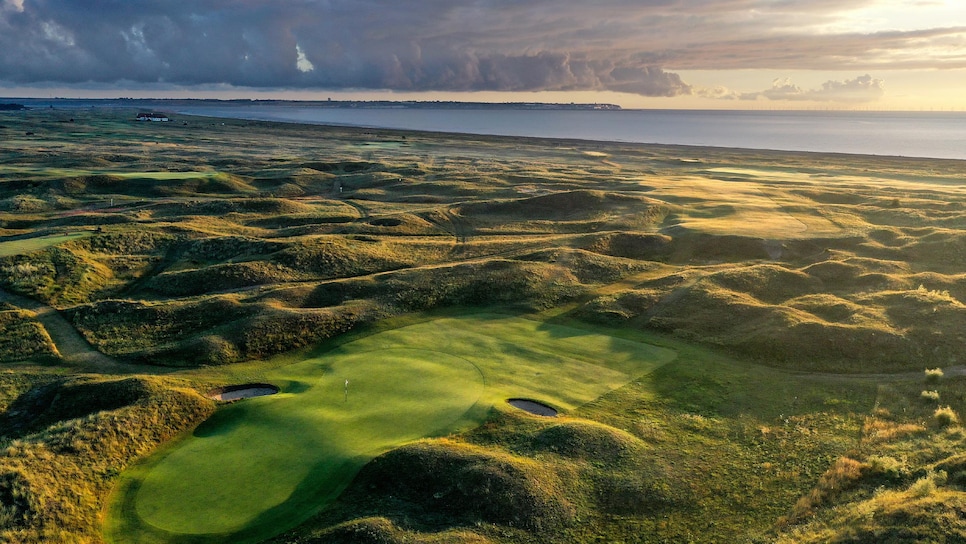 The eighth hole at Royal St. George's, which was the site of England's first Open Championship in 1894. (David Cannon/Getty Images)
The 15th is perhaps St. George's toughest par 4, only reachable in two for the longest of hitters. Bond goes for it with that most exacting of shots, a driver off the fairway. He takes the club back, but Goldfinger is on the move again, using the low-evening sun to cast a passing shadow over Bond's ball. Bond is able to stop, step away, regroup and try again. Here Bond shows his mettle: The shot is perfect. Says his caddie, Hawker, who was modeled on one of Fleming's real-life caddies: "That's one of the finest shots I've seen in 30 years."
Goldfinger's most blatant cheat comes at the 17th. With the match all square, he pushes his drive into deep rough. Just before the five-minute search limit has elapsed, Goldfinger's caddie shouts that he has found his master's ball. It's in a perfect lie and farther along than where the rest of the group had been looking.
"It wasn't his ball, sir," Hawker tells Bond.
"Do you swear to that? How can you be sure?"
Then with a "half ashamed, lopsided grin," Hawker says: "Because his ball was lying under my bag of clubs, sir."
Bond, amazed by Hawker's ingenuity and Goldfinger's temerity, comes up with a plan. He gives Hawker a Dunlop 65 number seven that he found in the rough and instructs him to switch it with Goldfinger's ball after the two combatants have putted out on the 17th green. Goldfinger plays a Dunlop 65 number one. Bond plays a Penfold Hearts.
The two men are all square with one hole left to play. Goldfinger wins, but Bond plays his trump card. He confronts Goldfinger about playing the wrong ball, and thus claims the hole and the match. St. George has slayed a dragon.
Special Agent 007 lives a cartoonish, schoolboy fantasy life of adventure, taking on the evil in the world for Queen and country, with smarts, derring-do and a license to kill. His work brings him notoriety, exotic locales and a steady stream of beautiful alpha females who inevitably fall for Bond's animal charms—even Goldfinger's pilot, the lesbian cat-burglar Pussy Galore, succumbs. The women are used, then discarded. Bond travels light. He's never at home and always at home, whether wearing a tuxedo or just a towel.
Set against a backdrop of post-war drear and a rapidly disappearing empire, the Bond novels were thrilling, colorful, heroic. The villains and their megalomaniacal plots to take over the world were no match for Bond. He restored pride to Englishmen of a certain disposition, giving the impression that behind the scenes, Britannia still ruled the waves. It's Bond who saves Fort Knox from Goldfinger's devilish plan. It's Bond who is apparently single-handedly winning the Cold War. Bond's opposite number in Washington, D.C., Felix Leiter, is a lightweight. English novelist Kingsley Amis writes, "The point of Felix Leiter, such a nonentity as a piece of characterization, is that he, the American, takes orders from Bond, the Britisher."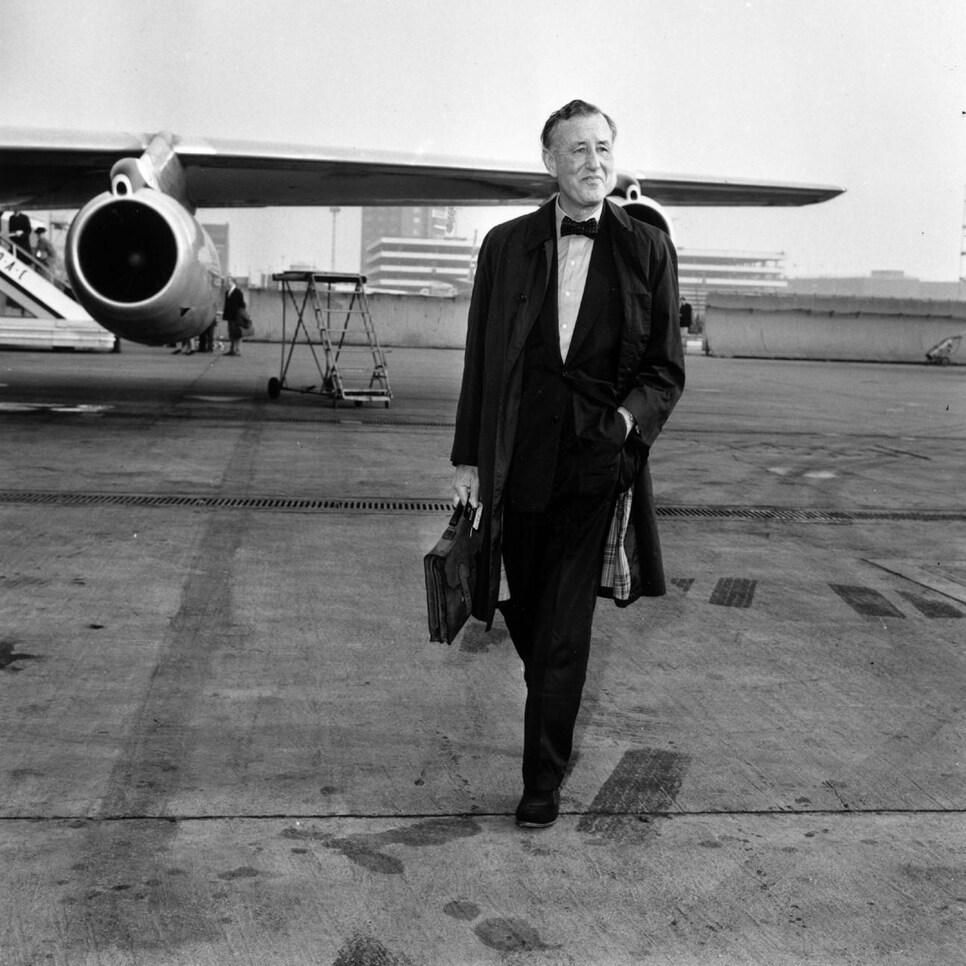 Fleming at an airfield in January 1964, seven months before his death and less than a year before "Goldfinger" was released. (Express/Getty Images)
Fleming created in Bond a kind of extrapolation of himself. Fleming was born in Mayfair, London, in 1908. His grandfather made a fortune investing in American railways; he founded the Robert Fleming merchant bank (Chase Manhattan bought the company in 2000 for $7 billion). Robert's son Valentine—Ian's father—was a British Member of Parliament. It was a familiar story of privilege and brutality. Fleming, one of four boys—the "difficult" one—was bullied at school. His father left in 1914 to fight in World War I. Eight days before Ian's ninth birthday, Valentine was killed on the Western front. Winston Churchill wrote an obituary in The Times.
Fleming was sent to boarding school, the hottest of hothouses for overprivileged boys, Eton College, where he excelled at sports, edited the student newspaper and, later, got into trouble for his keen, extracurricular interest in cars and women. After stints abroad learning languages and skiing in fashionable European resorts, he enrolled at the Royal Military Academy at Sandhurst. He left after less than a year with no commission and a bad case of gonorrhea.
He dabbled in the city and in journalism, which can be a passport to adventure and travel at someone else's expense. Covering a trial in Moscow in 1933, he requested an interview with Joseph Stalin and was astonished to receive an apologetic handwritten note back from the Soviet premier, declining the request. Fleming cultivated an epicurean social network in London of scions and scoundrels and drinking and golf partners. In 1934, such friends and "wives and concubines" traveled by chartered train to the new resort at Gleneagles in Scotland—there was a carriage for dancing, another for gambling. Across the English Channel, the golf courses and gambling dens of Le Touquet and Deauville were popular weekend retreats.
Fleming took up golf in school, and as an adult, wherever he found himself in the world, he was up for a game. One golf pal described his short, flat, fast swing as "like a housemaid sweeping the floor," but he was a useful player. In the 1957 Bowmaker pro-am at the Berkshire outside London, Fleming partnered with Peter Thomson, who had won the previous three Open Championships and would go on to win two more. To prepare, Fleming re-read his favorite golf book, Tommy Armour's How to Play Your Best Golf All the Time, which makes an appearance in Diamonds Are Forever.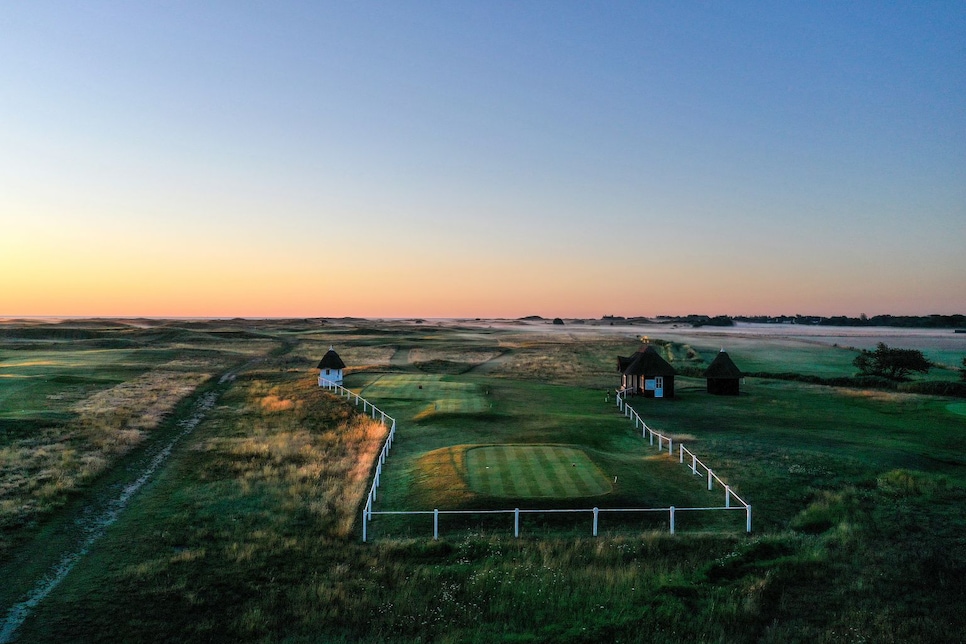 The par-4 first hole at Royal St. George's. (David Cannon/Getty Images)
Playing off 9—like Bond and Goldfinger—with a champion golfer and in front of large crowds, Fleming performed creditably. He wrote up the experience in a humorous newspaper story entitled "Nightmare Among the Mighty."
In World War II, Fleming became assistant to the director of naval intelligence and devised and executed a number of special operations at home and abroad that brought him face to face with the political and military top brass, agents and counteragents, the establishment and the enemy. Fleming had a lively imagination. His wartime plotting inspired the outlandish fictional plotlines that would become such an integral part of the James Bond formula.
After the war, Fleming returned to journalism, bought an expensive gold-plated Royal Quiet Deluxe typewriter and started writing. Bond was introduced to the world in 1953 with Fleming's first novel, Casino Royale. Fleming moved to Kent, the "Garden of England"—with a house in Jamaica for the winter—and joined Royal St. George's, where he remained a regular for the rest of his life. At the time of his death, he was the club's captain-elect. Fleming was a lifelong bon viveur, carouser, seducer. He had always had a complicated love life, but after he impregnated Ann Charteris, the wife of press baron Viscount Rothermere, who as a result divorced her, Fleming married her. He didn't exactly settle down. But he slowed down enough to write.
The books were hugely successful, as were the movie adaptations. Filming for "Goldfinger" started in January 1964 at the Fontainebleau Hotel in Miami. Sean Connery was again cast in the lead role, having stolen the show in the first two Bond films, "Dr. No" and "From Russia With Love." But Fleming was initially not a fan of Connery. He had suggested David Niven—he saw Bond as a version of himself: an Englishman, privileged, refined. Connery was rough, raw, working class and very Scottish.
German actor Gert Fröbe took the role of Goldfinger—a controversial choice given he had been a member of the Nazi Party during World War II. Goldfinger's Korean manservant, the mute, bowler-hat-wielding, golf-ball-crushing Oddjob, was played by American Olympic silver medalist weightlifter Harold Sakata.
The golf scenes were filmed not on the links of St. George's but at Stoke Poges (now Stoke Park), one of the many fine courses just beyond the western fringes of London. This was likely more a matter of expedience than aesthetics: Stoke is just 10 minutes from Pinewood Studios, where the bulk of the filming took place. In the movie, it's Bond, not his caddie, who pulls off the sleight of hand—and foot—that tricks Goldfinger out of the game. Connery's Bond takes great delight in beating the cheater at his own game, the end justifying the means.
Fleming visited the set at Pinewood but was in poor health. A heavy smoker and drinker, Fleming had lunch at St. George's on Aug. 11, 1964, dined nearby with friends at the now-defunct Guilford Hotel where he was staying and then suffered a heart attack. He died in Kent and Canterbury Hospital in the small hours of the morning. He was 56. His friend and one-time neighbor, playwright Noel Coward, said he died "because life failed to come up to the dream he had of it."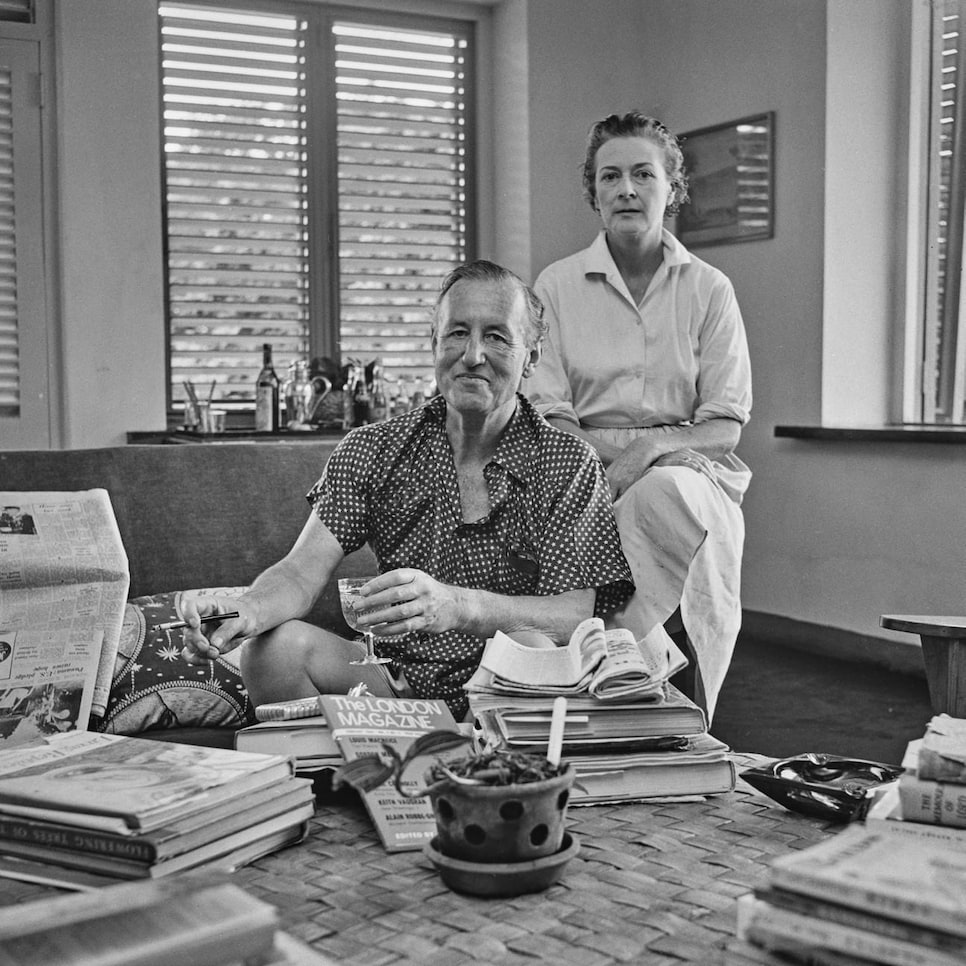 Fleming and his wife, Ann, at GoldenEye, their villa in Jamaica where Fleming worked on his Bond novels. (Evening Standard/Hulton Archive/Getty Images)
His last words supposedly were to the ambulance drivers: "I'm sorry to trouble you chaps. I don't know how you get along so fast with the traffic on the roads these days."
After filming for "Goldfinger" wrapped, Connery flew to Rome to be with his wife, Diane Cilento, who was making a movie there with Rex Harrison. Connery and Harrison were playing golf when news reached them of Fleming's death. They played an extra 18 holes in his honor, with Connery using a Penfold Hearts ball.
Fleming died on the 12th birthday of his son. The bedtime stories he used to tell little Caspar—who he called "003½"—about a flying car became a posthumous best-selling children's book and cinema hit, Chitty-Chitty-Bang-Bang. Caspar, like his fatherless father, would be sent to Eton, where he developed an unhealthy interest in drugs and guns, later dropped out of Oxford University and, at 23, took his life.
"Goldfinger" premiered on Sept. 17, 1964, in London's Leicester Square. Connery attended the French premiere in Paris the next February, driving the length of the Champs-Élysées in an Aston Martin DB5. The movie earned $46 million—it was the then-fastest-grossing film of all time. The franchise barrels on apace: The 27th Bond film, "No Time To Die," will be released at the end of the year. The Bond books today have sold in excess of 100 million copies.
Bond seen from the vantage point of today looks like a dinosaur, especially in his early screen iterations: pathologically egotistical, sexist, racist, homophobic. No wonder he's a loner. He's basically a psychopath, a character for whom the phrase "toxic masculinity" might have been invented, someone who cannot love, only win. Perhaps that goes for Bond's creator, too. The English critic Christopher Hitchens described Fleming as "quite a heavy sadist and narcissist and all-around repressed pervert."
In his biography, Andrew Lycett concludes that Fleming "encapsulates both the tragedy and the triumph of his time. Despite his personal advantages, he ended his short life in misery."
The fifth hole at Royal St. George's, on the southern end of the course, is a roller-coaster ride through tall sand dunes and out toward the sea. The second shot is Bond's favorite on the course. In the match with Goldfinger, Bond "stood on the tee, perched high up in the sandhills, and paused before the shot while he gazed at the glittering distant sea and at the faraway crescent of white cliffs beyond Pegwell Bay."
Fleming was an Englishman of the world, but a restless soul, torn between lovers, lives, locations, never quite at ease, never satisfied. Perhaps it is here, on this windswept edge, that he felt closest to home.
A QUICK NINE ON THE TRAIL OF IAN FLEMING
Nine stops around the U.K. where Fleming fans can learn more about the famous author.
(1) DUKES HOTEL BAR, St James' Place, London
In a quiet Mayfair courtyard behind the Ritz sits the effortlessly stylish Dukes Hotel, where the bar was one of Fleming's regular hangouts. The most famous tipple here is the martini—it was in this watering hole, according to legend, that Fleming decided the martini would be Bond's beverage of choice, a cocktail that had to be, of course, "Shaken, not stirred." Today you can sample one of the Fleming-themed cocktails or learn how it's made by attending one of the hotel's martini masterclasses. dukeshotel.com
(2)

JAMES BOND BUS TOUR OF LONDON
This four-hour tour around the capital by mini-coach is designed to give an inside view of how the Bond films have been made and how real-life spying works today. The tour covers classic scenes from the James Bond films. Walking tours and tours customized to your needs are also available. britmovietours.com
(3)

PINEWOOD STUDIOS,

Iver Heath, Bucks
Just outside London, eight miles from Heathrow Airport, the legendary Pinewood Studios opened in 1935 with the intention of becoming a kind of British Hollywood. Since then, many movies have been created here, including "Goldfinger" and the other James Bond films, as well as other franchises like "Superman" and "Star Wars," and the studios played a major role in the careers of such film legends as Laurence Olivier, Gregory Peck, Marilyn Monroe, Jean Simmons, Sophia Loren, Michael Caine, Elizabeth Taylor, Alfred Hitchcock, Francis Ford Coppola and Stanley Kubrick.
Pinewood is generally not open to the public, but preauthorized visitors and tours are sometimes permitted. A cinema on-site is open to the public, and Pinewood records TV shows with a live studio audience. pinewoodgroup.com
(4)

STOKE PARK GOLF COURSE,

Stoke Poges, Bucks
Five miles down the road from Pinewood is the course where the epic "Goldfinger" duel took place, Stoke Park, a classic 1908 Harry Colt parkland course, one of the finest in the land. With partners Hugh Alison and Alister MacKenzie, Colt created an astonishing number of quality courses, including Rye, Sunningdale, Royal Portrush and Pine Valley. MacKenzie copied Colt's seventh hole at Stoke Park in creating the 12th at Augusta National, perhaps the most famous par 3 in the world. Here you can play the original.
The course is the hub of a luxurious resort that includes a hotel, three restaurants, spa, swimming pool and lots of elegant corners in which to quaff a dry martini or two. stokepark.com
(5)

THE BERKSHIRE GOLF CLUB,

Ascot, Berks
Half an hour away is a cluster of some of the best inland courses in the world, including Sunningdale, Wentworth and the two magnificent Herbert Fowler courses at the Berkshire. It was here that 9-handicapper Fleming put his golf on display by playing in the Bowmaker Tournament, a pro-am-by-invitation event, in June 1957, partnering with one of the most famous golfers of the day, Peter Thomson, who had won the previous three year's Open Championships and would go on to win two more.
Fleming recounted his experience in a newspaper article, "Nightmare Among the Mighty," that ran the following weekend. "Every sport has its own nightmare," he wrote. "The dropped baton, the goal scored against your own side, running out your captain when he has scored 99; and, in your dreams they all have the same ghastly background— the packed stands, the serried ranks of spectators, the incredulous hush and then the deep condemnatory groan.
"In golf the two-foot putt missed on the 18th green is quickly over, and you are at once awake, sweating and whimpering. This terror must be common to even the greatest in the game, but for the weekend golfer there is a far longer, more horrible nightmare—partnership with a world champion over a course black with crowds.
"Last weekend I endured this nightmare, 36 holes of it and I live, but only just, to tell the tale." theberkshire.co.uk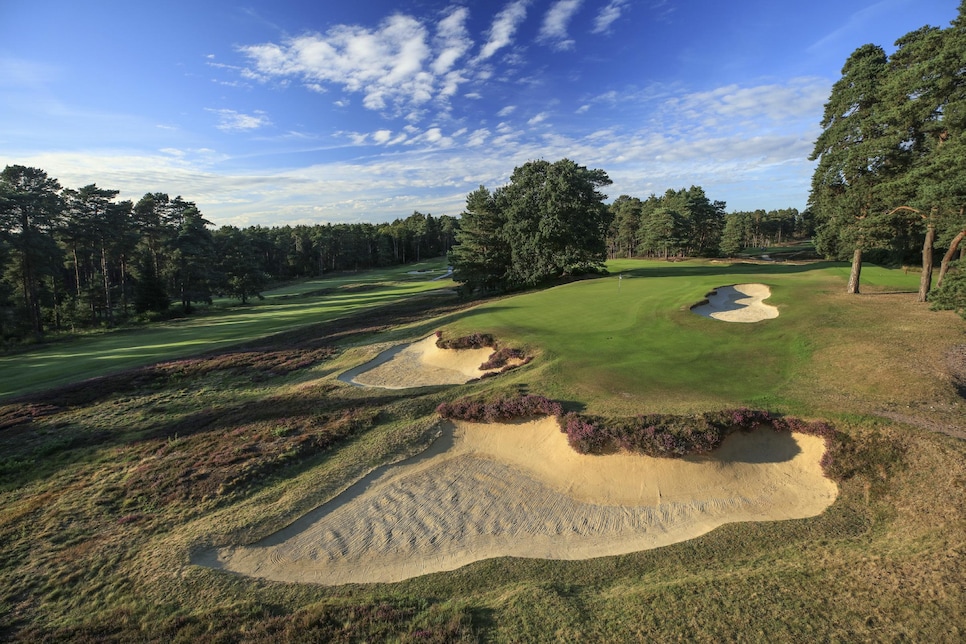 The Berkshire Golf Club, where Fleming once partnered with Peter Thomson. (David Cannon/Getty Images)
(6)

CHARTWELL,

Westerham, Kent
Winston Churchill was one of Fleming's heroes. Churchill and Fleming's father, Valentine, were brothers in arms in World War I. When Valentine was killed on the Western Front, Churchill wrote a eulogy for his fallen friend in The Times. Ian Fleming framed it and hung it on the wall in his home.
Fleming would have had many dealings with Churchill as a key figure in the Naval Intelligence Division during World War II. Fleming admired Churchill for his fortitude and courage in defeating Hitler and for his years of service to their country. Churchill makes an appearance in some of the Bond novels. Churchill's family home from 1922 until his death in 1965 was the beautiful retreat of Chartwell, 40 miles around the London ring road, the M25. It is now owned by the National Trust and is open to the public. nationaltrust.org.uk/chartwell
(7)

ROYAL ST. GEORGE'S GOLF CLUB,

Sandwich, Kent
The venue for this year's Open was perhaps where Fleming felt most at home. Thinly disguised in the book as Royal St. Marks, Britain's jewel of the South was a fitting venue for Bond's match with Goldfinger—a battle of wits as much as of golf.
This will be the 14th Open at the legendary links. The club allows some visitor play, as do nearby Prince's, which hosted the 1932 Open, won by Gene Sarazen, and Royal Cinque Ports, just down the road at Deal, which was the Open venue in 1909 and 1920.
But St. George's is the main attraction. Fleming was captain-elect at the time of his death. He lunched at the club on his last day on Earth. royalstgeorges.com
(8)

WHITE CLIFFS,

St. Margaret's Bay, Kent
In October 1945, the flamboyant English writer, actor and singer Noel Coward moved into one of the five whitewashed cottages that stand at the foot of the famous White Cliffs of Dover in the seaside town of St. Margaret's Bay. Fleming took over the lease of one of the cottages in 1951, and he and his wife would host lavish parties.
This is part of a glorious stretch of coastline. It is possible to walk along the cliffs from Dover to Royal Cinque Ports Golf Club, a bracing perambulation of about 15 miles that takes in St. Margaret's Bay, Walmer and Kingsdown, where in "Moonraker" the evil Hugo Drax has his nuclear rocket hidden inside the cliffs but trained on London, and the seaside town of Deal. whitecliffscountry.org.uk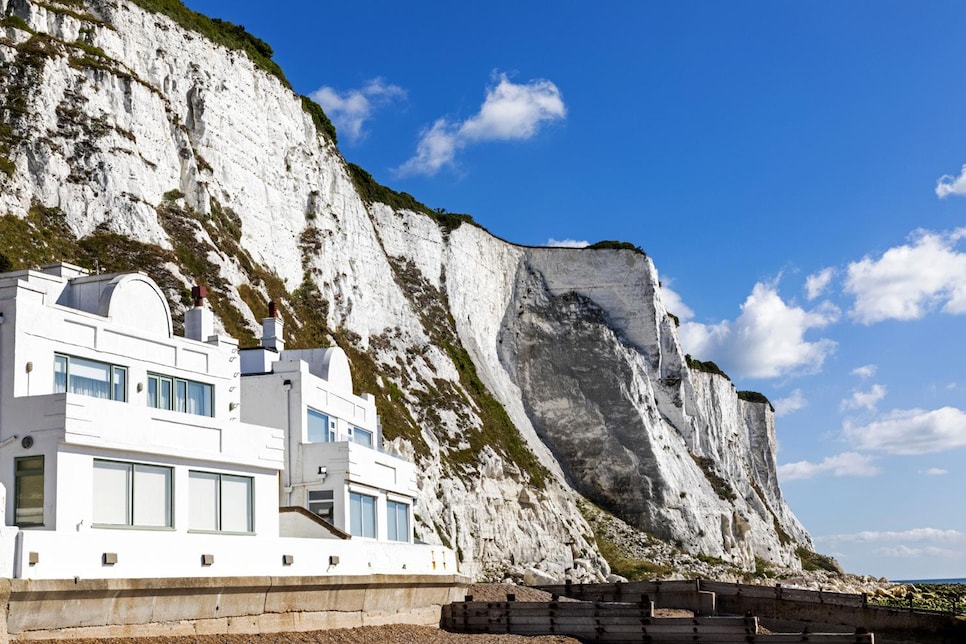 Fleming and wife Ann hosted legendary parties in a cottage at the White Cliffs of Dover. (Dukas/Universal Images Group Via Getty Images)
(9)

THE DUCK,

Pett Bottom, Kent
This is a beautiful, rustic pub in the wilds of the Kentish countryside, dating back to 1623 but with a thoroughly modern menu. The Duck was (and is) a far cry from the swanky Dukes Hotel bar in Mayfair, but it was one of Fleming's most-beloved watering holes, perhaps because it is so remote and almost impossible to find. He had a preferred seat in the garden, where he would write—supposedly he penned much of his 13th book, You Only Live Twice, here.
This would have been a good place to find Fleming in the day, and it's a good place to end our tour. theduckpettbottom.com