Golf & COVID-19
Open Championship 2021: Strict COVID-19 protocols set for players at Royal St. George's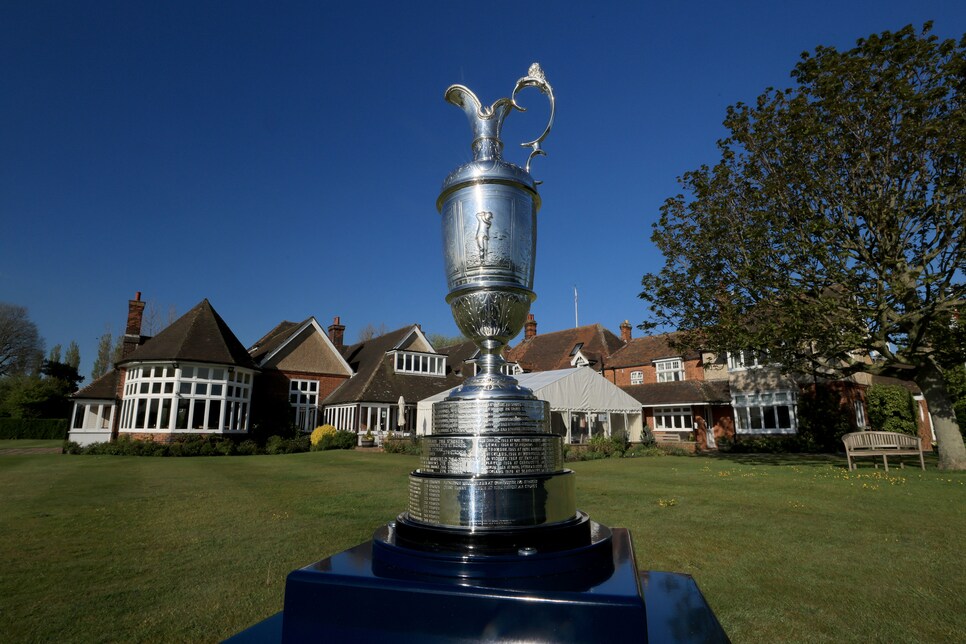 Last week, news that the Open Championship would permit 32,000 fans at Royal St. George's per day suggested the tournament might be carried out under some semblance of pre-COVID normalcy. A five-page update from the R&A sent to players, caddies, agents and coaches this week regarding health and safety protocols at the event, however, struck a markedly different tone.
"Don't be surprised if some eligible players say f—it and don't play," said one person who received the update.
The update, first reported on by The Telegraph and a copy of which was obtained by Golf Digest, outlines a stricter set of tournament regulations than players have become accustomed to over the past months in the United States on the PGA Tour. Language in the update notes that players would be subject to withdrawal from the championship for various violations, such as visiting another player in his accommodation for the week.
"The easing of COVID-19 restrictions in the United Kingdom has been delayed and as a result we have been required by the government to put strict health and safety measures in place," the R&A update says. The update comes as the U.K. reported 35,204 new cases of the highly contagious Delta variant of the COVID-19 virus over the last week. The Delta variant accounts for 95 percent of all COVID cases across the U.K., according to Public Health England.
While players will be exempt from any quarantine requirements under an Elite Athlete Exemption, they will be required to provide a valid negative COVID-19 PCR test certificate and must take the test within 72 hours of travel to the U.K. They will also be required to complete another PCR test upon arrival to Royal St. George's, unless flying on the charter from the Aberdeen Standard Investments Scottish Open, for those players will be tested upon leaving Scotland.
On the PGA Tour, there are no restrictions on where players can stay. For the Open, however, players will be required to stay in an official hotel accommodation or "private self-catering rental accommodation" with a maximum of four persons per property. All four occupants must be part of the same player's support group, which prevents the common practice of caddies and/or coaches sharing accommodations to save money. All "inner bubble" members were warned against mixing with the "general public" in restaurants, supermarkets or other public areas. There are no exceptions listed for any of the restrictions for vaccinated players.
"No one outside the accommodation buddy group is permitted to visit others in self-catering/private accommodation. This would be seen as a breach of the COVID-19 protocols and could lead to withdrawal from the championship."
At the venue, there will be an "inner bubble" system in place all week at Royal St. George's, and "two-metre social distancing rules will apply for everyone within the inner bubble and masks must be worn in indoor facilities." On the PGA Tour, fully vaccinated players are no longer required to test in order to play an event, nor are they subject to any mask or distancing mandates.
Players will also only be permitted to bring their caddie and two more members of their support team into the inner bubble. "This can be a Coach, Manager, Medical Support or Translator. Players can also choose to accredit up to one family member as part of this allocation."
That family member, however, would have to already be in the U.K. and have completed any quarantine requirements, which run a minimum of five days. Because players will not be required to quarantine, it is likely many will make the trip without family members.
Initial reaction to the restrictions has been met with frustration among some players and caddies. One player told Golfweek that he considered not attending the event over the restrictions.
"It's aggravating that they deem the tournament safe enough for 32,000 fans a day to attend, but won't let a player's wife, children travel and watch the tournament, nor will they even let players visit a restaurant without threat of disqualification."
In response to the reaction, an R&A spokesperson issued the following statement to Golf Digest: "Our absolute priority is maintaining the safety of the players, fans and all involved in the Open and we are doing as much as we can to minimize the risks. We fully recognize the continuing impact of the COVID-19 pandemic and that case numbers are rising in many parts of the country. The U.K. has strict contact tracing legislation in place and we are creating a minimized risk environment to protect players, caddies, officials and staff. It is extremely important that we all follow the protocols. The players and their management teams have been very accommodating and appreciate the challenges that the pandemic is creating for all of us."
After canceling last year's event due to the pandemic, The Open is set to begin July 15 at Royal St. George's, where Shane Lowry will defend his title.