News
The major that never happened: The story behind the cancellation of the 2020 Open Championship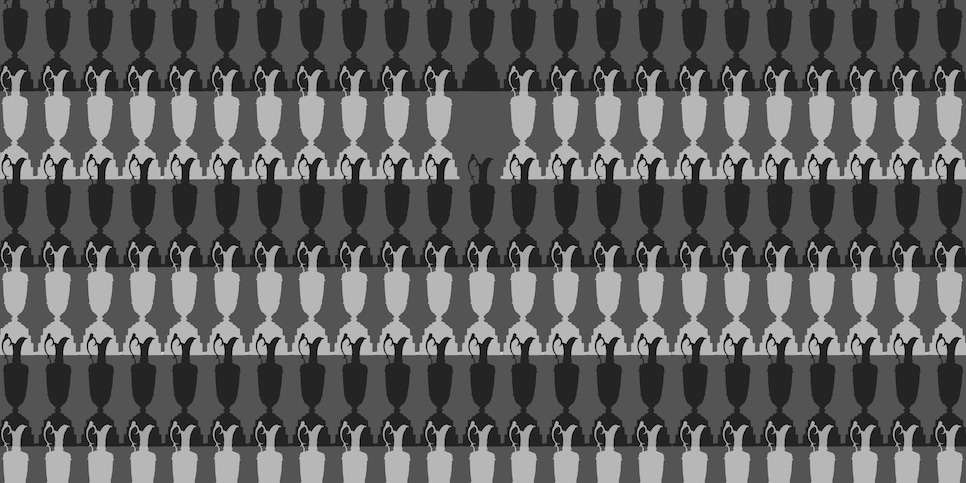 ST. ANDREWS — In the 160 years that have passed since Willie Park beat seven other men at Prestwick to win the first Open Championship, only the two World Wars have halted the event. Even two years of Spanish flu almost exactly a century ago—a pandemic that claimed as many as 50 million lives—failed to stop the golfers of the day from competing for the storied claret jug. But that proud record of continuity ended this year, in the face of the COVID-19 virus.
And it concluded quickly. Just two short weeks, a fortnight to use British vernacular, was all the time it took for this year's Open—what should have been the 149th playing of golf's oldest major—to go from scheduled to canceled. This according to Martin Slumbers, the chief executive of the R&A, organizers of the Open. Slumbers spoke last week with Golf Digest to discuss what went on behind closed doors, how the R&A made its decision and what's in store for the Open in 2021 and beyond.
On March 23, as soon as the United Kingdom officially joined multiple nations around the globe in COVID-19 "lockdown," Slumbers began talks with the game's other power brokers. Alongside the R&A chief executive, representatives of the PGA Tour, the European Tour, the LPGA Tour, the USGA, Augusta National and the PGA of America sat down in an attempt to assemble and salvage a viable tournament schedule for the remainder of the year.
All to no avail as far as the 14th Open at Royal St. George's, on England's southeast coast, was concerned. By April 6, Slumbers had released a statement saying that the "champion golfer" of 2019, Irishman Shane Lowry, would have to wait at least another 15 months to defend his title over the Kent links.
"In those 13 to 14 days, we covered ground that in normal times would have taken a year's worth of thinking," Slumbers said. "We all worked together, which is a very powerful point to make. That doesn't happen often. But you build friendships in good times, and all of us knowing each other as well as we do really paid off. It was like putting together a jigsaw without a starting point. It really was extraordinary."
As Slumbers explained it, quickly it became apparent that the Open wasn't going to happen, not in its now traditional third week of July spot anyway. Government restrictions meant such a hope was summarily dismissed. With around 5,000 people involved in the vast array of preparations for the event, it would have been irresponsible, according to Slumbers, for he and his staff, led by the executive director of championships, Johnnie Cole-Hamilton, to have so many people working in close proximity.
"We then looked at a full staging of the Open in September," Slumbers said. "Pragmatically, it takes us four months to 'build' the championship on-site. So we had to get going by June at the latest. But again, it became apparent very quickly that we weren't going to be able to have people working by then."
Additionally, as was the case with the U.S. Open at Winged Foot, there would have been less daylight available in September, noted Slumbers, a fact amplified by Royal St. George's being the southern-most Open rota venue. "Had we been going to, say, Carnoustie [555 miles north] we would have had more time to accommodate a bigger field," Slumbers said.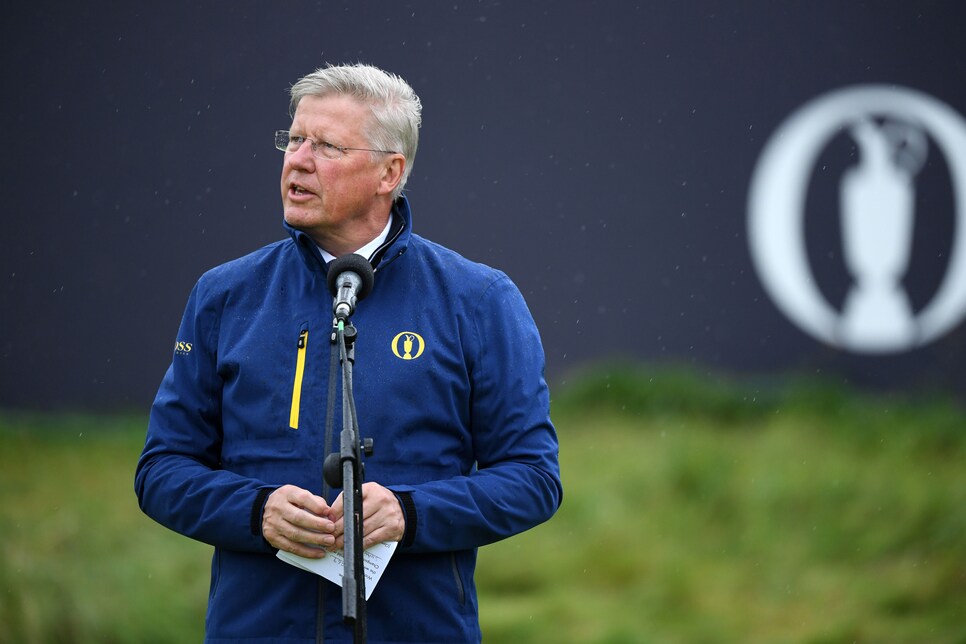 Slumbers addresses the crowd at Royal Portrush during the trophy presentation following the 2019 Open Championship.
Matthew Lewis/R&A
Option 3 then came into play: an Open closed to the public, much in the way the PGA Championship and U.S. Open were played this summer and how the Masters will be conducted next month. Inside five days, Cole-Hamilton and his team came up with a plan to do just that, a feat Slumbers calls "extraordinary." But again, the whole thing proved to be logistically unfeasible, argued Slumbers. Although the R&A were able to stage the AIG Women's Open at Royal Troon in mid-August without galleries—the only major sporting event in the U.K. this year—the sheer size of the men's Open was an insurmountable obstacle.
"Yes, there would have been no grandstands or a big tented village," Slumbers said. "But we would have needed camera towers behind every green. There would have been a bigger—five acres in size—media area because there is so much interest in the Open. Then we would need contractors and everything else that goes with an event of that size."
What clinched the matter was input from the emergency services, local government and the Royal St. George's Golf Club itself. Especially the emergency services, who were already planning for a second wave of the virus and felt unable to provide the appropriate level of support to the Open. The police said pretty much the same thing.
"There was one last factor," Slumbers added. "Had we staged in September, the schools would be in session. A lot of the land that we need to hold an Open at Royal St. George's is rented from a local school. Suddenly that was not available. Nor would a large number of the local volunteers we need. Add all those things together and it just wasn't possible to make it work. To be honest there wasn't much going in our favor."
And so it came to pass, the Open wasn't going to happen. Not in 2020.
"I've been involved in a lot of difficult things in my professional life and that was right up there," Slumbers said. "But, in a way, it was quite an easy decision to make. It was logical.
"Having considered all the options, we came to the conclusion that, however much we wanted to hold on to the Open this year, that was not the right thing to do. It wasn't discharging our sense of responsibility. But we would be running the risk of players not wanting to come. And it wouldn't have been the same playing behind closed doors. The quality of the field matters. If you win the claret jug, you are the champion golfer for the rest of your life. So we decided to be firm, clear and quick. We had a board meeting on the evening of Friday, April 3. And the decision was made to cancel."

Holding a full-build Open Championship was quickly deemed impossible early in discussions, the R&A ultimately deciding even a fan-free event would be too difficult to stage.
David Cannon
Alongside that ultimately gloomy conclusion, there is at least some good news. Assuming no legal restrictions implemented by the U.K. government, there will be an Open Championship in 2021. The 149th edition is scheduled to be played at Royal St. George's July 15-18. Which means the 150th is (still) slated for the Old Course at St. Andrews, only to be held in 2022.
"Preserving the 150th at St. Andrews was vital," Slumbers said. "When the history books are written it is important that such an anniversary takes place here. We had to work it through though. St. Andrews is complicated by the fact that the Links Trust had already sold all the tee times [for the summer of 2022]. And given the way Royal St. George's stepped up throughout this crisis, it would have been wrong to skip 'their' Open. So it was all pretty logical. We decided to go back to Royal St. George's 12 months on."
While not official, it's expected that the other two Open venues previously announced as host sites, Royal Liverpool and Troon, will each move back a year to now host in 2023 and 2024, respectively.
No matter how well Slumbers argues his clearly strong case for cancellation, there have been those who have criticized the R&A. Why, asked some, did the game's rules-makers outside the United States and Mexico feel obliged to cut such a long-standing cord when the three majors on the other side of the Atlantic managed—or will soon manage with the pending Masters—to get their events played this year?
"The situation here was very different to that in America," Slumbers said. "The United States is so much bigger than the U.K. All the messages we received from government were prompt. We were getting very clear steers that this virus was not going to go away in four weeks. Having said that, I can't be happier for my colleagues at the USGA and the PGA of America and Augusta National who have found ways to get their events done. Do I have a slight tinge of jealousy? Yes, I do. Having no Open rips the heart out of the R&A. Our rhythm of life, as it has for so many, has been disrupted. I didn't enjoy what should have been Open week."
There was one more piece of ammunition for potential critics. Did the financial safety net provided by the presence of the R&A's "communicable disease" insurance policy play too much of a role in the eventual decision?
"Although it would be wrong to say that having the insurance in place was not linked to what we came up with, all the decision-making was done through the lens of being uninsured," Slumbers said. "We would have come to the same conclusion, irrespective of that. We were fortunate to have insurance. That protects part of our expenses, and we are working though all of that with the insurers at the moment. But it was independent of the final decision. [Slumbers would not say how much the insurance cost, how much the R&A has or will receive as payment or what it covered.] The All-England Tennis Club at Wimbledon was in the same position. They had an identical policy, and they canceled their championship, too."
Looking forward rather than back, multiple plans for 2021 are well underway. The first is for a full event; the second is for a reduced attendance event; and the third is for a behind-closed-doors event. No matter which comes to pass, though, what Slumbers calls the R&A's "sense of responsibility for the game" will be maintained. Every player exempt for this year's Open has been guaranteed a place for 2021.
"That sits hard in our DNA," Slumbers said. "It might involve us changing the number of spots available in our qualifying events, but we felt it was the right thing to do. We felt it was right to honor the agreement we had with players. Even if that will present us with challenges with regard to the field."
Even before the cancellation was made public, Slumbers was in communication with players. A number of the more prominent pros—including defending champion Lowry—were prepped in advance of the announcement. Letters were also written to every exempt player apologizing and explaining the background to the decision.
"I've had nothing but total support from every one of them," Slumbers said.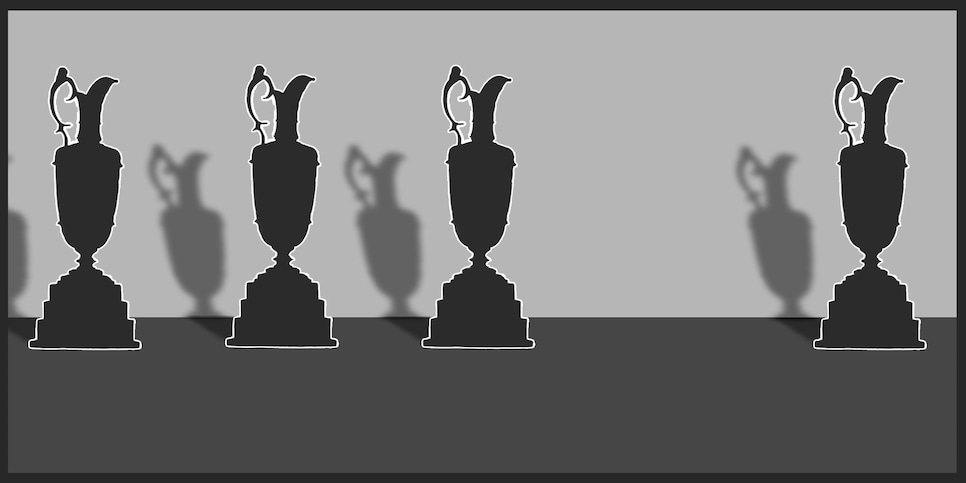 Spectators who purchased tickets and hospitality were not forgotten. Everyone was offered either a refund or a rollover into 2021. The vast majority have chosen the latter, a result Slumbers describes as "pleasing." As is the knowledge that, should a full crowd be possible, 180,000 of the target audience of 210,000 is already guaranteed.
So it is that, in true British "stiff upper lip" fashion, the R&A have made the best of a bad lot in unprecedented circumstances. And the closing message is typical of the "never say die" attitude older Britons still say typified the nation during World War II.
"Canceling the Open was an incredibly tough decision," Slumbers concluded. "But not for one second do I think it was the wrong decision. I have no regrets, no doubts."