News
British Open 2019: How I survived a night in the Open Camping Village
For far less than the cost of a local hotel, you can enjoy good food, good music, good company and even a good night's sleep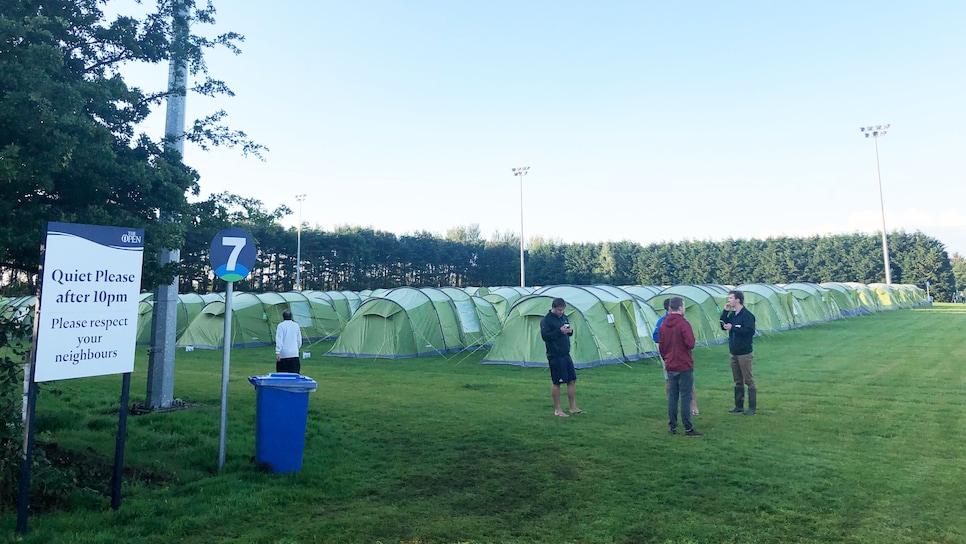 COLERAINE, Northern Ireland — Five miles down the road from one of the most enchanting places on the planet, Royal Portrush Golf Club, and the 148th Open Championship, you can practice your chipping, get your photo taken with a replica of the claret jug, sip pints of Guinness (it really is different here), talk about the day's golf and rest your head on a pillow while staring up at the stars. The best part is: It costs only a little, or even nothing at all.
That means something considering this is the first Open played in Northern Ireland in 68 years. A quick Google search of hotels in and around this seaside town of roughly 7,000 reveals some options, though this week many will cost you hundreds of pounds per night. There's one lovely cottage available nearby that's going for £700. Affordable to someone, sure, but probably not nearly as fun.
Welcome to The Open's Camping Village, where anyone 24 or younger gets in for free. Anyone older can pay as little as £40, depending on the day. In return, as I witnessed on Wednesday night, you get a tent, sleeping bag, pillow, use of showers and bathrooms as well as a couple of makeshift soccer pitches and a few chipping areas.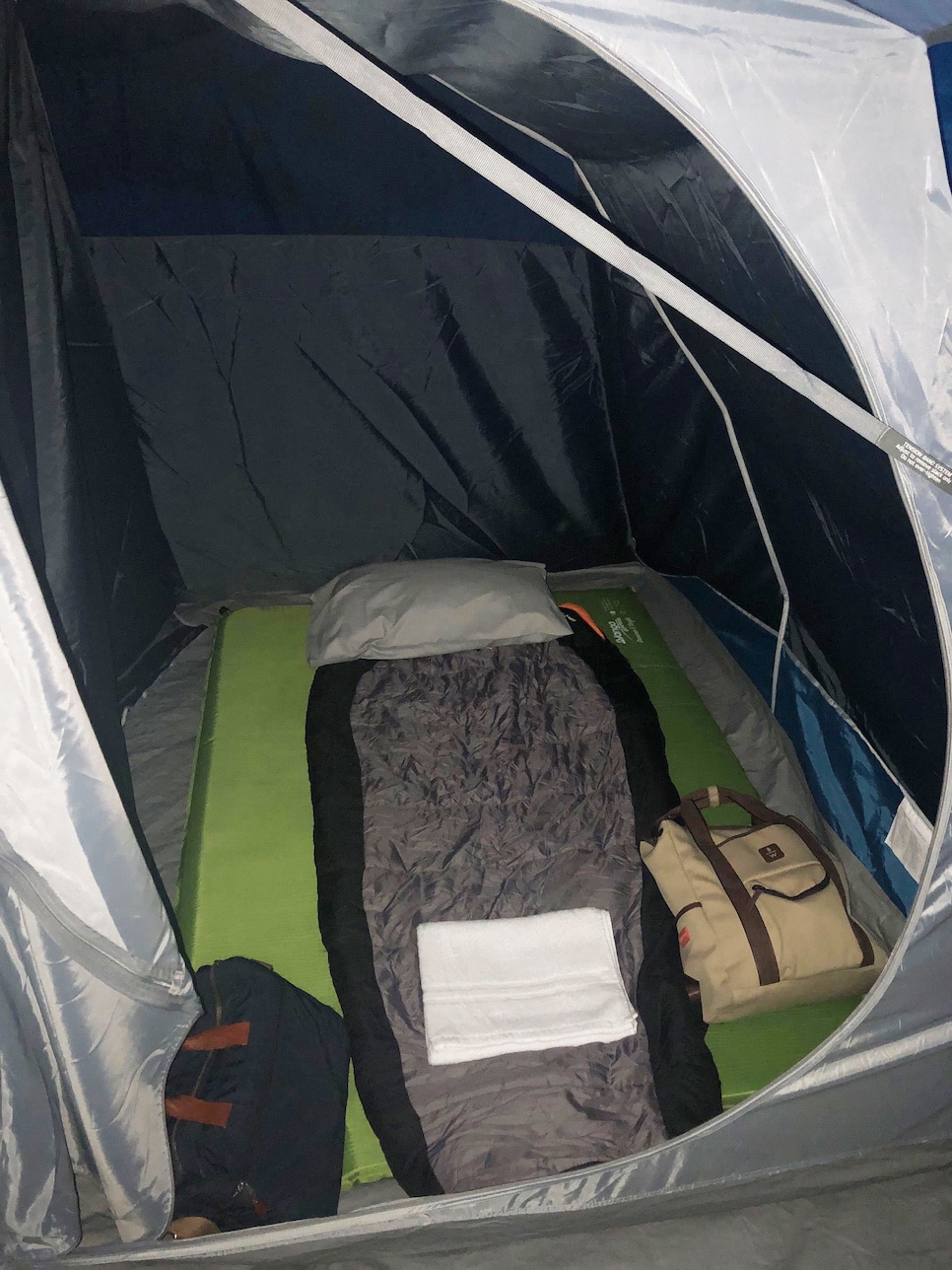 Even better is the experience, which feels like one of those never-ending summer nights of youth, the kind where children gleefully play nearby, adults enjoy a few beverages and pizza or burgers, and everyone becomes friends, bound by their love of the journey, holiday and, of course, golf.
"I've already booked for next year," said Simon Green of Lincolnshire, England, who has stayed in the camping village every year since the R&A started offering it to spectators at Royal Troon in 2016 as a way to make the Open more accessible (read: affordable) to a younger audience.
This year, Green brought his 8-year-old son, Alfie, who is a big Rory McIlroy fan after getting a towel and ball from the Northern Irishman during last year's Open. "They must be doing something right," Simon said of the R&A-run village.
The initial offering three years ago featured fewer than 200 tents, was less organized and was more focused on attracting that coveted group of fans—millennials—to a festival-like atmosphere.
"[R&A Chief] Martin Slumbers came up with the idea for the camping village because one of the biggest barriers of coming to the Open was cost," said Tom Critchley, who works with the organization overseeing the operation of the camping village, "He wanted young people to be able to come here at a good price."
It seems to be working, at least judging by how much the village has grown.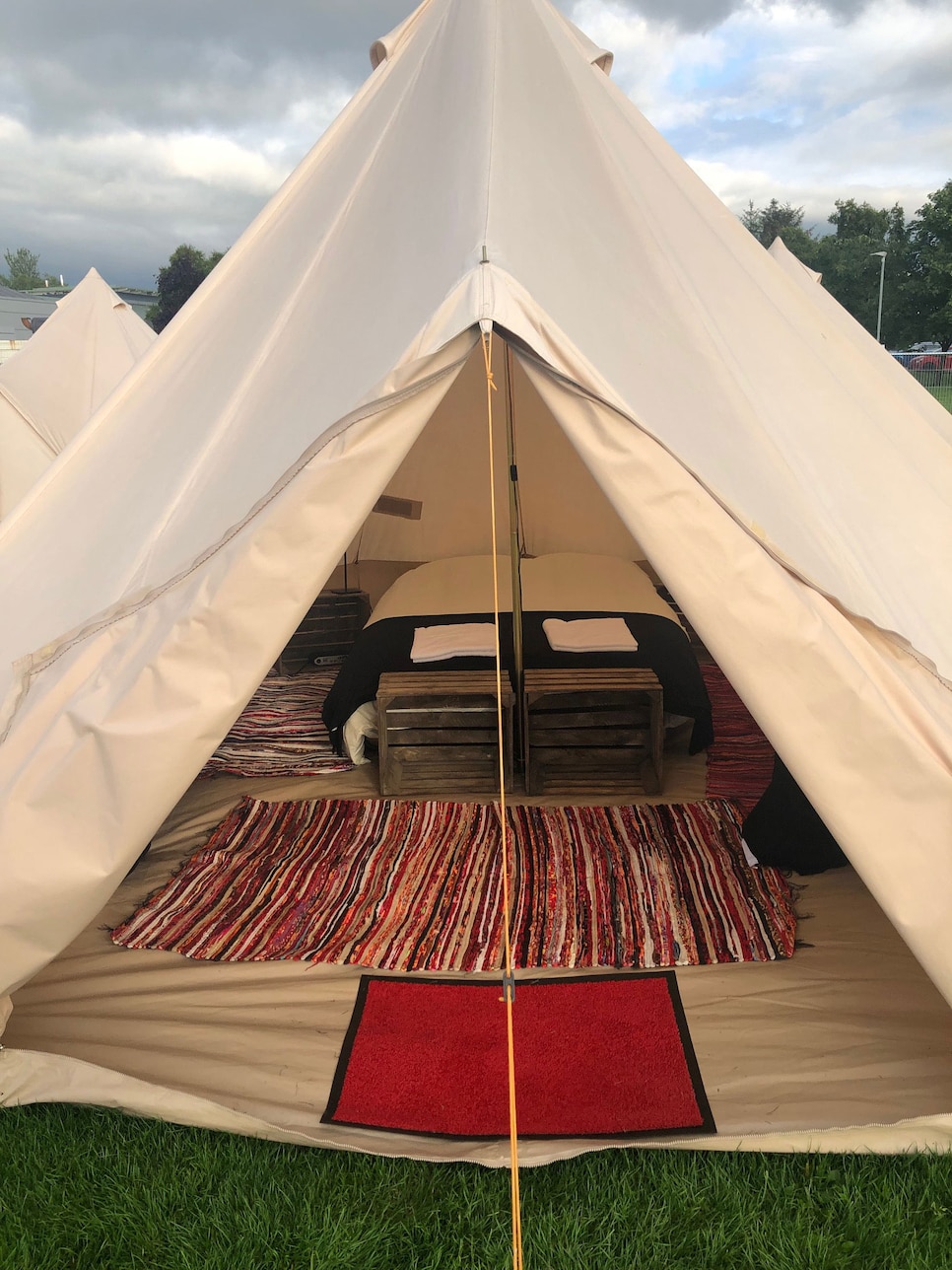 In the years since, the operation has expanded to 706 tents of varying size and comfort (including a more luxurious "glamping" option in which tents include an actual bed, duvet and cozy decor). At its capacity, the site can hold 2,372 people, making it the largest "hotel" in the area. All 706 tents are already sold out for Friday.
There's no shortage of options for entertainment, either, with friendly games of soccer, a chipping area, televisions, a large communal tent that serves as neighborhood pub and local bands and other pleasantries.
On Wednesday night, that included a Q&A with caddie Craig Connelly, who has been on the bags of Paul Casey, Martin Kaymer and currently, Branden Grace. Afterward, a local Portrush band, Bowana, riffed blues, funk, soul and rock to the delight of a few hundred campers.
"I wish something like this was available when I was a kid," said Connelly, who grew up in Glasgow. "Getting to the Open is one thing, but finding accommodation, you couldn't. All the prices were jacked up.
"I'm absolutely blown away. This place is great. It makes the Open accessible to everybody."
Like 24-year-old Jordan Austin. He's from Northern Ireland but is spending all week in the village on a youth ticket, which means he can stay for free. (The perks of youth!) He had already befriended another group of visitors from the Netherlands, and in all there were people from about 20 countries camped in the village on Wednesday, from the United States to Australia and beyond.
"We had no idea it would be such a good setup," said Austin, who said he plans to return even after he reaches the age limit for free accommodation. "It's fantastic."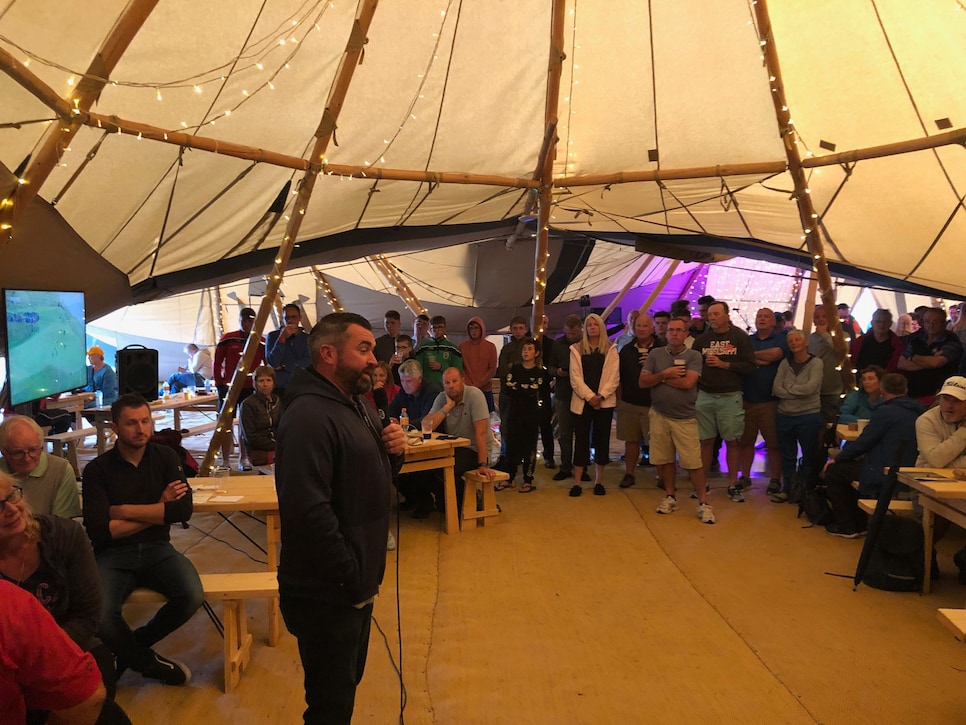 And why not? There were also plenty of beverages and food to send everyone to sleep in a good mood, with a handful of beers on tap and bites from local eateries Pizza Umami and Pheasants' Hill Farm, which was voted the best street food in Northern Ireland and winner of the British Street Food Awards People's Choice award. (I can attest the venison burger with all the trimmings was indeed well worth the £8.)
"It's like a smaller, gentler, G-rated version of Glastonbury," said David Gorey of Dublin, in reference to England's five-day music and performing-arts festival that takes place every summer and attracts a couple hundred thousand revelers and a certain amount of debauchery.
However, there really is none of the latter in the camping village—this is golf, after all. The vibe is chill and family friendly, with quiet hours after 10 p.m. OK, so the evening's activities carried past 11 p.m. on Wednesday with a few hundred people abuzz on the eve of the Open, but no one seemed to mind. By 11:30, though, it was pretty much lights out in every tent, with only the sounds of light rain and wind, a distant car and the occasional snore from a neighbor in the section of tents that I was bedded in for the night.
"It's a great experience for kids," said Natalie Balderson of Leeds, who, along with her husband, Tim, and their young son, Jack, have been to a few Opens, including the 2009 edition at Turnberry where Tom Watson missed a putt to win on the 72nd hole. "It's just so pleasant and enjoyable, and everyone is so friendly."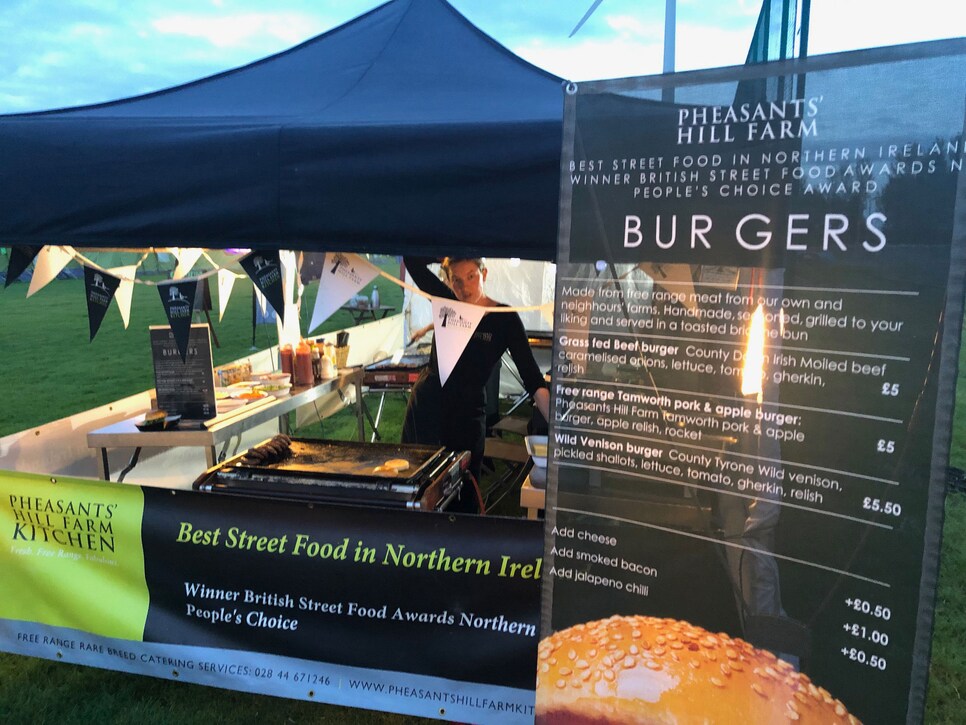 It's also well thought out, replete with portable containers tricked out to include showers and bathrooms.
Awakened by the smell of fresh coffee and breakfast wafting across the cool morning air, and the light of an early sunrise, everyone seemed to be up early. With buses ready to shuttle everyone over to Portrush, 15 minutes away, the first round of the Open awaited hundreds of happy campers.