Memory Lane
31 things you may not remember about the 2011 British Open at Royal St. George's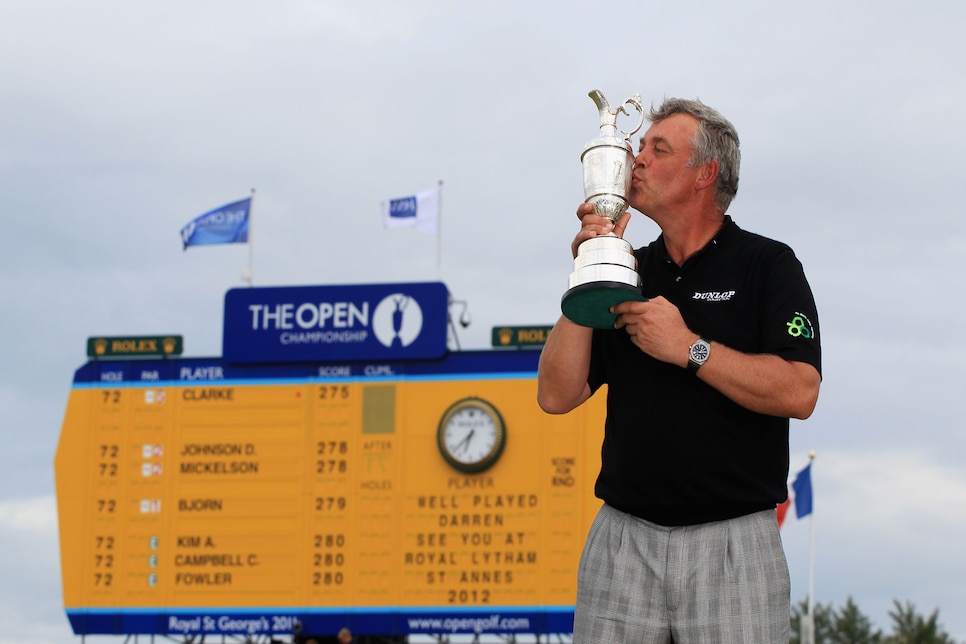 Next week, it'll be exactly 10 years since Darren Clarke's lone major championship victory at the 2011 Open Championship at Royal St George's. It remains one of the most unforgettable wins in Open history, though it is easy to forget just how chaotic the final day was.
Amidst it all, Clarke remained stoic. Calm, cool, collected. Almost like the 42-year-old had been there before, but just hadn't yet been able to finish one off. The Northern Irishman finally did that week at Royal St George's, where the world's best will return for the 2021 Open Championship.
Before the final major of the year gets underway, though, we looked back to 2011, jotting down 31 things you may have forgotten about that sneaky great Open. Most of it is final-round driven, but we did sprinkle in a few forgotten moments from earlier in the week, too. Please, enjoy this trip down memory lane, perhaps over a Guiness in honor of Clarke's life-changing, and career-affirming, win.
The latest videos from Golf Digest
1. One of your first-round leaders? Tom Lewis, at the time a 20-year-old baby-faced amateur from England who was expected to be one of Europe's next big things. His five-under 65 gave him a share of the lead with Thomas Bjorn, and it marked the lowest single-round score by an amateur in Open Championship history. The coolest part, though, was that he shot the 65 alongside 61-year-old Tom Watson, whom Lewis was named after. The Englishman went on to tie for 30th and earn low-amateur honors. In the decade since, his career hasn't quite taken off, though he does own a pair of European Tour victories.
2. Speaking of Watson, he made a hole-in-one at the par-3 sixth in Round 2. A legend doing legendary things:
The ace helped Watson easily advance to the weekend with an even-par 70, making him the oldest player to ever make the cut in the Open. Two years earlier, he painfully finished runner-up to Stewart Cink at Turnberry. At Royal St George's, he wound up tying for 22nd, the final top 25 in a major in his illustrious career.
3. The No. 1 player in the world, Luke Donald, and the No. 2 player in the world, Lee Westwood, both missed the cut. Tiger Woods, at the time among the top-30 ranked players in the world, missed his second straight major with one of his many knee injuries. Rory McIlroy, fresh off his dominant U.S. Open win at Congressional, was even through two rounds, only four off the lead. But a seven-over weekend saw him finish T-25.
4. Darren Clarke's ultimate victory march was days in the making, with the Northern Irishman holding a share of the lead after Friday and the solo lead after Saturday. This was by no means a sneak attack on Sunday. The man was in full control the entire week, including Sunday, which we might as well dive into now.
5. OK, final-round time. I watched what I believe is the Sky Sports telecast instead of the ESPN/ABC one, and let me tell ya, what a delight it was. Nonstop golf shots, limited but quality chatter from the various voices on the broadcast, including Jim Nantz, who made a guest appearance for a few holes. This particular broadcast also never showed a leader board or the player's score, which was a bit odd and likely not how it was originally broadcast, but I also kind of liked it. It was just a clean, shot-by-shot experience, one American broadcasts might take note of.
6. To the first tee we go for the final pairing of Darren Clarke and Dustin Johnson, who had made his way into the final pairing at a major for the third time in the last six majors. The first two of those occasions ended in gut-wrenching fashion for DJ: 2010 U.S. Open at Pebble Beach, when DJ began the final round three shots clear of the pack and shot 82, and the 2010 PGA at Whistling Straits, aka BunkerGate. No way it could get any worse than those two, right?
7. People forget (kind of the point of this whole article) that Joe LaCava, former caddie for Fred Couples and current caddie for Tiger Woods, was on DJ's bag that week, and had been for that entire season. It was already a lucrative gig, but it has proven to become one of the more lucrative gigs in PGA Tour history. LaCava, though, made the jump to Tiger's bag a few months after Royal St. George's.
8. Something that was very clear from the moment Clarke stepped to the first tee is that he was unbelievably calm. Both he and the crowd seemed to sense something very special could happen, and as long as he stuck to his plan he could walk off the 72nd green, win or lose, knowing he gave it everything he had. At every teeing ground and green he was met with a hero's welcome, as if they knew he was going to close the deal. The problem was he only led by one and Dustin freaking Johnson was the guy that was one back, not to mention the other names who had begun to make their charge.
9. Quick gear shift: My goodness, how was this only 10 years ago? Some of the fashion and looks are utterly shocking. This was very much the white-belt era, which I, like everyone, fell victim to at that time. It was also the monochromatic era, no one hammering that point home harder than England's Simon Dyson, aka Barney the purple dinosaur: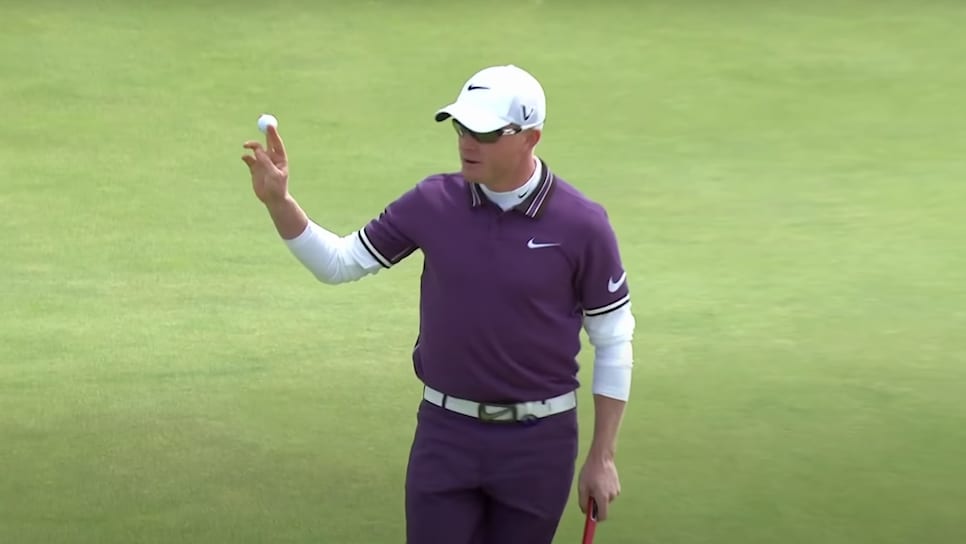 Man, what are we doing here? Dyson was hardly alone, too. DJ had his patented all navy-blue look (not all that bad), Rickie Fowler was in his all orange (not bad at the time, but looks very bad in hindsignt), Lucas Glover was all black, Phil Mickelson had the pinstripe pants on. Just a tough, tough fashion scene all around. Having said that, in 2031, we'll be saying the same thing about 2021 golf fashion. Things change. Things stay the same.
10. Apparently, in addition to it being the white-belt and monochromatic era, it was also the ... soul-patch era? Dustin rocked it somewhat well with his ridiculously long side burns, but Rickie Fowler? No, no, no. White belts might make a comeback, and maybe even all-purple monochromatic outfits. But the soul patch is one thing that shall never return. OK, that should be the last of fashion and/or facial-hair critiques. I promise we'll actually discuss the golf now.
11. Much of the early broadcast love belonged to Anthony Kim, who birdied the second hole to get to one under for the tournament and just four off the lead. Definitely someone to watch and not someone who will break our hearts or anything like that.
12. Clarke found the first green in regulation, but left his birdie putt about 15 feet short. YIKES. Just like that, it was about to be on, and then it wasn't. Clarke banged home the par putt from deep, which had to feel like a birdie to start his final round. Enormous momentum shift right away.
13. As we said, AK was getting some early love, but he became almost irrelevant instantly when his playing partner, Phil Mickelson, began to COOK. Two birdies on his first four holes got Lefty to two under, three back. Very interesting, wide putting stance from Mickelson, by the way. It was working early.
14. Clarke fired a dart into the par-4 second and set up an easy birdie. Might say it again in this space, but the par putt at No. 1 set the tone for the entire day. It settled the nerves and allowed Clarke to stick to his plan and not start pressing. We sometimes overstate stuff like that, especially stuff on the first damn hole, but that par putt truly loomed large.
15. We cut to Sergio Garcia, who was four under through seven holes and suddenly back at level par for the championship. He was, um, kind of in it … until he wasn't. The Spaniard promptly doubled the eighth, and we didn't see him again until he birdied the 18th to post two over to tie for ninth.
16. There was a lot of talk on the broadcast about Dustin Johnson's "immense power" and how he was by far the best athlete in the field (no, they didn't say he could dunk a basketball, thankfully). At the time, both things were accurate, but it's funny that 10 years later every guy can hit it 300-plus and is considered an "athlete." We wouldn't go so far to say as DJ is just another guy now (he most certainly is not), but there are a lot more guys like him then there aren't.
17. DJ may have been the better athlete than 42-year-old Clarke, but it was obvious which guy was handling the major championship nerves better. Clarke was even through six, his only blemish coming at No. 4, which features a pair of COFFIN BUNKERS that we will no doubt never hear the end of on the American broadcast next week. Nothing we love more than shoving a signature feature down the audience's throat. I digress. Johnson, meanwhile, drove it through the green at the par-4 fifth and walked away with par, then bogeyed the sixth to fall to two over, three back of Clarke's lead.
18. While Clarke and DJ were grinding away, Mickelson was going nuclear (appropriate given the nuclear power plant that's not far from St. George's) making birdie at the par-3 sixth despite losing his hat on the tee shot, and then eagle at the par-5 seventh. He then gave himself two great looks at birdie at No. 8 and 9, just missing both. A front-nine 28 was absolutely in the cards, but he settled for 30 and he was at five under. Prior to Royal St George's, Mickelson had one top-10 in 17 Open appearances. But on this Sunday he looked like he had won multiple claret jugs. He was hitting perfectly shaped shots, low runners, using the wind, etc. All the while, he was yukking it up with Bones. They both knew how absurd this charge was. Ahh, memories.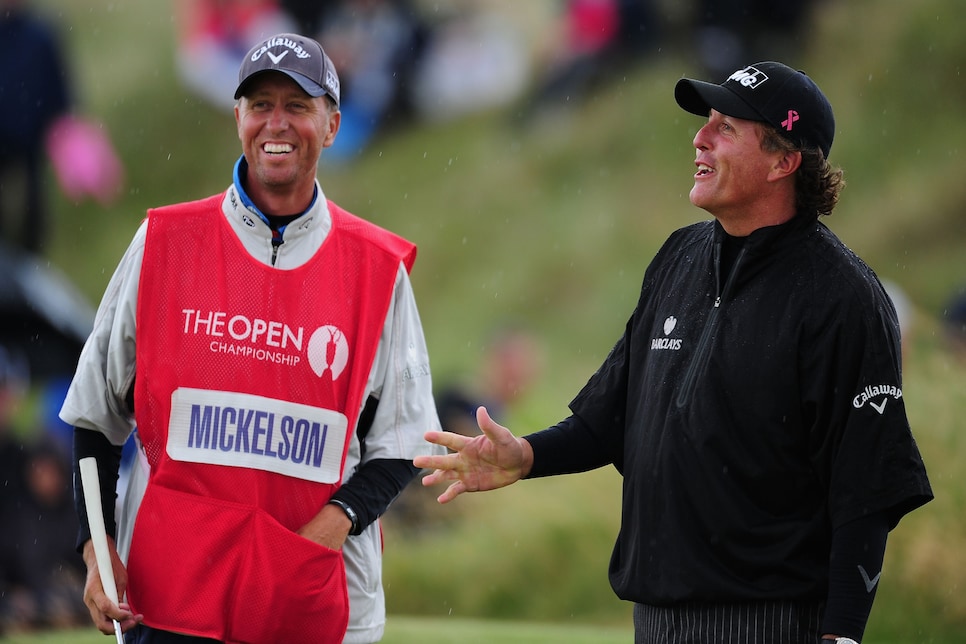 19. Just as Phil began to apply some serious pressure, Clarke answered with an eagle of his own at the par-5 seventh, a very clear signal to Lefty that he wasn't going to steal this thing that easily. Johnson continued his blah start, finally making his first birdie at the seventh. He actually lost ground, now trailing by four.
20. Two of the other chasers, Fowler and Bjorn, just couldn't make the same kind of push that Phil was making. Fowler was having a little par-fest, which became a sign of things to come for him in the majors. Up until the 2018 Masters, where he made a late charge to finish solo second, he always seemed to be very defensive on major championship Sundays, which is a nice strategy if you have a four-shot lead. However, Fowler needed to make up ground, but instead parred the first 13 holes and then played the final five in two over, posting a birdie-free 72 to tie for fifth. Bjorn, on the other hand, had a chance to go birdie-birdie-birdie at 6-7-8 to get back in it, but he missed a four-footer at the seventh and then didn't make another birdie after the eighth hole. He finished in solo fourth at one under, which gave him two top-four finishes in an Open at Royal St George's in his career after his share of second there in 2003.
21. The first of at least three serious squalls rolled through right as Clarke was holing his eagle putt at the seventh. He remained in short sleeves as long as he could, but finally layered up at the eighth hole as it poured rain. Smartly, he waited for the rain to stop, but not long enough to cause a delay, and then ripped a drive down the middle. Par-par finish to the front nine kept him four clear of Johnson and two clear of Mickelson, who was about to make some more noise at the 10th.
22. Quick course comment: This place seems very … unmemorable? Outside of the nuclear power plant in the distance and the coffin bunkers at the fourth, I'm not seeing what's so special about it. Apologies to the links golf stans and the woke architecture bros, but just because a course is in England and you can run up shots to the green and there are pot bunkers doesn't make it special. St. Andrews, Birkdale, Carnoustie, Portrush, all great. St. George's? Eh, not so much.
23. Mickelson chases one up the 10th green and makes another birdie. Don't want to exaggerate, but he really could have been eight under through 10 holes. Still, six under through 10 ain't bad, either, and it had him within one of Clarke's lead. Hooo boy.
24. We definitely should not gloss over what happened at the par-4 ninth, where Clarke missed the fairway and had a side hill lie with the ball below his feet. Pretty big moment in the championship, some would say: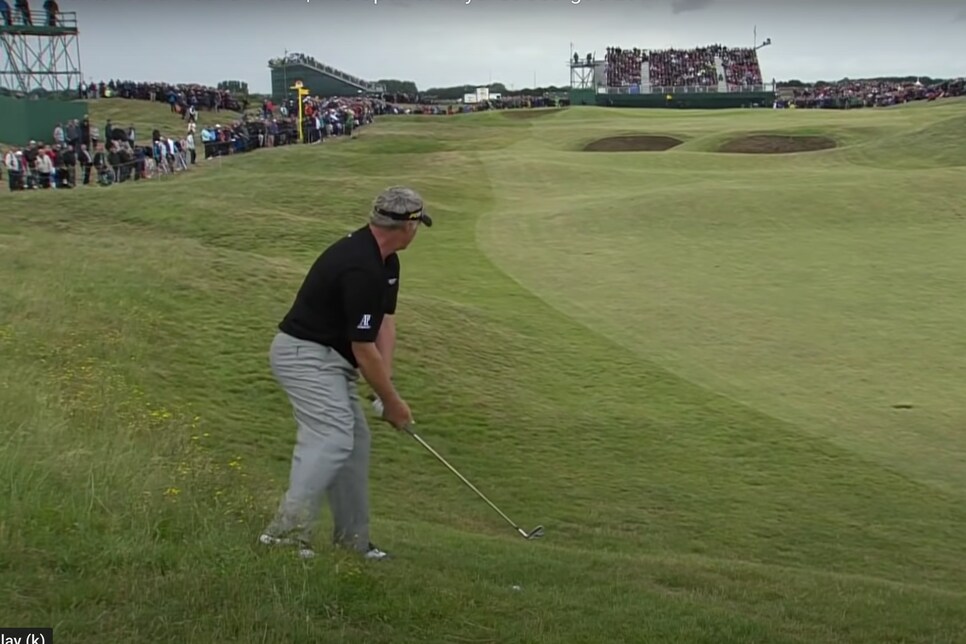 After impact, Clarke's ball was headed DIRECTLY at the face of the bunker on the left, and when the camera cut to Clarke's face, he looked like he had seen a ghost: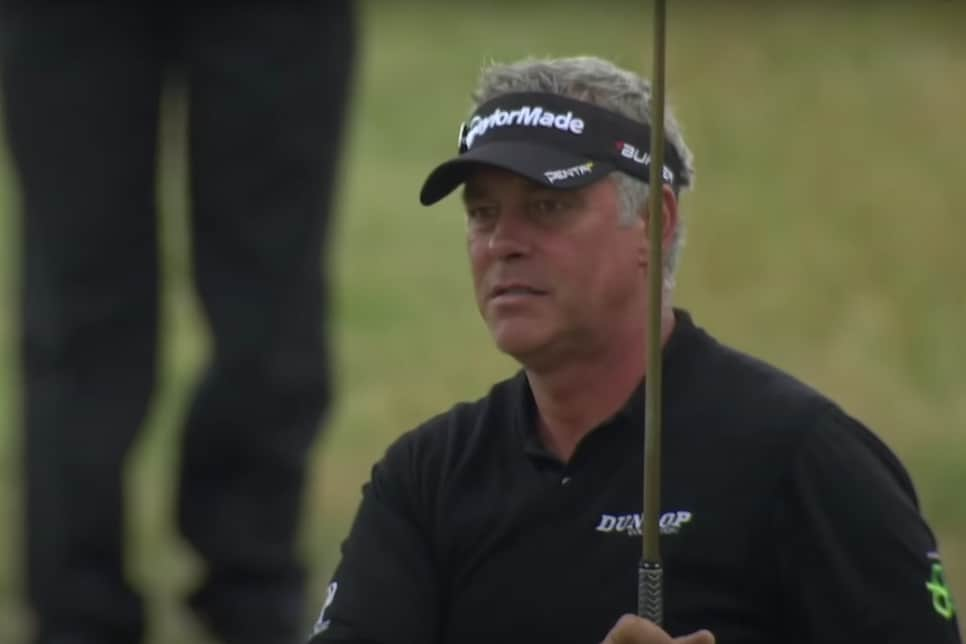 By some miracle, the ball skirted both traps, rolling up on to the green and setting up an easy two-putt par. Clarke, knowing he not only got away with one, but got away with one in what turned out to be the biggest tournament of his career, reacted perfectly: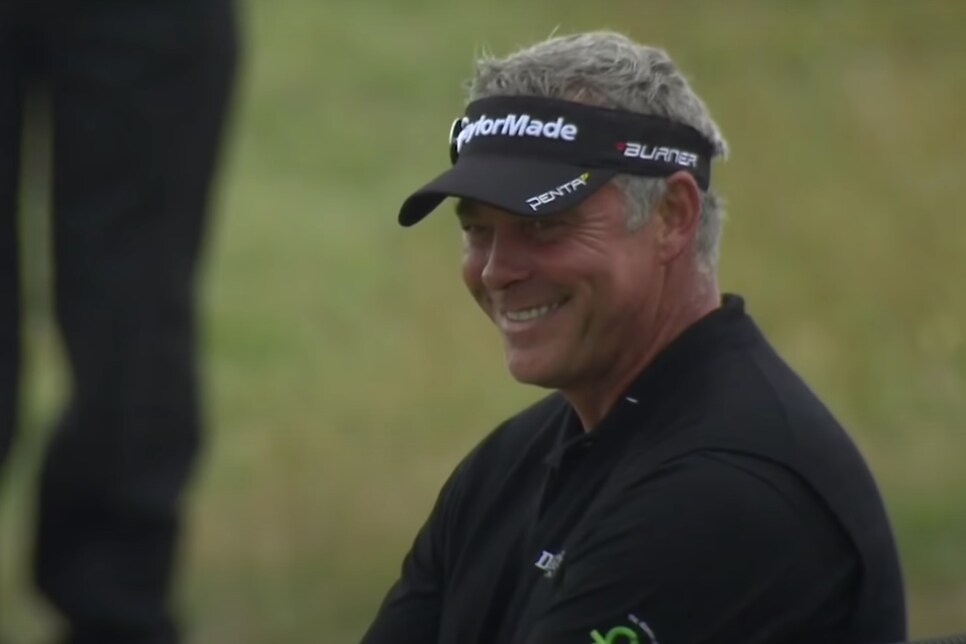 So good. Live to fight another day, though Mickelson was officially breathing right down his neck.
25. And then, Phil wasn't. What Nantz called a "careless mistake" all but did Phil in at the 11th. After missing his birdie putt, Mickelson walked up and tried to quickly clean up the par and lipped it out, making one of the all-time worst momentum-stunting bogeys in recent major memory. He simply was not the same player the rest of the day, clearly shook from the short miss. He played the final seven in three over, finishing three back, T-2. All we can say is, thank GOD he ended up winning it two years later, otherwise we'd be talking about that three-putt for the rest of eternity.
26. After the eagle at 7 and the crisis-averting par at 9, Clarke made sensible par after sensible par, playing to the center of every green and letting everyone else crumble around him. To Johnson's credit, he did make a mini-run, impressive given his rough start and the fact he had already had a pair of crushing Sunday finishes in majors the year prior. This time, though, he was able to overcome the nerves and get back into the tournament, making birdies at 10 and 12 to suddenly pull within two strokes. It was on now!
27. While Mickelson crumbled, Kim provided a few more highlights, a painful reminder of what could have been with this dude. It's hard to believe, but this wound up being the second-to-last major start of his career, and it resulted in a T-5, his third top-10 in a major and his second in the Open. A year later, he essentially disappeared from our lives and has only returned as a Bigfoot character in pictures on the internet. It sucks, everything about it.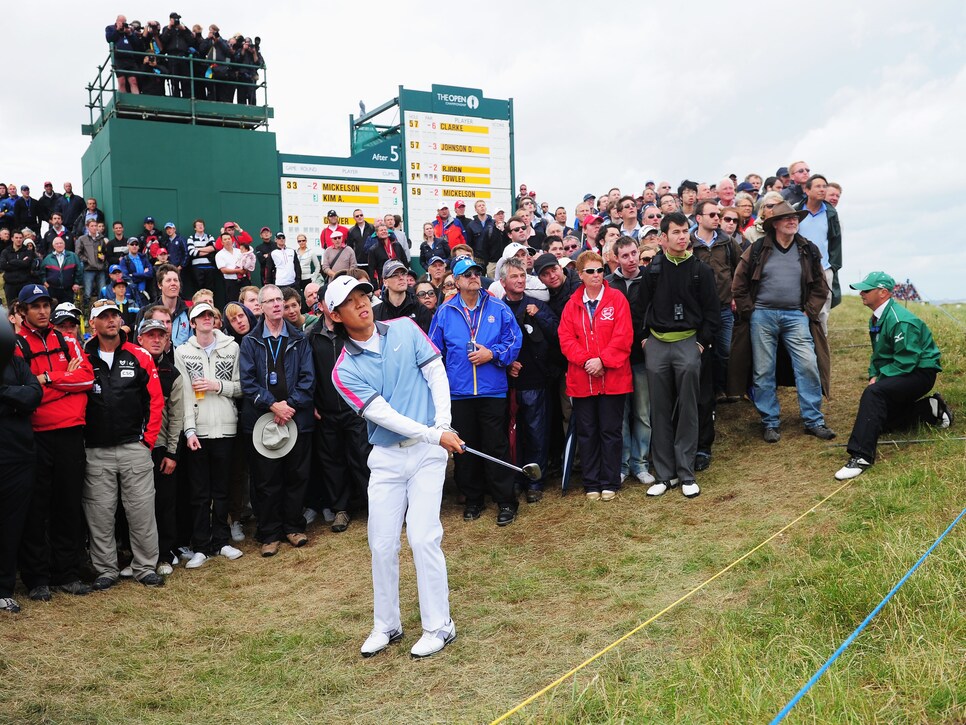 28. While he was hardly a similar character to Kim, a similar storyline was playing out with Chad Campbell, who nearly won the 2009 Masters, was once a top-10 player in the world and collected four career PGA Tour wins. Still seemingly in his prime in his late 30s, Campbell tied for fifth at Royal St. George's with a final-round 69. Like Kim, though, we haven't heard much from him since, and that remains his last top-10 in a major, and the only major he's played in since was the following year's Open, which he got into thanks to his T-5 at St George's. Unlike Kim, though, Campbell still plays occasionally, though his last start came at the Safeway Open in the fall.
29. OK, we've delayed the inevitable long enough—another DJ collapse. At the par-5 14th, where his length gave him a massive advantage over Clarke, Johnson split the fairway and gave himself a great chance to get home in two. Nobody forgets what happened next: Johnson fanning one out of bounds down the right side and all but ending his tournament. In peak DJ fashion, instead of composing himself or calling for a rules official or acting all dramatic, he took a ball from his bag, immediately dropped it from shoulder height (GASP!) and swung away almost instantly, resigned with the fact he was cooked. Double bogey. Clarke, meanwhile, laid up to a nice spot, then threw another cigarette in his mouth. He could taste it now.
The latest videos from Golf Digest
30. From that point on, it was a pure victory march, one that was not spoiled by Clarke going bogey-bogey to finish. The only thing that was spoiled was his chance at posting four rounds under 70, not that he cared then or now. His incredible first 16 holes afforded him the opportunity to play old-man, bogey golf on the final two holes, securing what remains the biggest victory of his life.
31. One final thing I noticed: After holing the final putt, Clarke raised his hands in the air and soaked in all the love from the raucous crowd. He then walked off the green and turned to his caddie, realizing he had forgotten something: the golf ball. Luckily, his caddie snatched it out of the hole. Another crisis averted.