Course Strategy
British Open 2021: The Bryson Experiment faces links golf for first time in fascinating clash of new vs. old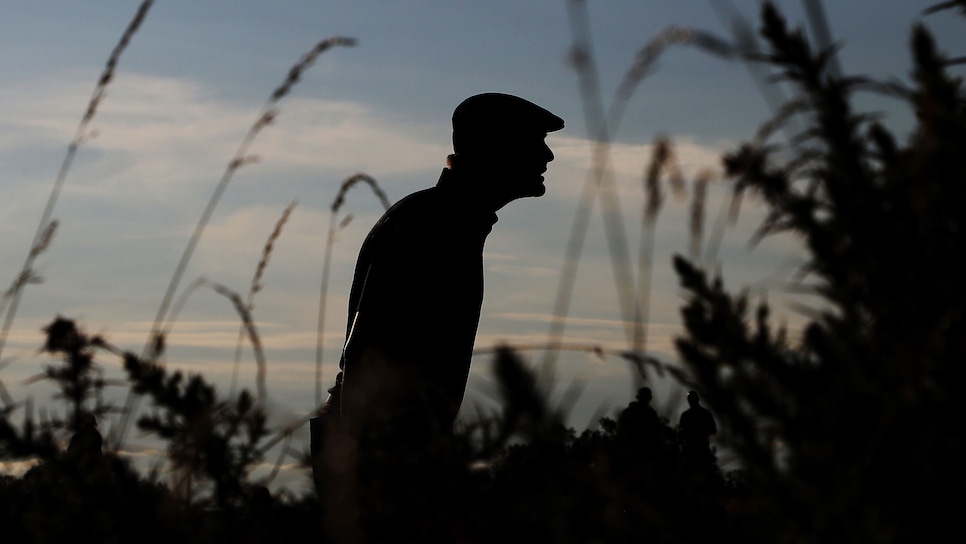 It's tricky to pinpoint the exact origin of the Bryson Experiment, but your best bet would be a small gathering with reporters on Oct. 7, 2019. DeChambeau had just turned 26, he sat inside the top 10 of the World Ranking, and he'd just polished off a final-round 63 to finish tied for fourth in the Shriners Hospitals for Children Open in Las Vegas. All was fine and dandy. His figure didn't look much different from the scribes questioning him—or, in simpler terms, he was smaller—and his calling cards were a set of single-length irons, a scientific approach to golf and a goofy hat. Bryson 1.0, so to speak.
"I'm going to come back next year and look like a different person," he said. "You're going to see some pretty big changes in my body, which is going to be a good thing. Going to be hitting it a lot further."
The latest videos from Golf Digest
Golf's Great Bulk Up had begun. DeChambeau did indeed deliver on his vow; he turned up to the Abu Dhabi HSBC Championship the following January hitting the ball comical distances. Despite a missed cut that week, DeChambeau quickly calibrated his new arsenal and finished T-5 or better in his last three starts before the world changed.
The beef-up reached a new, adrenaline-addled gear during the COVID lockdown. He'd post shirtless pictures and videos of "speed sessions" in his coach's living room. There were launch-monitor readings north of 400 yards and peculiar day-in the-life style vlogs. Golf eventually returned, and DeChambeau's first win as broad-shouldered behemoth followed soon after at the Rocket Mortgage Classic. The host venue that week was Detroit Golf Club, a golden-age-era Donald Ross design rendered toothless by his power.
"I think there's a lot of bunkers that are around like 290 [yards], so hopefully I'll be able to clear those and take those out of play," he said early that week before shooting 23 under. "So, sorry, Mr. Ross, but, you know, it is what it is."
Two months later, he overpowered another classic layout under a much brighter spotlight. His seismic six-shot victory at Winged Foot, perhaps the most U.S. Open-ey of all U.S. Open courses, prompted earnest discussions over whether he'd irreversibly altered the DNA of elite golf.
There is, however, one frontier the Bryson Experiment has not yet encountered: links golf. Last year's Open Championship fell victim to the pandemic, and DeChambeau has not played in the United Kingdom since 2019. Next Thursday's first round of the Open Championship at Royal St. George's will present our first look at a fascinating dichotomy: DeChambeau's distinctly modern game against the sport's ancient venues. And he will confront this very different test of golf without the man who carried his bag during each of his eight PGA Tour victories.
Bryson 1.0 played his share of links golf. He featured prominently at the 2015 Walker Cup at Royal Lytham & St Annes, going 2-0-1 to emerge as one of the Americans' only bright spots in a 19½-16½ loss to Great Britain & Ireland.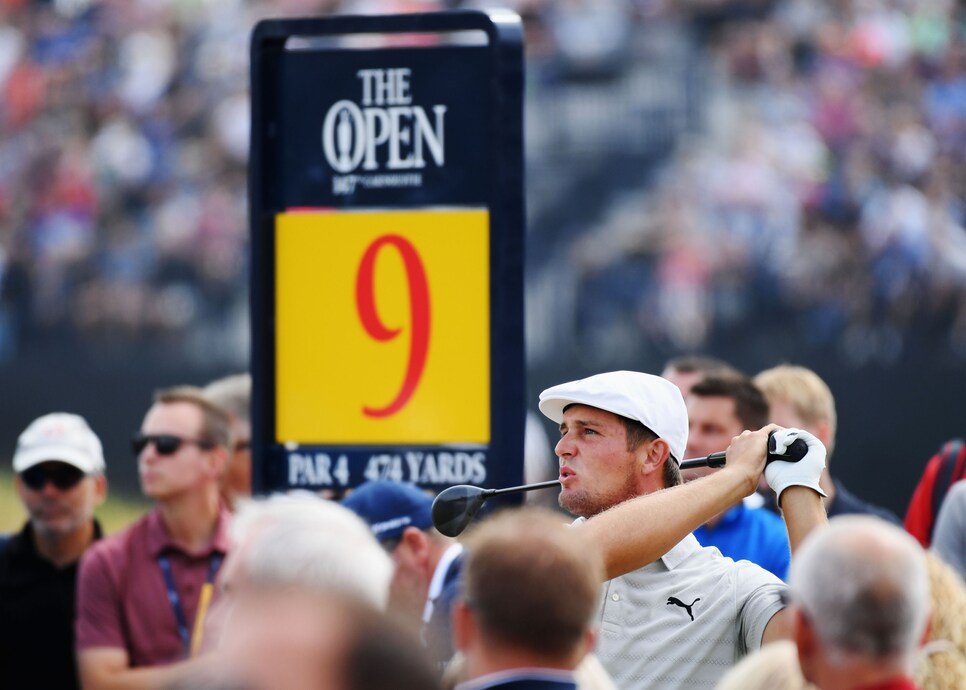 Bryson DeChambeau hits a tee shot during the 2018 Open Championship at Carnoustie.
Warren Little/R&A
"He was, by a mile, the best player on the American team," says John Huggan, who covered those matches for Golf Digest. "He was impressive playing links golf then. Obviously, that was a very different body, a very different game. But he certainly knows how to do it."
He knows how, but he simply hasn't gotten many reps, and those since Lytham have not been pretty. DeChambeau qualified for his first Open Championship in 2017 by winning his first PGA Tour event, the John Deere Classic, the week before. Perhaps reeling from an emotionally taxing week, he posted 76-77 and beat just four players at Royal Birkdale. The following year, DeChambeau opted to defend his John Deere title rather than tune up for links golf at the Scottish Open. He did make the weekend at Carnoustie, finishing 12 shots back of winner Francesco Molinari in a tie for 51st, but the performance was overshadowed by a practice-range meltdown caught on Golf Channel cameras. He came into the 2019 Open in ideal form, with a T-8 at the Travelers and a T-2 at the 3M Open in his last two starts before heading across the pond … and missing the cut by four.
His only other tournament on a links-type course came at the 2019 Presidents Cup at Royal Melbourne, which played as firm and fiery as you'll ever see. U.S. captain Tiger Woods opted to sit DeChambeau twice during the team sessions that week, and he finished with an 0-1-1 record.
There's a temptation to chalk all that up a that-was-then, this-is-now situation, to suggest that DeChambeau's a better player today than he was in 2019, and that he should be better suited for the challenge this time around. Only that argument faces two hurdles. First, he was pretty damn good then, perhaps underratedly so. Five of Bryson's eight victories came before the weightlifting. He qualified for the 2018 Ryder Cup and 2019 Presidents Cup without the muscles. He entered the 2019 Open as the No. 6 player in the world, which is precisely where he ranks at this very moment.
The second sticking point is the nature of DeChambeau's current game. He hits the ball extremely high, perhaps the highest on tour. That proved a huge advantage at Winged Foot, where the rough was so long it functioned as Velcro. By carrying the ball a mile and being able to hit every club in his bag sky-high, even from the rough, it allowed him to hold Winged Foot's treacherous greens. It's a different story in links golf, where there's typically much more rollout and much more wind. As such, the firmness of the course throws a bone to low-ball hitters, whose drives will trickle for days. And his towering flight leaves his ball wholly exposed to the ever-present breeze at a seaside links like St. George's. Throughout his career, per Fantasy National, DeChambeau has gained more than one shot per round on days categorized as "calm" or "moderate." On "windy AF" days, he's gained roughly 0.1 shot per round. He often struggles to flight the ball down, a crucial skill for direction and distance control, particularly with the scoring clubs.
And while length is an advantage everywhere, Open Championships of recent vintage haven't played so straightforwardly into the hands of bombers. Shane Lowry, the defending champion is not particularly long. Nor is Francesco Molinari (2018), Jordan Spieth (2017), Henrik Stenson (2016) or Zach Johnson (2015).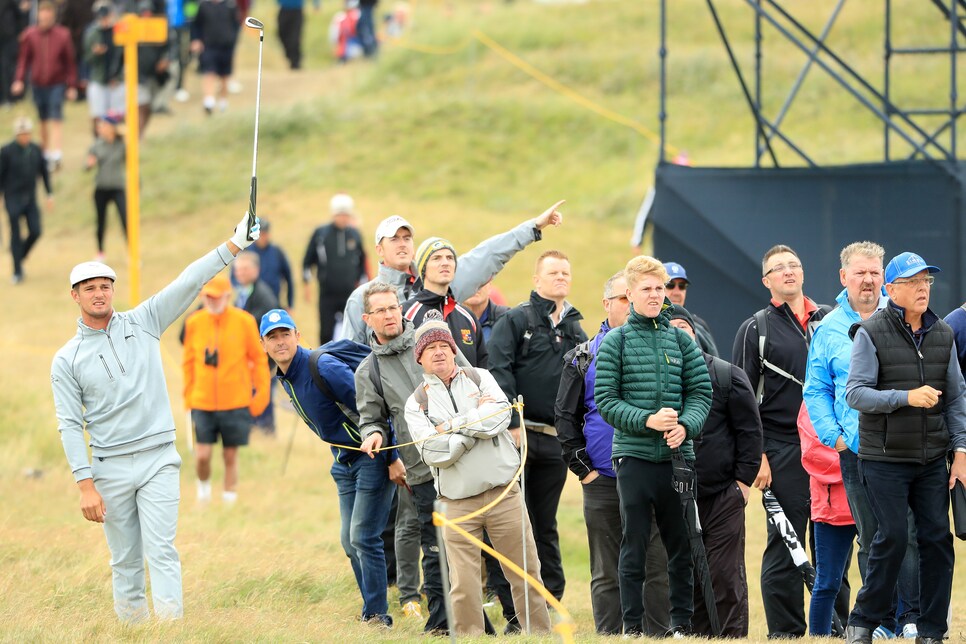 Bryson DeChambeau and fans watch his shot during the 2017 Open Championship at Royal Birkdale.
Andrew Redington
Weird things tend to happen in links golf: strange bounces, drastically divergent weather forecasts, pot-bunker double bogeys—a nightmarish reality for a self-proclaimed perfectionist who craves control and likes to reduce this most complicated game into math problems. DeChambeau likes to hit driver wherever possible, launch it as far as he can and then figure it out from there. It's proven a winning strategy on American, parkland-style courses where proceedings are somewhat predictable. The links, however, offer an altogether different challenge.
"It's an old cliché: the vagaries of links golf," Huggan says. "But it's a cliché because it's true. The classic example was Rory [McIlory] at St. Andrews, when [Louis] Oosthuizen won [in 2010]. Rory shot 63 on Day 1, then got the bad draw on Day 2 and shot 80. Oosthuizen won that Open basically because he played early that second day. If you didn't play in the morning in that second day, you were basically screwed."
DeChambeau comes into the year's final major on the heels of a strange couple weeks. In June, he held the solo lead at the U.S. Open before imploding with a back-nine 44. The next week, at the Travelers Championship, he entered Sunday with a half-chance to win before a disappointing final round of even par. Then, just ahead of the first round of the Rocket Mortgage Classic last Thursday, news leaked that DeChambeau and longtime caddie Tim Tucker had split—DeChambeau's camp suggested it was mutual, and Tucker has said only nice things since, but certainly there's more to the story when a caddie works the practice rounds at a tournament then doesn't work the tournament itself.
DeChambeau declined to address the issue with journalists twice at the Rocket Mortgage, which will only increase the media's appetite for an explanation at Royal St. George's. The story will surely loom all week, and there will be significant attention on who will show up to carry his bag. Whoever does so will pair with an astonishingly talented player, a major champion poised to do a lot more winning in the near future. But he'll also inherit a player with just one top-15 finish in his last nine starts, heading into a tournament uniquely qualified to hamstring his strengths.