Perspective Station
British Open 2021: Jon Rahm's priorities are in order, making him even more dangerous to win back-to-back majors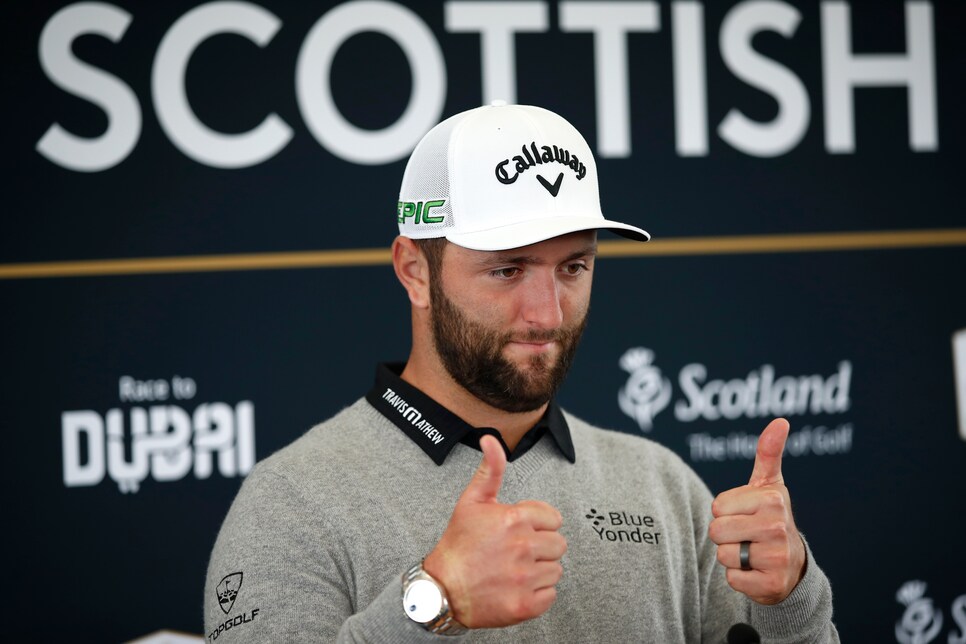 NORTH BERWICK, Scotland — There was an air of serenity accompanying the Jon Rahm who stood taking questions from the assembled media on the eve of the Scottish Open at the Renaissance Club. It made sense. A lot has happened to the 26-year-old Spaniard recently. Most of it life-changing stuff. A relatively new father and golf's most recent major champion, Rahm has clearly found it simple to move on from the on-the-face-of-it devastating positive Covid-19 test that saw him withdrawn from the final round of the Memorial Tournament he would have started with a six-shot lead.
Very quickly, it was a case of priorities. And Rahm was in no doubt about what really mattered. Yes, his immediate reaction was one of extreme disappointment for himself. He had just played what he called "one of the best rounds of his life," so of course he was, in British parlance, "gutted." But not for long.
"Instead of just dwelling on the fact that I had just gotten really unlucky, I chose to just think positively, and then remember how good I played," he said. "That was maybe a ten-minute process. I got to call my wife, and obviously my attention switched directly to my family. Because I didn't have any symptoms really. I had a fever for a day, that's it. But I know a lot of people back home and around the world have had really bad symptoms and you don't know how it is going to hit you.
"My intention was making sure that my wife and my family, my two-month old at the time, was okay, and that was it," he continued. "Once they tested negative, it was a lot easier for me once I got back home to quarantine myself and just stay positive. I don't think people realize how much less upset I was than most people think. I couldn't play, and I knew that was a possibility all along. I knew that could happen all along. So I worried about golf for maybe five minutes."
He had a little bit longer to ponder the negative consequences of the positive test. But during quarantine he soon enough concluded that the plusses far outweighed the negatives.
"I had a lot of time to think about everything before the U.S. Open," he said. "I wasn't allowed to do anything. I haven't really said this in public. I told my wife, as soon as Memorial happened, 'something good is coming. I don't know what or when but something good is coming.' When I teed off on Sunday in the U.S. Open, after that first tee shot, with everything that happened before, I could feel it. I just had a feeling, with my story at Torrey Pines (where he won his first PGA Tour event and proposed to his wife), it kind of felt like it was the perfect ending to that little story we had."
Not quite the end, of course. The first Spaniard to win America's national championship, Rahm is a good bet to be the first player since Tiger Woods to apex the U.S. Open and the Open in the same season. Twice a winner of the Irish Open on seaside links, Rahm's debut in the Scottish equivalent will reveal much. And next week, Royal St. George's -- a big brawny course like Rahm himself -- beckons.
"I'm pretty prepared and better experienced mentally for what an Open can be," he said. "If I remember correctly, it can get quite windy in that part of the country. And it is not the easiest links. I'm going to have to adjust to the wind, the atmosphere and the course every day. I feel like I'm better prepared after all that has happened."