Standing tall
British Open 2021: This Challenge Tour giant (6-foot-9!) makes Bryson look tiny—and his story is incredible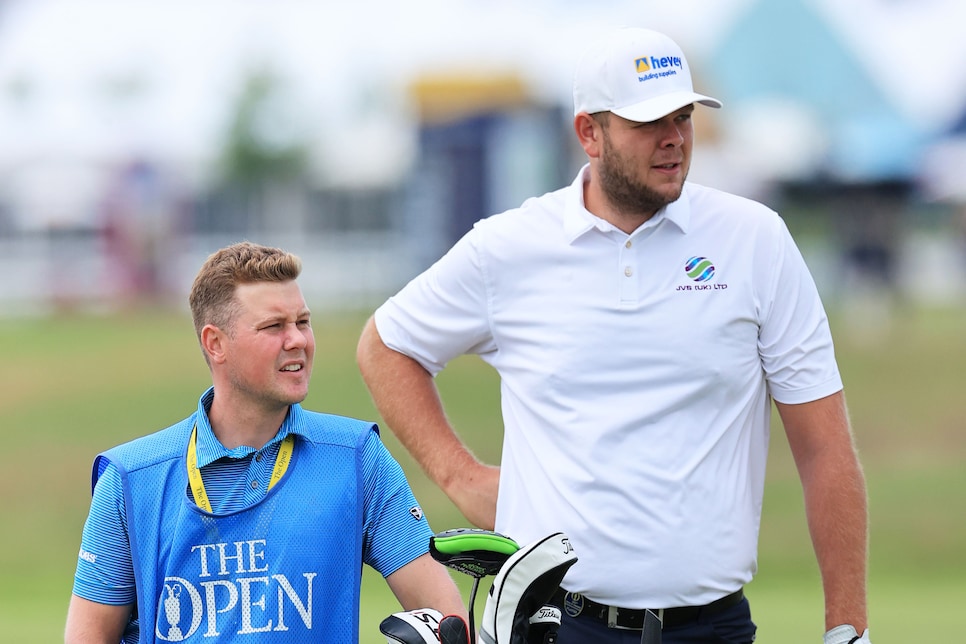 Jon Thomson looks on with caddie during a practice round for the 2021 Open Championship.
David Cannon/R&A
SANDWICH, England. — There are certain moments in life that emblazon a deep mark on your memory, like scalding metal on cow flesh. Your first kiss. The birth of your first child. (At least that's what my more seasoned peers tell me.) Watching your favorite team win a title. The first time you saw Jon Thomson in person.
I first caught a glimpse of the extremely large man as he emerged from the chipping green to the right of the 18th hole at Royal St. George's on Tuesday, lumbering past the railing that separates a grandstand from the practice grounds, which is what they call a driving range in these parts. Keep in mind that I've never been to a celebrity/athlete golf tournament, so my exposure to massive golfers is somewhat limited. But he was, without exaggeration, the biggest person I have ever seen with a golf club in his hand. The late-afternoon sun shone directly behind him, and his silhouette looked like someone had stuck a needle into Jason Kokrak and pumped him with 50 percent extra air.
Having ranked the top 100 players in the field for this week's Open Championship, I considered myself rather familiar with the gents teeing it up here. But I could not recall stumbling across a giant in my research. Thankfully, a couple affable R&A officials had also been dumbstruck by his size.
"He's absolutely massive."
"We were saying the same thing. His clubs must be six inches longer than normal."
Thomson is listed at 6-foot-9, and when he launches his first tee shot at 8:47 a.m. local time on Thursday, he will break puny little Jordan Hahn's record as the tallest player to ever tee it up in a PGA Tour event. But with Thomson, it's not so much the height as the sheer thickness. The only weight information on the internet comes from a Daily Mail article from 2017, which has him at 19.5 stones, equivalent to 273 pounds. But he was 21 then, and he has grown-man girth now. The 25-year-old is known affectionately as "Jigger" because, according to the European Tour website, he often danced in his "nappies" as a child.
Jigger became the tallest player in European Tour history when he made it through all three stages of qualifying school for the 2018 season, but he was back to the Challenge Tour the following year and has remained there ever since. He hails from the Yorkshire region of northern England. Just northeast of Sheffield, to be exact. Matt Fitzpatrick and Danny Willet are also from Sheffield, but Matt Fitzpatrick and Danny Willett are much smaller than Jon Thomson.
"My dad is 6'7", my sister is 6-foot, my mom is like 5'8"," Thomson told Golf Digest. "You could say we're a pretty tall family."
Thomson says his clubs are 2½ inches longer than normal, "which is kind of the longest you can go legally. Equipment has been a huge challenge for me. It's always been difficult finding the right stuff, for the boys to fit me." He carries his 7-iron 195 yards and cruises around 120 miles per hour with his swing speed with the driver, but that's a comfortable little flick. He can turn it up to the high 120s without much effort.
And still, Thomson is the No. 889 player in the world. How does the No. 889 player in the world get into the Open? The old-fashioned way, of course. He caught a break when one of the Open's final qualifying sites fell to Hollinwell in Nottingham, where he is a member. After beginning the 36-hole day with a pedestrian round of three-under 69, he delivered the goods with a 65 in the afternoon that was enough to grab one of three spots into Royal St. George's. It was a much-needed spark in what's been a brutal summer; he's missed five of his last six cuts on the Challenge Tour.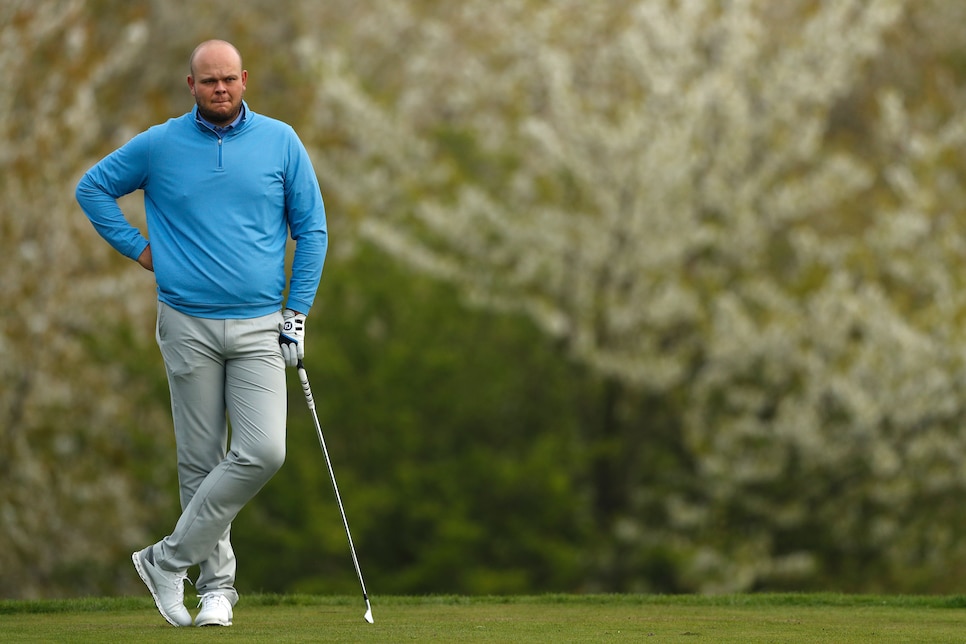 Thomson waits on the 11th hole during the first round of a Challenge Tour event in May.
Luke Walker
Perhaps brutal is the wrong word, for Thomson and his family have been through something actually brutal. At the age of 7, Thomas began hemorrhaging weight at a concerning rate. His parents thought—hoped—it was a case of anemia, which occurs when there are a lack of healthy red blood cells in the body to carry oxygen to tissues. Doctors ran a series of tests on a Wednesday. The result was every parent's worst nightmare: lymphoblastic leukemia. Treatment would begin on Friday. This could not wait.
"I turned to my dad and said, 'Am I going to die?'" Thomson told Golf Digest. "It was a pretty hard question for my parents to take. But they stayed strong—it was 'No, we're going to do the process, it's a long process, but we've got the team behind us at Sheffield Children's Hospital. We can do it.' It was one helluva battle."
Treatment involved lengthy stays in the hospital and brutal rounds of chemotherapy that ravaged the young boy's immune system. Golf served as a light at the end of the ferocious tunnel; the promise of happier days on the links provided motivation to keep on pushing.
"It's always been golf. I wasn't allowed to play any impact sports when I was ill, so it's always been golf."
After four years of being in and out of the hospital, the cancer finally subsided. Next came a year of weening himself off heavy medication and re-building his body's strength.
"I was this 13, 14 year old kid without any immunity whatsoever. Had to have all my baby jabs again. It was not easy."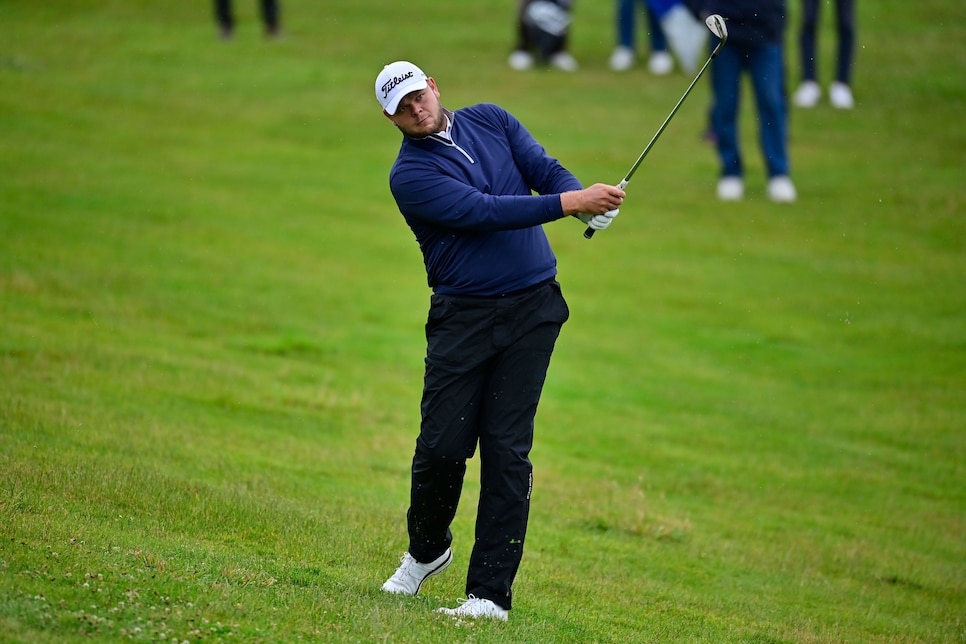 Thomson qualified locally to get into the Open, and will become the tallest golfer to ever compete in a major.
Aurelien Meunier
Thomson continued on a golfing journey that has seen him flash plenty of potential—he lost a four-way playoff that included Lee Westwood and Matt Wallace in the 2018 Made in Denmark—but has not sustained breakthrough quite yet. This week's Open Championship, then, presents an opportunity to jumpstart a stalling professional career. It also marks the completion of a dream that once seemed so powerfully unlikely.
"My No. 1 goal is to just enjoy the whole experience," Thomson said. "Look, back in the day, this was always the dream for me when I was lying in my hospital bed. I kept saying, 'I'll play in an Open.' And now, qualifying for my first major, and it's the Open. It's pretty cool. There are no words."