Rabbit Holes
Is winning a major an effective or misleading predictor of success? Yes
A first major championship leads to all sorts of questions about what comes next. The short answer is . . . it depends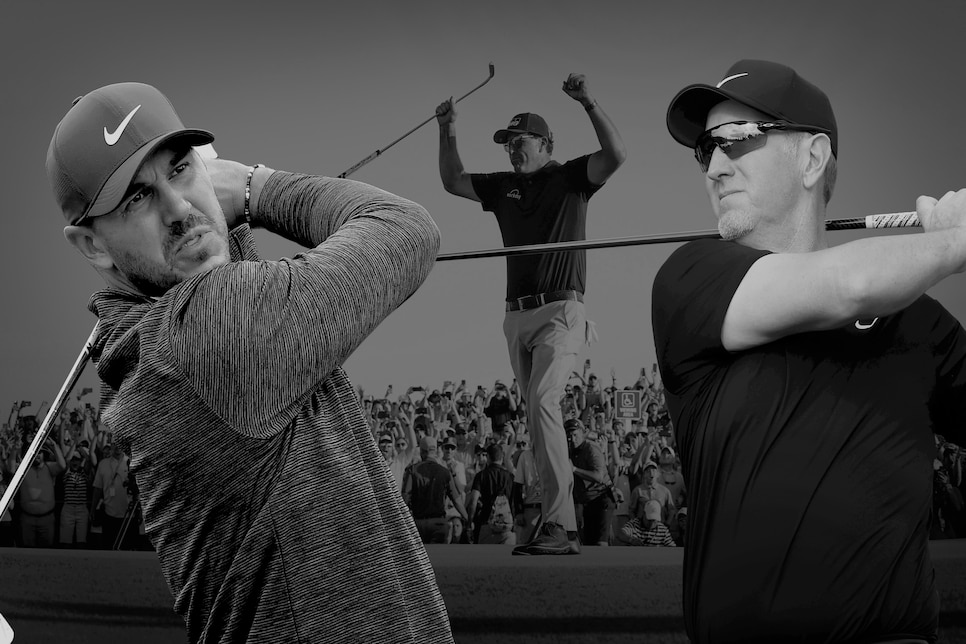 On a Sunday evening 18 years ago, a golfer wearing an orange shirt and a bewildered smile gripped the claret jug as if it was handed to him by mistake. Playing in his first major, Ben Curtis outlasted a group of established stars at Royal St. George's to win the Open Championship by a stroke, then was asked what it might portend for the years to come.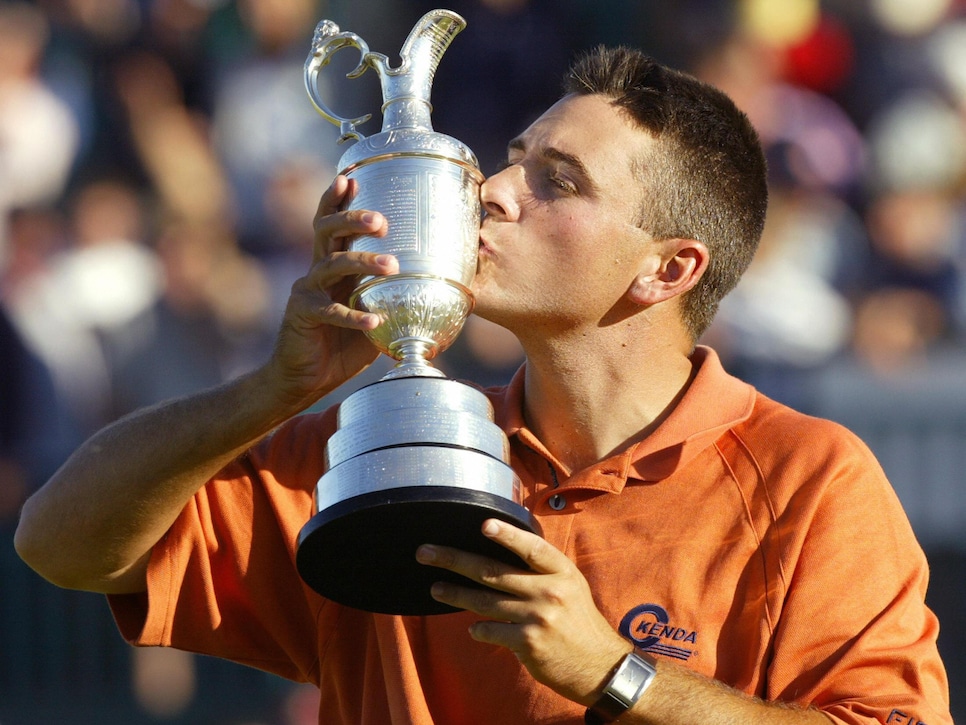 "I feel like my game is good for major championship golf," Curtis said in his winning press conference.
Well, yes and no. Curtis was good enough to win that one time, and he went on to finish in the top 10 in three other majors over the next five years. But if the thought was that Curtis' improbable win at Royal St. George's would springboard him to greater things, it instead served as an outlier event in a respectable but hardly dominant PGA Tour career.
"Winning a major either imbues you with confidence . . . or it fills you up with satisfaction and it robs you of your willingness to fight."
Along with the immediate significance of a first major championship for a player, there's a tendency to ask what it might still mean. When it comes to projecting future success, however, a major win is a maddeningly uneven indicator. After reviewing 20 years' worth of data, we can point to players whose overall major performances have improved in the aftermath of a breakthrough win, supporting the theory that success begets more success. But we can also cite a healthy number of first-time major winners who have performed worse in majors after reaching the peak of their sport.
"It ultimately depends on the player," said Brandel Chamblee, the former tour player turned Golf Channel analyst. "Winning a major either imbues you with confidence which allows you to achieve your potential, or it fills you up with satisfaction and it robs you of your willingness to fight."
To analyze the effects of a maiden major championship win, which both Hideki Matsuyama and Jon Rahm have claimed in 2021, we looked at performance through a number of prisms. The first and simplest measure was to revisit those players in the past 20 years who followed up their first majors with subsequent titles. Of the 48 first-time major winners since 2001, 11 have gone on to win at least one more.
The most prominent example of this is 2021's other major champion, Phil Mickelson. Two decades earlier, Mickelson still hadn't won his first major when he finished second to David Toms in the 2001 PGA. But even then he acknowledged he had his sights higher.
"I'm trying to win a bunch of majors," he said then. "What makes it so frustrating is I can't even win one."
Mickelson's bold proclamation proved prescient over time. After winning his first major at the 2004 Masters, he has since won five more, lending credence to the theory that certain players are "freed up" after they get over an initial hump. Other players who fall into this category include stars like Rory McIlroy, whose early major missteps were followed by four titles in three years; and Dustin Johnson, already a dominant player when he won the 2016 U.S. Open and who followed up with a win in the 2020 Masters.
But those were all players long projected to win multiple majors. A more compelling group might be the players whose early major success seemed to propel them to a higher tier. "Seemed" is the operative word here since this is a classic debate of causation versus correlation. Did Jordan Spieth win his second and third majors on the shoulders of his first? What about Brooks Koepka, a promising player before winning the 2017 U.S. Open at Erin Hills who has emerged as the best major performer since? Or Padraig Harrington, who survived a playoff to win his first major at the 2007 Open, then rattled off two of the next five?
To noted sports psychologist Dr. Bob Rotella, those players, along with the subset of surprising multiple major champions Retief Goosen, Zach Johnson, Bubba Watson, Martin Kaymer, and Angel Cabrera, might have benefited most from the validation that can come from winning in a big spot.
"There are guys who respond to these wins by saying, 'Now I really believe in my game. I know it can work against the better players in the bigger tournaments.'" Rotella said. "They've learned physically, mentally, and emotionally they can handle it."
But a major championship win is only one measure of performance, and perhaps even a misleading gauge when considering the cosmic alignment required to beat as many as 155 other players. For a more complete picture of how a player has fared in the aftermath of a major win, it helps to cast a wider net. For instance, If we can agree that a top-10 in a major counts as a productive showing for anyone other than peak Tiger Woods, then we can draw sharper conclusions about who showed improvement and who regressed after a life-changing major win.
For this we constructed a formula that measured how often a player finished in the top 10 before they won their first major, and whether that rate increased or decreased after their breakthrough.
The results here were illuminating. Let's start with Koepka. Prior to his first major win at Erin Hills, Koepka had played in 14 majors, and had top-10s in four. An admirable ratio then, though it's been dwarfed by Koepka's record since, when he won three more majors and placed in the top 10 in another seven. That 71-percent success rate in the 14 majors he played since Erin Hills (he missed two because of injury) is not only the best of any period we measured for this exercise, it's also the most dramatic improvement exhibited by a player after winning his first major.
Which is all to say that Koepka indeed appeared to transform into a new player following his inaugural major win. Below is the rest of the top 10, which factors in multiple major winners like Goosen and Spieth, but also recognizes consistent major performers like Adam Scott and Louis Oosthuizen.
It's worth noting that we purposely limited our measurement of a player's post-first major performance to the ensuing five years since after a while, age takes its toll on everyone. But even with some players in the heart of their careers, a major championship win has been followed by a sharp decline. Below are the players whose major performance dropped most dramatically following their major wins.
Remarkably, Kaymer, who followed up his 2010 PGA win by capturing the 2014 U.S. Open, is still among the worst performers since that was his only other top-10 over the next 20 majors. With everyone else, one can see a clearer trend of a first major undercutting motivation, particularly if it's taken significant time to reach that point. The former World No. 1 Duval most famously put this to words when he was said to ask following his 2001 Open Championship win, "Is that all there is?"
"There's a hell of a lot of people who have had a precipitous fall off after climbing Mount Everest. They asked, 'Was it really worth it?" Chamblee said. "After years' worth of struggle, whatever friction you had to burn that flame, it doesn't burn as bright."
Ultimately, Chamblee believes the age of a first-time major winner plays the biggest role in how they react to it. Whereas veteran players might be more willing to recognize it as the end of the road, a player winning at a young age—like Nicklaus, Woods, McIlroy, and Spieth—are going to see it as an endorsement of a prodigious talent. This would bode well for Collin Morikawa, who won last year's PGA at age 23 and already has two top-10s in majors in 2021.
"I don't know if there's a bigger predictor of success," the analyst said. "If somebody wins a major at 19, 20, or even 23 years of age, with a few exceptions, they are going to go on to tremendous achievements."
Research by Emma Francois; Graphics by Bill Specht.