John Feinstein
British Open 2021: Two decades later, David Duval reflects on reaching his major peak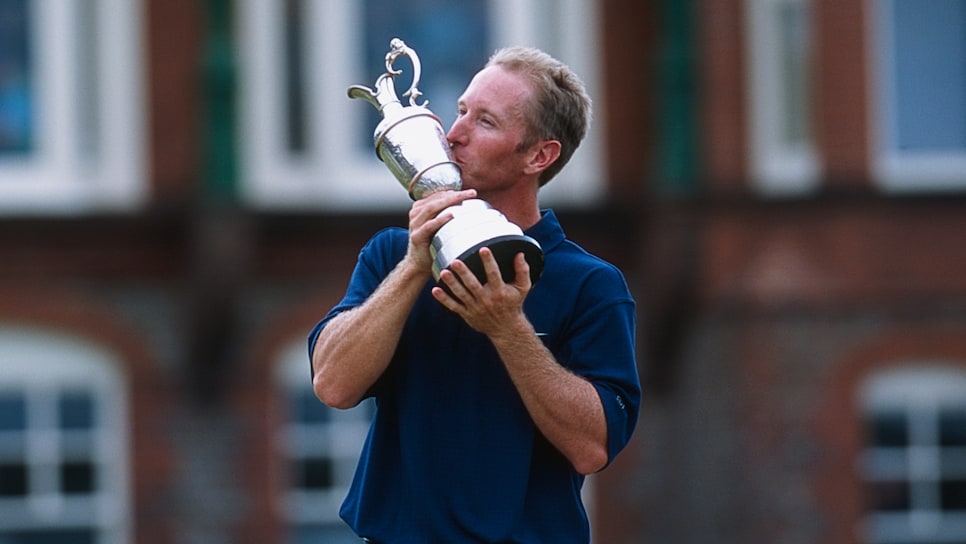 Photo By: R&A Championships
When David Duval steps onto the first tee on Thursday at Royal St. George's for the first round of the 2021 Open Championship, he's not likely to register any outward emotion. That's never been his way. During the best years of his golf career, the sunglasses he almost always wore masked most of what he was feeling.
But there's no doubt about this: Duval will be thrilled to be playing in his 25th Open. He's only made one cut there since 2009 (he finished T-49 in 2015 at St. Andrews) but that doesn't really matter.
"I love going back there," he said last week after playing in the pro-am for the Korn Ferry Tour event near his home outside Denver. "I love the memories; I love the fans. They have such a remarkable understanding of the game. They appreciate what you've accomplished, even if it's been a while. I know I'll get a warm reception over there and it's a nice feeling. It reminds me of what I did over there once upon a time."
Once upon a time was 20 years ago, when Duval shot 65-67 on the weekend at Royal Lytham to win his first and only major by three shots over Niclas Fasth. Duval went into Sunday in a four-way tie for the lead, with nine players just a shot back, and then pulled away with a near-perfect final round.
"I remember it was wide open going into Sunday," he said, laughing. "I knew there were four of five of us tied for the lead, but I didn't realize there were that many guys just a shot back. Probably a good thing. I was completely comfortable the whole day. I made one bogey, at the 12th, but came right back and birdied 13. I was actually relaxed the last few holes. I wasn't thinking, 'Am I going to win?' I was thinking, 'How am I going to win?' After a lot of near misses, that was a nice feeling."
Duval had finished second in April at the Masters—to the completion of Tiger Woods' "Tiger Slam"—and played solidly (T-14) at the U.S. Open at Southern Hills. He arrived at Lytham feeling comfortable with his game and with the golf course.
"I love Lytham," he said. "I had really enjoyed it in '96 [when he finished T-14 in just his second Open] and I always liked playing it. I think it's the most-pure links course over there. I didn't think I needed to change anything in my game that week.
"I'd just come close to winning the Masters for a fourth straight year [T-2, T-6, T-3, 2] and I knew I was capable of winning a major. I just had to figure out how to close the deal. I honestly thought I was ready."
He started out well with a two-under-par 69 on Thursday, but fell back Friday when he shot 73, which left him seven shots behind leader Colin Montgomerie. "I wasn't panicked by any means," he said. "I just knew I needed an absolutely flawless round on Saturday to get back into contention. Fortunately, that's exactly what I got."
His six-under-par 65 jumped him into that four-way tie for the lead. He knew the feeling of playing late on Sunday in a major. He just wanted a different ending.
"Two things helped," he said. "I got off to a good start, which was important. And I'd been through it before, so it wasn't likely that anything was going to surprise me. You never say winning a major is easy, but I never felt out of control all day."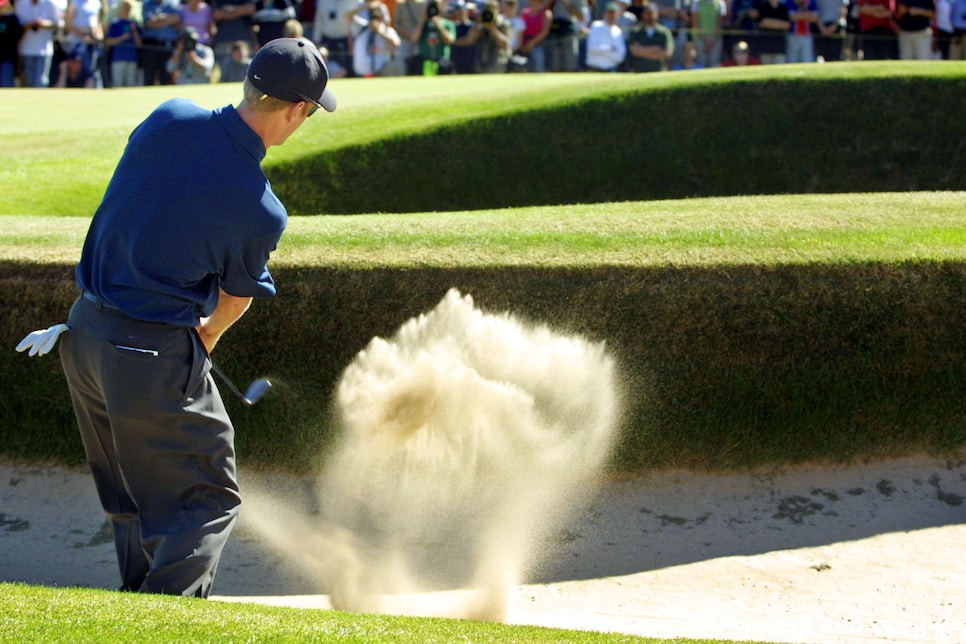 David Duval blasts out of a bunker on the 11th hole during the final round of the 2001 Open Championship.
ADRIAN DENNIS
In fact, Duval can remember that exact moment when he KNEW he was going to win. He had taken the lead on the front nine and was walking from the 10th green to the 11th tee when he heard a fan yell, Don't worry Duval, there's still plenty of time to blow it.
"I just smiled and said to myself, Not today pal. I'm winning today."
After missing an eight-foot par putt at the par-3 12th, he came right back to birdie the 13th, to push his lead back to three strokes. From there, he cruised.
"I still remember the feeling when my last putt went in on 18," he said. "It wasn't relief, even though I'd waited a while to get to that point; it was a feeling of accomplishment. I wasn't surprised. It wasn't as if I all of a sudden won a major. I had always believed I would win one, so when I did, my thinking was, 'Yes, you did what you were supposed to do.'"
The highlight that he still savors is when R&A secretary Peter Dawson announced, "The champion golfer of the year, David Duval!"
"That's the best moment in golf every year," Duval said. "Nothing like it. But when you hear those words and then your name, it's a moment you never forget. It was cool walking out there and being handed the claret jug and it was nice that my speech was as well-received as it was."
Most players write down notes pre-speech, often coached-up by someone from the R&A. Duval winged it. "Always felt comfortable with stuff like that," he said.
Like most Open champions, Duval had a duplicate of the claret jug made. It sits on a shelf behind his desk in his home office today, right next to the scorecard from the 59 he shot at the Bob Hope Classic in 1999. Even so, he wasn't eager to give up the real thing a year after his win.
"I kept it until Wednesday," he said with a laugh. "I saw Peter Dawson early in the week and he said, 'I hope you've got something for me.' I said I did, and I'd be sure to get it to him before Thursday. I cut it as close as I possibly could."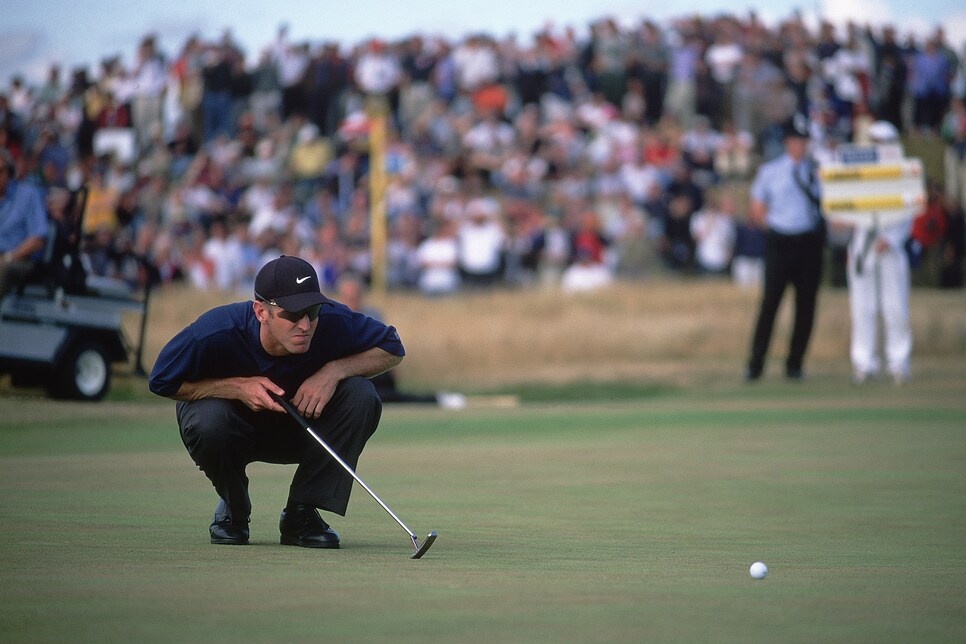 David Duval lines up a putt in the final round.
Stephen Munday
Duval was 29 when he had his breakthrough and there was reason to believe there would be more to come. He has always said that he was surprised that he didn't feel any different after winning a major championship than before he won one.
"I had worked so hard for so long to get to that moment and when I won it was certainly a good feeling, but I didn't feel any different. I was still the same person I'd always been."
His life did change two years later when he met Susan Persichitte and they fell in love and got married. Duval adopted her three children and they had two children together. Perhaps happiness robbed Duval of some of his hunger, but injuries also intervened, short-circuiting his career.
"I guess I have two regrets," he said. "One would be the injuries, which I understand are part of sports. Still, there are times when I think I could have won 25 or 30 times worldwide [instead of 20] and a couple more majors. But we'll never know about that.
"The second regret is that my family never got to see me play when I was at my best. I did almost win the U.S. Open in 2009 [he finished T-2] and that was nice, but I had a run there when I was young when I won a major, won the Players, won the Tour Championship and was ranked No. 1 for a while. I would have liked for them to see that."
Those accomplishments would seem to add up to a spot in the World Golf Hall of Fame but haven't yet. "It's not my decision," Duval said. "Maybe it'll happen in the future."
Duval has played in the Father-Son event in Orlando with all three of his sons. He and Nick won it in 2016, and he's played the last couple of years with Brady, who is now 16 and, according to Duval, has a chance to be a very good player. "It's the best week of the year," he said. "I love it."
If Father-Son is the best week of the year, the Open Championship isn't far behind. Duval made the trip this year without his family because of ongoing COVID-19 restrictions in Great Britain and won't be working for Golf Channel when he's not playing because those same restrictions mean the "Live From" telecasts will be live from Stamford, Conn.
Still, he wouldn't miss the chance to tee it up in the Open unless he was too hurt to play. Earlier this year, he wondered, after he had two discs replaced in his neck and also tore a muscle in his leg. The Korn Ferry event last week was his first tournament since before the pandemic.
"I wanted to show support for my local event," he said. "I also wanted to get a chance to play before I went to the Open."
He may not show it on the first tee Thursday, but Duval will be as happy to be playing as anyone in the field. "The fans there remember," he said. "When they show you that kind of respect, it reminds me of some very good times."
Which means, even if it is just on the inside, Duval will be grinning from ear-to-ear.