News & Tours
PGA Tour winner has to miss British Open due to travel sanctions from ... his wedding?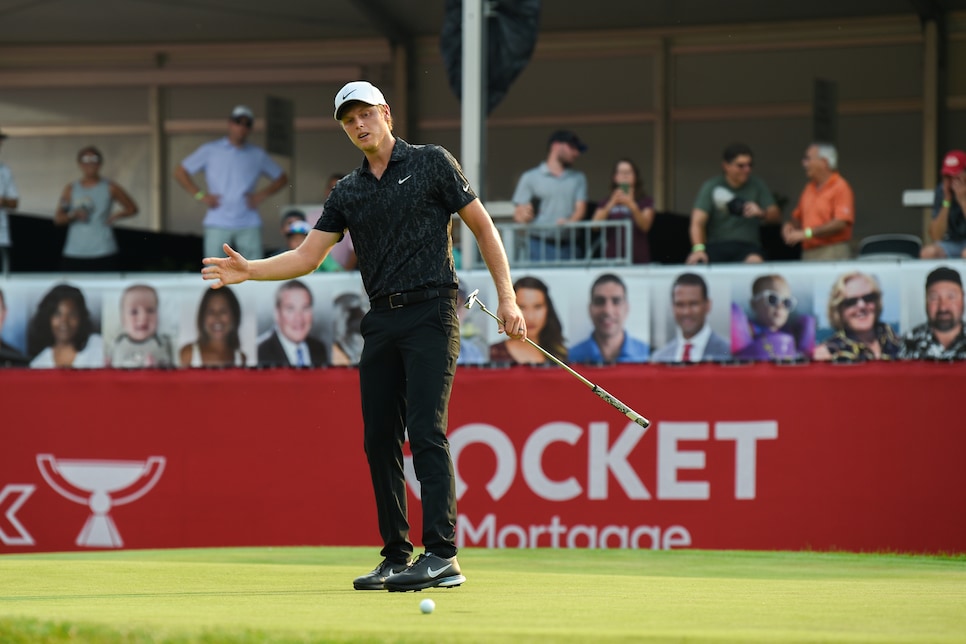 Cam Davis reacts to barely missing his birdie attemtp during the playoff holes during the Rocket Mortgage Classic.
Icon Sportswire
Cameron Davis can take solace that his marriage is not the first to put the kibosh on a golf trip.
Davis, who captured his first PGA Tour win days ago at the Rocket Mortgage Classic, was listed as an alternate for next week's Open Championship. On Thursday morning that standing granted Davis a spot in the Open field, as Kevin Na dropped out due to the myriad travel restrictions facing players making their way to Royal St. George's.
However, the R&A announced Na's position would be filled not by Davis but by two-time major winner Martin Kaymer because Davis was "unable to travel." Following his first round at the John Deere Classic Thursday—where Davis posted a four-under 67—Davis clarified why he had to pass.
Chiefly, because he can't leave the country … thanks to tying the knot.
"Yeah, I got married last year in September and decided to start the green card process to make traveling in and out of the country so much easier," Davis explained. "But, unfortunately, six months I'm not going to be able to leave the States while that's getting processed. That means I'm not able to go next week."
That, my friends, is a tough swallow. We suppose this is more of a bureaucratic red-tape issue than one relating to matrimony, although the latter led to the former so we'll let you be the judge of that.
The 28-year-old Aussie has played in the Open just once in his career, turning in a respectable T-39 in his debut at Carnoustie in 2018, and clearly his game is trending in the right direction. If there's any comfort, Davis will at least spend next week getting a chance to take in last week's breakthrough.
"I'm looking forward to seeing my family and celebrating back in Seattle next week and recharging a little bit because this week is already a bit of a grind to get through," Davis said. "I'm pretty tired. It'll be nice to relax."