Rocket Mortgage Classic
Aussie Cam Davis prevails in the Rocket Mortgage Classic's twilight special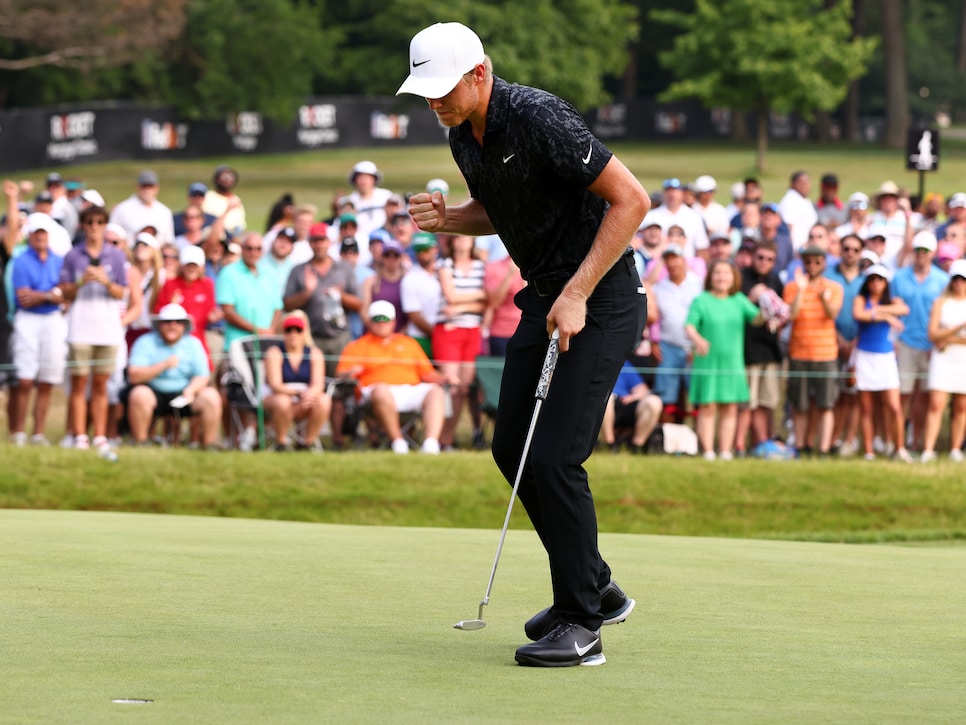 Cam Davis reacts to a putt to get him into the playoff on the 18th green during the final round of the Rocket Mortgage Classic.
Gregory Shamus
The twilight rate has been abused considerably the last two weeks on the PGA Tour. But someone has to pay the bill. Last week it was Kramer Hickock. This week, after pushing a five-foot par putt right of the cup, Troy Merritt got stuck with the tab.
Cam Davis was the beneficiary of Merritt's ill fortune, picking up his first tour title at the Rocket Mortgage Classic on the fifth hole of a sudden-death playoff, one that also included Joaquin Niemann, who suffered said death suddenly by falling out on the first playoff hole. A native of Sydney, Australia, Davis wasn't handed the title on a steamy Sunday in Detroit. Not at all. He hit a series of impressively good shots under pressure in overtime at Detroit Golf Club only to hit a series of less than good putts that kept Merritt hanging around and hopeful.
On all five playoff holes Davis had victory on his putter and couldn't put the irksome Idahoan away as they traded pars, just as Hickock did the week before at the Travelers Championship before Harris English finally ended it on the eighth extra hole with a birdie. This time, par was enough, and the transplanted Aussie, who now makes his home in Seattle, became the seventh first-time winner in this extended season.
"I just kept on putting good swings on it," said Davis, 26, a 6-foot-4 specimen who hadn't sniffed a chance to win since January and has had just two top-10 finishes previously this season. "I hit a lot of good putts and a couple of not-so-great putts, but I thought a few of them had a chance to go in up until a few feet out. I had to keep on putting it in play and giving myself chances, that's all I was trying to do. It worked out all right."
This being the Fourth of July, there had to be fireworks, and Davis provided that, too, before his steady overtime duty. Trailing throughout a day of remarkable scoring across the board—the field scoring average was 69.649—Davis needed something special and got it at the par-5 17th hole when he banged in a bunker shot for eagle. Then he birdied 18 from six feet for a five-under 67 and got into the house at 18-under 270, one better than Alex Noren, who for a long time was the clubhouse leader at 17 under after a 64.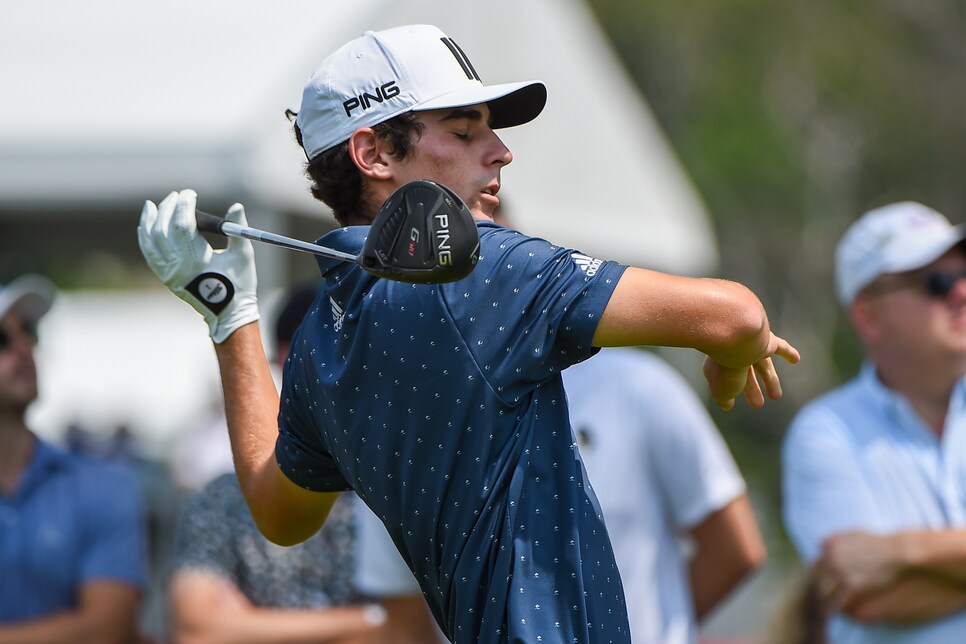 Joaquin Niemann (CHL) lets go of his club following his tee shot on 3 during the Rocket Mortgage Classic.
Ken Murray/Icon Sportswire
"It's the only reason I'm sitting here right now," said Davis of the bunker shot that "jammed the flag," after he splashed out a bit to aggressively but got help from the flagstick. "I don't know, those I guess are the sort of things that need to go your way if you want to keep pushing forward."
Niemann and Merritt, the third-round co-leaders, eventually joined him with birdies at 17, but couldn't sink a game-winner at the last. Each closed with 68. Merritt, 35, the only American among the trio and the crowd favorite on Independence Day, birdied four of his last six for a late surge that nearly paid off in his third tour title and first in three years.
A word about Niemann, 22, who did everything necessary to win the tournament—except shoot the lowest score. The guy didn't make a bogey in 72 holes. Too bad he had to go 73. He nuked a wedge from 144 yards on the first playoff hole that found a lie in the rough that a cow couldn't chew through. He chopped out to 41 feet and came up inches short of a par to stay in the playoff. The native of Chile settled for his third runner-up of the season and became the second player of the year to go 72 holes without a bogey, joining Andrew Putnam at the Waste Management Phoenix Open. There have been nine playoffs this season and Niemann has lost two of them, the other to English at the Sentry Tournament of Champions.
Davis, winner of the 2017 Australian Open, never had been in a playoff. At least he couldn't ever remember being in one. He couldn't recollect any experience that prepared him for the pressure he faced in trying to win on tour—something, he said on Saturday, "I've been working for my whole life."
Because of the pandemic, he hadn't seen his swing coach since 2019, and he had come into the event after three weeks off and nothing better than a lone top-25 since February. But he spent some quality time at home with Neale Smith, a top golf psychologist, and he believed that made all the difference when the pressure kept ratcheting up and he kept letting Merritt off the hook.
"We just really did a lot of work on just routine, and that sort of stuff is really what you fall back on," Davis said. "I don't really have any experiences in the past that kind of prepared me for it. Australian Open back years ago now was I guess similar in that I didn't really know where I stood when I was coming down the last couple of holes, and I was able to hit some good ones and get across the line. I guess I wasn't thinking about that, though, today. I was just thinking about all the things that I had done all this week leading up to that point and just tried to keep it going. It was just putting all that stuff on repeat."
Eventually, repeat paid off. In golf, it usually does. It was worth $1.35 million and some job security.
Davis broke through in his 71st PGA Tour start, and the former Mackenzie Tour and Korn Ferry Tour player, ranked 134th in the world, still was coming to grips with what he had done.
"It's still so surreal for me. I've been in some good positions before, but to play the golf that I played coming down the stretch was just awesome," he said. "So, I'm sure I'll be able to look back, I'm sure some of it's on camera, so I'll be able to relive some moments as well and really enjoy it again. But this has been awesome. I'm really, really happy with where I sit right now."