Courses
Royal St. George's: A hole-by-hole video tour of England's oldest Open venue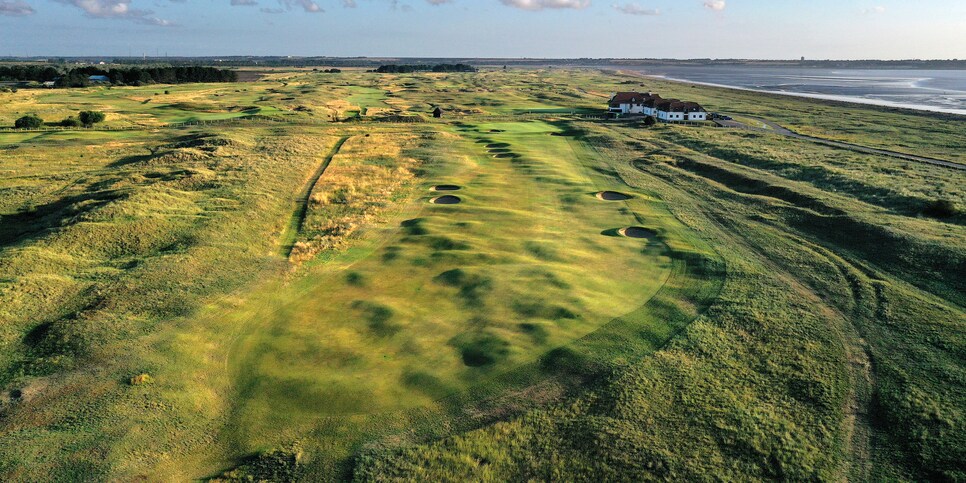 Our Drone Video Tour of the 2021 Open Venue
Golf is an enduring, addictive game precisely because success requires both ability and some rub-of-the-green good fortune. This is never truer than on links courses, where the bounce and scurry of the ball is the heart and soul of the game. With their firm, crinkled fairways and punishing hazards that seem random only until experienced in every conceivable wind, the links are the ultimate scales balancing luck against ability.
Of all the great tournament links of Great Britain, Royal St. George's—Sandwich to friends, named for the nearest town in southeast England—is the most opaque, rumpled and confounding. The routing spins players like a blindfolded child en route to a piñata, ensuring the blustery winds gusting off the English Channel pummel all sides equally. There are high holes and low, shots fired across the bows of high dunes and caterpillar fairways likely to buck otherwise straight drives into fits of misfortune.
Royal St. George's—ranked 28th in Golf Digest's World 100 rankings—offers no blueprint for scoring well other than to strike the ball solidly, hole some putts and pray that on your day the gaze of providence is a caring one. It's no wonder that during Open Championships the pros do little more than grit their teeth and bare it, sensing that much of what they do is beyond their control. Anything can happen at Royal St. George's, and does. It's how champions like Harry Vardon, Walter Hagen, Bobby Locke and Greg Norman are crowned. It also explains Jack White, Reg Whitcombe, Ben Curtis and a 42-year-old Darren Clarke in 2011.
This is the promise of Royal St. George's: that across some of the most attractive and alluring linksland in golf, something fantastic and mystifying is likely to occur. No matter how skilled we are, what we really want from golf is a chance. And at Royal St. George's, there's always a chance.