Television
British Open 2021: NBC to handle most of Royal St. George's TV coverage remotely due to travel restrictions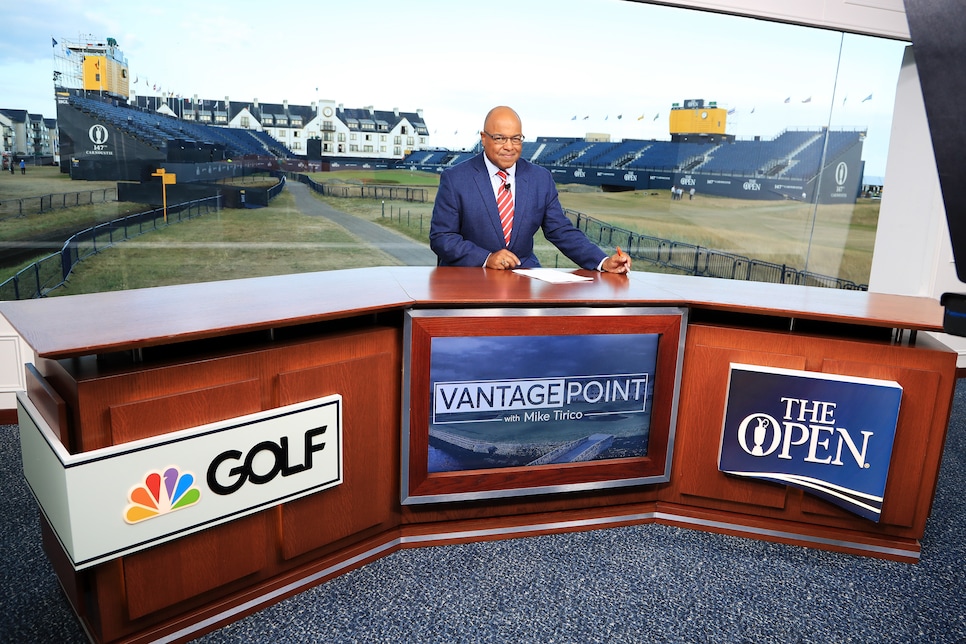 NBC's Mike Tirico talks during previews to the 2018 Open Championship at Carnoustie.
Andrew Redington
The Open Championship returns from its one-year hiatus and, with it, NBC Sports' resumes its coverage of golf's oldest major. But while the championship will be contested in Sandwich, England, it will be called nearly 3,500 miles away in studios in Stamford, Conn.
Due to travel restrictions imposed by the United Kingdom and the R&A amid the ongoing COVID-19 pandemic, NBC Sports will be handling most of its coverage of the 149th Open Championship on NBC, Golf Channel and Peacock remotely.
"There's still a quarantine in the U.K., so from the R&A's perspective it would greatly help them for us to reduce our footprint, very similar to what the players are having to go through," said Tommy Roy, NBC's longtime lead producer for its golf coverage.
NBC has done just that. The network usually sends a crew of 250 people on site for its tournament coverage. At this year's Open, a mere 24 will be on the grounds at Royal St. George's.
That won't, however, change the amount of live golf being shown in the U.S. on television and streaming online. Nearly 50 hours of live action will still be shown on Golf Channel and NBC. Adding streaming featured-group coverage, the overall number of hours of golf from Royal St. George's will exceed 100. (Golf Channel also will be airing its popular "Live From" pre-tournament and post-round coverage, albeit producing it remotely.)
Though the R&A's ask played into NBC's decision, it was one made easier by the health and safety protocols in place for the championship, according to Roy.
"The people we sent over there, they wanted us to limit the amount of airplanes they traveled on because if someone tested positive, it could take out other people on the airplane's ability to work," Roy explained. "So we looked into chartering a plane for everyone over. But then we realized if one of our people or a flight attendant tested positive, it takes out the entire production."
According to Roy, by sending a smaller group NBC had a better chance at obtaining a waiver from the U.K.'s 10-day quarantine for travelers from the United States. So realizing they could tap into the R&A's global broadcast feed, most of NBC's on-air talent—including play-by-play announcer Dan Hicks and lead analyst Paul Azinger, along with Justin Leonard, David Feherty, Terry Gannon and Gary Koch—will be working, and watching, from NBC Sports' Connecticut headquarters. Most of the production team, including Roy, will be working from the Stamford base as well.
Remote broadcasting isn't new, especially over the past year as a consequence of the pandemic. In the early days of the PGA Tour's return last summer, CBS and Golf Channel had commentators working remotely for several events. And NBC has done remote broadcasts with other sports events as well.
Of course, there are differences inherent to remote broadcasting. In the Open's case, that involves using the R&A's global feed.
NBC has used the global feed before, primarily in the overnight-hour broadcasts before transferring to its own feed in the morning. But as Roy explains, the feed's audience is right there in the name, global. And the focus can vary from the broadcast seen in the U.S.
"The feed is the primary one for the U.K., and then they are producing for a lot of their international clients," Roy said. "Whereas the feed I would normally produce is customized for an American audience … installing the storylines, the leaders, checking in on the stars of the PGA Tour. Then there's the travel log, because going to that part of the world is unique, it's cool, golfers go there to visit the historic nature. So we integrate our telecasts with that in mind.
"So when you are given this feed, you can't do that as easily."
There is still a need for an on-site presence that can't be replicated through the global feed, especially for the Open, where weather conditions are an integral part of the story. To ensure that part of the broadcast remained intact, NBC has sent a contingent of course reporters and interviewers. That group includes Jim "Bones" Mackay, John Wood, Notah Begay, Karen Stupples, Cara Banks and Todd Lewis.
"You just can't do a proper job without someone on the property," Roy said.
Roy mentions that there hasn't been a "normal" broadcast since golf restarted from its pandemic break, and that his team has learned and adapted from the past year's experiences. He says the early meetings with the global partners have been "better than expected." Roy knows there will be issues that manifest throughout the days, but looks as this as a challenge and learning experience.
"Who knows," Roy says, "maybe this is the way of the future."