Ryder Cup
Ryder Cup watch: Locks, potential snubs, Zalatoris' case, and the Mickelson dilemma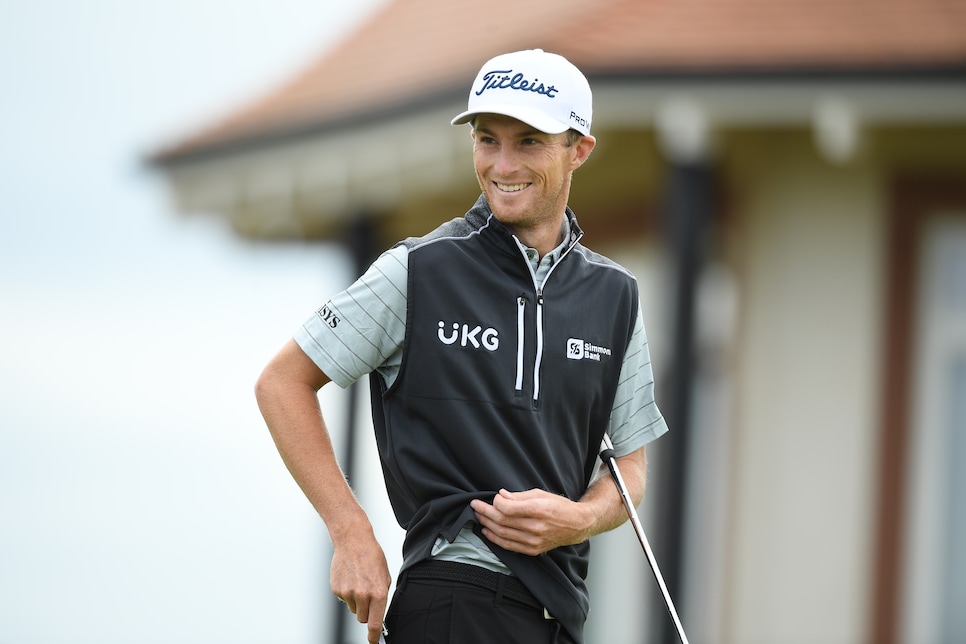 Welcome to the latest edition of the Ryder Cup stock watch, where we'll periodically take a look at how the U.S. and European teams are shaping up heading into this year's match at Whistling Straits:
Ryder Cup rosters won't be finalized for two months, providing plenty of runway for players to make their case for Whistling Straits. In that same breath, the Open Championship is this super season's final major, offering not just extra team points but a chance to make a statement. Before the candidates step into the cauldron of Royal St. George's, Golf Digest writers Joel Beall and Daniel Rapaport assess where Ryder Cup matters stand heading into the Open:
USA Rankings - Top 6 automatically qualify
1. Dustin Johnson
2. Bryson DeChambeau
3. Collin Morikawa
4. Brooks Koepka
5. Justin Thomas
6. Xander Schauffele
7. Patrick Reed
8. Harris English
9. Patrick Cantlay
10. Tony Finau
11. Jordan Spieth
12. Daniel Berger
European Rankings - Top 4 in Team Points, Top 5 World Points
1. Jon Rahm / Jon Rahm
2. Tommy Fleetwood / Rory McIlroy
3. Tyrrell Hatton / Tyrrell Hatton
4. Rory McIlroy / Viktor Hovland
5. Bernd Wiesberger / Paul Casey
6. Victor Perez / Lee Westwood
7. Guido Migliozzi / Tommy Fleetwood
8. Paul Casey / Matt Fitzpatrick
9. Matt Fitzpatrick / Victor Perez
10. Robert MacIntyre / Shane Lowry
11. Viktor Holland / Guido Migliozzi
12. Matthias Schwab / Bernd Wiesberger
DR: Padraig Harrington signaled that Sergio Garcia and Ian Poulter will likely grab two captain's picks. Initial thoughts?
JB: Thomas Bjorn was somewhat knocked for his captain's picks—Poulter, Garcia, Paul Casey and Henrik Stenson—in 2018; where some saw Bjorn favoring experience others saw the choices as a byproduct of the old boys' network that left in-form players like Rafa Cabrera Bello and Thomas Pieters burned. This was especially true of Garcia, who missed the cut in all four majors and failed to qualify for the FedEx Cup Playoffs. Bjorn's picks proved to be the deciding factor in the Europeans' win in France, however, as they went 9-4-1. So in that sense, hard to quibble with Harrington wanting to go a similar route with veterans in Garcia (the all-time European Ryder Cup points winner) and Poulter (who turns from man into myth during these matches). Plus, a Ryder Cup on American soil is exponentially more interesting and entertaining with the Poulter-versus-crowd dynamic.
Conversely, Ryder Cups are time capsules, the rosters a reflection of who mattered in these respective years. Poulter and Garcia are outside the top 12 in rankings the European Team uses for automatic selection (points and world ranking). They are also a combined 86 years old; there's the case that their time has passed, that it's time to give younger players their shot. Harrington does not come off one beholden to sentiment; his picks will not be for ceremony or to serve any master other than winning (more on this in a moment). It just feels, ever so slightly, a bit uninspired.
DR: Le Golf National provided a fascinating case-study in divergent approaches to captain's picks. As you mentioned, Bjorn went with experience (and course fit, to be fair), while Furyk went the "hot hand" route in picking Tiger Woods, Phil Mickelson, Tony Finau and Bryson DeChambeau. The European captain's picks provided a spark and a half; Finau's impressive effort aside, the other three Americans looked completely out of their depths and went 0-9. It's important to remember, however, that all four of the European picks were inside the top 35 in the world rankings when the Ryder Cup rolled around. At the current moment, Poulter is No. 56 and Garcia No. 49. A certain Belichickian principle comes to mind: it's better to let someone go one year too early than one year too late. Everything in my brain tells me this is a bad idea, a reward for past results rather than a strategic move for the task at hand. But then I get an image in my head of Sergio hearting a 20-footer to beat Patrick Cantlay, and shushing the Wisconsinites after he does so, and I'm officially done doubting Sergio Garcia at the Ryder Cup.
JB: Speaking of shushing, need the Europeans to really lean into the Wisconsin culture if/when antagonizing the crowd. Poulter should show up to the first tee in a 'FAVRE' Vikings jersey with a can of Budweiser while grilling vegan dogs. There may be a riot. It would be fantastic. I digress.
DR: There's a left-handed elephant looming in Steve Stricker's head. Phil Mickelson's Ryder Cup career looked poised to end with a whimper in France, for he was nowhere near the picture before that magical week at Kiawah. But, then, that magical week at Kiawah. He's done a whole lot of nothing since: MC/T-62/T-61/T-74. How, then, does Mr. Stricker handle the Mickelson Problem?
JB: At the moment, it's exactly that: A problem. Kiawah is very much the aberration in Mickelson's 2021; entering the week he ranks 159th in SG/off-the-tee, 132nd in SG/putting and 153rd in strokes gained. Whistling Straits is a relatively wide-open ballpark, alleviating some of Mickelson's wildness, and he has played well at the three PGA Championships conducted in Haven, Wisc. (T-6, T-12, T-18). Still, in a vacuum, there's not much of a case for inclusion for Mickelson the player.
But Ryder Cup selection is not done in a vacuum, and only a fool would think this is about Mickelson the player. The Ryder Cup, as much as it's grown in profile over the last 30 years, remains, at its core, an exhibition. It is a spectacle consumed not over one weekend but weeks and months and years. And what is a spectacle without Mickelson, golf's greatest showman? With Tiger Woods on the sidelines, there are forces with financial interests in this event that very much like to see Mickelson be a part of the proceedings. How much pull those forces ultimately have in Stricker's decision varies depending on who you ask, but those whispers exist.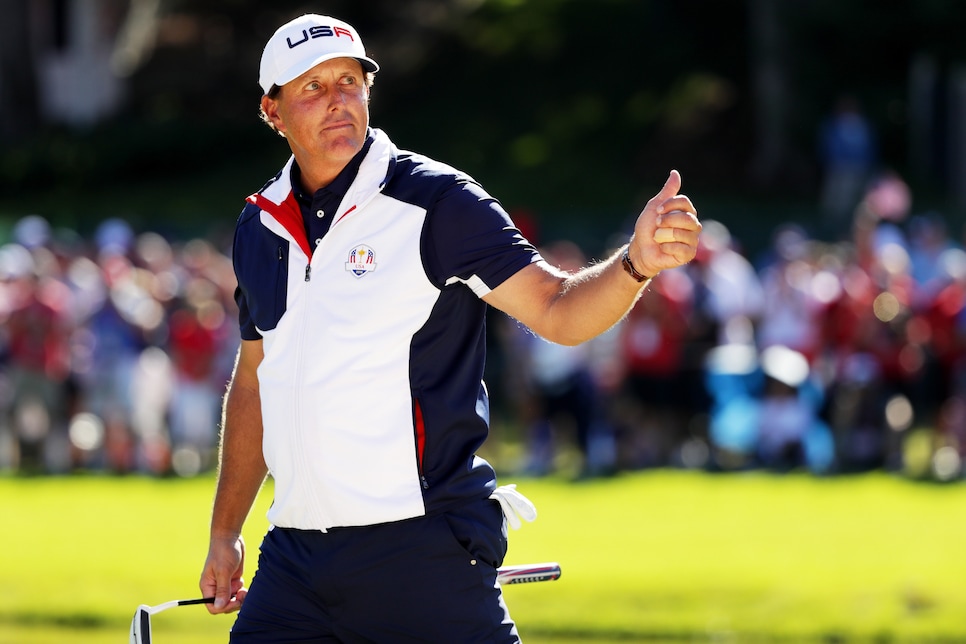 There's a lot to debate about Phil Mickelson being picked for U.S. squad.
Streeter Lecka
There's also Mickelson's station in the Team USA dynamic and hierarchy. He maintains an avuncular relationship with most of the under-30 players and holds just as much authority now, if not more so, than when he spurred efforts to create ("Don't say task force, don't say task force") an uninterrupted, evolving team culture for the Americans following the 2014 Ryder Cup blowout. For his part, Stricker maintains that Mickelson is far from a sure thing, but feels like he's a top-10 finish away, at any event, from becoming a sure thing. Or is that reading too much into the noise?
DR: Definitely not reading too much into it. Let's keep in mind what U.S. assistant captain Davis Love III told Brian Wacker back in May, just after the PGA Championship: that he and Stricker were already discussing using a captain's pick on Phil before Kiawah. If you think the case for Phil the Player is flimsy now, what was it back then? It's not dissimilar from our conversation above about Garcia. If we're giving Stricker and Co. the benefit of the doubt—by that we mean, assuming they're not making decisions with ratings in mind—they're counting on stats like the ones you mentioned mattering little in an event as unique as the Ryder Cup. He's obviously still capable of top-level golf, him winning a major championship less than two months ago and all, and at 51, it's all but certain to be his Last Hurrah. He knows that, and the rest of the team know that, and that could provide a spark.
Side note: avuncular … great word.
JB: We don't use it enough.
What makes the Mickelson dilemma—which sounds like a strokes gained-zero sum game theory—fascinating is that he's the only candidate with a somewhat flimsy case. Without being a prisoner of the moment, it feels like the pool of potential wild card picks is especially deep this year. But within that group appears to be a delineation of "chalk" picks and household names versus upstarts and those with solid campaigns that aren't exactly well-known entities. Assuming the top six in point standings hold and that Jordan Spieth is as close as a lock as any player can be, who are the guys in that upstart category that have a legitimate shot at making the team?
DR: I'm laughing—genuinely laughing, not LOLing—at your "especially deep" this year. You're right, but we also say that every single Ryder Cup cycle. But again, you're right. Harris English probably has the best chance, with two wins against strong fields this season and some really solid showings in the last two U.S. Opens. He's also an impossible guy to dislike and desperately wants to make this team, so it's hard to imagine anyone having a problem with him getting the call. So say it's the current six auto-qualifiers, Phil, Spieth, and English. You've got three spots then for: Patrick Reed, Patrick Cantlay, Tony Finau, Daniel Berger, Webb Simpson, Scottie Scheffler, Max Homa and Will Zalatoris. Does Strick go chalk, with Reed, Cantlay and Finau? The Zalatoris train has lost some steam. Does Homa get a look? Can they leave Webb off?
JB: Let's start with Zalatoris, who does seem to be on the outside looking in at the moment. Yet what if he contends and finishes in the top 10 at the Open? That would be four top-10s—highlighted by the Masters runner-up—in his past five major starts. Compare that to someone like Cantlay who, for all his ability, has not posted a finish better than T-15 in his last eight major starts. In the four tournaments that matter most, that are as close to replicating the pressure inherent to the Ryder Cup, this cat gets it done. In short if Zalatoris makes a run at the Open and doesn't make the team there needs to be a "Free Will" protest on tournament grounds.
Simpson is a safe choice although feel like he needs a late push considering he's had a good-but-not-great year. Wildly popular as he is, I don't think Homa is given enough credit for how good he is; he's a bit like Xander in that there are few holes in his game and it's a game that travels. That said, he needs to improve his major track record—eight straight missed cuts—to warrant a real look.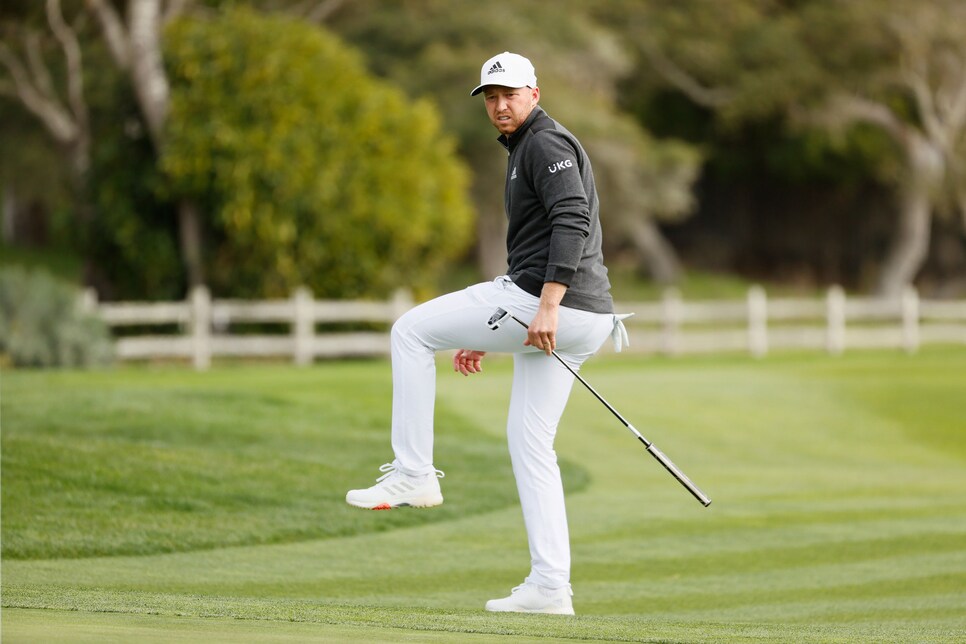 Daniel Berger reacts on the 12th green during the final round of the 2021 AT&T Pebble Beach Pro-Am.
Steph Chambers
Despite the fallout from the 2018 Ryder Cup and 2019 Presidents Cup, Reed's probably in the lock camp as well. Which means even if Stricker goes all chalk, there are going to be big names left out, and that's not including the possibility of someone coming out of left field to win the Open or make a playoff run to be a part of the conversation. Still, who are your top candidates (Zalatoris aside) to get shafted? For the Americans it seems like Jason Kokrak isn't getting much love despite two wins this year and six finishes of T-13 or better—including beating Spieth head-to-head in Texas—in his past nine starts, especially since his lights-out putting is desperately needed for the U.S. As for the Euros, legitimately worried about the collective psyche of Scotland if Robert MacIntyre is left off.
DR: For the Americans, it feels like Daniel Berger will fall victim to being almost comically under-the-radar. The guy is No. 17 in the world, won at Pebble Beach earlier this year, has played solidly since, and continues to get zero attention or love. Across the pond, I'm a bit concerned about Matt Fitzpatrick, who's slipping in the points standings. You wouldn't describe his game as sexy; he's not going on adrenaline-addled birdie binges, nor has he contended in any major. In fact, he's got just one top-10 in 25 career starts in the big four, a brutal hit rate for a player who should fare well on tough courses. He barely missed qualifying on points for Le Golf National, and he was passed over for a captain's pick. When he did qualify in 2016, Darren Clarke sat him three of the four team sessions. Fair or not, there seems to be something of a bias against him in the Euro Ryder Cup circle, and I fear he'll have to make it on points if he's to make it to Whistling Straits.
It now feels like we've discussed almost everyone on the bubble, but surely there has to be one or two guys we haven't mentioned who could play their way onto the team with a torrid summer stretch. Take us home, Joel: Who are we forgetting that has a chance, even a small one, to make it?
JB: Speaking of biases, I applaud your unbiased take on Fitz. You are a scholar and journalist first, even if it might cost you a future caddieing gig.
Sam Burns is lurking. He's second in birdie average and 19th in SG/approach, and enters the week 11th in the FedEx Cup off a win and six top-10s. A win in the next month coupled with a pair of top-10s in the first two legs of the playoffs might be enough to steal a spot. And by Ryder Cup roster watch bylaw, we have to mention Billy Horschel, right? Statistically he isn't having that great of a season (78th strokes gained, 115th SG/tee-to-green) but he's 25th in the World Ranking and a strong push to end the season could have him in the top 15-18 range, and with his match play pedigree he could drive the Euros crazy. Speaking of Euros, Justin Rose is in danger of being on the wrong side of the bubble and needs to do something to shake the cobwebs off. A good week at Royal St. George's might do just that.
DR: I have to sneak this in before we depart: Rickie. Rickie! Don't look now, but Rickie Fowler has now made three of his last four cuts with a T-8 at Kiawah and a T-11 at the Memorial, both major-caliber courses, sprinkled in there. He's as inside-the-boys club as one can possibly be, and you know JT and Spieth will be lobbying for his selection. With captain's picks, the first rule is to Do No Harm, and Rickie's inoffensive personality and generally chill vibe mesh well into any group dynamic. Oh, and how could we forget about Guido Migliozzi? Heading into this week's Scottish Open, his last four finishes: solo second at the British Masters, solo second at Made in Denmark, T-4 at the U.S. Open and T-13 at the Travelers. The young Italian is balling, and he's creeping up the European points list quickly. Forza Italia! Actually, scratch that. We're rooting for England. I think.