voices
Phil Mickelson is a wild card on and off the course, but here's why he needs to be on the U.S. Ryder Cup team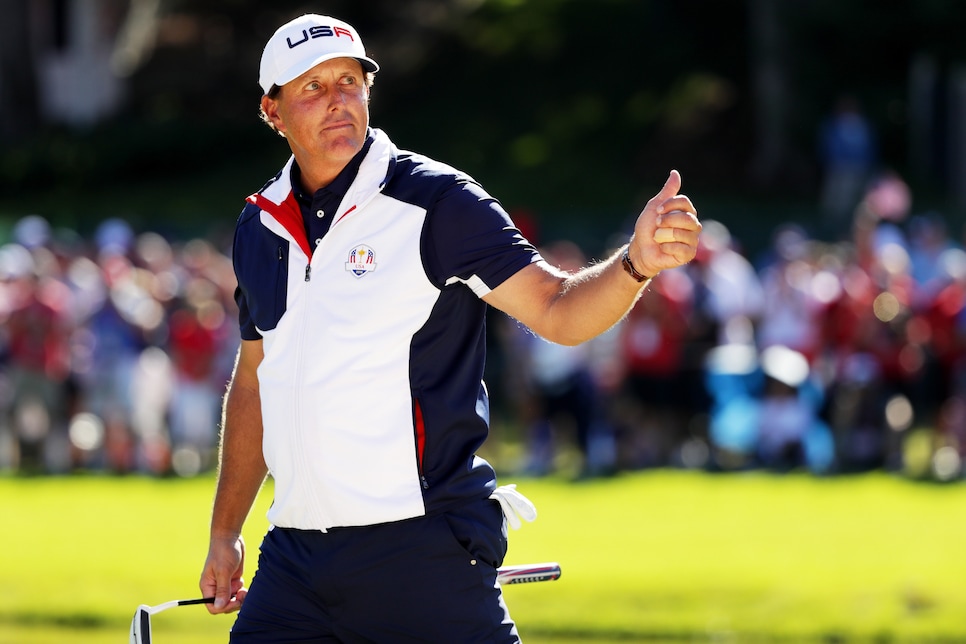 Mickelson didn't deny the story but threatened to never return to the Rocket Mortgage Classic—where he was playing for the first time—in the future. A day later, he took back the threat and said he'd come back if a local who was trying to get 50,000 fans to sign an online petition to sway Mickelson to come back reached his goal, and each of those people pledging to perform "an act of random kindness."
This was pure Mickelson: a petulant outburst followed by scrambling to be the good guy in the eyes of the public.
You can bet most of the public will buy in.
And this will be an inexperienced American team. Right now, two of the six automatic qualifiers would be Ryder Cup rookies—Collin Morikawa and Xander Schauffele. Morikawa is a major champion, but every player who has ever teed it up in a Ryder Cup will tell you there is nothing that can prepare you for the feeling on the first tee.
"It's the only event in golf where your legs will shake on the first tee," U.S. captain Tom Watson told his team in 1993.
Davis Love III, playing his first Ryder Cup, almost laughed out loud when Watson said that. "I'd played all four majors," he said. "I thought, 'Come on Tom.' I stopped thinking that when my legs started shaking walking to the first tee."
Keegan Bradley, who had won the PGA Championship in 2011, said he almost turned around and fled, waiting to tee off at Medinah a year later.
It can happen to anybody. "There's nothing close to it in golf," says Patrick Reed, who has been a Ryder Cup star. "That probably explains why I popped my first tee shot straight up into the air at Gleneagles [n 2014]."
In addition to Morikawa and Schauffele, five of the current top 10 on the U.S. list would be rookies and six of the top 12 would be first-timers.
Which is where Mickelson comes in.
He has played in the last 12 Ryder Cups. Granted, the U.S. hasn't exactly torn things up in those matches, going 3-9 and Mickelson has a losing record overall. But he's a different player at home, clearly fueled by the American crowds. In fact, the only time he had a losing record at a U.S. venue came in 2004 at Oakland Hills when the Americans were routed 18-9 and Mickelson went 1-3, including two losses on Friday during his disastrous pairing with Tiger Woods.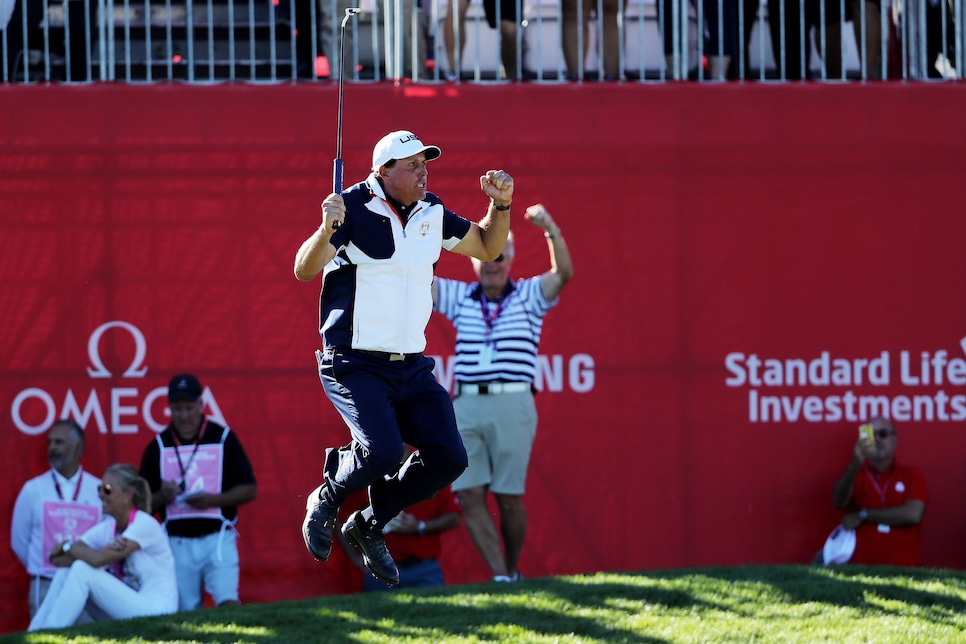 Phil Mickelson celebrates holing a putt on the 18th green during the Sunday's singles matches in the 2016 Ryder Cup.
David Cannon
Mickelson was 3-1 in 2012 at Medinah and 2-1-1 at Hazeltine in the last U.S. victory, including a singles halve with Sergio Garcia when both men shot 63.
Clearly, Mickelson will have to be handled with care if he's on the team. At 51, he can't be asked to play two matches in a day, but it is hardly unusual for a player to only play once a day, especially on the American side. In fact, Mickelson only played twice overall on Jim Furyk's team in Paris three years ago. Can Mickelson string together three good rounds of golf under pressure at this stage of his career? His victory at Kiawah Island says yes.
But Mickelson's importance to Stricker's team will have more to do with what his presence will mean in the team room than on the golf course. Mickelson has evolved through the years as a Ryder Cupper. He's gone from being the young guy whose presence was accepted because he was a good player to being, as Zach Johnson likes to say the team's, "papa bear."
The change really began when Mickelson began playing Tuesday money games with younger players who were in contention to make the team in a given year. Mickelson heckled and trash-talked opponents so much that they had some sense of Ryder Cup pressure.
"He could give it as well as anybody," Brandt Snedeker once said. "But no one really minded because they knew why he was doing it. Plus, he could take it as well as he could dish it out."
That's why most of the players on the 2014 U.S. team sided with Mickelson when Phil criticized Watson, captain again for the Americans that year, for not including the players more in his decision-making. Mickelson never wanted Watson to be captain and had told PGA of America president Ted Bishop that soon after he selected Watson. When Watson sat Mickelson and Keegan Bradley all day on Saturday, Mickelson was furious.
Mickelson publicly blaming Watson for a one-sided loss (16½-11½) wasn't gracious or fair, but it did lead to more player input through the infamous Ryder Cup task force. Mickelson was the de facto chairman of the group, and that helped lead to Love being given a second chance to be captain in 2016 at Hazeltine after his 2012 defeat at Medinah.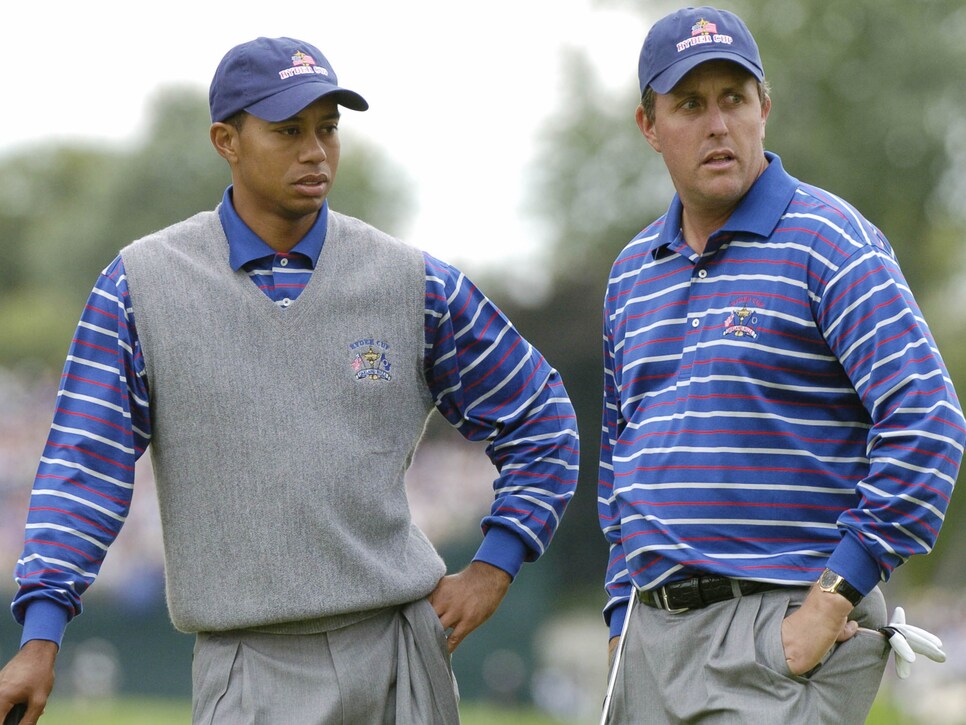 Tiger Woods and Phil Mickelson went 0-2 playing together on Friday in the 2004 Ryder Cup.
Al Messerschmidt
Since then, even when he does wrong, Mickelson can seemingly do no wrong. His embarrassing pre-matches press conference at Hazeltine in which he blamed Hal Sutton for deciding to pair him with Woods in 2004 without enough warning was laughed off by his teammates, even though Sutton was more than a little upset. When the Americans won those matches, 17-11, all was well in the American team room.
The Europeans were amused by the American euphoria and returned the favor with equal ease in Paris in 2018. Now, the U.S. badly needs to win on home ground, or Hazeltine will quickly become a blurred memory, and all the questions about Europe's dominance will be raised again.
In all likelihood this will be Mickelson's last hurrah as a player in a Ryder Cup. He would be the oldest American to make a team—about three months older than Raymond Floyd was in 1993—and playing one more time would allow him to smoothly transition to being a vice captain two years from now in Italy before he is the captain in 2025 at Bethpage Black.
But that's not why he should be on the team. The U.S. will have plenty of experience in the team room with Stricker and his vice captains: previous captains Love and Jim Furyk, Zach Johnson (who may very well be the 2023 captain), and perhaps even Woods.
But all of them will tell you being a vice captain and the influence you can have isn't the same as when you're a player. When an injured Ian Poulter was a vice captain for Europe in 2016, he learned this first-hand. "There's only so much you can say or do," he said. "In the end, the guys have to go out and play."
Mickelson's record this season outside of Kiawah—including a T-74 Sunday in Detroit—is decidedly mediocre. He has no other top-20 finishes and two other top-25s. But he does have Kiawah and that very much counts. His not-quite 51-year-old nerves held up that Sunday when the nerves of much younger players did not.
Any matches he wins at Whistling Straits will give Stricker's young team a major emotional boost. And his presence, golf clubs and goofy grin firmly in place, will mean a lot in the American team room.