Rocket Mortgage Classic
An angry Phil Mickelson, stung by a story on a decades-old gambling incident, says he's not likely to play in Detroit again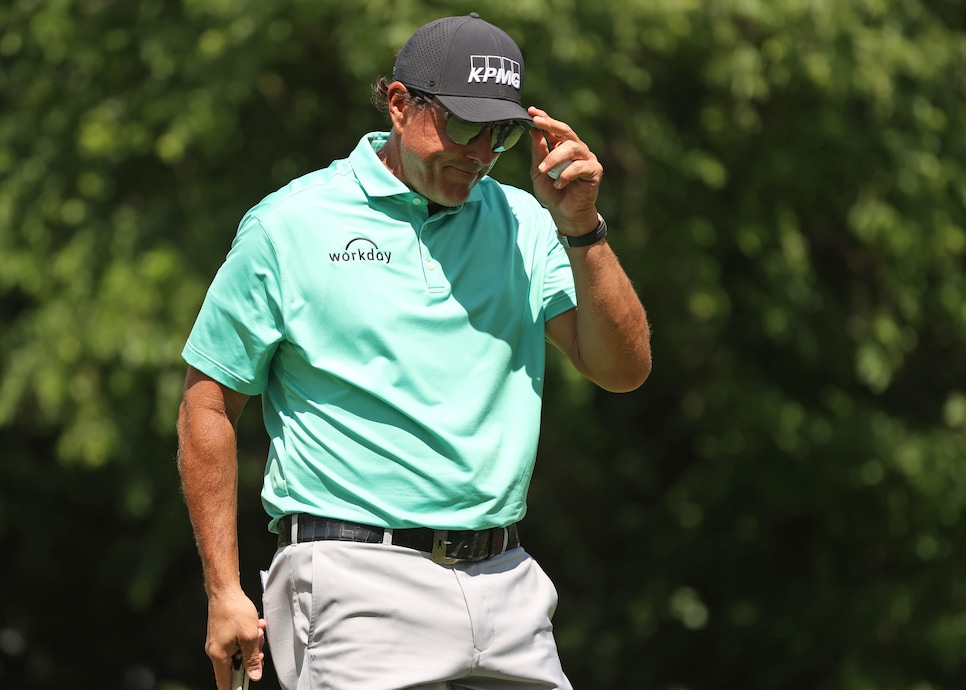 DETROIT — Short of a victory this week in the Rocket Mortgage Classic—and we're not sure even that will change his mind—Phil Mickelson will not be returning to this fledgling PGA Tour event now in its third year.
A three-under 69 Thursday at Detroit Golf Club, fueled by three birdies in his last four holes after a weather delay of more than three hours, couldn't assuage the irritation that the reigning PGA champion was lugging around as the storm clouds were gathering.
What drew Mickelson's ire was a Detroit News story published Tuesday that with painstaking detail delved into a long-ago gambling controversy that involved the Hall of Famer. Mickelson did no wrong, and the story doesn't suggest that he did. But in documents obtained by the writer, Rob Snell, it lays out how a Michigan bookie welched on a bet that Mickelson had won.
Allegedly, Mickelson and some friends were owed $500,000.
Given the current climate on sports gambling and its increasing acceptance in society, when we can bet on anything and when the PGA Tour promotes opportunities to get some action on its events, the story doesn't resonate with the same force it might have a few years ago. That it happened 23 years ago makes it even less newsworthy, except for the fact that it involves arguably the most popular golfer in the world (active division, for those about to interject the name Tiger Woods) playing in a tournament not far from where a man named "Dandy" Don DeSeranno, who is described in the story as "a mob-connected bookie" and "one of the biggest gamblers in Detroit history," operated.
DeSeranno was the culprit who stiffed Lefty.
Revelation of the unpaid gambling debt to Mickelson came up in a 2007 racketeering trial against a reputed Detroit crime leader, Jack Giacalone, whose father Vito was a suspect in the unsolved disappearance of Teamsters President Jimmy Hoffa. (By the way, Golf Digest once commissioned a story on the disappearance of Hoffa prior to the 1996 U.S. Open at Oakland Hill Country Club in Birmingham, Mich.)
Giacalone's testimony as a government witness wasn't unsealed until 2018. There is no indication when Snelling obtained the documents.
But, listen, you throw out a story that has in it the words Hoffa, mob, racketeering, bookie, gambling and Mickelson, and you've got the makings of something people are likely to read. That doesn't necessarily mean it's a fair story, at least to Mickelson, who, let's face it, is being cast in a light that sure isn't positive. And Mickelson obviously sees it that way.
So, he took to Twitter during the weather delay to air his displeasure.
"Took place 23 years ago. Had I not come here to Detroit it wouldn't have run. My mistake making the effort to be here and have my foundation look into ways to help the local community. Didn't even think of the opportunistic Rob Snells in the area would try and take advantage."
Indeed, the timing is intentional and the topic sensational. Whether it's fair never enters into the equation. It's just, simply, "news," even if the only newsworthy aspect of such a story is its sensationalism. The fallout is that Mickelson, in response, is making news by calling out the reporter, which, is his right, and which, it appears, has drawn mostly applause on social media.
Mickelson's attorney, Glenn Cohen, told ESPN on Wednesday: "He [Snell] didn't say anything that wasn't true; I'm not complaining about that. But why? Why are you going to embarrass Phil Mickelson when he's there to support your tournament and the charities it supports and the [PGA] Tour? Rocket Mortgage is a Detroit-based company. Phil has never played there before."
And now it sounds like he won't play in the tournament again.
"When you have a divisive voice like that, you can't bring people together," he said after his round. "That needs to change, because the people here are great. But when that's your voice, it's hard for me or somebody to come in and bring other people and entities involved [together] to help out because you're constantly being torn down.
"I don't see me coming back," Mickelson added definitively. "Not that I don't love the people here and they haven't been great, but not with that type of … thing happening."
Paired with Rickie Fowler, a Rocket Mortgage ambassador, and reigning Masters champion Hideki Matsuyama, Mickelson is scheduled to begin his second round at 1:10 p.m. EDT Friday, but that could be affected by Thursday's long weather delay. Don't bet against him playing with some added purpose.