Takeaways
Fresh-out-of-college stud grabs early lead, Bryson struggles amidst off-course drama and Phil's sneaky solid round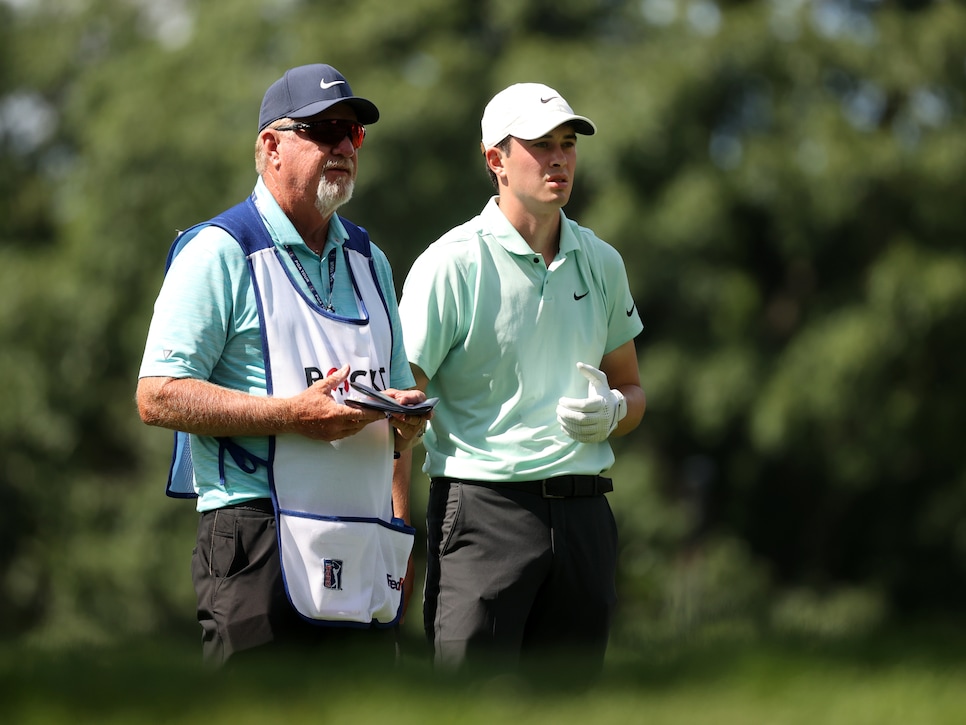 Outspoken PGA Tour veterans like Kevin Kisner and Joel Dahmen often talk about how shocking it is to see how good young players are almost immediately out of college. Collin Morikawa, Viktor Hovland and Matthew Wolff served as the prime examples over the last two seasons. There are plenty of others we could name, too, including guys still in the process of arriving and guys who have not arrived yet.
Davis Thompson, who just graduated from the University of Georgia in the spring, announced his arrival in an emphatic way on Thursday. Making just his third start as a pro at the Rocket Mortgage Classic, Thompson opened with a nine-under 63, matching the single-round scoring record in the event and grabbing the first-round lead in the process.
"Honestly, I usually don't go low often," said Thompson, who is playing on a sponsor's exemption this week. "I just feel like I'm a pretty solid player. Today the putter got hot and I just kind of rode that throughout the round."
The 2020-21 SEC Player of the Year ranks first in the field in strokes gained/approach, as well as SG/tee-to-green, but it was the putter that really cooked, with Thompson gaining nearly three strokes on the greens. If you recognize his name, that's because he held the solo lead early in the first round of the 2020 U.S. Open at Winged Foot, where he was four under through 12 holes and ultimately signed for a one-under 69 in his major championship debut. He went on to miss the cut after a second-round 78, but it was quite clear the kid could play. Thursday served as the extra proof no one needed.
"I thought my attitude was pretty good today," said Thompson, who earned is already a member of the Korn Ferry Tour thanks thanks to the status he earned in the inaugural PGA Tour University program in 2021. "I knew I was leading or close to the lead and I just kept my emotions in check and just focused on my routine and just being present and playing each hole individually."
Thompson did exude a veteran-like presence on Thursday, which is easy to do coming out of the gate in the first round. On Friday, he'll be in a much different situation with a two-shot lead in his third start as a pro. He knows that.
"Sounds good on Sunday," Thompson said when asked how it feels to be leading. "It's only Thursday. I know I've got a long way to go. I'm just going to try to do the same thing tomorrow."
Plays like a seasoned vet, acts like a seasoned vet, talks like a seasoned vet. Kiz and Dahmen are right, these kids are a different breed.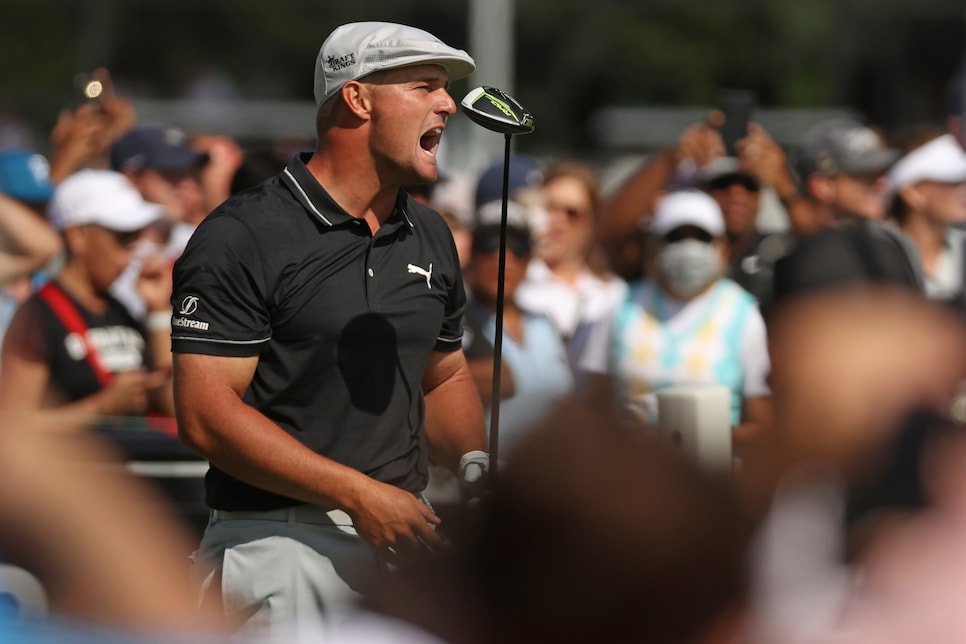 Bryson's title defense off to rough start amidst off-course drama
Unfortunately for Bryson DeChambeau, no matter how much he tries to resist it, drama seems to be following him everywhere he goes right now, and this week it wasn't even Brooks Koepka-induced. Well, it wasn't at first.
First, there was the news that DeChambeau and longtime caddie Tim Tucker had split, which would have been semi-shocking, yet still normal news had it happened on an off week, or even on Monday of this week. But for the news to come on the eve of a tournament DeChambeau was the defending champ at was particuarly head-scratching, especially considering Tucker was on the bag during the Wednesday practice round.
As if there wasn't enough on the Mad Scientist's mind, his arch nemesis promptly pounced on Twitter, tweeting out a photo of he and his longtime caddie Ricky Elliott with the caption "Couldn't do it without my guy Rick!" Minutes later, Koepka created "Caddie Appreciation Day," a second twisting of the knife. DeChambeau no doubt either saw it or was informed of it as he awaited his tee time, which was pushed back multiple hours due to a rain delay. Unless, of course, he somehow stayed away from social media and/or his phone entirely during that delay (possible, but unlikely).
Is this all a long excuse as to why DeChambeau sits in a distant 110th following an even-par 72? Absolutely not. He may still be just a bit off. Maybe he was lost without Tucker. Maybe he'll go out and shoot 63 on Friday and get right back in it, making this all irrelevant. One thing that is certain, though, is that he hasn't exactly been his dominant self since all this nonsense started at Kiawah. There's little doubt that will change, but Bryson's on-course performance and off-course drama aren't exactly meshing at the moment.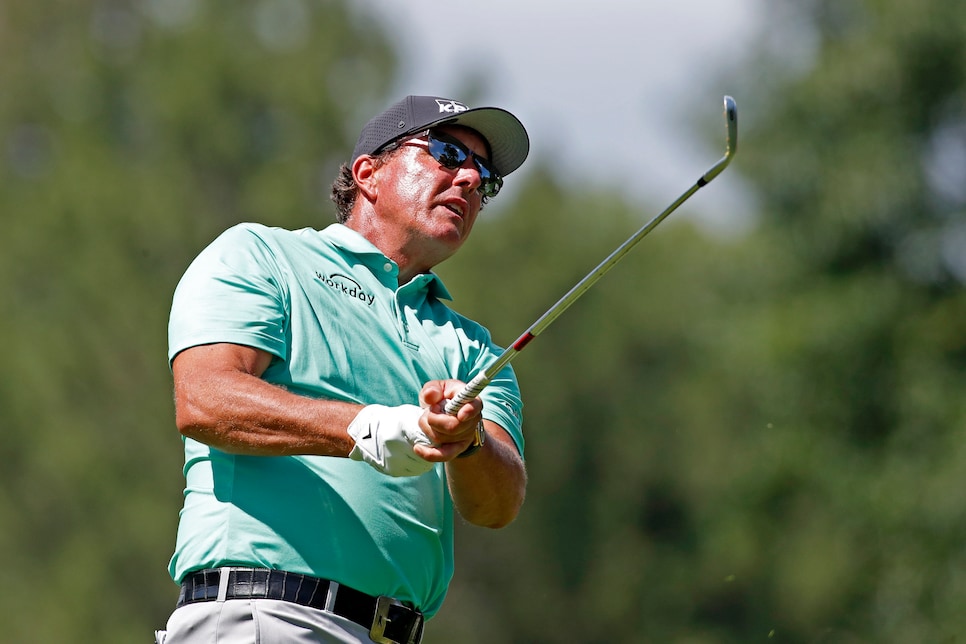 Phil Mickelson had a sneaky solid round
When Lefty has it going, there's nothing sneaky about it, especially at a tournament like Rocket Mortgage, where he was making his debut. Sadly, for the fine folks of Detroit, it sounds like his debut will also be his last appearance, which is a damn shame because he gave the people plenty to cheer about Thursday.
No, he didn't shatter any scoring records, but his three-under 69 was one of his better rounds since Kiawah. He gained almost three strokes on approach, 3.048 tee-to-green and hit 11 of 14 fairways and 14 of 18 greens. If not for some poor putting, it could have been a much lower round, which is an excellent sign for the rest of the week. He did mention on social media that his swing was starting to feel like it did at Kiawah again. If he can get the putter to cooperate, his lone appearance in Detroit could be a very memorable one. Memorable enough to make him come back? Let's not go too far …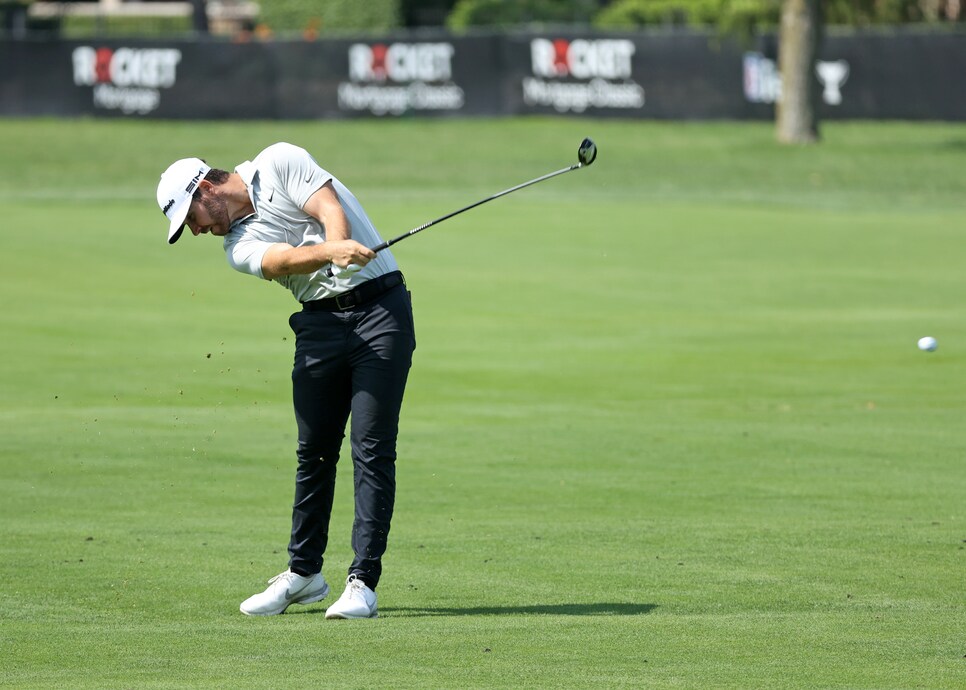 The Torrey version of Matthew Wolff showed up on Thursday
One guy who will be back at Rocket Mortgage as long as they have him is Matthew Wolff, who has quickly fallen in love with Detroit Golf Club. It suits his game, obviously, but after last week's woeful performance at Travelers it was fair to wonder if he was still slowly getting back into the swing of things after his impressive Torrey return. Well, the Torrey version of Wolff showed up on Thursday, with the former Oklahoma State Cowboy shooting a five-under 67 to put himself back in the mix for the second time in three weeks. And he did it while ranking 104th in strokes gained/putting. This tee-to-green god will be just fine, it appears.