Decisions, Decisions
12 players Phil Mickelson may have just stolen a Ryder Cup spot from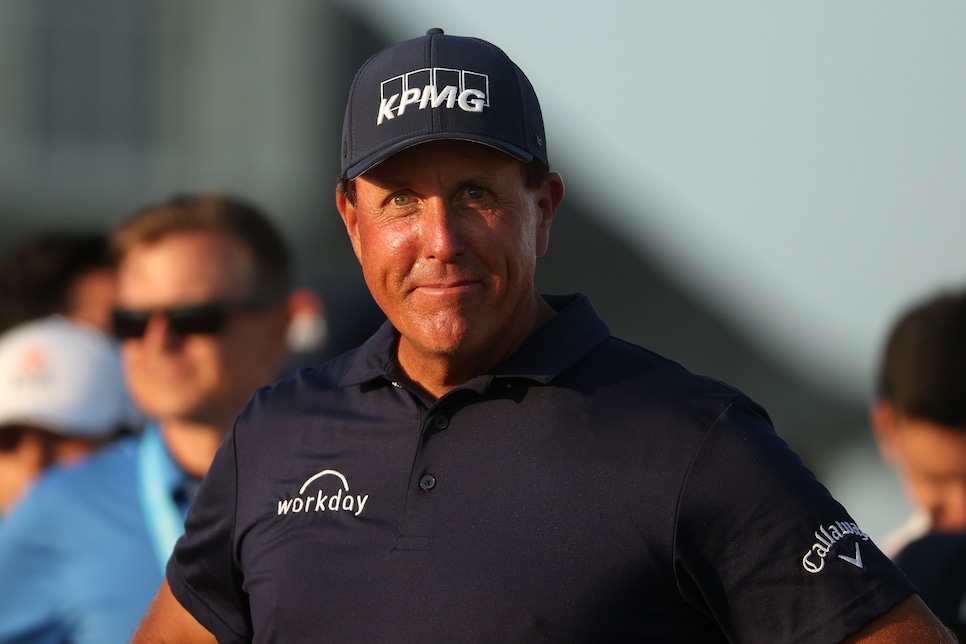 Prior to the PGA Championship, Phil Mickelson seemed closer to sliding into the broadcast booth than he did to winning a sixth major championship. But at the Ocean Course at Kiawah Island, Mickelson once again defied the odds, becoming the oldest winner of a major championship at 50.
In his post-victory press conference Sunday, in typical Mickelson fashion, Lefty admitted his PGA triumph could very well end up being his last victory on the PGA Tour. Of course, he was also quick to say that he will continue to dream bigger, just as those of us watching him will. After what he showed us these last four days, why can't he win again? Why can't he complete the career Grand Slam at Torrey Pines? Why can't he play good golf against the young guys for another decade? Why can't he ... gulp ... play in one last Ryder Cup?
Those are the questions Mickelson's win has planted in everyone's brain, none more pressing than the last one. Many believed that Mickelson's final act in the Ryder Cup came at Le Golf National in 2018, when he rinsed his tee shot at the par-3 16th in Sunday singles, losing 4 and 2 to Francesco Molinari. That match proved to be the decisive point for the Europeans, giving Mickelson an unceremonious ending to a storied Ryder Cup career.
Thanks to his history-making win, though, Mickelson may get to don the red, white and blue one last time as a player at Whistling Straits, where fellow 50-something Steve Stricker will captain the United States team. Stricker already had some extremely difficult decisions on his hands with six captain's picks for 2021, and Mickelson's victory has added a whole new wrinkle.
If history is any indication, Stricker might lean on experience in the biennial event for his captain's picks. No one has more experience in the Ryder Cup than Mickelson, who hasn't missed the event since 1995. On Saturday, while Mickelson was leading the PGA, Stricker was asked if Lefty was now under consideration for a pick, to which he said "Oh, geez, I don't know. But obviously if he were to go on and win here and continue to play some great golf—but he hasn't played really all that well up to this point, spurts here and there."
Phil did, in fact, go on to win, and Stricker also had mentioned Saturday afternoon that he'd be putting a serious amount of weight, captain's pick-wise, on what occurred at Kiawah Island because of its similarities to Whistling Straits. If that's the case, how could he not choose Mickelson in September? Not only would it now be based on merit, but Mickelson would bring a truck load of his invaluable Ryder Cup experience to the team room, not to mention an endless amount of positive energy.
As of this writing, Mickelson is 16th in the U.S. Ryder Cup standings, 10 spots back of an automatic spot on the team. There is a ton of golf left, and if he goes on to miss every cut between now and the end of the qualifying period (the BMW Championship in August), or gets injured (unlikely), or takes himself out of consideration (HIGHLY unlikely), perhaps Stricker has a case to leave him off the team. But if Mickelson shows even a hint of what he showed at Kiawah between today and then, it will be borderline impossible for Stricker to not select him with one of his six wildcards.
With all of that in mind, it's very possible that Mickelson stole a spot on the team on Sunday, a brutal break for a few on-the-bubble guys with Ryder Cup dreams. Again, anybody in shouting distance of the top 12 still has plenty of time to play their way on to the team, but a handful of names now have serious competition in the legendary figure that is Phil the Thrill.
Before we fully break down what Lefty's triumph means for the would-be captain's picks, let's keep a few things in mind. 1. We are assuming Jordan Spieth, who is not currently in the top six, is on the team. This seems like a fair assumption given how good he's looked in his comeback SZN, not to mention the fact he is firmly in the picture at 11th in the standings. 2. We are also assuming Captain America himself, Patrick Reed, who is currently seventh in the standings, will make the team. 3. Finally, and we admit we are calling this one very early, we are going to assume Webb Simpson is one of the six picks. He's been one of the best players in the world since 2018 and has a solid Ryder Cup resume. Doesn't seem that far-fetched to say he's a lock even at 10th in the standings.
If we also assume Phil makes it, that leaves two spots still open, meaning Mickelson actually stole one of the final three spots up for grabs. These guys have some work to do, to say the least ...
"Probably still going to make the team, but officially have to watch their back" category: Tony Finau, Daniel Berger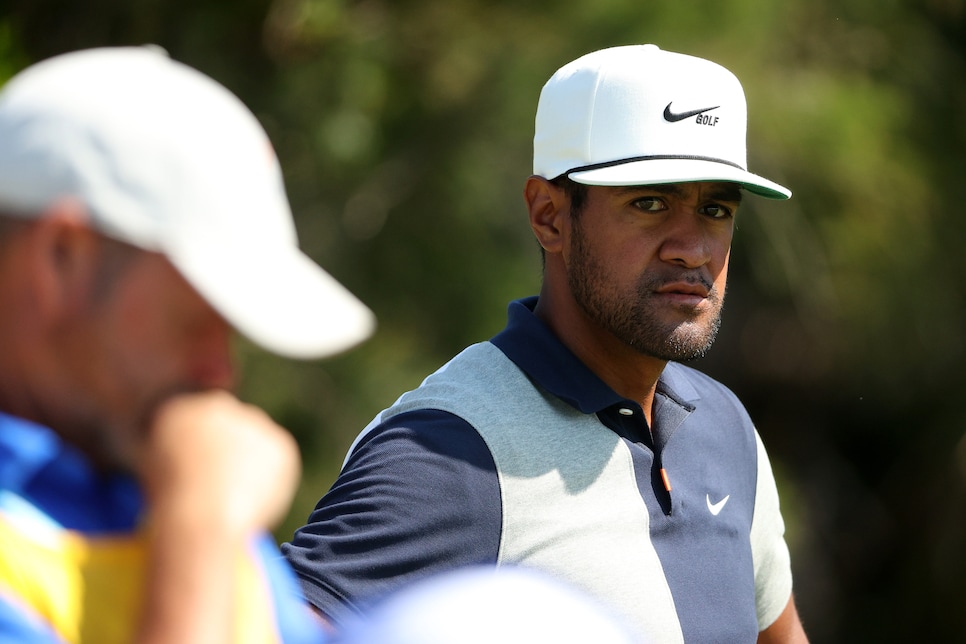 As of now, Finau and Berger occupy spots eight and nine, respectively, in the U.S. Ryder Cup points standings, and both felt very lock-ish before Mickelson raised the Wanamaker Trophy on Sunday. Now? Eh, they still feel pretty lock-ish, which would leave no more room on the roster assuming Phil is selected. That said, these two can't afford to fade between now and BMW, especially considering the quality of players behind them in the standings. All signs point to that not happening, with Finau and Berger combining for an astounding 19 top-10s and two victories (both Berger's) since the PGA Tour's restart last June. Finau will continue to rack up top-10s, and Berger desperately wants to make his first Ryder Cup team. Whatever happens, Stricker will have a hard time leaving him off, as Berger was a member of Stricker's victorious 2017 Presidents Cup team, going 2-1-0 overall and ruffling some serious feathers when he buried the International team in a merciless TV interview, displaying the type of controversial fire that plays extremely well in the Ryder Cup.
"Wait a minute, he's on the outside looking in?" category: Patrick Cantlay
That's right, this stone-cold killer is currently 13th in the standings, with an exceptional player we'll get to in a second ahead of him at 12th and Mickelson breathing down his neck at 16th. That's the Ryder Cup team for ya. Not everybody can make it, not even a guy with two marquee victories against legit fields during the qualifying period (2019 Memorial Tournament, 2020 Zozo at Sherwood), a pair of top-10s in majors and a three-point performance in the 2019 Presidents Cup, second only to Justin Thomas on the American team. After a little mini-slump (three straight MCs), he got back to Cantlay golf at the PGA, briefly threatening the lead on Sunday before fading to T-23. Between now and the BMW, it's hard to believe he won't factor in a bunch of tournaments, including the final two majors. If he does, not only would Berger or Finau be in trouble, but so would …
"The biggest victim of Phil's win" category: Billy Horschel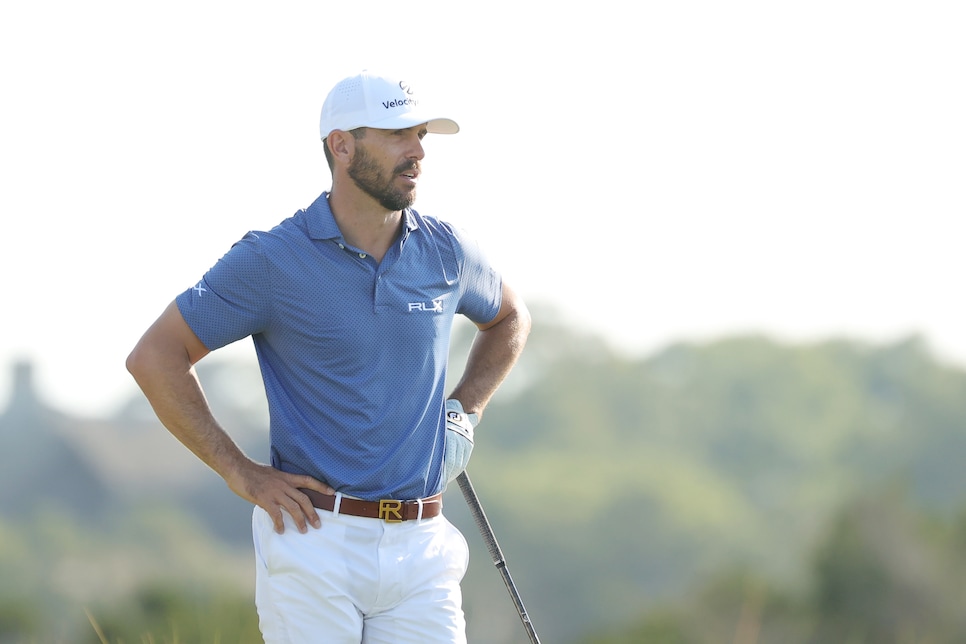 Given his propensity for rage and his, let's call them, chatterbox-ian ways on the course, more than a few of the fine folks on Golf Twitter would not be sad to see Billy Horschel fail to make the team. But for Billy Horschel, that would be very sad, and you'd almost have no choice but to feel bad for him. The 34-year-old has played some of the best golf of his life over the past few years, and he finally capitalized on it in the form of his first individual victory since 2017, and that victory came in the Match Play for goodness sake! Is there any better win to have on your Ryder Cup pros/cons list than the Match Play? Say what you want about the guy, but he's a fiery competitor, a guy seemingly made for this biennial event. He's never made either the Ryder Cup or Presidents Cup team, and now, he's as close as he's ever been to doing so since 2014, when he won the FedEx Cup. Mickelson's victory has officially put Horschel's chances of accomplishing a massive career goal in limbo, which is brutal. But, and this might get said again in this space, not everybody can make the team. Hey, nothing another win or a few high finishes between now and BMW can't fix, right?
"The guys who might never get another real shot" category: Max Homa, Harris English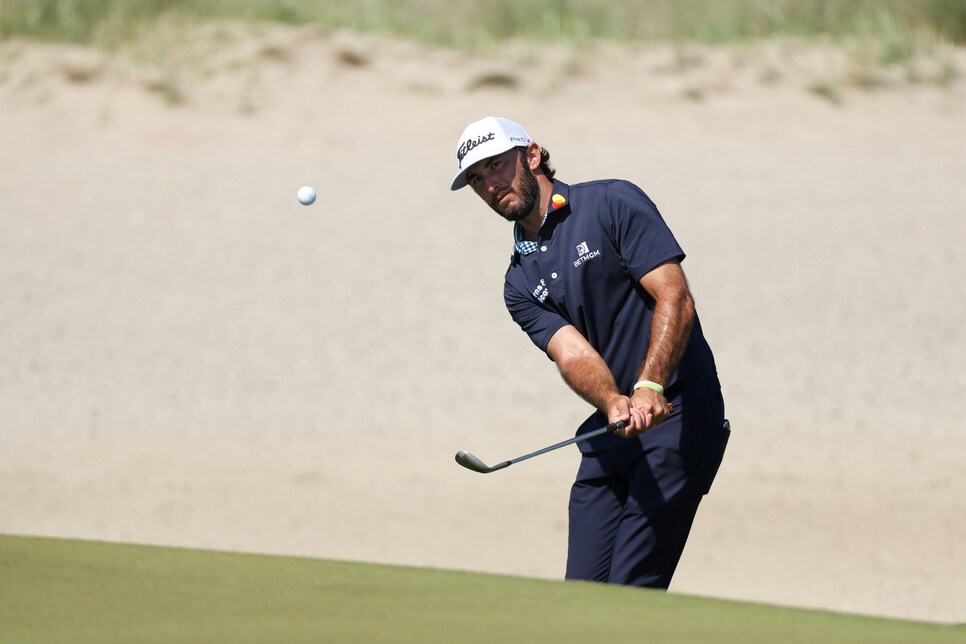 If the last few categories have shown you anything, it's that being one of the best players in the world both currently and over a multi-year period leading into the Ryder Cup guarantees you nothing when it comes to making the team. It also shows that you only get so many real chances to find your way into that top 12 in your golf life (unless your name is Phil Mickelson). Homa and English, both in their 30s and both seemingly in their primes, are the perfect examples of that. They'd each tell you their best golf is ahead of them and they'll have more Ryder Cup and Presidents Cup chances (Mickelson has proven anything is possible even at 50), but the golf gods work in mysterious ways. With all the young talent that's already established themselves and the young talent coming up, who is to say Homa and English will ever have this serious of a shot again? Much like life, golf ain't fair.
"Young studs who have plenty of Ryder Cups in their future" category: Will Zalatoris, Sam Burns, Scottie Scheffler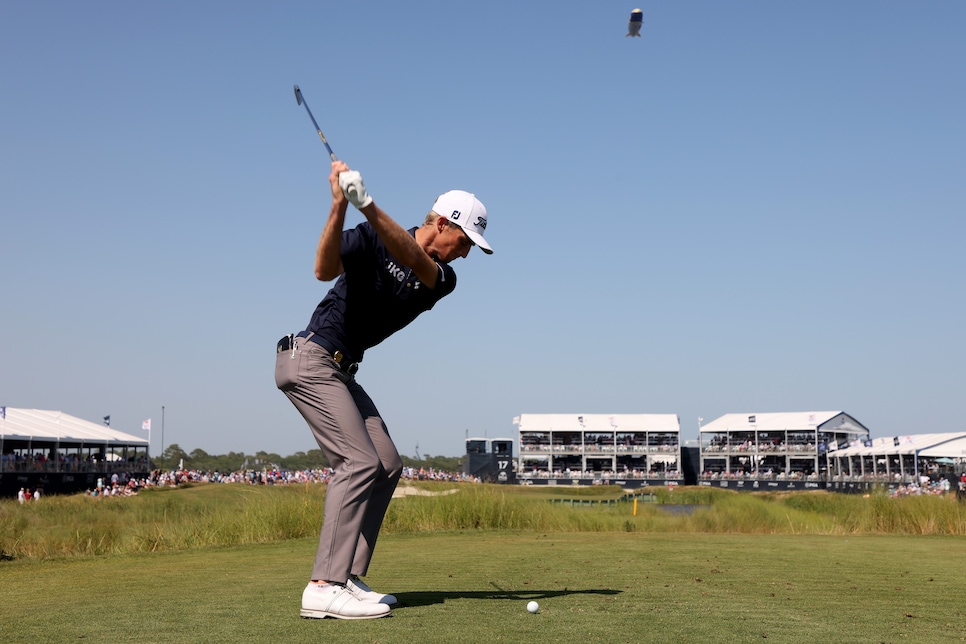 Yes, I know we've already stated 50 times that nothing is guaranteed and yada, yada, yada, but I feel comfortable guaranteeing that if Will Zalatoris or Sam Burns or Scottie Scheffler don't play their way on to the team this year, at least one or all three of them will be on a future U.S. team (perhaps multiple). They are all simply too talented and have too much golf ahead of them for that to not be the case. So, if all three don't make it, no one should weep for them. Also: I wouldn't count any of them out just yet, either.
"Probably cooked, barring a multi-win stretch" category: Kevin Kisner, Kevin Na, Matthew Wolff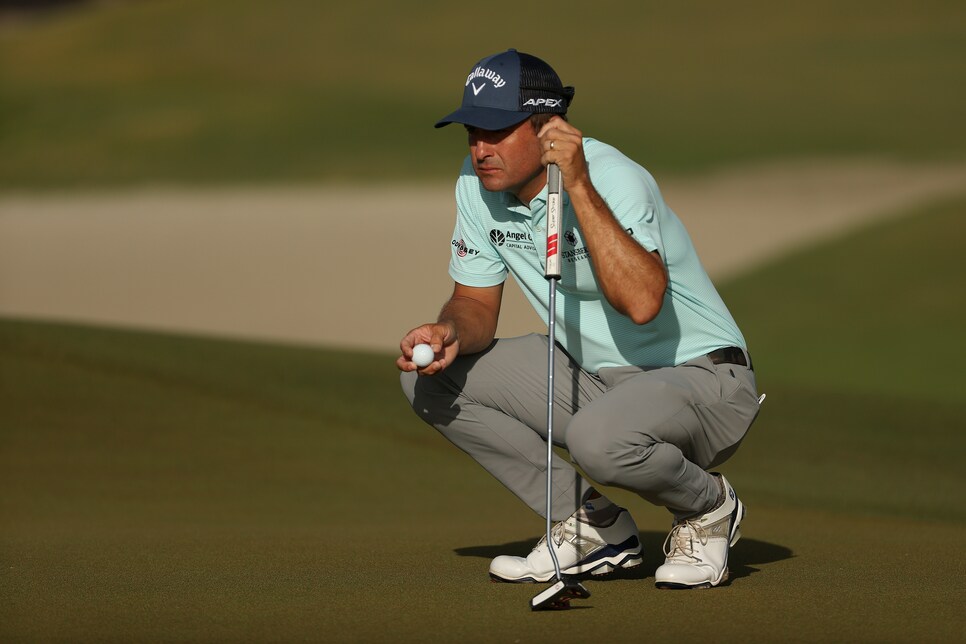 We could list five-to-seven more guys here, too (Stewart Cink, Jason Kokrak, Gary Woodland, Ryan Palmer), but we'll keep it at these three names because it did feel like all three had a case at some point in the last year. Kisner's match-play record remains impossible to ignore, but his form has taken such a dip of late (missed five of his last six cuts) that he'd probably need to win a major AND another tour event just to get back in the conversation. Na has become somewhat of a winning machine, and he showed some nice gamesmanship tactics against Dustin Johnson at the WGC-Dell Match Play, but his constant battle with injury issues and noticeable lack of success in the majors (zero top-10s since the 2016 U.S. Open) likely kills his chances. And finally, there's Wolff, who exploded on the scene and appeared to be a perennial Ryder Cup team member in waiting, only to run into an enormous sophomore/junior slump following his runner-up finish at Winged Foot. We're all rooting for him to play his way out of it and subsequently make a Ryder Cup team some day. As for Na and Kisner, who are both pushing 40, they only have so many opportunities left.