News
PGA Championship 2021: Brooks Koepka definitely didn't enjoy the sea of fans on the 18th hole as much as you did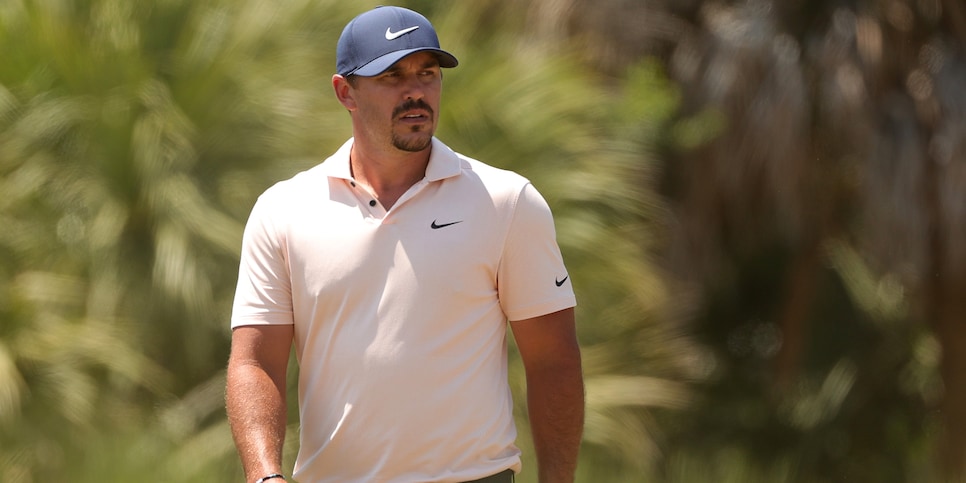 One man's pleasure is another man's pain. That was certainly true for Phil Mickelson and Brooks Koepka as they were swallowed by the masses on the 18th hole Sunday at Kiawah Island's Ocean Course, where the throng of fans tried to get as close as possible to Mickelson as the 50-year-old secured his improbable, rousing and historic victory at the 103rd PGA Championship.
But Koepka found little jubilation in the swarm that enveloped the duo; rather the walk through it was a painful trudge.
"Yeah it would have been cool if I didn't have a knee injury and got dinged a few times in the knee in that crowd because no one really gave a sh-t, personally," he said. "But if I was fine, yeah, it would have been cool. Yeah, it's cool for Phil. But getting dinged a few times isn't exactly my idea of fun.
"[I was] trying to protect my knee. I don't think anybody really understands until you're coming out of surgery how—even when I was doing rehab and there's five people kind of standing by your knee, you get a little skittish."
Koepka added that his caddie, Ricky Elliott, got "drilled in the face" as he tried to work his way through the crowd. Then Koepka said he got dinged by the bag because Elliott at one point had to stop quickly and unexpectedly. As for the knee? "It feels like sh-t right now," Koepka said.
More PGA Championship videos from Golf Digest
Perhaps just as tough to take was the outcome.
One back at the start of the day, Koepka quickly grabbed the lead with a birdie to Mickelson's bogey on the opening hole. But a few minutes later, Koepka found himself in trouble off the tee on the par-5 second, was forced to lay up, airmailed the green with his third then duffed his fourth. A double bogey later, and the lead was again Mickelson's. Back and forth they went in an exhilarating front nine before Mickelson seized the lead for good with a birdie on the seventh.
While Mickelson accelerated, though, Koepka stumbled.
Seeking a third Wanamaker Trophy in the past four years and the fifth major of his career, Koepka, who underwent surgery in March after he dislocated his kneecap and sustained ligament damage, hit just half his fairways, struggled mightily with his putting and made three bogeys in a four-hole stretch to open his back nine. That included one on the par-5 11th, where his second shot came up well short in a sandy area and his third also failed to reach the green. Then he missed a five-footer for par.
Koepka's final-round two-over 74 resulted in a tie for second, two strokes behind Mickelson, but most shocking was his performance on the par 5s, which he played in a collective three over on Sunday.
"Just how bad I putted the last two days," he said when asked what was most difficult to stomach. "Three days, actually. It felt like tap-ins I was missing. [I] never felt comfortable, and you're not going to win if you do that.
"Phil played great. That whole stretch when we turned after 4 and 5 and played those holes, it's into [the wind] off the left for me and that's quite difficult for a right-handed player. And it suited Phil right down to the ground, and I thought he played that entire stretch from about 6 to 13 so well. I'm happy for him, [his wife] Amy and [brother] Tim. It's pretty cool to see, but a bit disappointed in myself."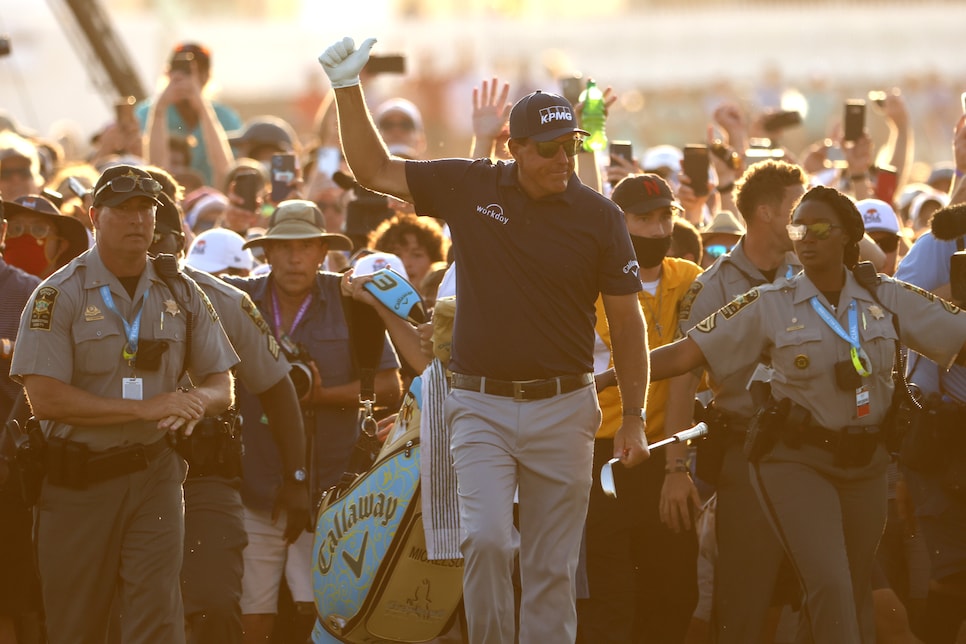 Phil Mickelson soaks up the scene with the sea of fans swarming the 18th—while Brooks Koepka certainly did not.
Jamie Squire
He also said that his surgically repaired knee was not an issue in the final round and that he was able to push off it all week. Still, now the 31-year-old will have time to rest it. The year's next major, the U.S. Open at Torrey Pines, is a month away and it's unclear whether Koepka will play before then.
"Yeah, [I'll] take some time off, relax a little bit and start practicing again," he said. "Keep doing rehab. Keep doing everything I'm doing and hopefully come out and play well."