Ryder Cup
Ryder Cup assistant Davis Love III makes it sound like Phil Mickelson will be on U.S. team at Whistling Straits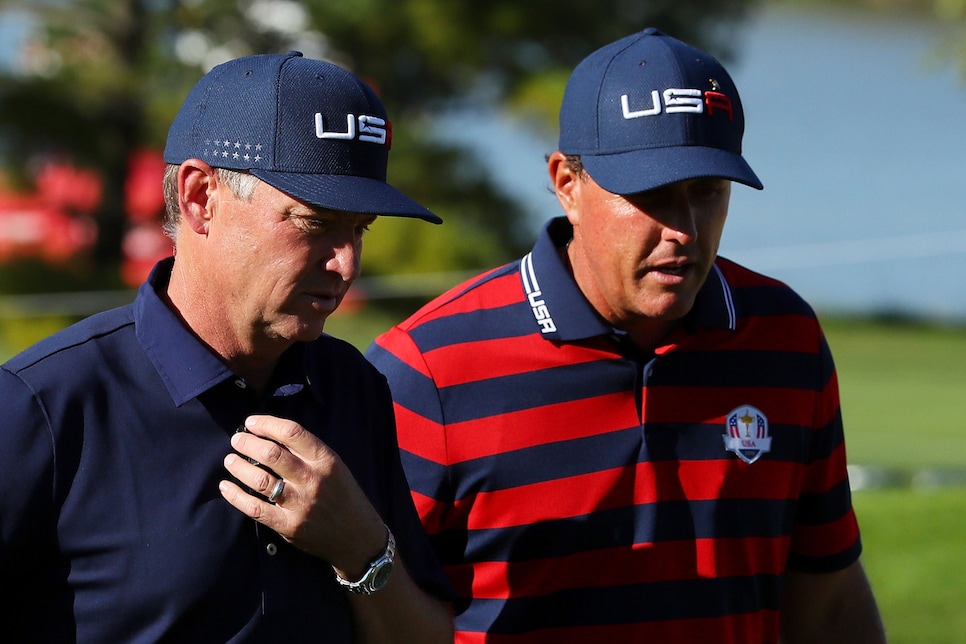 Davis Love III, captain of the 2016 U.S. Ryder Cup team, talks to Phil Mickelson during the matches at Hazeltine National.
Andrew Redington
RICHMOND, Va. — U.S. Ryder Cup assistant captain Davis Love III had planned to join captain Steve Stricker at Kiawah Island's Ocean Course for last week's PGA Championship, in part to do some reconnaissance on potential team members for this fall's matches at Whistling Straits. On their list of targets: Phil Mickelson. But Love underwent surgery earlier this month to replace his right hip, and that prevented the 1997 PGA champ from making the trip.
"We were going to talk to [Mickelson] about what he wanted to do," Love said Monday afternoon at Belmont Golf Course, where he was on hand for the reopening of the A.W. Tillinghast course and site of the 1949 PGA that he helped redesign. "I'm glad we didn't do that."
Even before Mickelson, a month shy of his 51st birthday, completed his improbable victory at the PGA on Sunday to become golf's oldest major champion, the texts were flying back and forth between Love and Stricker about the possibility of using a captain's pick on Mickelson, according to Love. With the win, Mickelson, now a six-time major champion, vaulted from 52nd in the Ryder Cup points standings to 16th, only adding more credence to the idea.
"The first thing I did [Monday] morning was look to see what number he was [in the standings]," Love said. "And he'll [continue to] get more points."
This year, the top six in points after the BMW Championship in August automatically qualify for the team, with the remaining six spots filled via captain's picks. What's the likelihood that Stricker will use one of those picks on Mickelson?
On Monday of the PGA, Mickelson played alongside Stricker in a Kiawah practice round. The topic of the Ryder Cup didn't come up, but Stricker did come away impressed with how his partner was hitting it as they went 3 up in three holes in a friendly game against Will Zalatoris and Zach Johnson.
On Saturday, Stricker added that what happened at the Ocean Course could carry a "pretty good amount of weight" to his decision given the similarities between it and Whistling Straights, both courses having been designed by Pete Dye.
By Sunday morning, Love and Stricker were texting back and forth once more.
History also could be an indicator.
In 2015, U.S. Presidents Cup captain Jay Haas used one of his two captain's picks on Mickelson despite his being 30th in the standings, the lowest of any player to be a captain's pick in that event. Among those ahead of Mickelson in points not picked was Brooks Koepka, though at the time Koepka was coming off two straight missed cuts, had just one PGA Tour win early in that year in Phoenix and hadn't yet played in a Presidents Cup or Ryder Cup. Others who had and were likewise ahead of Mickelson but passed over included—Webb Simpson, Brandt Snedeker, Keegan Bradley, J.B. Holmes and Hunter Mahan.
Mickelson, meanwhile, hadn't won in two years and had just one top 25 in five starts prior to being selected.
Of course, it didn't matter. Mickelson, along with Zach Johnson, led the Americans with 3½ points for the week, which included a 5-and-4 blowout of Charl Schwartzel in Sunday's singles matches, as the U.S. went on to beat the Internationals by a point in South Korea.
"We talked Jay Haas into picking him because he was playing great," said Love, an assistant that year. "He was cocky on Monday [during a practice round] that week, and he was ready to go on the big stage on Sunday. That's why we picked him."
Three years later, Mickelson was again a captain's pick, this time for the Ryder Cup outside Paris. That outcome, though, was disastrous. The Europeans blew out the Americans by seven points, and Mickelson's game was so off that he played in just two matches and didn't score any points for the week.
"He was trending down in '18, got over there and tried too hard," said Love, an assistant on that team as well.
But that was then. Mickelson has also played in every Ryder Cup since 1995 and every Presidents Cup since 1994, save for 2019 in Australia when he was mired in a slump. It seems unlikely that streak will end this year.
Said Love: "If Stricker was picking the team right now, he would pick him.