News
The Epic Bogey That Won The Open At Birkdale
Inside the ropes for Jordan Spieth's crazy duel with Matt Kuchar at Birkdale.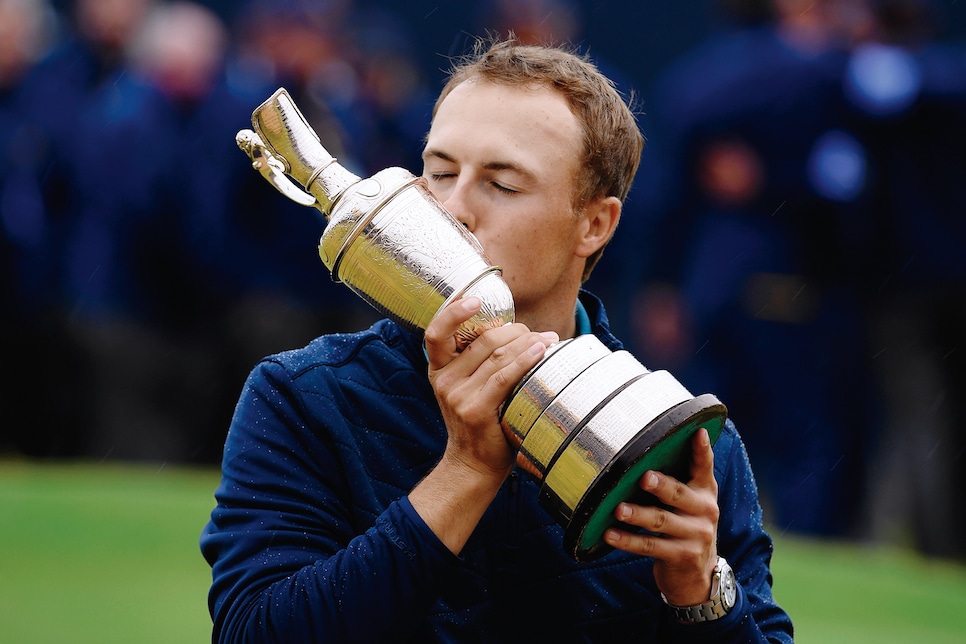 Photo By: Photo by Dan Mullan/Getty Images
Editor's note: In celebration of Golf Digest's 70th anniversary, we're revisiting the best literature and journalism we've ever published. Catch up on earlier installments.
If the Masters, as lore has it, begins on the back nine on Sunday, you could say the 2017 Open Championship began on the 13th hole of the final round at Royal Birkdale. Tied with Matt Kuchar for the lead, Jordan Spieth hit his tee shot "so far right, it was almost left," according to NBC's David Feherty. Adds colleague Roger Maltbie: "It went over this mountain." The search for the ball turned frantic—"It was pandemonium," according to one of the hundreds of spectators poking through the tall, thick grass—and for Spieth and caddie Michael Greller, thoughts of a quadruple-bogey 7 to give away the 2016 Masters came flooding back. It was in the ensuing moments, you'll soon see, that Greller told Spieth his second artful fib of the day.
To make sense of the chaos that occurred that day, Golf Digest interviewed more than two dozen of the key characters, including Spieth, Greller, Kuchar and his caddie, John Wood, and the rules officials who spent tense moments piecing together the procedure that produced the bizarre scene of Spieth hitting a shot amid equipment trailers on the adjacent practice range. (It was during that wait that Feherty told Kuchar a joke that can't be repeated here.)
A year after the Henrik Stenson-Phil Mickelson duel at Royal Troon, we got another classic. If you've wondered what a player and a caddie say and do to cope with excruciating turmoil, wonder no longer. These candid comments put you in the middle of an Open that will be remembered forever.
"The drive [by Spieth at 13] was about as poor as a pro could hit one. You couldn't hit it over there if you tried." — Johnny Miller
AN EARLY OMEN
Henrik Stenson: I remember thinking about this early in the first round: There I was, the defending champion, playing with Jordan. One year before at Troon, I played the first two rounds with Zach Johnson, who won at St. Andrews in 2015. So it crossed my mind, That might be a good omen for Jordan, especially when he got off to such a good start [a five-under-par 65 to share the lead with Kuchar and U.S. Open winner Brooks Koepka]. Of course, I'm now hoping to be drawn with Jordan again at Carnoustie. [Laughs.]
I played the first two rounds with Jordan at the 2015 Masters, which he went on to win, and I got the same feeling at Birkdale. He putted beautifully in that Masters; he made every putt dead center with perfect pace. On those greens, that is remarkable. Unreal. I got the same vibe at Birkdale.
Jordan Spieth (on winning the Travelers the month before the Open): That was the first tournament I felt like, Wow, I can win on the PGA Tour without fantastic putting. The second hole [at Birkdale], I hit a downhill slider for birdie, and I made it. When it goes in, you feel like the putter's back: OK, that felt exactly how I wanted it to; it went in exactly like I wanted it to; I feel like I can stroke it today.
Rich Beem (Sky Sports on-course announcer and 2002 PGA Championship winner): I walked with Jordan on Thursday and Friday as well as Saturday [rounds of 65-69-65]. On Friday, his round was more of a labor. Watching most people play like that, you would have doubts about them keeping it going, but he has an uncanny ability to get the ball in the hole as quickly as possible.
Matt just played his game on Saturday [a 66 after Friday's 71]. But it would be wrong to say he missed a chance that day. How do you do that when the other guy shoots 65? You're helpless against that sort of scoring. He shot 66 and lost ground.
Matt Kuchar: I wasn't on my best form. All I could do at the Scottish Open and British Open was fade the ball. I could not hit a draw. It was everything I could do to hit a straight ball. But being able to hit the ball only one way, I knew where it was going—I knew it wasn't going left. And so I pretty much just played it.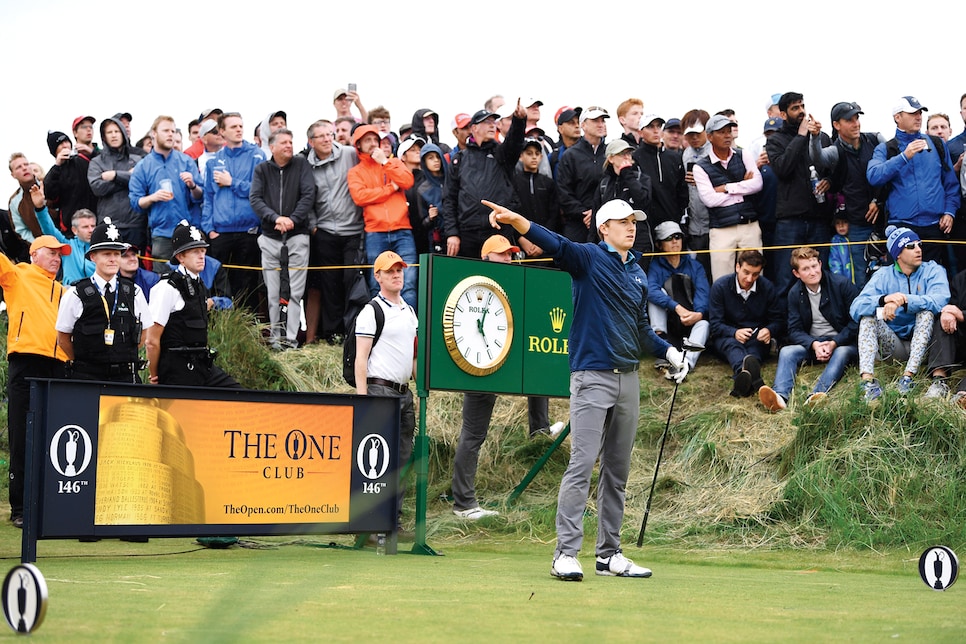 Photo by Richard Heathcote/R&A/Via Getty Images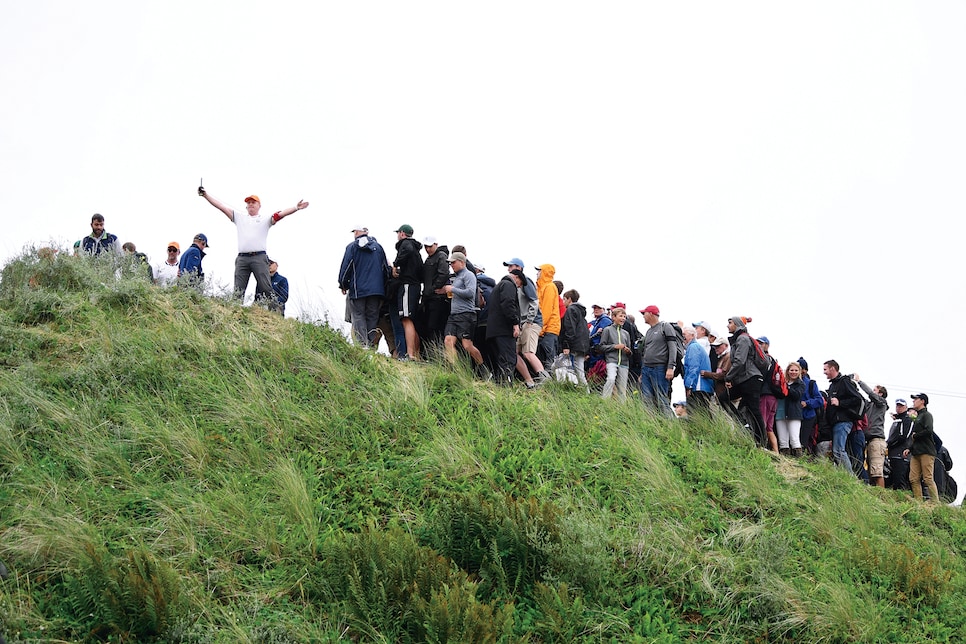 Photo by Richard Heathcote/R&A/Via Getty Images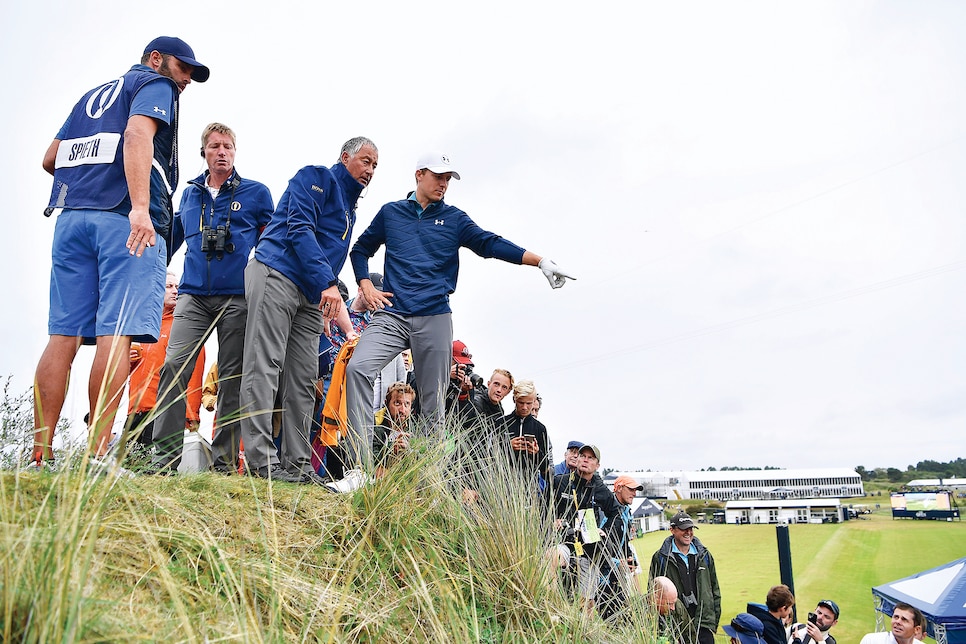 Photo by Stuart Franklin/Getty Images
John Wood (on Kuchar playing the final two rounds with Spieth and Greller): I love playing with Jordan, and Michael is one of my best friends out here. It's a fun pairing.
Matt Kuchar: Everybody likes Jordan. If you're older, you consider him a little brother. If you're younger, you consider him a big brother. He's the type of kid you want to be around.
SHAKY START TO FINAL ROUND
Spieth enters the final round at 11 under par for a three-stroke lead over Kuchar.
Jordan Spieth: I waited from 7:30 a.m. until 4 p.m. for that first tee shot with the wind off the left and the out-of-bounds right. That one shot was bothering me the entire day. I remember telling Michael and Cameron [swing coach Cameron McCormick], "Man, I'm not feeling great about this first shot." I stepped up on the tee and just flushed a draw and was so pumped up. That's what was frustrating about the break.
Wayne Riley (Sky Sports announcer): He hit a great shot, but the ball didn't kick off the bank like he expected it to. He drew a terrible lie from a good shot. It was a foot from being perfect, but because the grass was so damp, the ball stuck instead of kicking out.
Matt Kuchar: An unlucky break, but it was part of the risk of hitting 3‑wood.
Roger Maltbie: Jordan was out of sorts. If you listen to the broadcast, you can hear him. He's saying, "That's not right. That basically sucks," whatever term he used.
Michael Greller: Yeah, we got a kick in the gut right out of the gate on the hardest tee shot at Birkdale by a mile. So he was showing his emotions there when he saw the lie. I told him to get over it. You don't want your guy beating himself up right out of the gate.
David Bonsall: (referee with Spieth and Kuchar during the final round): He could only hack it forward. He then hit a so-so pitch to 20-odd feet. And his putt wasn't great, either. [The bogey cut Spieth's lead to two strokes.]
Nick Faldo (NBC/Golf Channel announcer): Jordan looked like he was going to lose after the fourth hole [Spieth's third bogey of the day, giving Kuchar a share of the lead]. He just looked bloody lost.
Johnny Miller (NBC/Golf Channel announcer): He might have thought that he was in trouble of maybe blowing it like he did the Masters.
Jordan Spieth: Thoughts creep in.
Cameron McCormick: I guess there was a bit of psychological tug of war: Am I really going to do this again? That's what happened at Augusta. But he said to himself, I'm not going to go down this path again.
Spieth birdies the fifth hole and then makes a terrific par at the sixth to Kuchar's bogey to build the lead to two.
Matt Kuchar: I birdied 9, and he missed a short putt, three‑putted. So caught him, excited to make the turn, had a real shot at the claret jug.
Jordan Spieth: The wheels were kind of coming off with the putter on the front nine. You know, Oh, boy, am I really going to have to go through the constant questioning that I did back then [hitting two balls in the water at Augusta National's 12th hole, turning a one-stroke lead into a three-shot deficit] and the frustrations from it? Am I going to be looked at as somebody who's a closer, or has that changed now off of a couple events? It was difficult to mask, so I was verbal with Michael about it, wondering if anything that he could say could get me really positive. He was like, "It's a totally different situation. You're in a great position. We're going to pretty much go about our business, we're going to play the golf course, so let's set a goal for the back nine and forget about everything."
Spieth and Kuchar parred the first three holes of the back nine, remaining tied for the lead. Then things began to get really interesting.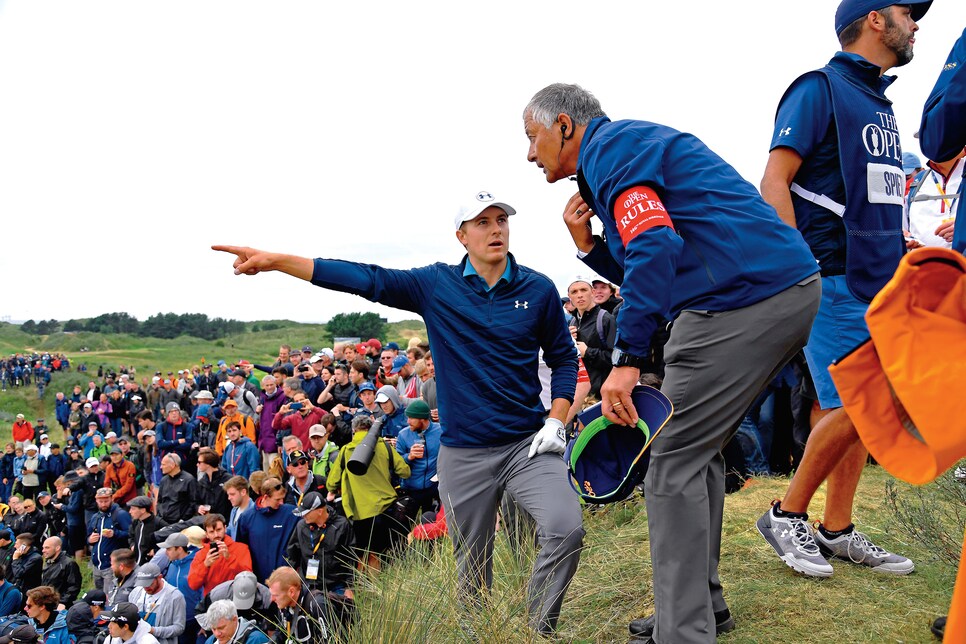 Photo by Chris Condon/R&A/PGA Tour/Getty images
CHAOS AT THE 13TH HOLE
Roger Bathurst (member of the R&A rules committee): I was the assistant referee with the last group. That basically means I was the forward man, seeing where the tee shots finish. If there's no problem, you walk on to the second shots. By and large, you don't have a great deal to do. However, the 13th at Birkdale [a 499-yard par 4] was different.
Rich Beem: I watched Jordan play the 13th hole on each of the first three days, and I can tell you he never once tried to hit the fairway. Every day he was aiming for the rough on the right. I asked Michael Greller about that, and he confirmed it. "The bunkers were all in play for us," Michael said. "We knew that if we just got a decent break with the lie in the rough, that was the place to be."
David Bonsall: Kuchar hit a good drive on 13 into the correct spot. Jordan was trying to do the same thing.
Cameron McCormick: The conditions were really difficult. The wind shifted; it changed the shot. It was a triple witching hour.
Jordan Spieth: The rain had come down a little bit, so that changed the shot that I wanted to hit. When you get water on the clubface or the ball, the ball tends to not spin, and it'll squirt right off the tee. I lined up down the trouble on the left side, and I bailed out a little on it. Whether it was a combination of the wind going that way, the water on the face, and I didn't trust the shot, they all led to a foul ball that just kept moving right on the wind. My reaction when I looked up was, Oh, wow, I don't even know what's over there.
Matt Kuchar: Gone. That's miles right to where we expected it to be.
John Wood: When you're watching guys hit, especially pros, you have a window where you expect the ball to be. I looked up, and I didn't see it.
Roger Maltbie: I said, "Oh, this is way right—I mean, this is waaay right—this is a hundred yards right of the center of the fairway." It was almost a flinch.
Johnny Miller: The drive was about as poor as a pro could hit one. You couldn't hit it over there if you tried.
David Bonsall: I was standing right behind Jordan. I saw the ball come down, and it looked like it hit someone. Then I lost sight of it. Jordan dropped his club and put his head in his hands.
Jordan Spieth: Thinking, Oh, boy, this could be 6.
David Bonsall: I was then focused on whether he should be playing a provisional.
Jordan Spieth: I was like, "Is that going to be OK, Michael?" He's like, "I'm not sure."
Michael Greller: We're about 50 yards off the tee box, and the walking scorer with us says, "They can't find the ball. What would you like to do?" Jordan said, "Well, we're going to find it—just keep walking." My first thought was, Somebody's going to pick it up. There were hundreds and hundreds and hundreds of spectators there. It was just absolute chaos.
Jordan Spieth: I'm thinking, Wow, all I had to do is make 4. Now I've got a difficult 6 going back to the tee if we can't find it.
John Wood: Where they were looking, the people in the heavy stuff, I'm thinking, Boy, that would be a miracle if they find it.
Nick Faldo: We all were sitting there and thinking, Well, that's it—that's going to cost him the Open.
Roger Maltbie: At that point, you figure he's toast. Kooch is such a consistent player, there's just no scenario I can see where the wheels are going to come off. But they clearly have come off of Jordan.
JR Jones (R&A rules official and NBC/Golf Channel rules contributor): I got on the radio to David Bonsall and told him I had seen the ball come to ground and that it was surrounded—or so I thought.
David Bonsall: Jordan looked at me, and I told him that.
Roger Bathurst: I went across the fairway and into some very thick, scrubby rough. There was a huge amount of confusion. No one had seen a ball land. I spent some time asking if anyone had seen anything. But nothing.
Mark Bates (spectator): They were all on the fairway side of the dune—well to the left of where it was eventually found.
Roger Bathurst: Eventually I asked some spectators on top of this huge sand bank—it's probably 50 to 60 feet high—and, after a bit of interrogation, they gave up that the ball had hit someone on the head [drawing the circle of spectators] and had flown way over the other side of the sand bank. I have no idea why they didn't volunteer that information. It was very odd, because they could see everyone scrambling around looking for the ball.
David Bonsall: We had walked forward maybe 120 yards when JR came back on the radio to say they now didn't think they had found the ball. When I told Jordan, he asked if he should go back and play a provisional. But I told him we had come too far. So we wandered over to the right-hand side. We were well shy of the ridge in some really bad rough. People were finding balls all over the place. Jordan went leaping in there, with Michael following slightly reluctantly. I was saying to Michael, I didn't think we were anywhere near where the ball was. He agreed. But the spectators seemed to think we were.
Jordan actually looked at three balls that were not his. I was saying to David Rickman [R&A rules official in the rules headquarters] on the radio that I hadn't started my stopwatch because I didn't think we were anywhere near the right place. He told me to carry on.
Jordan Spieth: The more people, the more frustrated I'm getting. That's what made it a little more difficult to think quickly and clearly. But I don't remember it feeling chaotic. I remember feeling, OK, the only way to save shots here is to not overreact and to make as smart a decision as you possibly can.
Mark Bates: The guy who had been hit was actually on top of the dune. The ball hit him on the head and went right of the dune. When I arrived, there were people saying they had seen the ball land in the area on the fairway side of the dune, which was nonsense—that was 50 yards from where the ball ended up. It was all really strange. I saw the bloke who had been hit. His head was cut and bleeding. He was on top of the hill Jordan eventually hit over. It was pandemonium.
Jordan was asking everyone to get out of the way. He wasn't panicked, but he was definitely getting frustrated with all the people. There was a television cameraman there. He was obviously in communication with his director and was being directed to where the ball actually was. It was only two minutes before there was a shout from the other side of the dune. Someone had to have seen the ball ricochet off the guy's head. Jordan's ball finished up at the bottom of the dune on the other side from the fairway.
Jordan Spieth: Someone had seen it roll and found it. And then it was, Wow, I found it; that's great. Now let's see where it is and let's weigh the options from here and figure out a way to not lose two shots.
Michael Greller: I don't know how long it was, 28 minutes or whatever. From a mental standpoint, I think for both of us, everything went very slowly, which was pretty neat because usually things go 100 miles an hour in that situation. I think what happened at the '16 Masters played a massive role in how we handled that situation on 13, because it was a similar shock. We have a history of being in a moment like that, which is pretty unbelievable, but we were able to apply that into that moment instead of compounding it.
It was just very matter-of-fact. I remember thinking, You're going to find this, get this back in play, make a 5, hopefully worst-case 6, we're down one or two with five holes to go in a major with somebody we respect greatly, one of our favorite guys, Matt Kuchar. But with all due respect, Matt hadn't won a major. There are two par 5s left, Jordan had a little more length, and one or two shots is nothing to make up in that scenario. So that was where the thinking went versus, Oh, boy, here we go again.
What people forget in that '16 Masters is that Jordan didn't back down [after the 7 at No. 12]. He made a great birdie on 13, almost birdied 14, birdies 15 and stakes one on 16 with a seven-footer [missed] for a chance to get within one of somebody who had a phenomenal round [Danny Willett with a 67]. So he knew how to go on offense after something crazy happened. That's exactly what he did at Birkdale.
Roger Bathurst: The ball was lying on a very steep upslope, maybe 70 degrees and in a pretty poor place. There was no sense of panic, which was amazing for a guy who was potentially making a real mess of the Open.
Michael Greller: By the time I had gotten to the ball, Jordan had already decided it was unplayable, which was significant because he's not afraid to take on a shot. He knew that quickly that he couldn't play it.
Jordan Spieth: Michael said, "How's it look?" I said, "I might be able to get a wedge on it, but it's not going to go very far." Then he goes, "What about going back to the tee?" I said, "Hold on, let's look at the unplayable drops." So I'm looking around within two club-lengths in any direction. There were some spots where I could have dropped it, but the likelihood is, it would have bounced backward against a bush, and then I wouldn't have had a swing from there. So I didn't like any of those options. That's when we went up to the top of the hill.
Within 30 seconds, I'm looking back and I'm thinking, OK, if I keep on going back and back and back, I can still reach the green. I couldn't reach the green from the other side of the trailers—the hills were too high, and they were too close to me. I could have probably gotten a 7-iron out, but it would have gotten to 60 yards [from the green], probably.
I thought there was the potential for me to hit the ball on or around the green to give me a better chance of getting up and down.
That ran through my head, and I thought, Is the driving range in play?
Roger Bathurst: I told him that, to the best of my knowledge, it was. But I would check with the referee when he arrived.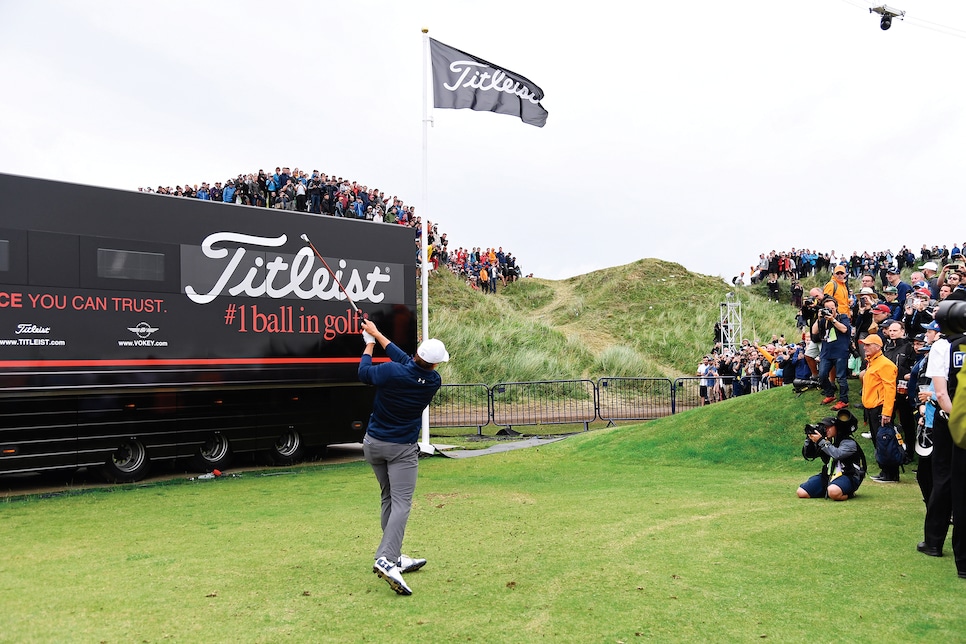 Photo by Chris Condon/R&A/PGA Tour/Getty images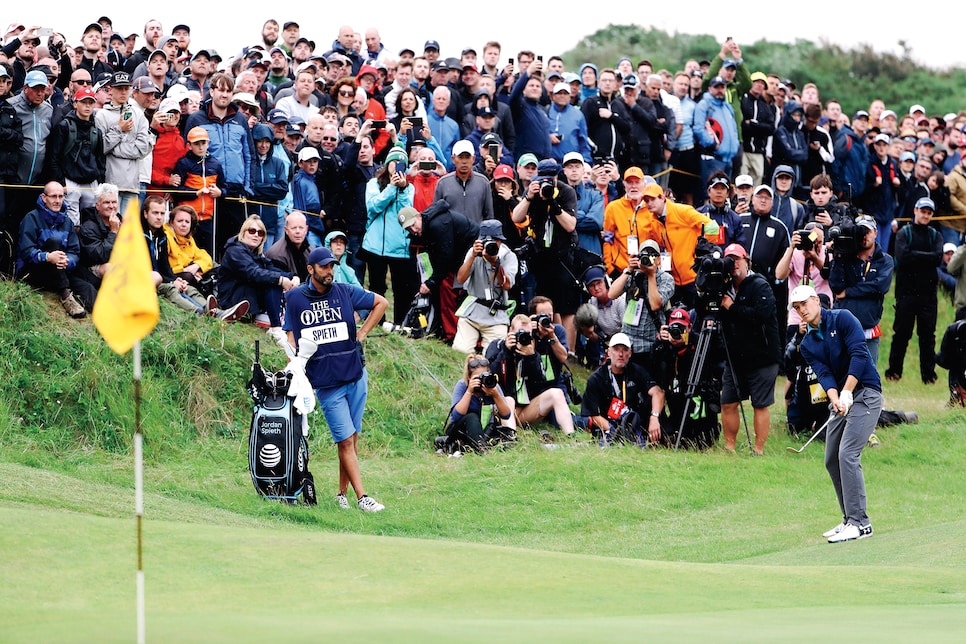 Photo by Christian Petersen/Getty Images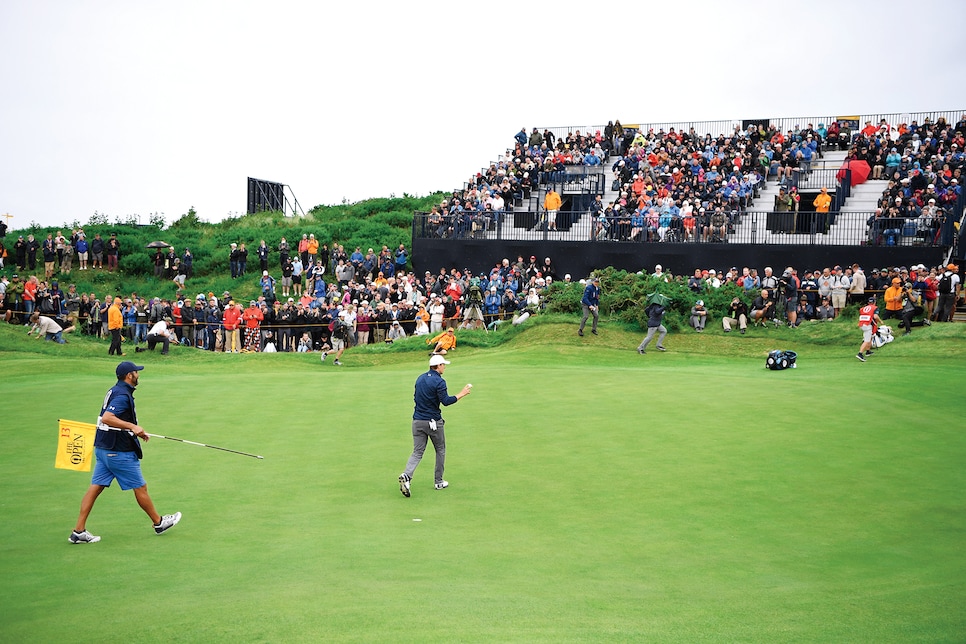 Photo by Richard Heathcote/R&A/Via Getty Images
Jordan Spieth: Michael then reiterated, "Are you sure? Because you can re-tee and have a putt at 5 and make 6." I just ... I hate that. I'm like, "There's got to be another way; there's got to be a better way." I don't want to lose two shots. One shot can be made up quickly. Two shots means the ball's in his [Kuchar's] hands. So yeah, I didn't like the word "6" that kept coming out of his mouth.
KUCHAR'S LONG WAIT
Wayne Riley: As we wondered what was going on with Spieth, I looked at Kuchar, and I could tell he was thinking, I could have this.
John Paramor (European Tour rules official): Kuchar was standing around not really knowing what to do. I told him this was likely to take a bit of time, so if he wanted to hit, he should just go ahead. So he did.
Matt Kuchar: I hit a fantastic shot [with an 8-iron], 20 feet away. So I'm thrilled. I've got a great birdie opportunity here.
John Wood: And then the waiting game was on at that point. We were telling stories and talking. Just—gosh, we talked about sports. We talked about the book I was reading. Talked to the official a bit, trying to get an idea of what was going on.
David Feherty: I told Matt and John a joke. I can't repeat it. It just starts out, "Flanagan goes to a proctologist." It's a beauty. It might have cost Matt Kuchar the Open.
Matt Kuchar: We had a laugh. We were going to be there for a while, knowing we've had these issues ourselves.
John Wood: There's a strokes gained/putting stat, and I always joke with Webb Simpson that there should be a strokes gained/attitude, and Webb and Matt are the best on tour. They aren't going to let anything bother or fluster them. What can you do? They [Spieth and the officials] are just trying to get it right.
Matt Kuchar: We could see on a big screen a little bit of what was going on. And now I get word that Jordan has found his ball. He's got to take an unplayable.
SPIETH'S SOLUTION
John Paramor: I heard the match referee in my earpiece. He was asking David Rickman if the practice ground was out-of-bounds. David then confirmed that it was not, neither for the club nor for the Open. Taking the range out-of-bounds was never even considered. That wasn't a conscious decision; I don't think anyone thought anyone would ever go there. Besides, why would you invent a boundary? I know we put one in on the 10th hole, but that was for a very good reason [because players were considering hitting shots from the ninth tee to the 10th fairway, which would have put spectators in danger].
David Bonsall: I told David [Rickman] that going straight back, it looked as if we might head straight into some equipment trucks on the practice ground. I told David I thought all of the trucks should be treated as one single temporary immovable obstruction [TIO]. That seemed reasonable to him. I then told him there was a metal fence around the trucks that should be treated as "movable." Again, he agreed. Initially, Jordan was asking me if he could drop back on a line, keeping the point where the ball was between him and the hole. I told him that was fine.
I then asked the marshals to get the crowd out of the way, moving them so that we could go back to the practice ground. That was fine until we discovered a buggy in the way. It was sitting there abandoned with no keys in it. And it was right on the line Jordan had to follow to make his drop. If Jordan had wanted to drop back short of the trucks, he would be doing so right where the buggy was. I told David we would need to get it moved, but if we couldn't, it would have to be an immovable obstruction. He agreed.
Matt Kuchar: As luck would have it, being on the driving range, you at least get a proper lie. There are some unplayables where you get to a better, more playable lie, but not a good lie.
David Bonsall: I told Jordan he could drop on the practice ground, but the line he would have to take goes right through the middle of a TaylorMade truck. So off we went. He had picked up the ball by this time. At first, we went way behind the trucks. We've agreed that he's going to take an unplayable, then have interference from the trucks. So we would have to then figure out his nearest point of relief on the practice-ground side. That sounds complicated, but everyone was staying pretty cool and calm. We just had to work it out, step by step.
Tommy Roy (NBC/Golf Channel producer): Here's the amazing thing about the whole scenario with the drop. We had a wire cam that was over on the practice area, so it went the distance from the chipping green all the way down the right side of the driving range. It was about a 200-yard run. Its purpose was to show players on the range, and it was primarily used by the Golf Channel for pre-game shows and in some pre-tournament coverage. But by happenstance, it was total luck that this unfolds on 13 next to the range, and that this camera was there and had the perfect view of setting up the drop and the next shot for Jordan.
We could have shown a whole bunch of golf shots while Jordan was trying to figure out his options on the drop, but I learned a long time ago—and my boss, Dick Ebersol, really reinforced it—that when you have something unique going on, it's OK to stay. Everything on the line, and it was so crazy watching what Jordan was going to do.
Peter Jacobsen (NBC/Golf Channel announcer): At Troon, Mickelson and Stenson looked like they were playing in a club-championship match and everyone else was in the sixth flight of the member-guest. You couldn't take your eyes off those two guys. Then we get another showdown the next year. And you can't take your eyes off them, either.
David Bonsall: Jordan went back maybe 30 yards beyond the trucks. He asked if he could drop there. He wanted to be back far enough that he could hit over everything. I told him he could. Then he walks forward to the last truck and asked if he could drop there. Again, I told him he could. And that, of course, would then allow him relief to the side of the trucks.
At that point, I asked him to hold on. I wanted to check that his nearest point of relief was indeed on the practice-ground side of the trucks. I then dived in among the trucks and determined that, the more forward he went, the more certain I was that he had to drop on the practice-ground side. That was where we needed to be. Jordan then asked if he could drop right in the middle of the trucks. I said he could.
Just as we were about to do that, I got on the radio to David Rickman. I told him what we were proposing to do—make the drop, then take relief from the trucks to the right, on the practice ground. Was he OK that I didn't actually make the player drop the ball? He told me, in the circumstances, that was the right course of action—the reason being, I didn't want the ball to roll under one of the trucks and have the leader in the Open scrambling on his hands and knees trying to get his ball back. Besides, we knew what we were going to do. Having dropped the ball, we were certainly going to pick it up and drop again to the right of the trucks. There was no point in him making that first drop. Just as we were about to do all of that, John Paramor appeared.
John Paramor: I'm sure Jordan was pleased to see me after I gave him a penalty for slow play in Abu Dhabi the year before. [Laughs.] He remembered me. Jordan and the rules officials were in the penned area off the driving range, inside the metal barriers looking at an area where Jordan thought he might like to drop his ball. The referee told him no, they had to work out where the ball should be dropped applying the unplayable rule, then go from there. Jordan said, "I think it will end up here." The first thing I wanted to do was make sure Jordan was going to drop on the nearest side of the trucks. So I asked Jordan, "Is this where you are trying to get the ball?" He said it was. I then told him we had to first drop under "unplayable," but I had to check to see what the nearest side was.
On the side of the Titleist truck was a flagpole with a flag sticking up [from the wind]. The farther back he came, the farther to the right his relief option would have been. Which meant that the nearest point was to the left. Which was not what he wanted. So I told him he actually had to go closer to the hole than the point he was looking at. He said he wanted to be back where he was so that he could get over the sand hill easier. He wanted more margin for error. I told him I was sorry, but if he wanted to use the nearest point of relief on the right side, he had to go closer. I then found that point. I then told him we weren't actually going to drop the ball, applying the unplayable rule­—that would have meant asking him to climb on top of the Titleist truck and drop there. I wasn't going to do that. [Laughs.]
Roger Bathurst: That would have been a bit undignified.
John Paramor: I wanted to expedite play, so I told him to drop to the side, at the nearest point to the truck. That would have left the truck's flag in the way. So he got relief from that, too. And at that point he dropped within one club-length. If we had gone a stage further, he could have also taken relief from the metal barriers around the range. But that would have taken him to the left, where he didn't want to go. So we only dealt with taking relief from the equipment trucks and the associated flag. Jordan was clear that was the best deal he was going to get.
JR Jones: In the studio at the time, Johnny [Miller] was asking if he had considered going back to the tee—Rule 28-a.
Johnny Miller (on the air): Well, I hope he can pull this off, but in my mind, he should have gone back to the tee for sure.
JR Jones: Doing what he was doing, one errant shot was going to cost Jordan the championship.
Johnny Miller (after the Open): He's got a blind shot with gorse on both sides, and if he'd have hit that shot left or right from over by those trucks, he might still be playing that hole.
"I think what happened at the '16 Masters played a massive role in how we handled that situation on 13, because it was a similar shock." — Michael Greller
HOW TO MAKE A BEAUTIFUL BOGEY
Michael Greller: While Jordan was going through all the back and forth with the officials, it gave me time to really dial in that number [yardage]. No, there was no sixth-grade math that I applied there [Greller is a former grade-school math teacher], it was more basic caddie logic. Long is absolutely no good—you're in the gorse bushes dropping again. Short was a better miss. So when Jordan said, "I think it's 270 front," my alarms went off because I thought it was about 240, 230. That's a pretty significant difference. Again, I knew long was out of play. So at that point it became a tug of war: Can I convince him to hit the 3-iron versus a 3-wood?
The last thing that put me over the edge was, he said, "I think it's about 75 yards to the top of the dune," and he wanted me to climb up to give him an idea of where he was hitting it. So I actually counted my paces up that dune. Granted, it wasn't spot-on accurate, but it was about 50 yards.
I remember thinking, He's already giving it too much just in this first little chunk, so it made me that much more confident that it was a little bit shorter than he thought.
I fudged on the line a little. I stood a little more left of where I thought the pin was, because left was better than right. So when he hit that shot, he thinks he's hit it short right, and it ended up being right on line.
Peter Jacobsen: It looked like he hit that 3-iron fat. You could see shoulders slumped. Like, What am I doing?
Jordan Spieth: (on his third shot, after taking the penalty for the drop): I hit it a little off the toe, and it was going probably five, six yards right of where I was looking.
David Bonsall: I picked up his 3-wood, and he was off like a gazelle up the hill.
Johnny Miller: He ran all the way up and down that deep dune, and I almost think doing that reset his body and his brain. Doing that was like a shock to his system and got him going. It snapped him out of whatever funk he was in.
David Feherty: There's always one shot that turns out to be the tipping point, that turns someone around. And he says to himself, I'm tired of playing like this. I think I'll play like that instead. So when he hit that shot over the Alps, he'd had enough.
Matt Kuchar: For a minute it looked like it was going to be really bad, like it was going to be in the hay rather than the green. But it kind of skips right through a bunker.
John Wood: We saw it land, and we thought it would be a difficult up and down, but for Jordan, I think he gets that ball up and down six out of 10 times.
Matt Kuchar: Still a really tricky shot. He had a massive mound to work over and around.
John Wood: Jordan didn't even go to his ball, he went straight to Matt on the green.
Matt Kuchar: He says, "Hey, sorry about that." I said, "Hey, no big deal. Completely understand."
Jordan Spieth: He's so great. I think he could see I was legitimately very concerned, because I knew if I were in his shoes, that would have been very frustrating.
David Feherty: I don't think the wait hurt Matt, necessarily, but it seemed to help Jordan. He turned it around physically and emotionally, but it started in his head. Somehow, he let go of whatever was bothering him.
Wayne Riley: Spieth's ball was on a downslope, and he had to chip over the corner of a bunker. He could easily have chunked it into the bunker. He could have knifed it to where Kuchar was in two. The crowd went perfectly silent as he hit it, so I heard the clip. He clipped it with no divot. It was the most gorgeous sound.
Michael Greller: I think that's the greatest up-and-down of his career. Up the slope, down the slope, then had to make an eight-footer to save bogey.
Jordan Spieth: I wasn't even thinking it was for bogey or anything, it was more, This is to get up and down.
Michael Greller: When he made that putt, I remember thinking, This is going to be the most fun that you're ever going to have caddieing. I knew that this was going to be just an absolute blast to the finish line—a total peace, and just buckle up. And I sensed it in him. I could just feel it in how he was breathing, the words that he said.
Peter Jacobsen: Felt like a 12 or a 13, but he walks off with a 5 [to fall one stroke behind Kuchar, who two-putted for par]. This is what separates great players like Jordan Spieth and Nicklaus and Tiger, Palmer, Faldo, Trevino from everyone else—they take a bad situation like that and turn it into a positive.
Nick Faldo: A 5 wasn't very harmful—it was a tough hole, and he might have made a 5 from the fairway, for all we know.
Matt Kuchar: I thought for sure I was going to have a two-shot lead, but as it played out, I had a one‑shot lead. I still thought, Jordan is not playing very well. I've got a one‑shot lead. I might not be at my best, but I'm playing consistent enough golf to be able to make a steady push from here on in.
David Bonsall: As they walked off the 13th green, I was standing at the back of the television tower. Jordan and Michael were noticeably pumped up. "We're only one down," one of them said. And, as Jordan passed, he shook my hand and said, "Thank you for all your help with that." That shows tremendous composure for such a young man. Then he goes on to play five of the best holes you will ever see.
Wayne Riley: All of a sudden, Spieth seemed to press his belly button and say, "I'm a different person now." It was like what Tiger used to do. Spieth reached another gear, but he was grinding through the lower gears for a long time before he got there.
By the time Spieth holed for a bogey, I had walked off to the 14th tee. There were two toilets at the top of the hill for players. There was a wooden fence around them. Kuchar was walking in as I was walking out. It was just the two of us. He actually looked at me and asked, "How you doing?" I told him I was all right. But I was thinking, How the hell are you doing? It was a bizarre moment. I couldn't tell if he was just nervous or not nervous at all. He could easily have been excused for walking straight by me and totally blanking. But he asked me a question as if we were passing in the street. Pretty weird. His inherent niceness came through, more than him being in any kind of zone.
John Paramor: I told David Rickman that I proposed to speak to both players, tell them I wasn't going to put them on the clock but that they had lost time, so anything they could do to make that up would be much appreciated. I did that as they walked off the 14th tee.
Jordan actually went for a quick bathroom break, so I told Matt first. His caddie at first thought I was going to tell him they were being timed. They were actually 22 minutes over the guideline when they finished the 13th. They took 17 minutes longer than they were supposed to on the hole. About 12 to 14 minutes of that were taken up by the time between Jordan finding his ball and hitting his next shot.
Roger Maltbie: So we're at the next hole, the 3 par.
Matt Kuchar: That back pin on 14 is tough to attack. You typically know long over greens is not a good place to be.
Jordan Spieth: Kooch had hit a shot and kind of bailed out a little. I thought, OK, I'm 1 down. If my opportunities are inside of him, this is match play to a T at this point. If I'm closer than he is, then I'm going to have more chances to win holes, and that's probably going to lead to winning more holes.
Michael Greller: Jordan hit a 6-iron 195 and immediately picked the tee up. When he does that, you know it's all over it.
Matt Kuchar: And he nearly makes it.
Peter Jacobsen: He goes from making a bogey at 13 to almost making a hole-in-one [the birdie giving Spieth a share of the lead]. That's a reset you would not expect. Probably 99 percent of golf pros could not get it back together like that.
Matt Kuchar: Remarkable. Absolutely a testament to the player he is, to the mentality he has. It just completely switched. So now we're even with four to go. Still a great spot to be.
Roger Maltbie: The next hole, the 5 par, Jordan gets it up on the green [in two].
Matt Kuchar: I hit a good drive, then a good 3‑wood into a greenside bunker. I figure my chance of getting up and down is pretty good out of this bunker. I go ahead and hit it up there to two feet and figure we'll be square with three to go. But he hoops it from 50 [for eagle to take a one-stroke lead].
Nick Faldo: Astonishing. You are either four feet short or three feet to the right on that putt, and he holes it.
Roger Maltbie: I told Feherty walking up to the next hole, did not use it on the air, but I said, "You know, it's a little-known fact that God had two sons; it just took the other one a little longer to come back."
Matt Kuchar: And you go, Well, I wasn't expecting that, but, all right, I'm 1 down with three to go. Still excited about my chances. So stuff happens.
Michael Greller: It kind of took me by surprise when I saw Jordan point at the ball and say, "Go get that!" I must have skipped to the hole to grab it, I was so excited. You can see me in the background—I laughed out loud when that putt went in. You know, Jordan has a history of making big-time putts of length.
Jordan Spieth: They did a great job with the facilities at Birkdale, and they had a full gym with TVs that were constantly playing old Open Championships. In the old days, the caddies would just grab the ball out of the hole. I don't know why that stuck in the back of my head. It would have come across better if I was like, "Hey, please go get that," but instead it was "Go get that!" and with a real serious look on my face.
After I made the eagle, I thought, Hit the green in regulation on the next hole; they might go in from anywhere now. ... Those three-footers [earlier in the day] were 10-footers to me. And all of a sudden, the lid came off, and the 30-footers were two-footers to me. I don't know why I can't make it a little more boring sometimes.
Roger Maltbie: And then Jordan goes to 16, and he knocks that one in from 20 or 30 feet [for another birdie]. Amazing.
Jordan Spieth: My biggest regret from that day was, I don't think I celebrated accordingly on 15 and 16 on the putts. I felt like they deserved fist pumps, screams. I didn't do either on either one. These are like perfect Tiger uppercut situations, and I'm not taking advantage.
Cameron McCormick: He said the putt on 16 was more difficult than the putt he had to hit on 15, and the reason for that, it was going uphill and back downhill. It was a putt where a player says, If I hit it too hard, because of the slope, it will go the downhill side and keep going across the hole.
Matt Kuchar: So I'm 2 down with two to go, still in this thing, even though Jordan has put on this amazing run. You kind of understand, if you play long enough, you have to expect your opponent to pull out the miraculous. And you're playing the best players in the world. You really expect these guys to do something great.
Roger Maltbie: We get to 17, another 5 par.
Jordan Spieth: I hit a drive a little right, and I could have laid [the second shot] way back or I could have gone over the bunkers and short of the other cross bunker. Another decision where Michael's trained: He steps in and says, "We don't need to do this. Kooch is over in the left rough. He's already laid up. You can lay back and go ahead and hit the green from there. Worst case, make a 5. This [going for the green in two] brings in trouble."
I said, "This lie and this distance, this is a safer shot in my opinion that gets me in a better position." And it went way farther than I thought it was going to go, because if I hit that left at all, it was in those horrible pot bunkers 70 yards from the hole with no chance—probably 90 yards from the hole from there to the back pin. But when I hit it and it carried that bunker, it was on a great line, and it was 100 percent that second shot that set up that entire hole. It was probably the most underrated shot of that day—there or the birdie I made on 5 that at least got me on the board. But that one set me up where I could just pitch it up the green.
Matt Kuchar: I hit a wedge [third shot] to probably 20 feet. And he's just short of the green in two with a long pitch shot, not an easy pitch. You could tell right when he hit it, it was perfect. It lands on the lower tier, skips up to the second tier, and goes six feet past. And that's a 10 out of 10.
Jordan Spieth: It had been raining a little bit, so there's that dew on the ground that allows the ball to skid. It makes that shot a lot easier.
Matt Kuchar: So here I'm knowing that to have a chance, I've got to make it. I go ahead and make it and think, This has got to be a little more pressure on Jordan.
Roger Maltbie: And you go, OK, now, we could go to 18, which is a hell of a hole with a one‑shot lead. But Jordan pours it right on top of him [maintaining the two-stroke lead].
Matt Kuchar: He does what Jordan does.
Michael Greller: He called that the best stroke he had of the week, just put a perfect stroke on it, right in the gut.
Roger Maltbie: You've got to be kidding me—he's five under par [for four holes] after falling off the map. He somehow flipped the whole thing around. Unbelievable.
John Wood: To have a one‑shot lead with five to play, and birdie two out of the next four, and you're down two? That doesn't usually happen.
David Feherty: I said on the telecast that Kuchar has to wait for Jordan to fall asleep and then hit him with a 2-by-4.
JR Jones: Johnny Miller must have seen just about everything there is to see in golf, but he was out of his chair.
Tommy Roy: We had a building that's like a broadcast center, like we have at the Olympics. It was absolutely rocking on those final few holes. Everyone was going nuts.
Johnny Miller: The fact he birdied the tough 14th, the par 3 that nobody was birdieing, and then he eagles 15, birdies 16 and 17 . . . that might be the top-three best finishes down the stretch in a major [with Nicklaus' back-nine 30 in his 1986 Masters victory at age 46 and Tom Watson's 65-65 to beat Nicklaus' 65-66 in the final two rounds of the 1977 Open at Turnberry].
"My kids, tears were streaming down. ... There was a bit of a crushing feeling as a parent, knowing I wasn't able to come through and be the hero." — Matt Kuchar
John Wood (after being asked if Spieth's performance was the best stretch of holes he'd ever seen): That would imply that I saw it. I quit watching once he made the eagle putt. I know when Jordan gets hot from this distance, it can get ugly for his competitor, and sure enough, it did.
Michael Greller: I felt like at the start of that round he needed a lot of encouragement, just needed somebody to breathe confidence into him, so I was able to do that. And then, toward the end of the round, after 13, it was just stay out of the way—I mean literally. It was the easiest caddie job I've ever had, those last five holes. I mean, I did nothing. Smile, laugh and fist pump. All the work from a caddie perspective went into the first 13 holes on that round.
David Feherty: I have never seen anyone fix themselves like that since Tiger Woods in the Masters [in 1997, when Woods shot 40-30 in the opening round before winning by 12 shots]. I was surprised Jordan could walk up to the tee at 18 with the size of his balls.
A DAD'S LAMENT
Matt Kuchar: Two down with one to go is not an enviable spot, but I think if I can make birdie, 18 is bogeyable for him. Not out of it.
John Wood: I don't think a two-shot swing is a miracle on the last hole in a major. Jordan hit an iron off the tee, in the left side of the fairway. So he's clean. For us to have a chance, he has to make a bogey from there. So we took an aggressive play off the tee, tried to hit driver and didn't end up in a great spot. If it goes a few more yards, it's in a great spot in the fairway with wedge in our hand. But it got caught up in the fescue. So we're just trying to figure out how to make a 3 at that point and see if Jordan would make a 5.
Matt Kuchar: Jordan has hit it on the front of the green, but he's 45 feet, 50 feet away. If I make a birdie, I've still got a chance. And I hit it in the bunker, and I thought, Not the worst place. I've made bunker shots before. Then I got up and saw it was plugged. I knew my chances had pretty much gone away. And that was the first time I thought, Shoot, it's not going to happen. Fully crushed.
Kuchar then gets a surprise: His wife, Sybi, and young sons Cameron and Carson appear after flying in to see the finish.
Matt Kuchar: It was amazing. I didn't know they were there until I shook Jordan's hand and was walking off the green. My kids, tears were streaming down, faces all red. You always want to bring joy to your kids' lives. Making a child smile is a great thing. I never want to see them cry, and being the one they're crying about. There was a bit of a crushing feeling as a parent, knowing I wasn't able to come through and be the hero, the dad that you want to be. I think dads fit a bit of a Superman role in your kids' eyes. When you're of a certain age, your dad is your protector, he comes through for you, makes you proud. And to not come through, it was tough.
I certainly wanted to do it for myself, but to have the kids there to see it, that makes it every bit more special. It's still a tough one that it didn't happen, but I definitely hold my head high. And in that dad role, I try to use a lot of situations as learning situations. The thing about sports is that you have to learn to figure out how to deal with defeat. You won't win every time. And I was trying to make sure the kids understood that. Life's a lot of times about how you continue moving on from those. You have ones that you win and ones that you don't. And sometimes somebody gets the best of you.
Jordan Spieth: I walked up and saw his family hugging him. ... I see that, and I thought to myself, Man, put this in perspective. ... I was very emotional [after losing the 2016 Masters], and my dad was the guy who came up and was able to calm me.
Wayne Riley: At the end I was standing close to Justin Thomas and Rickie Fowler. I was maybe five feet from them. They both looked really happy for their friend. But in different ways. I could see happiness in Rickie for his friend—but an envy in his eyes. You could see him wondering, When am I going to do this? Justin didn't have that look. He had the look of someone who knew this was going to happen for him. And of course it has. Rickie is starting to try too hard and not letting it happen. Now it's going to be interesting to see how Justin and Jordan push each other in the majors. Rickie could go either way. He's hoping it's going to happen rather than knowing it is going to happen. Which is a shame. He has everything it takes to make it happen.
John Wood: As much as I love Jordan and Michael, I didn't want to go back out and see the ceremony at that point—it was going to hurt too much.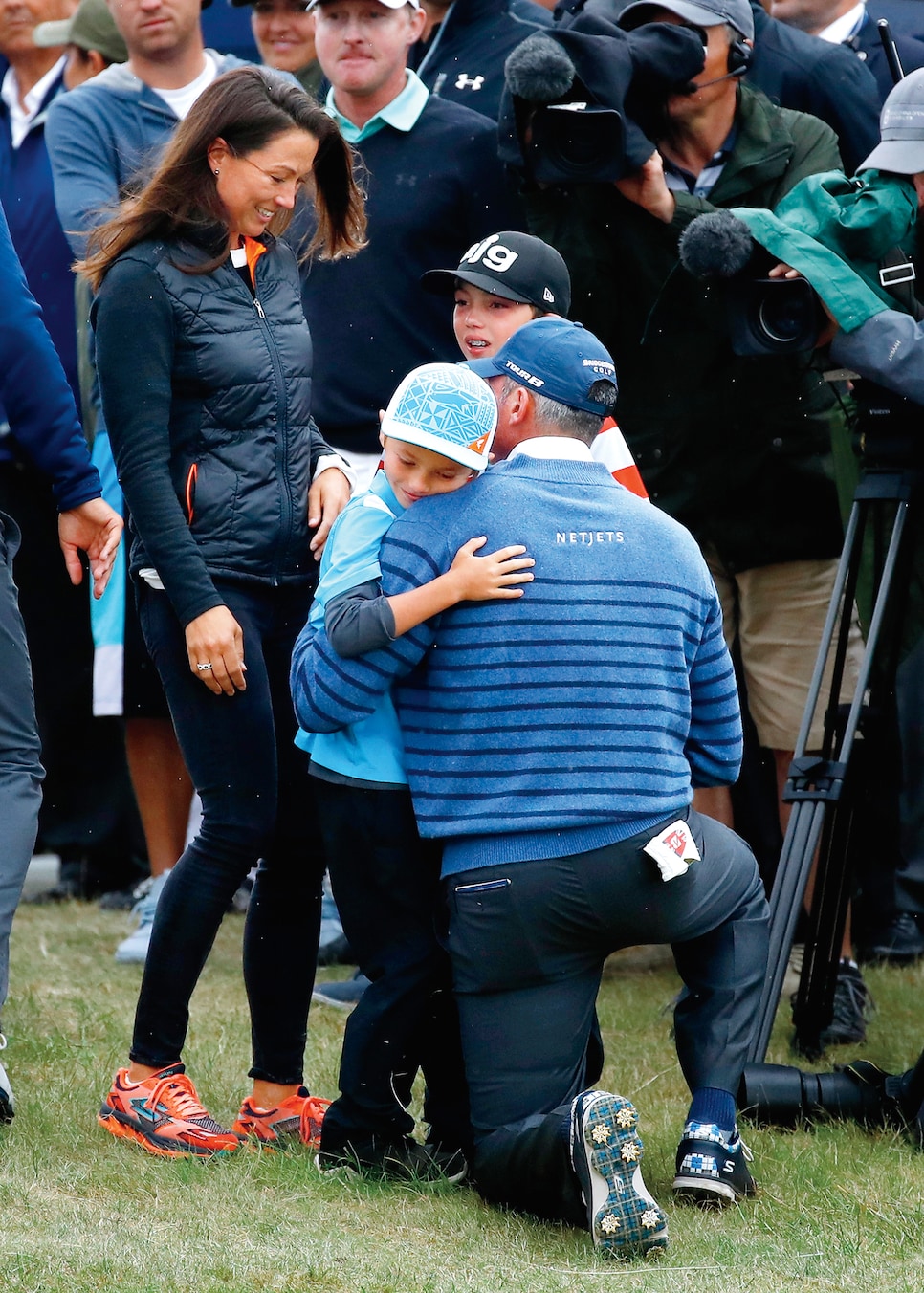 Photo by Gregory Shamus/Getty Images
Matt Kuchar: I figure every great player has had a runner-up or multiple runner-up finishes in majors and had guys snag a major championship away. I feel like my career has been a lot of steppingstones. I did OK as a junior and in college. And then moved on to amateur and did OK, and won some nice events on the PGA Tour, and then won some bigger events on the PGA Tour. Hoping the next step is a major championship. And now to be fully in contention at a major championship, maybe that's kind of the next step before I do end up coming through and winning one.
Roger Maltbie: When we all get back to the TV compound after it's over, we're looking at each other: "Did you ever see anything like that?" "Never seen anything like that in my life. Never." Nobody could see it possibly happening, but it did. And it was the damnedest thing you ever saw. Golf history is rife with stories about comebacks and falling apart and this and that, but nothing that I can recall to this extreme had I ever seen.
Wayne Riley: I went to the range the next morning and stood next to Jordan's divot. All you could see from there was sky. He was so far off line. And the shot he hit was brilliant. The risk was incredible. It could have gone anywhere, never to be seen again. But to get it to where he did was amazing.
A CADDIE'S CONFESSION
After the claret-jug ceremony, Spieth met with the media. "We're going to skip the first 12 holes, right?" he said, prompting laughter. Asked if he has an unusually strong grasp of the rules, Spieth drew more laughs: "No, I've just hit it in a lot of places before."
Michael Greller: Jordan told me to come fly back with him that night with a bunch of the guys, so that was fun to get my first taste out of the claret jug.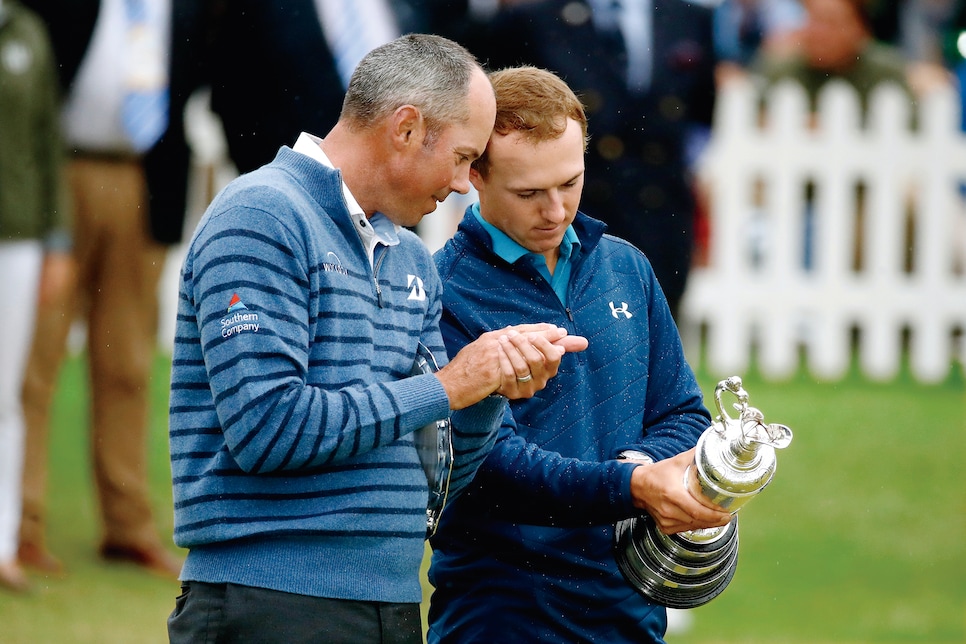 Photo by Gregory Shamus/Getty Images
Zach Johnson: Yeah, it does a good job of holding liquid.
Jordan Spieth: The last few years we've gotten a group of NetJets guys together to get a plane back. If you get enough guys, you end up splitting it. It's cheaper than flying first-class on a commercial flight because we use up only a couple hours and NetJets hooks us up. In 2015, Zach wins, and he's on the flight. So we obviously have to wait, but then the deal was, if anyone wins, they have to cover the whole flight. So we got a free flight from Zach. We all got together to do it again—I had to pay for the flight.
I think I slept for two hours after I got back to Dallas before I woke up, texted Michael because he had come with me to my house. He was going to go back to Seattle later that day. I said, "Can you sleep?" He said no. I said, "Do you want to watch it?"
Michael Greller: I've never done that with him in any post victory, watched the final round. I've never even watched one myself; I just don't do it. So it was neat to share stories back and forth.
Jordan Spieth: It was interesting seeing it from the public perspective versus less than 24 hours, having experienced it. We could remember everything we were saying to each other. We could hear what they were saying on the telecast, and it was just kind of funny to compare.
Michael Greller: I confessed to him that I'd told a little lie [in addition to fudging on the line at the 13th hole]. I'd told him a story on No. 4, the par 3, when he was just lacking the confidence that he normally has. I reminded him that a couple of weeks earlier, he'd been golfing with and hanging out with Michael Jordan, Michael Phelps, Russell Wilson, a couple other guys. I said, "You know, these guys see that same confidence in you that they have, and they're the greatest in their sport." I said, "You're too young to remember this, but in '98, when MJ hit this iconic shot over Bryon Russell [for the clinching shot in the NBA Finals], everybody remembers that shot, but nobody remembers the six shots he missed before that." I said, "He wasn't afraid to take the dagger at the end of the game, and he nailed it."
I was trying to draw an analogy to "Hey, no one's going to remember these first few holes, they're going to remember how you finish."
This was walking off No. 4. I confessed to him when we were watching the replay, "I've got to be honest with you, Jordan, I have no clue if MJ missed the six shots before that—it just sounded really good!" He said, "That's funny you said that, because when you were telling that story, I was thinking, If I'm Scottie Pippen, I'm really pissed off that he's jacking up shots at the end of the game."
Jordan Spieth: Unfortunately, I've proven that if I'm anywhere near the lead or in the lead, there's likely to be some kind of a very entertaining situation that takes place. Whether good or bad for me, it's entertaining for the people. I guess that's a good thing, as long as you come out on top more than you fail.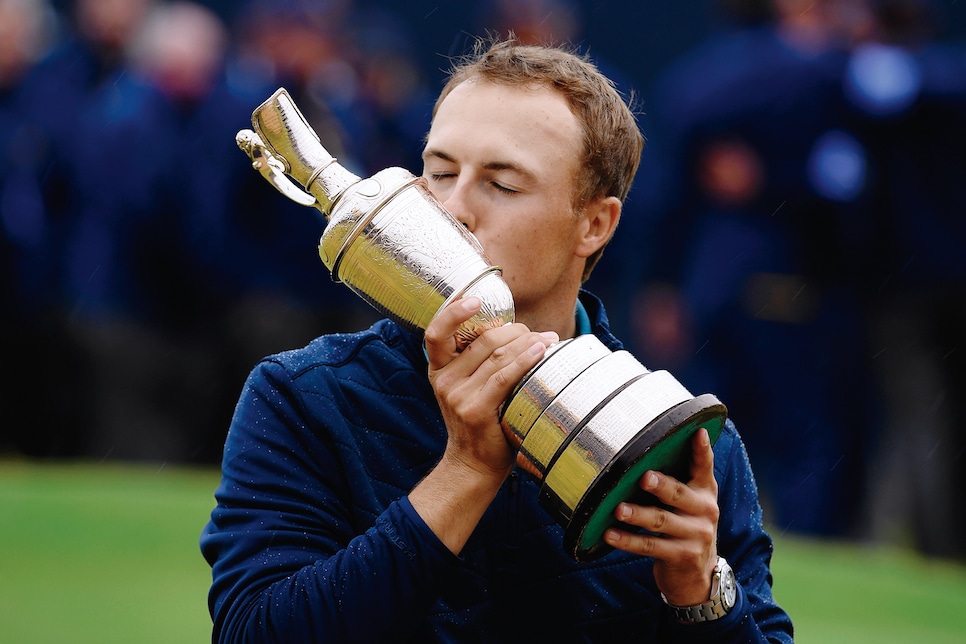 Photo by Dan Mullan/Getty Images