British Open
British Open 2019: The Most Unlikely British Open Champs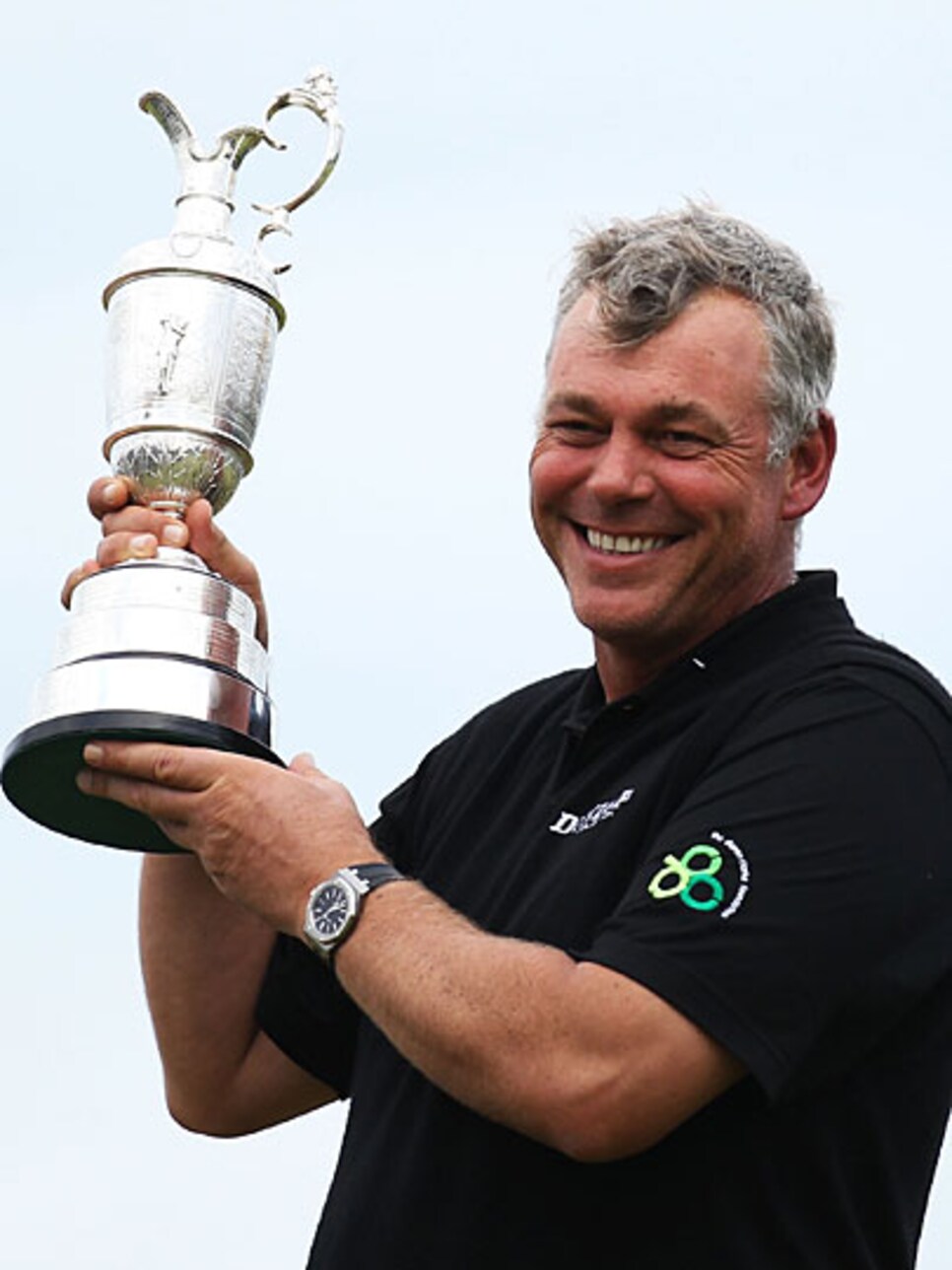 Photo By: Ross Kinnaird/Getty Images
Photo By: Andrew Redington/Getty Images
Photo By: Andrew Redington/Getty Images
Photo By: David Cannon/Getty Images
Photo By: David Cannon/Getty Images
Photo By: Joe Patronite/Getty Images
Photo By: Steve Powell/Getty Images
Photo By: Golf Digest Resource Center
Photo By: Golf Digest Resource Center
Darren Clarke, 2011
Despite his reputation as a world-class player, Clarke wasn't on anyone's radar at Royal St George's having not finished in the top 10 of a major championship in more than a decade. But with one of the best ball-striking weeks of his life, Clarke won by three shots to keep alive an incredible stretch in majors by players from Northern Ireland.
Photo By: Getty Images
Louis Oosthuizen, 2010
The South African took advantage of a good weather draw early and never let up, winning by seven shots and forcing ESPN broadcasters to scramble to learn how to pronounce his name. Many turned to simply going by his nickname: "Shrek." Ranked 54th in the world and with just one European Tour win coming in, the 27-year-old Oosthuizen led for the final 48 holes.
Photo By: Ross Kinnaird/Getty Images
Todd Hamilton, 2004
The widely unknown American stirred the echoes of past British Open champions by playing perfect, low running shots around the green all week. The only difference? He did it while wielding a hybrid club and not a mashie niblick. What made his win even more surprising was the fact he took down Hall of Famer Ernie Els in a playoff.
Photo By: Andrew Redington/Getty Images
Ben Curtis, 2003
Ranked 396th in the world rankings, it was an upset for the 26-year-old Ohio native to even qualify for the field at Royal St. George's. Curtis was making his major championship debut and had never even finished in the top 10 of a PGA Tour event. But on a wild Sunday, his 69 left him as the only player in the field under par. Making his triumph even more stunning was the fact that he hung on to win by one against a loaded leader board that included Tiger Woods, Vijay Singh, Davis Love III and Thomas Bjorn.
Photo By: Andrew Redington/Getty Images
Paul Lawrie, 1999
Lost in all the attention surrounding Jean Van de Velde's infamous collapse on the 72nd hole at Carnoustie was the surprising play of a 30-year-old Scotsman. Lawrie shot a Sunday 67 (his previous best round of the week was 73) and then beat Van de Velde and Justin Leonard in a four-hole playoff to complete the largest final-round comeback (10 shots) in major-championship history. Lawrie hasn't finished higher than T-42 at the Open since.
Photo By: David Cannon/Getty Images
John Daly, 1995
Sure, JD arrived at St. Andrews with a major title on his résumé—one of the most improbable wins ever at the 1991 PGA Championship—but do you think any of the game's founders ever could have imagined a man with a mullet and wearing a green sweatshirt winning at the birthplace of golf? Also, he came to the tournament really struggling with zero top 10s and five missed cuts in his first 16 starts of the season. But using his incredible length,
Daly overpowered the Old Course and defeated another upstart
, Italy's Costantino Rocca, in a playoff. Daly has had one top 25 at a major since -- a T-15 at the 2005 British Open at St. Andrews. And he won't be posting another high finish this year,
withdrawing days after the R&A denied his request
to use a golf cart.
Photo By: David Cannon/Getty Images
Mark Calcavecchia, 1989
Always known as a streak player, Calc, then 29, certainly had it going at Royal Troon with three straight 68s. He then beat Greg Norman and Wayne Grady in a four-hole playoff despite the Shark birdieing the first two extra holes. Calcavecchia wound up having a very good career, but this remains his lone major title. What makes his win even more unlikely is that he has only one other top 10 at the British Open in all his years as a pro: A T-10 in 1997. At what venue? You guessed it, Troon.
Photo By: Joe Patronite/Getty Images
Bill Rogers, 1981
More than two decades before Curtis' win, Royal St. George's produced another surprising American champ. In 1981, everything was going right for Rogers as he beat Bernhard Langer by four shots. The win was one of his four that year during a PGA Player of the Year campaign. It's even more impressive when you consider he only had six wins in his entire PGA Tour career.
Photo By: Steve Powell/Getty Images
Kel Nagle, 1960
As a sign of golf becoming a more global sport, the Australian claimed the only major championship of a long career at the age of 39. What made it more shocking was the fact he'd never finished in the top 10 of any major previously and that he held off Arnold Palmer to claim the claret jug. He would go on to win two times on the PGA Tour, finish runner-up at the 1965 U.S. Open and be inducted into the World Golf Hall of Fame in 2007.
Photo By: AP Photo
Max Faulkner, 1951
Pre Ian Poulter, Faulkner was England's snazzy-dressing golfer. He made his biggest statement, however, in 1951 when he finished two shots clear of Antonio Cerda to win the only previous Open held at Royal Portrush. Impressively, his big victory came just five years after he started playing tournament golf. Previously, he had been an accomplished boxer while serving in the British Royal Air Force during World War II.
Photo By: Golf Digest Resource Center
Fred Daly, 1947
Long before Graeme McDowell and Rory McIlroy turned Northern Ireland into a major-winning juggernaut, Daly put the country on the golfing map with his lone major title, a one-stroke triumph over Reg Horne and amateur Frank Stranahan at Royal Liverpool. Partly as a sign of the times, Daly never even played in any of golf's other three professional majors.
Photo By: Golf Digest Resource Center