Letter from Europe
British Open 2021: For U.K. golfers, this has to be the most unique spoil for winning a major championship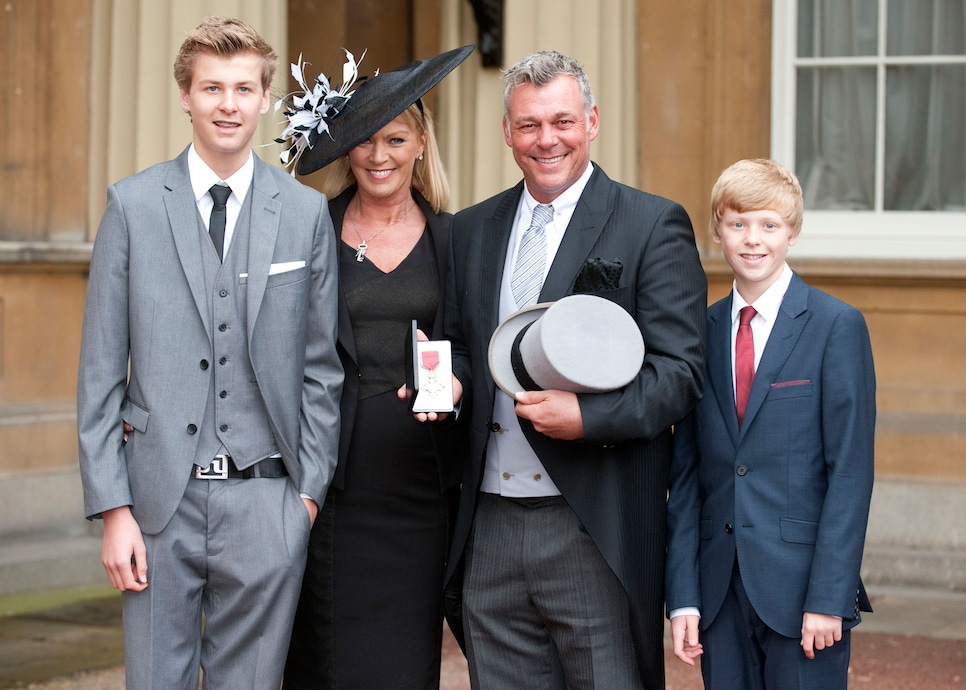 Darren Clarke poses with his wife, Alison, and sons, Tyrone (L) and Conor after being awarded an OBE at Buckingham Palace for services to Golf in 2012.
WPA Pool
SANDWICH, England — Viewed by many as an outdated anachronism that perpetuates memories of the class-ridden society on which the late and largely unlamented British Empire was founded and built, the United Kingdom's "honours system" somehow lives on into the 21st century. Twice a year, on Queen Elizabeth II's "official" birthday in June (perversely, her real one is in April) and at New Year's, various baubles are doled out to all kinds of British subjects and citizens of Commonwealth countries like Canada, Australia and New Zealand.
Both are typically lengthy lists that recognize people who have, according to the official U.K government website, "made achievements in public life" or "committed themselves to serving and helping Britain." Those general terms cover a lot of ground, but when it comes to golf and golfers, the criteria applied narrows a little. Winning a major championship, for example, likely guarantees the new champion a trip to meet the Queen or a close member of her family at one of the Royal palaces that dot Great Britain. So for a subject of Her Majesty, a victory at this week's Open Championship brings with it one of the most unique spoils imaginable: membership into the Most Excellent Order of The British Empire.
"Likely" guarantees is the operative word there though. There are exceptions, for reasons no one can fathom. Karen Stupples' Women's British Open victory in 2004 and Danny Willett's Masters win in 2016 have apparently yet to register with the "honours committee" that makes recommendations to Prime Minister Boris Johnson. Just about every other British major winner has stood or knelt before the Queen for a brief chat and a pat on the back. Even some players who have fallen short of winning one of golf's biggest prizes have had that privilege, which only deepens the Stupples/Willett mystery.
Some examples: Eight-time Ryder Cup player Neil Coles and Brian Huggett, captain of the last Great Britain & Ireland team in the biennial contest with the Americans, have both been awarded MBEs (Member of the British Empire). Three-time Ryder Cup skipper Bernard Gallacher is one step up on the honours ladder. The Scot has an OBE (Officer of the British Empire), the same award knocked back by the late Peter Alliss. With some justification given the extent and length of his charitable works, the doyen of British broadcasting felt he should have been awarded a knighthood.

Even amongst the British major winners there is inconsistency. Former Open and Masters champion Sandy Lyle has an MBE, the lowest of the honours. So does Justin Rose (2013 U.S. Open, 2016 Olympics), Georgia Hall (2018 Women's British Open), Graeme McDowell (2010 U.S. Open), Alison Nicholas (1997 U.S. Women's Open) and four-time major winner Rory McIlroy. But 1991 Masters winner and 2006 Ryder Cup captain Ian Woosnam has an OBE, as do 2011 Open champion Darren Clarke and former World No. 1, Lee Westwood, who has yet to win a major. Go figure.
Adding to the confusion and apparent inconsistency, some lucky major winners have actually been honored twice. Paul Lawrie (1999 Open) and Catriona Matthew (2009 Women's British Open) each fall into that category; both have an MBE and an OBE.
Further up the honours totem pole, it is harder to find golfers. Tony Jacklin, winner of the 1969 Open Championship and the 1970 U.S. Open, is a CBE (Commander of the British Empire), which fills the gap between OBE and knighthood and dame hood. And it is at that highest level of "honour-hood" where we find only four golfing luminaries.
Henry Cotton, three-time Open champion, was the first golfing "Sir." Just in time, too. Cotton accepted his knighthood in late 1987, but died of a heart attack before he was able to receive his honour. A similar fate also befell Max Faulkner, 1951 Open champ at Royal Portrush. It took 50 years for Britain's buttoned-down establishment to grant one of golf's most colorful (some clearly felt too colorful) characters an OBE.
New Zealand's Bob Charles was the next golfer in line. The 1963 Open champion—the first left-hander to win any of the male game's four majors—was knighted in 1999, seven years after he became a CBE, for "services to golf."
The third member of that elite male group is Nick Faldo. Eleven years after the six-time major winner was awarded an MBE, he became "Sir Nick" in 2009. Suitably chuffed, the now 63-year-old Englishman made all the right noises when he heard the news.
"Golf is in so many ways a very British pastime, and Britain the true home of the sport," Faldo said. "In recent times, this nation has produced some of the finest golfers of any generation, players like Tony Jacklin, Ian Woosnam and Sandy Lyle , multiple major-winning sportsmen that have represented this nation at the very highest level and not been found wanting. I join Sir Henry Cotton as the only other professional British golfer to receive a knighthood so to stand alongside such esteemed company is incredible."
Completing this elite foursome is Laura Davies. The four-time major champion and former World No. 1 became a "Dame" in 2014. And was just as excited as Faldo.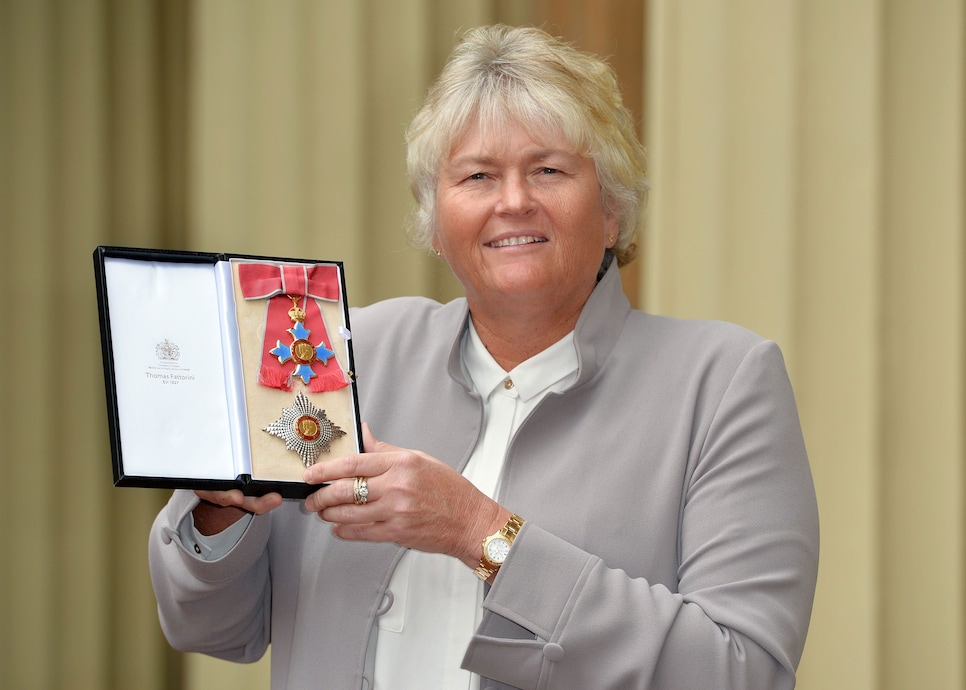 Laura Davies after being made a Dame Commander of the Order of the British Empire at Buckingham Palace in 2014.
WPA Pool
"It really is the greatest honour I have received in my career and what makes it even more special is that it is an honour that transcends golf," said Davies at the time. "I was very proud when I received the letter in May, and it has been really difficult keeping it a secret from my friends since then. I am sure there will be a fair bit of teasing from my close friends at home and on tour but I think they will be pleased, not only for me but also because it is a nice recognition for women's golf."
And so "the Empire" lives on. And on. And on.