British Open
11 Sneaky British Open Picks
These guys aren't among the favorites this week at Carnoustie , but under the right circumstances they could all find themselves in contention come Sunday. Don't believe us? Two years ago we had Henrik Stenson on this list and, well, that worked out pretty well, didn't it?!? Then last year, Matt Kuchar was on this list, and if not for Jordan Spieth's out-of-his-mind finish, we would have been two-for-two. So, if you're looking to round out your British Open fantasy lineup, you could do worse than picking among these tour pros.Video: Eight British Open Terms You Must Know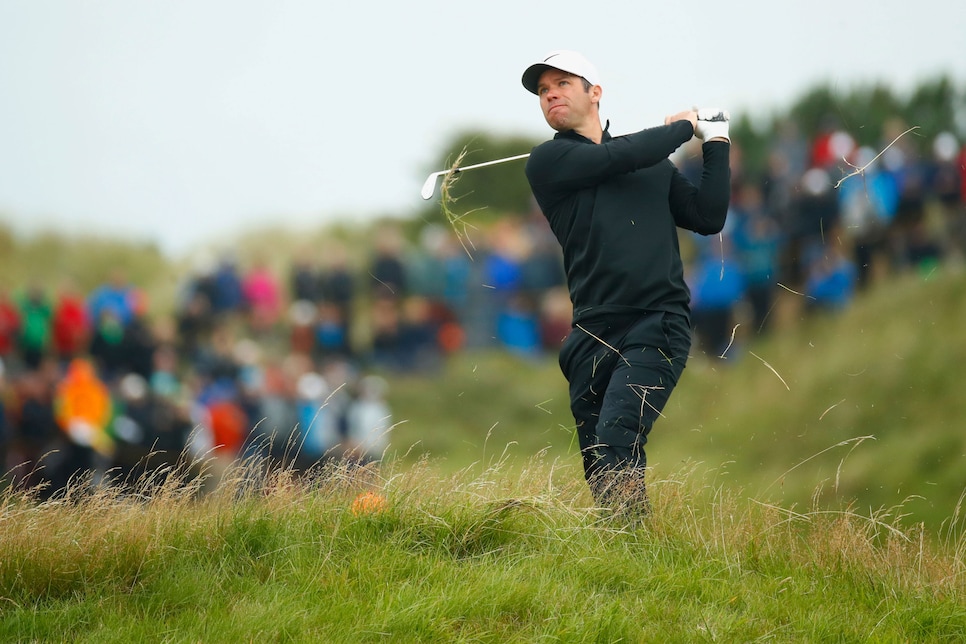 Photo By: Gregory Shamus/Getty Images
Photo By: Stuart Franklin/Getty Images
Photo By: Kevin C. Cox/Getty Images
Photo By: Matthew Lewis/Getty Images
Photo By: Richard Heathcote/R&A/R&A via Getty Images
Photo By: Christian Petersen/Getty Images
Photo By: Stuart Franklin/Getty Images
Photo By: Matthew Lewis/R&A/R&A via Getty Images
Photo By: Matthew Lewis/Getty Images
Photo By: Ross Kinnaird/R&A/R&A via Getty Images
Photo By: Kevin C. Cox/Getty Images
Paul Casey
The Englishman finished T-11 last year at Birkdale, his best Open finish since a solo third at St. Andrews in 2010, and his 2018 season has been impressive even with the disappointment of not closing out a big lead at the Travelers Championship last month. Casey still has a win (Valspar) and five top-10s to fall back on, and he's ranked fourth in strokes-gained/total on the PGA Tour. Add in the fact that the Open is friendly to 40-somethings, and this 40-year-old has a reasonable shot at finally getting his first major.
Photo By: Gregory Shamus/Getty Images
Jason Dufner
Dufner's reverence for Ben Hogan is well-documented, and so he knows all about Carnoustie and its place in Hogan's journey. Dufner has made the cut in his last six Open starts with his T-14 last year at Birkdale being his best finish. A T-5 at the Players and T-25 at the U.S. Open offers more glimmers of hope on this flyer.
Photo By: Stuart Franklin/Getty Images
Tony Finau
He has two top-10s in majors already this year (T-10 at Augusta, solo fifth at Shinnecock), and has missed just two cuts in nine career major starts, neither coming in his two previous British Open appearances. His record this season overall is similarly solid and consistent. He's missed one cut since March, and finished outside the top 25 only once in that same time. If he gets on a roll, he could overpower Carnoustie with his length.
Photo By: Kevin C. Cox/Getty Images
Zach Johnson
Consistency, thy name is ZJ. In 18 PGA Tour starts this season, the two-time major winner has missed one cut and finished between 10th and 40th a total of 11 times. He hasn't necessarily been in contention for any titles, but his game is always in good shape, and his British Open track record makes him an attractive pick. In the last seven Open starts he is: T-16, T-9, T-6, T-47, Win, T-12, T-14.
Photo By: Matthew Lewis/Getty Images
Marc Leishman
Three of the last four years Leishman has finished in the top six at the Open Championship, including a T-6 last year at Birkdale. It's an impressive showing that combined with his solid 2018 season—two runner-ups and six top-10 finishes in 18 starts—makes the 34-year-old Australian an attractive Carnoustie choice.
Photo By: Richard Heathcote/R&A/R&A via Getty Images
Hideki Matsuyama
Remember when Matsuyama's break-through major was right around the corner? Well, it still is. Just because he isn't quite as sizzling hot as he was the last two years doesn't mean he's not playing well. He's missed just one cut this season and hasn't finished outside the top 20 in his last three starts. His Open record is also pretty good: five starts, three top-20s including a T-6 in 2013.
Photo By: Christian Petersen/Getty Images
Phil Mickelson
Exactly where his head's at right now is unclear, but if there's anyone who can find a way to collect himself when everything around him seems to be in chaos, it's Lefty. The most concerning thing about Mickelson when thinking about his Carnoustie chances is that since his mano-a-mano duel with Henrik Stenson at Troon in 2016, Mickelson's best major finish is a T-22. Still he's played well this season up to Shinnecock and there's no better way to silence his critics than to jump on to a major leader board.
Photo By: Stuart Franklin/Getty Images
Francesco Molinari
The 35-year-old Italian has always been considered a nice little player with the potential to break out under the right circumstances. Perhaps those right circumstances have finally arrived: a Ryder Cup year and a dominant win at the Quicken Loans National has his mind clear and his game in gear. He's never played majors incredibly well—three top-10s in 36 starts—but there's no real reason he can't start now.
Photo By: Matthew Lewis/R&A/R&A via Getty Images
Kevin Na
If you believe in riding a hot hand, then Na is a good choice. There's not just the win at Greenbrier, but a T-6 at the Byron Nelson and a fourth at Colonial. He didn't play in either of the year's first two majors, the first two he's missed since the Masters 2014. He hasn't missed a British Open cut in the last four years, although his best finish is just a T-22. Says here his current form allows him to play well in Scotland.
Photo By: Matthew Lewis/Getty Images
Alex Noren
His 10 European Tour victories, including last month's French Open win, has Noren at 14th in the world, yet the 35-year-old Swede's track record in majors (five missed cuts in 10 starts since 2015) still scares people off. A T-6 at Birkdale suggests the British Open might be more to his liking, and at some point he's too talented not to start playing better in the majors (see Patrick Reed).
Photo By: Ross Kinnaird/R&A/R&A via Getty Images
Louis Oosthuizen
The 35-year-old South African missed consecutive cuts in May, the first time he's done that on tour since 2016. But he's played well since, and finished T-12 and T-16 in the year's two majors. Oosty's British Open magic has slowed of late—he's missed the cut the last two years—but they're his only two missed cuts in majors since 2013. He always seems to be in the mix in big events, and there's no reason not to think he'll do the same at Carnoustie.
Photo By: Kevin C. Cox/Getty Images