News
2019 British Open picks: Why our anonymous PGA Tour caddie is picking Tiger Woods this week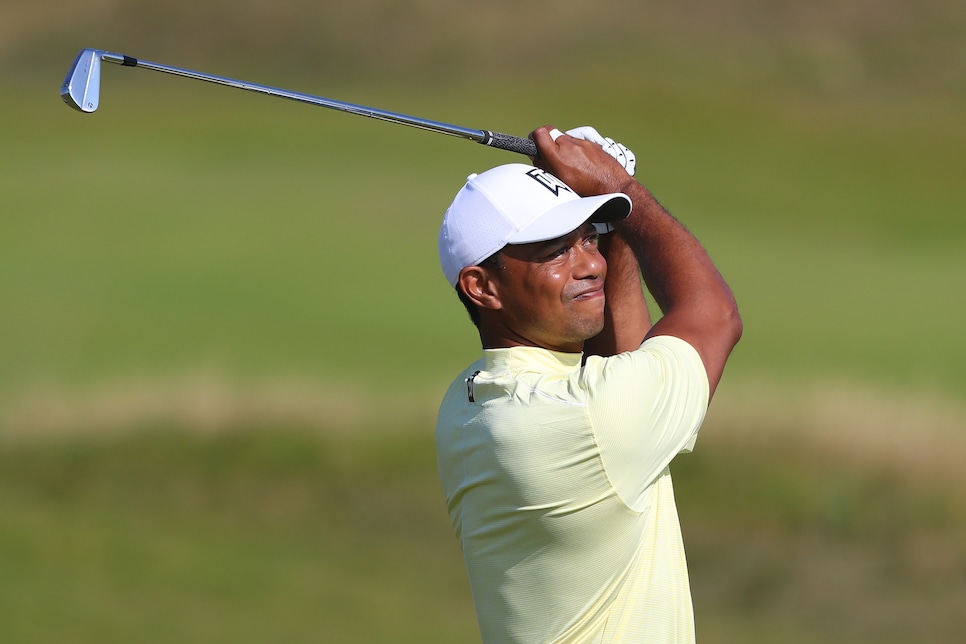 Photo By: (Photo by Francois Nel/Getty Images)
It's tough to believe major season concludes this week. We have loved the action-packed summer of golf, but now that the year's last major is upon us, we're a bit sad about it. This week marks the last chance to cash it big in your pools with your office or family and friends, or in the betting or daily-fantasy market. We're devoted to delivering winners in a big way.
Our expert picks this week, just like every week, includes a PGA Tour caddie offering insight from the range and putting green of this week's Open Championship, thanks to our partnership with The Caddie Network; handicapping advice from The Action Network, which is becoming the leader in sports betting and handicapping analysis, and it's growing its presence in golf; two of the most respected experts in the daily-fantasy community, Pat Mayo of DraftKings and Brandon Gdula of FanDuel; and Columbia University senior lecturer and Ph.D. Lou Riccio, who uses predictive analysis and modeling to forecast winners in golf. We also have insights on DFS ownership and sentiment, thanks to FanShare Sports, a website that curates all DFS content on the web to offer trends and data as to where to find your edge in building your lineups.
Royal Portrush presents an intriguing host to this year's Open. You've likely heard that Rory McIlroy grew up close-by in Holywood, Northern Ireland, and holds the course record (61), set when he was 16 years old. There is serious value elsewhere among the favorites, due to the fact that Rory has drawn so much betting attention. Who do our experts prefer at Portrush? Read on to see.

2019 British Open Picks To Win (Odds from Bovada)
PGA Tour Caddie Guest Picker of the Week: Tiger Woods (16-1) — Whoever wins this week will be a wizard at controlling the flight of their shots, particularly iron shots. With the course's firmness, downwind holes will be hard to stop balls on the greens, and back into the heavy ocean air, the into-the-wind holes will play long. Trajectory control is a must. Height downwind to stop the balls and well-controlled flat shots into the wind. A lot of holes will play, with the prevailing winds, straight down or straight in. So controlling your height and launch angle is crucial. The master of this is also happens to be the 2019 Masters champion. Yes, Tiger's my pick to win because he's still the best in the world at doing all the things I've described.
Pat Mayo, DraftKings/Fantasy National analyst: Henrik Stenson (28-1) — The Swede's iron play has been absolutely scorching entering The Open: He leads the field in strokes gained/approach over the past 24 rounds, and he has the perfect weapon if the wind starts to blow: The accurate 3-wood of doom. After experiencing a string of poor putting performances, Stenson gained an average of +4.2 strokes gained/putting in his final two North American starts before a return of awful putting at the Scottish Open over the weekend. Still, despite a case of the short misses, he finished T-4. Stenson has seen the weekend at the British Open in each of his past 10 starts, and he might threaten to win his second claret jug this week.
Brandon Gdula, FanDuel/numberFire editor: Dustin Johnson (16-1) — Normally, I cut off the top of the field in majors because the win odds are dispersed between so many studs, but DJ at 19/1 is just too enticing to pass up entirely. Johnson leads the field in strokes gained/off the tee and is sixth in strokes gained/approach over the past 100 rounds on the PGA Tour, via FantasyNational.com. The stats show that he's a good wind player, and he has four top-10s at the past eight majors. This is just about taking the value on his name.
Dr. Lou Riccio, Columbia University: Dustin Johnson (16-1) — My model has consistently pointed to Johnson all year, and despite him cooling off over the past month or so, it loves his birdie-percentage stats on holes with similar yardage at Portrush this week. Plus, you're getting more value at 16-1 than most weeks.
Jason Sobel, Action Network senior golf writer: Adam Scott (30-1) — Based on his proficiency at links golf, his strong play in the majors so far this year and the fact that I've always believed Scott was destined to win a claret jug, I'd been pondering him for my winner, in the No. 1 position on my pre-tournament ranking of the field. And as I was putting my finishing touches on this content Monday morning, Darren Clarke was in the interview room at Royal Portrush. He spoke of playing practice rounds with Scott and referred to his current game as "imperious." Couldn't have said it better myself.
Golf Digest editors: Jon Rahm (16-1) — There are some very intriguing trends in Jon Rahm's favor this week, the first of course being his play of late. We all saw his final-round 62 that won him his second Irish Open, which feels like a precursor to a maiden major victory this week. The young Spaniard, who now must feel like a veteran, has had arguably his best season as a professional, beginning with a Hero World Challenge victory in December and potentially culminating in a raising of the claret jug this Sunday at Royal Portrush. He has had nine other top-10s worldwide, two of which came at the Masters and the U.S. Open. Per NumberFire writer Mike Rodden, five of the past six Open winners had a victory in their previous five starts and were ranked in the top 15 in the world. Rahm is in that group. This might be his time.
Lee Aldrick, FanShare Sports golf expert: Henrik Stenson (28-1) — The Swede is statistically one of the best links players in the game. He comes into this event off three top 10s in a row. The 2016 Champion Golfer Of the Year ranked first last week at the Scottish Open in greens in regulation. The only thing worry is his putter—we know his ball-striking is likely to be there.
(Results on the season: We've correctly predicted seven of the season's 31 events, with three of our handicappers nearly hitting Bryson DeChambeau (16-1) two weeks ago at the John Deere Classic. Brandon Gdula hit Rory McIlroy (9-1) at the Canadian Open, and our Golf Digest Editors predicted Patrick Cantlay (16-1) the previous week at the Memorial. Pat Mayo has correctly picked Bryson DeChambeau (12-1, Shriners); Matt Kuchar (60-1 at the OHL Classic) and Phil Mickelson (25-1 at Pebble Beach). Lou Riccio called Rickie Fowler's win (16-1) in Phoenix and had a runner-up (Dustin Johnson) at the PGA. And our Golf Digest editors also correctly picked Kevin Tway (55-1) earlier in the season.)
Sleepers/Dark Horses That Could Win at the 2019 British Open (odds from Bovada)
PGA Tour Caddie: Corey Conners (400-1) — Conners is a dark horse, but he's an exceptional iron player. He'll probably be looked over in the picks, but I would not be surprised if he features on the first page of the leaderboard. Corey broke out with his maiden tour victory at the Valero Texas Open this year—a tough, windy course where trajectory control is a must to win.
Mayo: Rafa Cabrera Bello (66-1) — One of the world's best links players, RCB enters, like Stenson, with three consecutive top 10s, with his last two (Irish and Scottish Opens) coming on links venues. Though some changes have been made to the course since, Cabrera Bello is one of the only players in the field with competitive experience at Portrush, and he finished T-2 at 2012 Irish Open. So ride the form with a player whose best work comes in Europe.
Gdula: Patrick Reed (80-1) — In a dark horse pick at a major, we need something somewhat realistic, and we've seen Reed with three top fives at majors the past two years, including the 2018 win at Augusta. Reed ranks just 70th in strokes gained/off the tee and 63rd in strokes gained/approach over the past 100 rounds, but he's up to 31st in approach over the past 24 rounds, via FantasyNational. His form is trending up, and 95/1 is a nice number to add to the card for a low investment.
Riccio: Brandt Snedeker (150-1) — My model puts a double highlight over Snedeker's name in terms of value. Per my model, which runs tens of thousands computer simulations, Brandt's projected odds should be 77-1. Instead, you're getting double that price. Sneds' scrambling stats (first in strokes gained/short game and second in strokes gained/around the greens in his past 50 rounds, per FantasyNational.com), plus his recent form, tell me it's worth a play with the books being so far off.
Sobel, Action Network: Christiaan Bezuidenhout (350-1) — Here's a note from The Action Network podcast with Jeff Sherman, a bookmaker at the Westgate SuperBook. There have already been a few fairly significant bets placed on Bezuidenhout for this week. Now, we can come to one of three different conclusions about this news: 1) These were very sharp bettors; 2) These were very stupid bettors; or 3) These were members of the Bezuidenhout family. There's a small chance it's the last one and a large chance it's the second one. But what if the first conclusion above is actually the right one? What if a few people who "know some things" have some sort of inside knowledge (or at least suspicion) that Bezuidenhout is going to play well? Even without this knowledge, I don't dislike the South African at all, fresh off a recent win at the Andalucia Masters and a T-34 at the Scottish Open. If you prefer your 'dogs a little less, well, doggy, then I also like supporting a few studs at the top end of a lineup with a range of European Tour players, from Erik Van Rooyen to Eddie Pepperell to Andy Sullivan to Mike Lorenzo-Vera to Robert MacIntyre to Beef Johnston. They should all draw some interest as low-priced, low-owned options.
Golf Digest editors: Jim Furyk (150-1) — Furyk fits the older player excelling narrative. And we saw him play great at the Players, contending into Sunday with his stellar iron play. His ball-striking stats still rank him above the average in this field. If Furyk is going to contend in one more major, this could be it, given how well he's playing this year.
Aldrick, FanShare Sports: Tyrrell Hatton (80-1) — The World No. 43 has more top 10s in this region than any other player playing this week. He has recorded 13 top-10 finishes and two wins in 32 events. The Englishman has won two Alfred Dunhill Links Championships, plus a runner-up there and the Scottish Open.
Players to Fade This Week (who will disappoint)
PGA Tour Caddie: Phil Mickelson (100-1) — The results are what they are. There was the fantastic win at Pebble Beach in February, but not a whole lot since. He's missed the cut in four of his last six starts. He's got no momentum coming in. I'm not sure this is the place he'll find it.
Mayo: Tiger Woods (16-1) — Tiger's talking poorly about his game. The oddsmakers are dropping his odds. It's cold in Portrush. He just got overseas to adjust to the time zone shift. And no player has won the Open Championship without playing in between the U.S. and British Opens since Johnny Miller in 1976. It's not looking great. The good news for my fandom, not so much for my wallet: The last time I said Tiger wouldn't win was at the Masters. Because I know things.
Gdula: Jon Rahm (16-1) — Rahm has been red hot, so this is scary, but with Dustin Johnson (19-1) and other names floating just beyond Johnson, Rahm is tough for me to justify. The stats are there in his favor—namely that he's ninth in strokes gained/tee-to-green—and his major performance shows the ability to linger (four top 10s over the past seven majors—with three missed cuts). Rahm is just more of a daily fantasy play than a bet to back at these odds.
Riccio: Rory McIlroy (8-1) — I realize this is a bold take, so hear me out. The market has been too saturated with Rory love. The enormous pressure of an Open in Northern Ireland aside, Rory's short game is a concern. He's just average in strokes gained/short game (31st) and putting (41st) in his past 50 rounds, per Fantasy National. Sure, he could win with an average short game—he has in the past. But if the weather blows, he's going to miss greens and play away from hole locations—needing to lag putts from 60, 70 feet on these undulating H.S. Colt greens. I'd be more confident taking better short game players (Justin Rose, Rickie Fowler, Jason Day) who have the ball-striking to back it up. My model says Rory's odds should be 39-1, which is obviously high, but enough to say it's worth fading Rory at this low, low price.
Sobel, Action Network: Bryson DeChambeau (40-1) — You might be thinking: The last time Bryson played, he finished T-2 at the 3M Open and he's improved in each of his last three starts, so maybe he's worth a shot this week. I'm not buying it. He's the type of player who loves competing on long, soft courses, which is the opposite of Royal Portrush and every other links track in that corner of the world. That's not just my opinion, either. There's evidence in the analytics. So far this season, DeChambeau ranks second on the PGA Tour in apex height on tee shots, averaging just over 135 feet on his drives, and he's hit the highest ball all year at just over 183 feet. He also ranks 16th in launch angle, at 11.82 degrees, which means he usually tries to hit a high-flighted shot. None of that means he can't better control his swing in the wind and rely on a lower ball flight. For a guy who loves science, he understands all of this, but the execution is going to be more difficult than the idea
Golf Digest editors: Brooks Koepka (10-1) — The cockiness, the "I don't practice," the actual results of late, it might all catch up with him this week. Sure, he's shown the ability to completely flip the switch for major weeks, but at least before the Masters and PGA he had played well in the weeks leading up (T-2 at Honda before Masters, fourth at the Byron Nelson before the PGA). And before the U.S. Open he had just won the PGA and was still riding off that high. He's been completely disinterested in his last two starts at the Travelers Championship and 3M Open, and the stats show it. If you're going to bet him as one of the two favorites, you'd like to have seen a little more than T-57 and 65th coming in. In an Open Championship, you need to be as sharp as ever, especially around the greens, where Koepka ranks 57th in strokes gained on tour over his last 50 rounds, per FantasyNational.com. He also ranks 81st in strokes gained: putting over his last 12 rounds. Not a great recipe for a win at Royal Portrush.
Aldrick, FanShare Sports: Tommy Fleetwood (28-1) — Some bookmakers have him priced up as the eighth-biggest favorite, and even as a fellow Englishman, I can admit there are at least 20 players I would put ahead of him this week. He has missed three of five cuts at the Open Championship, and he's coming off a non-confidence-inspiring 23rd finish at the Irish Open.
2019 British Open picks: Matchups
PGA Tour Caddie: Brandt Snedeker (-130) over Phil Mickelson (Sportbet) — Outside of a T-18 at the Masters, Mickelson has been in a big rut since the beginning of March. He's made some changes to get back on track, but I just really like the way Brandt is playing lately. He's had two top-five finishes in his last four starts. Just playing better than Phil right now.
Mayo: Nino Bertasio (-130) over Chris Wood (Sportsbook) — Bert makes his Open debut after earning one of the final three spots at the Scottish Open after some late heroics. Wood? I'm not even sure how he's in this tournament. Maybe his solid Open track record will prevail, but things haven't been good for the Brit in some time. Since finishing T-12 at the 2018 Portugal Masters last September, Wood has missed eight of nine cuts and added a DQ in there. At least Bertasio has seen a Sunday in 2019. Good enough for me.
Gdula: Adam Scott (-110) over Henrik Stenson (FanDuel) — I love Stenson: He's hitting virtually every green in regulation and led in GIR at the Scottish Open, but every matchup is tight. So I'm just going with Scott, who I'd be willing to back outright. Scott is fourth in the field in adjusted stroke average in 2019 and has three top-10 finishes at the past four majors. He also has four top 25s at the past five Open Championships. More importantly to me, Scott ranks 8th in strokes gained/tee-to-green over the past 100 rounds on the PGA Tour.
Riccio: Francesco Molinari (-105) over Tommy Fleetwood (Bovada) — Where is the respect for Molinari? Fleetwood has missed the cut in three of his past five Open Championships. Molinari, the defending Open champion, looked invisible until the 12th hole at the Masters. The oddsmakers are outweighing his recent result compared to his history in majors the past two years. My model is much higher on Molinari, and the major resume doesn't hurt.
Sobel, Action Network: Marc Leishman (+110) over Paul Casey (Bovada) — Because of his propensity for playing the ball on the ground with a low-ball flight, which also neutralizes any wind impact, I always like Leishman on links courses—and he's proven himself lately, with three top-six finishes at this event in the past five years. Casey often gets lumped in with other Englishmen who succeed in these conditions, but he's a high-ball hitting Americanized version of a player from over there.
Golf Digest editors: Marc Leishman +115 over Sergio Garcia (BOOK) — Are we taking crazy pills looking at this line? The same Sergio who basically wrote himself off after shooting a 69 at Pebble? Sure, he did just finish seventh in an event hosted by his own foundation, but prior to that he'd missed four of six cuts. Leishman T-6 or better in three of his last five Opens. He's made 12 of 14 cuts in 2019, and a 13th might be all he needs to beat Sergio in this matchup.
Aldrick, FanShare Sports: Jon Rahm (-150) over Tiger Woods (Bovada) — Rahm looks ready to finally make an impact at the Open Championship. His victory at the Irish Open along with his third-place at the US Open suggests he is ready to overpower Royal Portrush with his aggressive play.
(Matchup results last week: Action Network: 1 for 1 (Kyle Stanley (-105) over Zach Johnson); FanShare Sports: 1 for 1 (Joaquin Niemann (-110) over Matthew Wolff); GD Editors: 0 for 1; Gdula: 0 for 1; Mayo: 0 for 1; PGA Tour Caddie: 0 for 1.
(Matchup results for the year: Action Network guest picker: 9 for 10; GD Editors: 16 wins, 9 losses, two pushes; Riccio: 13-11; PGA Tour Caddie: 15-12; FanShare Sports: 1 for 1; Mayo: 10-13-2; Gdula: 10-14-2.)
2019 British Open picks: Top 10 (odds from Bovada)
PGA Tour Caddie: Graeme McDowell (+600) — Graeme isn't just the sentimental pick for me—he can really excel here. He knows Royal Portrush as well as anyone, he is a former major winner (2010 U.S. Open at Pebble Beach) and he's shown some form this season (win in the Dominican Republic, and that 30-footer he made on the 72nd hole at the RBC Canadian Open just to get into this week).
Mayo: Marc Leishman (+500) — Leishman has gained strokes on the greens in three straight starts, which has been a weakness earlier this season. He's made five cuts in a row at The Open, with three top-six finishes over that span, and enters having gained strokes on his approaches in 12 of his 13 events in 2019.
Gdula: Webb Simpson (+550) — Simpson has had a long layoff, not playing since the U.S. Open. However, over the past two years of majors (so the past eight major events), his worst finish has been 33rd at the 2017 PGA. He owns three top-12 finishes and six top-20 finishes in his past seven majors. Simpson grades out 14th in adjusted stroke average in 2019, per my data, and he's 20th in strokes gained/approach over the past 100 rounds on the PGA Tour, via FantasyNational.
Riccio: Chez Reavie (+1100) — The oddsmakers are giving us a discount based on the lack of name recognition with Reavie. The guy has finished in the top 15 in his past two majors and followed that up with a win at the Travelers. Pebble Beach required precision off the tee and into the greens, which is exactly what will be required at Royal Portrush. These are extremely high odds for someone who seems to be taking a jump in class. We'll take advantage.
Sobel, Action Network: Xander Schauffele (+225) — Through 10 career major starts, Schauffele has finished top 10 in half of 'em. Now I'm no math whiz, but I sorta feel like those numbers are somewhere in the neighborhood of 1-in-2 and the odds of it happening yet again should probably be listed at, oh, right about even-money. Instead, X-man has plenty of value in betting him for a top 10. He's like a miniaturized version of Koepka, one who saves his best golf for the four majors each year.
Golf Digest editors: Rory Sabbatini (20-1) — If the weather will affect things, get behind Sabbatini. He's currently seventh in this field in strokes gained/around the greens, which could be vital if it gets windy. Sabbatini has four top-10s since April, including a third-place at the Rocket Mortgage. His consistency could pay off on a huge stage and reward this HUGE top-10 number.
Aldrick, FanShare Sports: Benjamin Herbert (+2000) — The Frenchman is becoming somewhat of a links-style course specialist. In finishing second last week at the Scottish Open, he hit 86.1-percent of greens in regulation, finishing the week ranked fifth. The week before at the Irish Open he also finished the week ranked fifth for greens in regulation. His form is very good, with three top-7 finishes in his last nine events.
(Top-10 results last week: GD Editors hit Vaughn Taylor at 7-1 odds; Everyone else: 0 for 1)
(Top-10 results for the year: Action Network: 3 out of 8 (+196, +800, +1000 hits); Mayo: 8 for 25; GD Editors: 7 for 24; Gdula: 5 for 24; Riccio: 5 for 24; PGA Tour Caddie: 6 for 25; FanShare: 0 for 1.)
Mayo: I'm finished being a sucker. I'm taking Brooks this time. Optimal conditions, super gusts, doesn't matter; he may not win the claret jug, but he'll be there at the end. I'm not finished being a sucker on JT and his ball-striking however. While winners at the British Open tend to screw older, the value on Thomas entering the year's final Major is too rich to pass on. Be it in the DraftKings pricing or in the betting markets, Thomas' wrist injury his playing a YUGE factor in his price point and odds. However, since returning from said first injury at The Memorial, it's been the putting, not driving or irons that have been the problem. The injury occurred at the Honda Classic in March, and in the six PGA starts he made after, he lost strokes on the greens in every single one; culminating with a hilarious -7.6 strokes gained/putting performance at the Travelers Championship before heading overseas. It is worth noting, despite dropping almost eight strokes with his putter to the field, he still came T36. Last week at the Scottish Open, JT looked a lot better on the greens. He still wasn't good, but it wasn't a complete disaster either. Like Stenson, despite a poor putting performance, he was still good enough with his ball striking to managed a top-10 finish. If he can keep up his elite performance tee-to-green, the world's premiere Par 4 player should only need a slightly better than average performance on the greens to contend at Portrush. Jazz man! He's cheap, already popped in a Major this year, and rolls into Portrush with four top-five finishes in his past five starts. Yes, on the Japanese and Asian Tours, but this the No. 53 ranked player in the world, and he's one of the lowest priced players in the field. It's value, and it allows you to squeeze a bunch of elite, expensive talent on to your roster.
Brooks Koepka ($11,400); Justin Thomas ($9,100); Henrik Stenson ($8,400); Rafa Cabrera Bello ($7,500); Jazz Janewattananond ($6,600)
Riccio: There is some serious young firepower at the top end of this lineup build. My model identifies these top four players as all being in my top six for most likely to win this week, so you have great win equity with all of them. Thomas' value is particularly intriguing. You're relying a bit on Zach Johnson and Joaquin Niemann to come through. Niemann has been in great form—albeit on mostly American, bomb-and-gouge courses, but that form shouldn't disappear. And we're willing to bank on a made cut for Zach Johnson, who has done so in his last 12 appearances.
Rickie Fowler ($9,300); Justin Thomas ($9,100); Jordan Spieth ($8,900); Jason Day ($8,600); Zach Johnson ($7,200); Joaquin Niemann ($6,900).
Golf Digest Editors: We toyed with a lineup that had Rory and Adam Hadwin instead of Xander and Rafa, and we think we prefer the more balanced approach here. You're taking a risk by not having Rory, him being the overwhelming favorite. But in the below lineup, we could see any of our top four players winning, with Rafa and Van Rooyen being strong top-20 candidates. That sounds like a lineup that will cash.
Xander Schuaffele ($9,500); Patrick Cantlay ($9,000); Adam Scott ($8,800); Matt Wallace ($8,100); Rafa Cabrera Bello ($7,500); Erik Van Rooyen ($7,100).
Aldrick, FanShare Sports: Jon Rahm ($10,600), Justin Thomas ($9,100), Henrik Stenson ($8,400), Tyrrell Hatton ($7,400), Haotong Li ($7,300), Andy Sullivan ($7,000).
FanShare Sports Under the Radar Pick of the Week: Justin Thomas ($9,100 on DraftKings; $10,700 on FanDuel) — Thomas is currently ranked as just the 19th most tagged golfer this week, surprising given how well his stats rate out. There are golfers all round his price that have been talked up much more. Therefore we expect his ownership to be a lot lower than what it probably should be. Looking at our FanShare Pro research tool, we can see that Thomas ranks 14th in the field this week for DraftKings points gained on long links courses. He also ranks ninth for average birdies on similar course setups. Following a fantastic start to the season, the 2017 PGA Championship winner picked up an injury that set him back for a few months. His ninth-place finish last week at the Scottish Open suggests this injury is now behind him. Rounds of 64 and 65 last week will mean the nine-time PGA Tour event winner will be arriving in County Antrim brimming with confidence.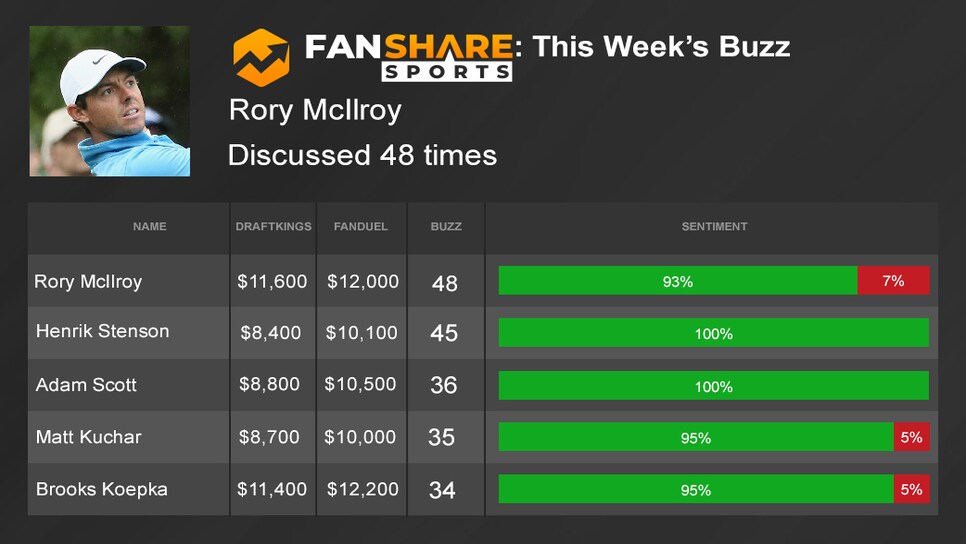 Gdula: I'm focusing my lineups around Brooks Koepka ($12,200), rostering one of the most expensive options and from there, I'll be relying on a second-tier stud such as Xander Schauffele ($11,000), Patrick Cantlay ($10,800), and Adam Scott ($10,500). The middle tier is loaded with big names at a discount, and some sub-$9,000 options stand out to me: Erik Van Rooyen ($8,600) and Jim Furyk ($8,600).
Riccio: DJ, Rickie and JT are three of the top four guys in my model this week, so I love the top half of this construction. I think the value of Tony Finau is strong, too, as you're getting a huge discount compared to the other players around him (consider that Phil Mickelson, who most people are down on this week, is the same price).
Dustin Johnson ($11,900); Rickie Fowler ($11,100); Justin Thomas ($10,700); Tony Finau ($9,800); Joaquin Niemann ($8,900); Stewart Cink ($7,600).
GD Editors: We couldn't love the top half of this lineup more. You have four strong contenders at the top, and with Van Rooyen, you have a player who has made a jump in class, but price-wise, there's slight value. Joost Luiten is also a good pick to make the cut, playing great on the European Tour this year, and making the cut at the 2012 Irish Open when it was held at Portrush.
Rory McIlroy ($12,000); Xander Schauffele ($11,000); Adam Scott ($10,500); Matt Kuchar ($10,000); Erik Van Rooyen ($8,600); Joost Luiten ($7,900).
Dr. Lou Riccio, a PhD senior lecturer, teaches rational decision making at Columbia's Graduate School of Business and has served on the USGA's handicap research team for three decades. His predictive analysis and modeling helps him make expert picks for our column.
Pat Mayo is known as one of the pre-eminent experts in daily-fantasy sports and golf handicapping specifically. Mayo is a 17-time fantasy sports-writers association finalist, the most of any writer this decade, and Mayo won the 2019 Fantasy Sports Writing Association Daily Fantasy Writer of the Year and Podcast of the Year awards, along with the Fantasy Sports Trade Association Best Video award. Mayo is on the board of governors at www.fantasynational.com. Here's a link to watch his complete DraftKings preview of the Valspar Championship.
Brandon Gdula, a senior editor and analyst for NumberFire, a FanDuel daily-fantasy analysis company, recently won the 2018 fantasy sports-writers association Golf Writer of the Year (congrats, Brandon!). Gdula also co-hosts the DFS Heat Check podcast.