The Loop
How To Bet On Golf Legally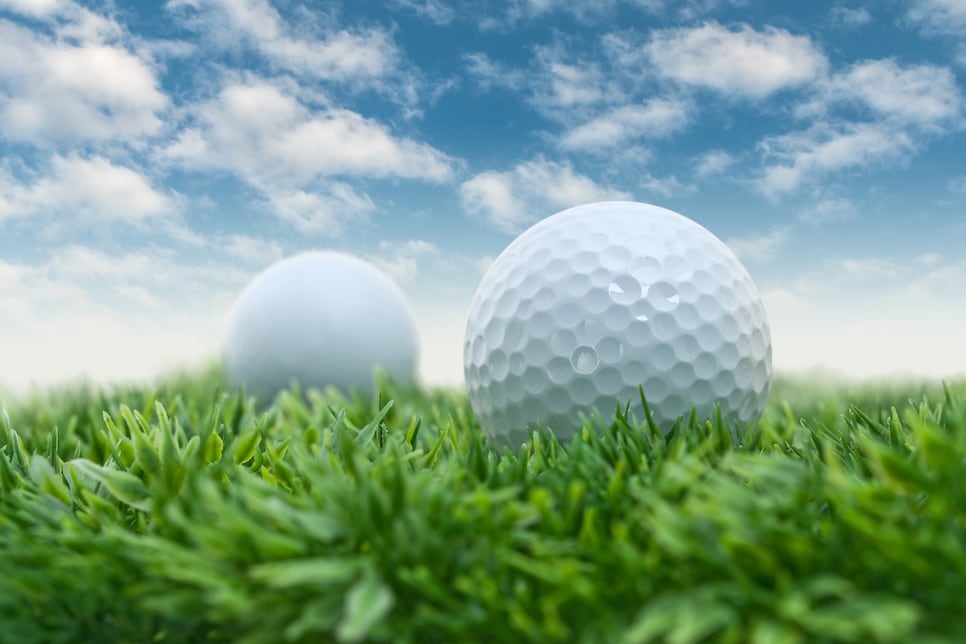 For most casual golf fans, betting on golf has likely meant putting down a few dollars during a match on the golf course, or perhaps a few dollars in a pool for the majors. That might be changing dramatically for Americans over the next few years.
When the Supreme Court ruled in May to reverse a federal law that prohibited sports gambling, it opened the door for golfers in the United States to stop talking about betting on golf in hushed tones. European and Las Vegas bettors have always had the convenience of using casinos to put down their golf bets, but there are already a handful of states that have joined Nevada in launching fully operating sportsbooks—Delaware, New Jersey, Mississippi and West Virginia. What does that mean? Wagers can be thrown down on PGA Tour, European Tour, LPGA Tour and PGA Tour Champions events. Heck, in New Jersey on the DraftKings app, live betting is available—so you can bet on every hole, shot by shot, as the action progresses.
For those who haven't dabbled in betting on golf before, here's everything you need to know.
So how can I bet on golf legally?
Well, first you have to be in the right state, or at least have a friend in the right state. As mentioned above, Delaware, New Jersey, Mississippi and West Virginia now have fully operational sportsbooks at casinos in their states. Delaware was the first state to accept a bet in a state-regulated book. New Jersey has followed suit with a half dozen sportsbooks, and the state was the first non-Vegas state to allow for online wagering. DraftKings and FanDuel launched its sportsbook apps in New Jersey in August.
Other states have approved legislation to allow for casinos to apply for sports-betting licenses. Pennsylvania appears to be very close, with three casinos having applied for licenses at the end of September. New York will be the next biggest state; legislation that would've allowed the state to push through gambling regulations did not pass in June 2018, so the vote is expected to come back up in early 2019. Rhode Island has signed a law that will allow two casinos in the state to accept in-person bets, but the law does not include mobile betting. There are 18 other states that have taken some steps toward legalization, but they are still a year or two away from it being legal.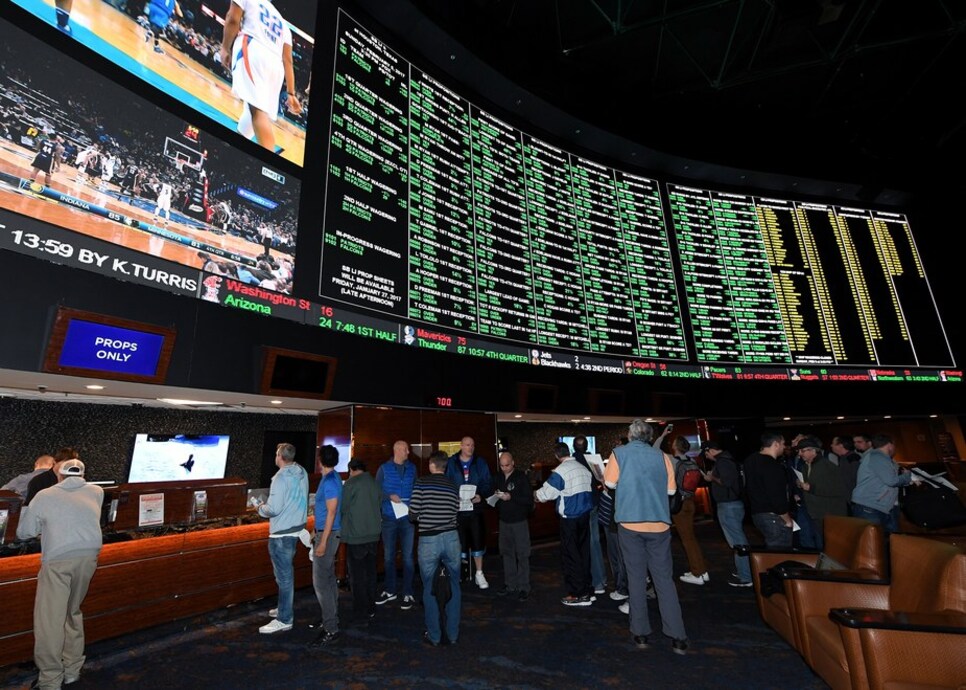 How's betting on golf different than other sports?
You can't predict the lucky bounce or improbable play swinging the outcome of any sport. That's what makes wagering on sports a dangerous game. But as any golfer knows, our sport is even more subject to those unlucky or lucky bounces. A golfer might hit a perfect shot that hits the flagstick and ricochets into the water, when it could've went in the hole—ahem, Tiger Woods at the Masters in 2013. So if you're gambling on golf, you must be willing to accept the really unfortunate breaks that could cost you a bet. Then again, odds are you'll have a really lucky break that cancels out the unlucky break.
Due to the individual nature of golf, there are way more individual bets to be made compared to other sports (scroll down).
What do all the odds mean?
The most basic odds to understand in golf are when you bet on the winner of a tournament. This is where you'll get the most bang for your buck, because the odds for the favorites for each tournament would be considered long-shot odds in most other sports. For example:
Jordan Spieth and Tiger Woods are the two favorites to win the 2019 Masters at +1000. A $10 bet on Spieth or Tiger to win would win you $100 if either won, plus the $10 you bet for a payout of $110. A $100 bet would win you $1,000 if either won. Betting $10 on a huge long shot like Xander Schauffele at +7500 to win would win you $750, plus the $10 for a payout of $760. A $100 bet on Schauffele wins you $7,500, plus your $100 back for a total of $7,600. And so on.
For matchup bets, the odds are more similar to those you'd find in sports like football. For example, if Joaquin Niemann is -140 to finish higher than Phil Mickelson at +120, a $100 bet on Niemann wins you $71.43, plus the $100 you bet for a total payout of $171.43. Betting $100 on Mickelson to win could win you $120, plus your $100 back for a total of $220. Mickelson may be the enticing play, but the odds imply that Niemann is a solid favorite to beat him.
What are the various bets and what do they mean?
Consider this a glossary to all the unusual betting-on-golf parlance.
Each-way bet: More common in Europe, this bet is a double bet of sorts: You're wagering that a golfer, in this case, wins the event and also finishes high. This means you're putting down double the amount it says—kind of like an exacta or trifecta in horse racing.
Example: If you put a $10 each-way bet on Brooks Koepka, you would be putting up $20 of your money. $10 is on Koepka to win the event, and $10 is on his finish. Most each-way bets pay out on a top-five bet, although top-six bets are also common. Make sure you find out from the sportsbook you're at which place pays out on their each-way bet.
First-round leader: This is pretty self-explanatory. Before a tournament, there will be odds on players to finish the first round as a first-round leader. The odds on this are usually very high, as it's not only unpredictable, but the variance in just one round is high. That being said, if you know a particular player excels on Thursdays, this could be a good bet.
Sportsbooks will also usually release new odds on second-, third- and fourth-round leaders after the day of play is over. These are separate bets from who will win a tournament.
Odds to win: Also self-explanatory. These are the biggest odds for a week, and for good reason. You have to nail the winner outright. Most golf fans know how often tournaments go into playoffs nowadays. It doesn't matter if your guy is in a playoff and loses—you lose, too. Of course, you might hedge your bet to make sure you still win ...
Hedging a Bet in Golf: This can be a very useful strategy if you had bet on a player before a tournament starts. Let's say a guy that you bet to win is in the lead going into Saturday or Sunday, and you've got deep odds on him to win (40-1, 50-1, etc.). You're thinking about your potentially huge payday. What you should be thinking about is how to hedge your bet to ensure you walk away with some money at the end of the tournament. If your player is leading by a couple strokes, the hedging strategy would be to bet on the live odds of other players within earshot of the lead, in case your guy struggles. Consider your hedge equity (how much you're likely to win, versus the odds of it actually happening), and bet accordingly.
Matchups: This is another one to be careful on. Most sportsbooks will realize matchups for both tournament head-to-head bets and individual round bets. Make sure you're clear on which one you're wagering. We've messed this up before.
What's the difference between betting on a matchup for a tournament versus the round?
Before a tournament begins you will have the opportunity to bet on one player to finish higher that week than another player, i.e. Niemann over Mickelson. This is a bet for the full tournament, a distinction you must know when betting it because there are also round-by-round matchups. Wherever you place your bets should have this labeled for you. For example, a first round matchup would say "1st Round - Tiger Woods (-150) vs. Adam Hadwin (+130)" You can make these bets in every round, and often they will be between players who are playing with each other that particular day. By contrast, a full tournament bet could be between any two players in the field.
When you say "live betting" on golf, what exactly are you talking about?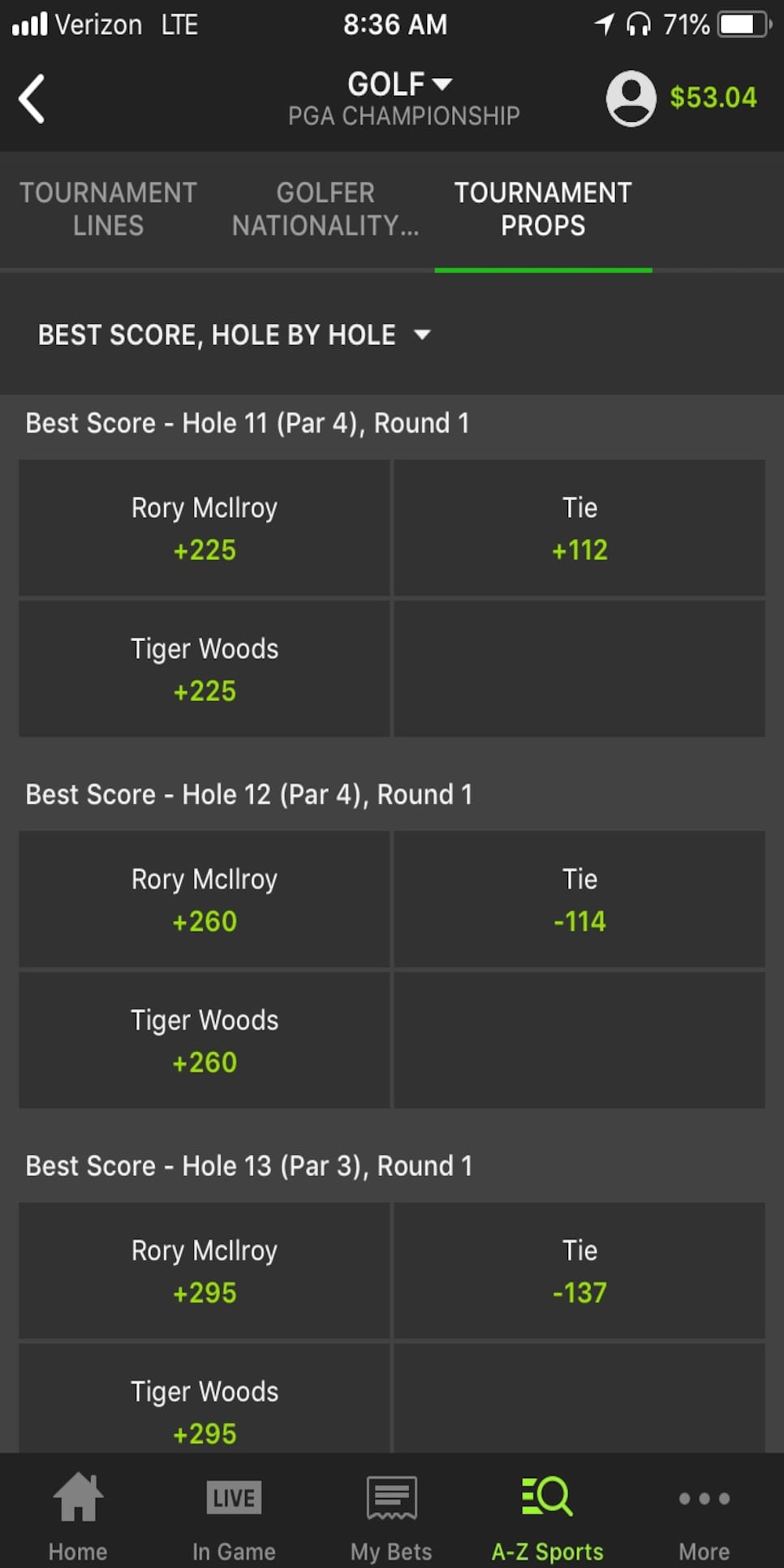 Live betting on golf can be both extremely fun and also extremely dangerous, although as long as you don't bet over your head, it can be a quick way to win. The most basic form of a live bet on golf is betting on a winner during the final round on Sunday. With all the jockeying for position that can go on, you can get good odds on a guy maybe only one or two shots back with a lot of holes left to win. For example, if Justin Rose is leading at 16 under on the eighth hole of the final round, but a few guys are close behind, he'll still be the favorite, but his odds will still be decent value at, say, +400. But maybe Jordan Spieth is climbing the board at 14 under, but he's already on the 12th hole, so with less holes to play and some ground to still make up, you could get Spieth at +1200 to win the tournament.
There's also live hole-by-hole betting during each round. This will be a bet where you can choose between two players playing in the same group, betting on one to beat the other on a certain hole. For example, while Bryson DeChambeau and Justin Thomas are on the fifth hole, there will be odds on each player to beat the other on the sixth hole available. These are usually good, but risky, because DeChambeau could be +330 and Thomas +250, but there is also a bet on them to tie the hole available. Since a tie is most likely to happen, that's usually the favored bet at say +125 or +130, or even -105, depending on the hole.
You can also bet on a player's score each hole. Say Dustin Johnson has a par 5 coming up, his over/under will be 4.5, and with his length, the under (a birdie or eagle) will be the favored bet while the over (a par or bogey) would be the underdog bet.
What are the best bets to make for golf?
Betting outright winners is a dangerous game. Like we said above, golf is so unpredictable. But an even bigger point is how deep of a talent pool there is on the PGA Tour. On a given week, almost every golfer in the field has a decent chance to win. That might not be the case on other tours like the LPGA Tour, where current form and course history holds more often—and there is a bigger talent gap between the elite players in the world and lower players in a field. So you'll hit less of your "odds to win" bets on the PGA Tour, given that talent pool, but betting on one golfer over another in a matchup is more likely to pay out for you.
Matchups are a great chance to utilize your golf knowledge to win some money. Knowing what type of game performs well at a given course, how injuries might be affecting a golfer, how the weather forecast might affect a particular draw are all factors that perhaps you know something that could give you an edge on a sportsbook algorithm.