The Loop
What does legalized sports gambling mean for golf fans? 7 key questions answered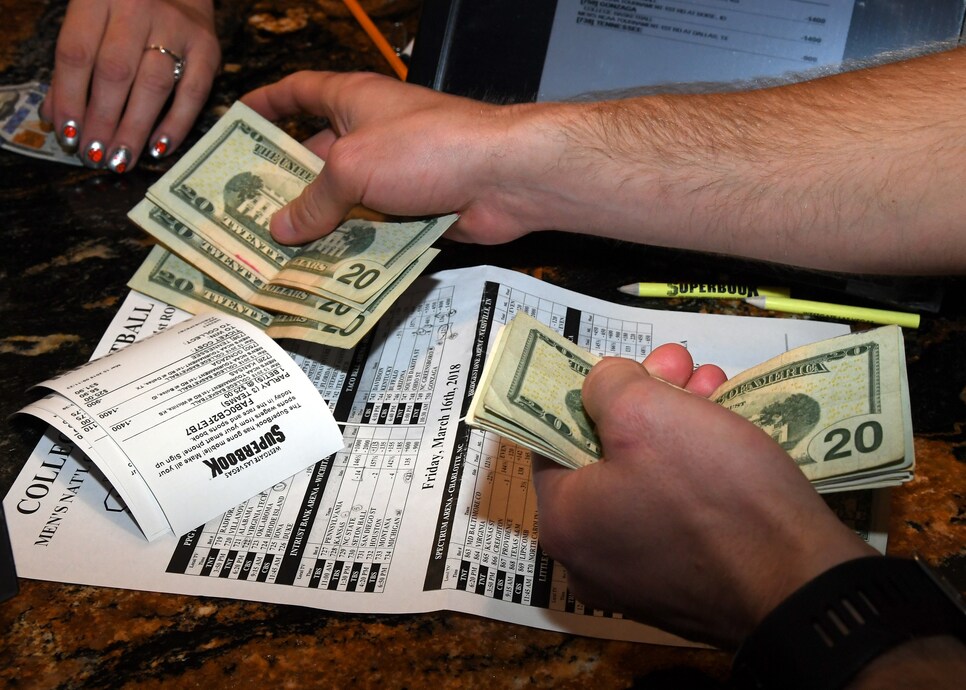 It's possible the Supreme Court has never made a more popular decision than it did Monday morning when the nine most powerful judges in the land ruled (Well, six of them, that is) to strike down a federal law prohibiting sports gambling. But before you start cashing out all your retirement accounts in order to bet on next month's U.S. Open (FYI, Tiger Woods is still listed at 20-to-1 odds), let's get a few things straight.
What does this ruling mean in general?
Prior to the decision, Nevada was the only state in which you could bet on the outcome of a single game. Seems unfair, right?! But with the pesky Professional and Amateur Sports Protection Act out of the way, each state will be allowed to determine whether gambling is allowed within its borders. States rights, baby! No more BIG GOVERNMENT getting in the way of you betting on the under in the Ivy League women's basketball games anymore! Well, unless your state decides not to legalize gambling. In which case, your state sucks.
What does this ruling mean if I'm interested in betting in golf?
Good news! You might be able to start doing it legally pretty soon. Here's a helpful breakdown by ESPN showing how close individual states are to actually offering sports bets. In most cases, this is probably going to take awhile to get set up. Unless you move to New Jersey, the state which spearheaded this righteous movement and where they've been preparing to become the Vegas of the East Coast for years. But then you'd be moving to New Jersey, so. . .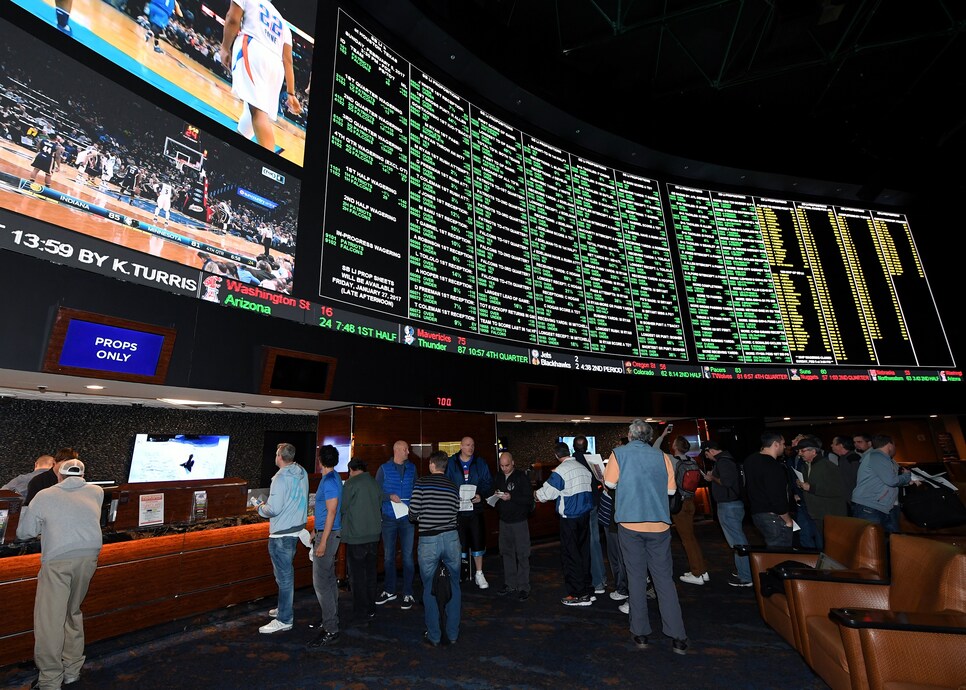 What does this mean if I already bet on golf?
First of all, you're a degenerate. Kidding! Let he/she who hasn't made an illegal wager in the past year month week cast the first betting slip. But even if you already bet through an off-shore account or a shady bookie, this is good news. With more competition eventually being out there, you will be able to find fairer/better tournament odds. Hooray for capitalism! And you won't have to deal with that shady bookie anymore. Hooray for your kneecaps! You will, however, have to figure out how to tell him you're taking your business elsewhere. On second thought, watch your kneecaps.
What does this mean if I don't give a S#!@ about betting on golf?
Nothing. But as an American, you should be proud of our checks-and-balances democracy at work with the Supreme Court taking a huge step toward granting gambling rights to all citizens. And this stuff goes on all the time already, so why wouldn't you want your state to get involved and take a cut? Those potholes don't fix themselves. Seriously, the Founding Fathers were pretty cool and all, but not mentioning three-team parlays in the Constitution was a big omission.
What kind of golf bets will be offered?
Typically, sports books offer two kinds of bets for each tournament. You can either bet on the winner or bet the outcome of a specific matchup. Obviously, the matchup bets are a lot easier to win, but I can tell you that picking a winner like I did when I was in Vegas this past fall and I plunked $20 down on Patrick Cantlay at the Shriners Open is pretty darn sweet. At bigger events, there are also prop bets like "Will a certain player hit it in the water on No. 12 at the Masters?" or "Who will the winner hug first?" And when Tiger Woods plays, there's usually a separate list of wagers as well. If you see a "Will Tiger Woods hug Brandel Chamblee?" bet, though, it's probably best to stay away no matter how tempting the odds are.
In the UK, there's also the "each/way" bet, where typically you bet on a player to finish in the top 5-6-7 in addition to him/her winning with a payout of about one-fourth of the player's winning odds. These bets are really fun. Until you have a guy playing in the second-to-last group at the Open on Sunday crap the bed and finish T-9 (Thanks, Bill Haas).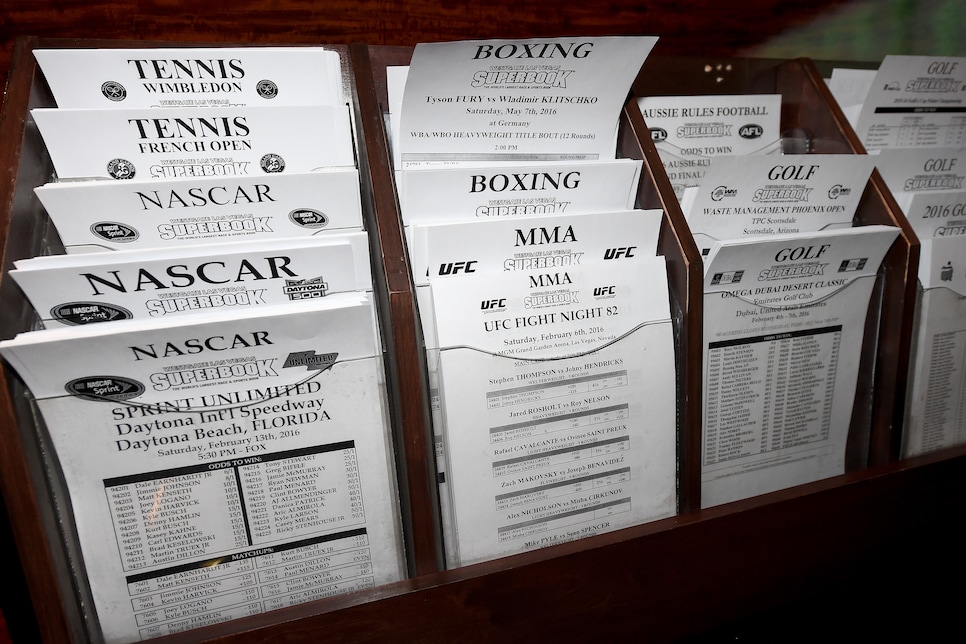 What about Daily Fantasy Sites?
These shifty sites that had found a loophole in the sports gambling scene by arguing it was a game of skill will still probably offer the same games for both golf and other sports. However, as soon as the Supreme Court's decision was made public, DraftKings announced plans to offer wagers on game outcomes and point totals. In other words, playing daily fantasy could become a gateway drug into more serious gambling. Be smart, people. If you've got little Betty Sue's college fund invested in the outcome of the NFL's Pro Bowl, you need to rein it in.
How does the PGA Tour feel about this?
They're on board. And they (smartly) want a piece of the action.
"You have keep in mind that betting is happening right now, with illegal black markets and offshore betting, and we don't have any exposure to what is happening," PGA Tour commissioner Jay Monahan told USA Today in April. "If it's legalized and regulated, you get to a point where you can better ensure the integrity of your competitions. You can provide adequate protection for consumers, which doesn't exist today. There are commercial opportunities for us, which is one of the things we're here to do, which is to create and maximize playing and financial opportunities for our players."
The ol' "If you can't beat them, join them" argument. And to that end, the tour will be seeking an "integrity fee" (READ: TAX) of 1 percent. Savvy move. Monahan also believes being able to gamble on golf will allow his sport to reach "a broader audience" each week. And as someone who watched wall-to-wall coverage of the freakin' Shriners Open final round because I had a few bucks on the line, I'm not inclined to argue.