Open Champonship 2021
British Open 2021: Contending in majors is like riding a tractor for Louis Oosthuizen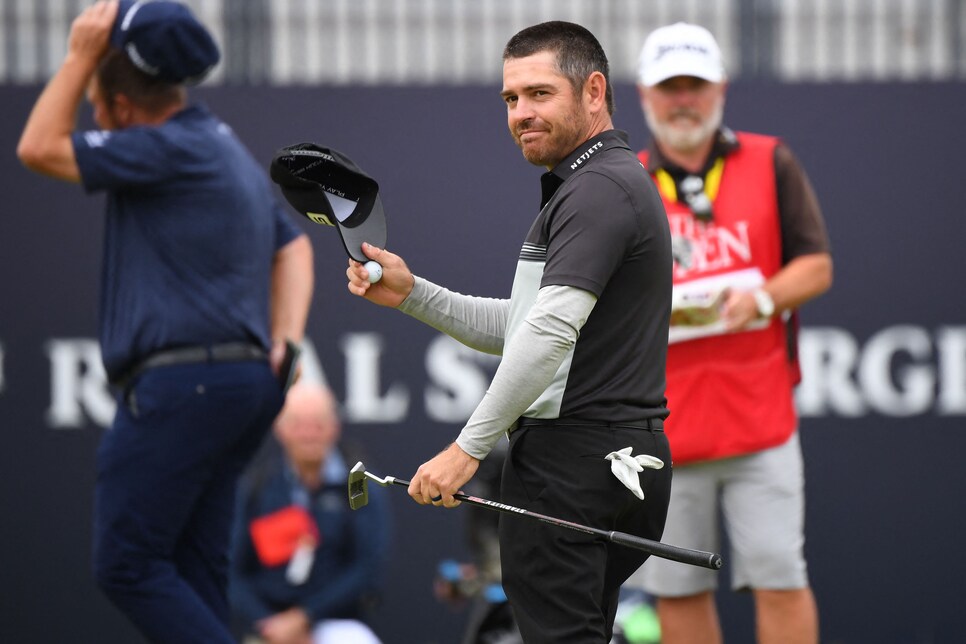 Louis Oosthuizen reacts on the 18th green after his first round 64 on day one of The 149th British Open.
ANDY BUCHANAN
SANDWICH, England—Here he comes again. Runner-up at the PGA Championship and the U.S. Open already this year, Lodewicus Theodorus Oosthuizen—better known as "Louis"—is back on the leader board at a major championship. This time and at least for the moment he is right at the top, too. Bogey-free, the 38-year-old South African strolled round Royal St. George's in a nifty six-under-par 64 to claim the early lead in the 149th Open Championship.
All of which is nothing new to Oosthuizen. Winner by seven shots in the 138th edition of golf's oldest major at St. Andrews back in 2010, he knows exactly how to run from the front. Maybe the only thing new about all of the above is that the man who has been runner-up in all four of golf's most important events shot the score he did with just about everyone paying attention. No more under the radar stuff for golf's most famous farmer.
Indeed, the game that has been his professional life has never been everything to this father of three young girls. Just after he won that Open at the Home of Golf he splashed some cash. And what did he buy? A new tractor.
"Being a farm boy, it was one of my big dreams and I bought myself a nice John Deere tractor for my farm back in South Africa," said the then-27-year-old. "John Deere is very close to my heart. It's for me to drive around on and I made sure there was enough space for my little daughter Jana to sit beside me. We're going to have a lot of fun."
That has always been Oosthuizen's way, of course. While he owns what is perhaps the most-admired swing amongst the inhabitants of the game's upper-class—swing coach Pete Cowen calls it "like watching a virtuoso play music"—he has never yearned for attention. Oosthuizen's soft-spoken manner and innate modesty off the course contribute to that relative anonymity. He is not one to toot any musical instrument, never mind a trumpet. But life out of the limelight, as much as that is possible for someone who has played so well so often at the highest level—he has seven top-three finishes in majors, apart from his lone victory—has forever been his way.
Still, there was no disguising Oosthuizen's pleasure at the end of a round in which he left playing partners Jon Rahm ((71) and defending champion Shane Lowry (71) trailing by seven shots. He even went as far as to label his performance "in my mind the perfect round I could have played." Which is accurate. Standing on the eighth after seven straight pars, the former South African Open champion rattled off six birdies in the next nine holes, before closing with a brace of pars. Even the last of those was notable. After driving into sand, Oosthuizen blasted out then got up-and-down from 80 yards to preserve the cleanliness of his card.
"I didn't make many mistakes," her said. "When I had good opportunities for birdie, I made the putts. So just a very good, solid round. On this course it's all about hitting the fairway. You're not going to be able to do much from the rough here, or the fairway bunkers. Driving the ball good is key. If you aren't comfortable with a driver around this course, then don't be scared laying further back, as long as you can get in the fairway."
So far, so good then. But Oosthuizen would be less than human if past disappointments were not already circling his psyche. Being so close so often to a second major win has to have left a little scar tissue, even on one so outwardly composed. Then again, maybe not. In response to questioning along those lines, he was resolute.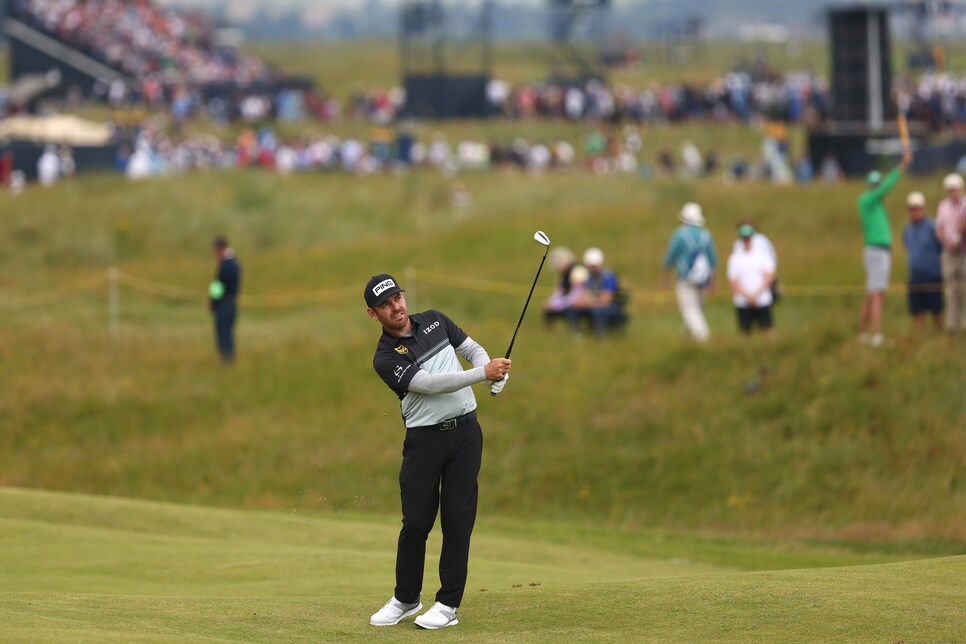 Louis Oosthuizen plays his second shot on the 10th hole during Day One of The 149th Open.
Charlie Crowhurst/R&A
"It gives me confidence going into majors knowing that I'm still competing well in them, and I've still got chances of winning," he said. "Once the week starts, I need to get that out of my mind and just focus on every round and every shot. But it definitely puts me in a better frame of mind going into the week. Getting over a narrow defeat depends on if you lost it or someone else beat you.
"At both the PGA and the U.S. Open I was beaten by better golf at the end," he continued. "But yes, it takes a little while to get over. You have to do it quickly though, otherwise it's going to hold you back to perform again. I try to take a few days off and just try and forget about it and see if I can get myself ready for the next one. Ideally, I like to spend time on the farm with the family, with the kids, and just get my head away from golf completely. I'm always on the tractor. I don't need to play good or bad to be on the tractor."
More specifically, much of Oosthuizen's brilliant form has been attributed to a big improvement in his putting. Going into this week he was leading the strokes-gained category on the greens, a huge difference between the mediocrity that so dominated years past. In explaining that welcome development, Oosthuizen identified an improved pre-putt routine and a determination to stick with the Ping Voss putter that currently occupies his bag. All a big change from the time when a new putter was almost a weekly occurrence.
"I have a bag of them [putters] at home that maybe needs to be thrown in the river," he said with a smile. "I went through a stage where I changed a lot of putters. I realized quickly that's no way to find any consistency. Going through all of that and sticking with it has really helped me a lot."
MORE BRITISH OPEN 2021 STORIES FROM GOLF DIGEST: