KIAWAH ISLAND, S.C — The indifference began on the first tee. His playing partner, Louis Oosthuizen, had hit his opening drive, so now here he was, peering through sunglasses, driver in his left hand and ball in his right as he waited to be introduced …
and waited some more, until finally he and Oosthuizen turned to the starter, with the player in question shrugging his shoulders to say, "What gives?"
"On the tee," the starter mumbled, "from Wheaton, Illinois ... Kevin Streelman!"
Streelman gave a slight nod to polite applause, took a practice swing and sent a 3-wood flying into the Carolina skies. It seemed like an honest mistake from the starter and one forgiven with a perfect drive, but as he departed the tee box the implication was clear: Kevin Streelman was on the verge of a life-changing moment at the PGA Championship … and no one was pulling for him to do it.
Sports fans love underdogs, and few fit that profile in professional golf like Streelman. He was the third man on a mediocre Duke golf team. He put 200,000 miles on his mom's Nissan Altima (which had a rod in the back seat that served as a de facto coat hanger) traversing the Dakotas Tour. He applied for an assistant coaching job at his alma mater … and was turned down. He was a legend on mini-tour circuits like the Hooters and Gateway Tours but had to supplement that income by caddieing at Whisper Rock, the Scottsdale course that's become a PGA Tour player refuge. He had to birdie four of the final four holes just to make it to the second stage of Q-School.
Wait, that's not all! When Streelman finally made it to the PGA Tour, it took him 153 starts before his first victory at age 34. He eventually returned to Whisper Rock as a member and won its club championship. He's hung around the tour now for 14 full seasons and earned more than $22 million despite looking like the dad in charge of the neighborhood cookout. So entering Sunday at Kiawah Island's Ocean Course in the penultimate group against the likes of Phil Mickelson, Brooks Koepka and Oosthuizen, you better believe Streelman had his slingshot in tow, ready to play the role of David.
One problem. Unlike its sporting brethren, Golf loves Goliaths. And boy, does it despise Davids.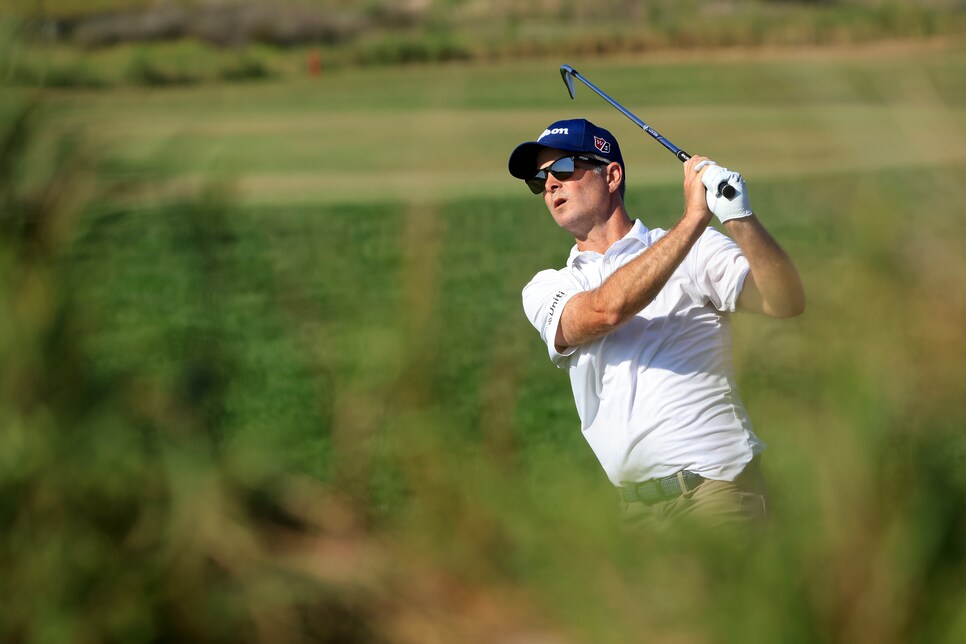 While other games run off upsets, this one often lives in fear of them. Especially when it comes to majors. For some reason, there isn't a huge appetite for journeymen or the rank-and-file. Fans, the governing bodies and definitely the media want to see the biggest names capture the biggest tournaments. It's not that folks are antagonistic; save for those three days at the Ryder Cup, golf crowds do not emit hostility. So they mask it in aggressive apathy. To those that doubt that sentiment—that, no, golf does like the little guys—we present recent major cases like Bob May, Rocco Mediate, Y.E. Yang and Stewart Cink.
On Sunday at Kiawah Island that meant Mickelson was the rooting interest by miles. If not Phil, Koepka would be a nice consolation prize, Oosthuizen a notch below. There was even hope for a magical run by Bryson DeChambeau or Jordan Spieth. Streelman? If he got lost on his way to his tee time, a search party would not have been convened.
Yet there Streelman was, rolling balls in the shadow of the Ocean Course clubhouse. If he felt the weight of what he was up against he didn't show it, in high spirits with caddie Mike Bestor. But that indifference was on display as he headed to warm-up. There's a makeshift bridge to take players from the practice green to driving range, and when the stars make the walk up the steps they are greeted with screams and catcalls of their name. "Jordan! Jordan!" … "Bring it home Bryson!" … "Do it Brooks, do it!" … "PHIL!!! PHIL!!! PHIL!!! PHIL!!!!"
But as Streelman traipsed down, there was, well, nothing, save for one, "Who is that?" from the small horde behind the range's gates.
Streelman settled in. To his left was Mickelson, to his right Koepka, but save for a small nod to Phil, Streelman kept to himself. It was a good range session, as those things go. After a few smoked drives finished off with a handful of nipped wedges, Streelman turned to Bestor. "It's time."
After the first-tee faux pas, Streelman put his approach to 11 feet. It was 11 feet he converted. His three-shot deficit to Mickelson was down to two. There was applause, strong applause, but no real cheers. Instead, most of the gallery was looking toward the approaching sand storm. There were so many fans following Phil and Brooks coming off the first that as they trampled through the waste bunkers the soil jumped to form a roaming cloud, one that would chase Streelman and Oosthuizen the rest of the round.
Back to Streelman. There was a perfect drive at the par-5 second. His approach found a greenside bunker, and he paid for it with a mouth full of sand from his third. But the third finished five feet from the pin. The putt was true. "And Streelman to half a dozen under!" echoed a radio reporter into his mic, with a round of "Woahhhss" from the crowd.
For the briefest of moments, it seemed that 42-year-old Kevin Streelman was up for the challenge. Even his bogey at the third, caused by a bad lie in the sand, reinforced this, as he was in such a bad spot he had to work like hell to keep double bogey at bay. There was a gettable birdie he missed on the fourth, but a solid two-putt from 70 feet at the fifth and a gritty 10-footer for par at the sixth. The man was hanging tough.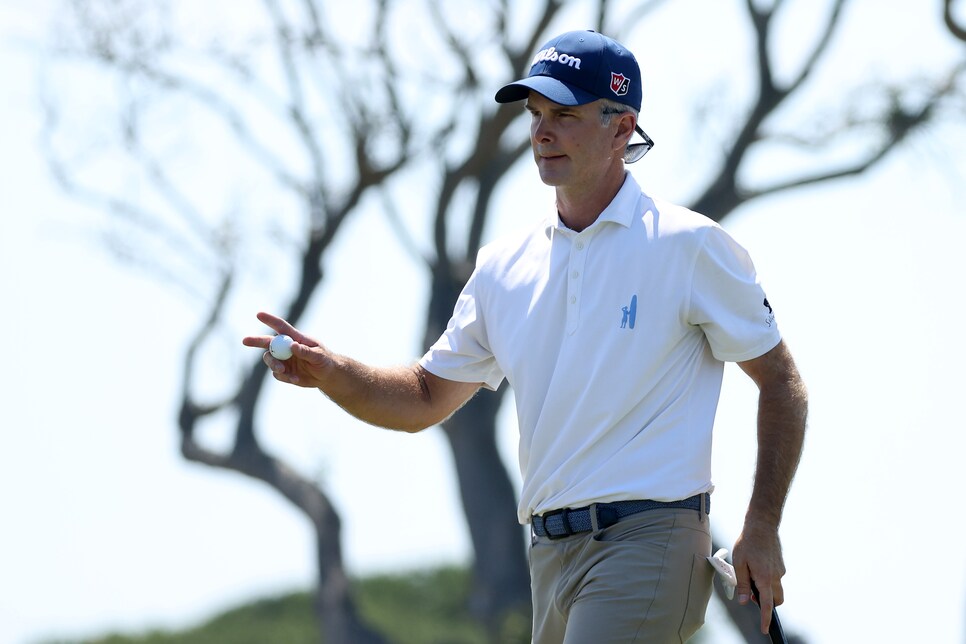 And as made his tour of the front, there was—what's the best word to use?—curiosity among those gathered. Again, golf fans are not a mean bunch. But to witness a Phil win and to a lesser degree a Brooks win would be witnessing history, and here was Streelman, trying to rob them of that pleasure. By one reporter's account there were 14 variations of Who's thats, 11 Never heard of hims, and three Phil better wins. Streelman wasn't alone. There were six family members and friends following him in Streele hats, plus a gentleman who from Holes 4 to 7 yelled "Let's go STREELS!" Believing him to be part of the Streelman clan, a reporter approached, only to discover this wasn't the case.
Did you bet on him? "I don't gamble."
He took a gulp of his water and peered towards Streelman and Oosthuizen. "I like rooting for chaos."
Unfortunately for Streelman, he could not be the architect of such chaos. He blew his approach at the par-5 seventh so far right it almost reached the second, and while his fourth was a nice chip, a pulled three-footer for par was not. Bogeys at the ninth and 10th confirmed what most fans felt was inevitable: Streelman was out of the proceeding. There were still eight holes to go and for the longest time he remained in the top four, but the championship was out of reach.
Worse, with Mickelson and Koepka also on the back, Streelman and Oosthuizen now had to endure a continually moving gallery that could not care about what was in front of them, only about what was to come.
Bogeys at the 13th and 17th and a par at the very-birdiable 16th ultimately translated to a three-over 75, good enough for a T-8 finish, five back of Mickelson. It was Streelman's first top 10 at a major, which is a not insignificant milestone. Still, even behind those shades, there was no hiding the disappointment that comes when the best shot you've ever had—and might ever get—is not to be.
Streelman did not stop by the media following his round, if only to make way for the circus that was in the rear. He did wait around the clubhouse to congratulate Mickelson. As David went one way and Goliath the other, a roar of "PHIL, PHIL!" could be heard in the distance. The fans had gotten their wish.