FIRE PIT COLLECTIVE
U.S. Open 2023: Golf has never had a higher level of distraction than it does right now
Editor's Note: This article first appeared in Fire Pit Collective, a Golf Digest content partner.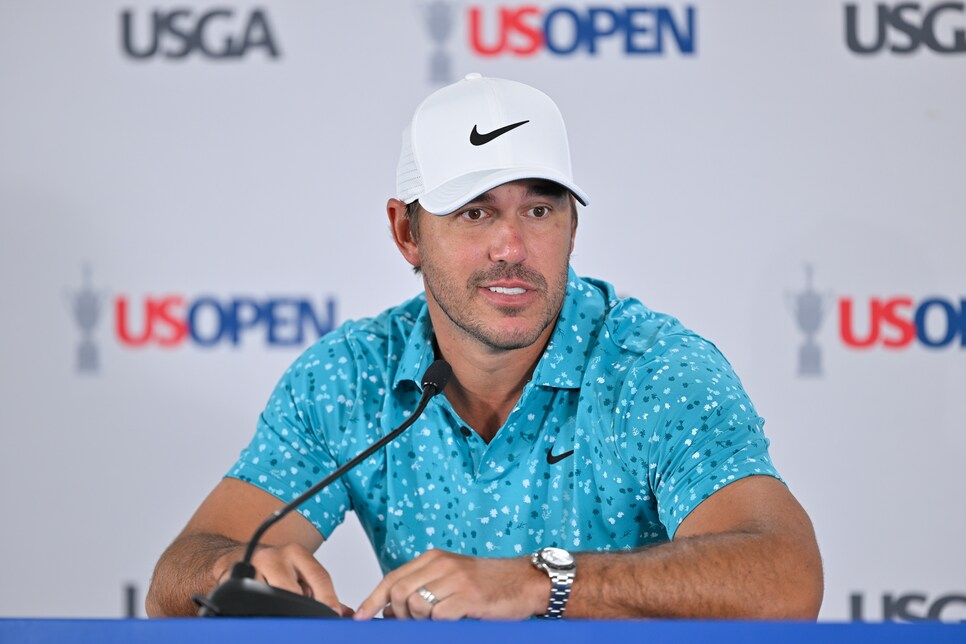 LOS ANGELES — Brooks Koepka's strength-of-field analysis has never looked more insightful. The next paragraph is four years old—that makes it 32 in golf years!—but it is aging well and I have an update for it:
"There are 156 golfers in the field, so you figure at least 80 of them I'm just going to beat. You figure about half of them won't play well, so you're down to about maybe 35. And then, from 35, just pressure is going to get to them. It only leaves you with a few more. And you've just got to beat those guys."
You can add to his list, after skill and pressure, distraction. Golf has never had a higher level of distraction than it does right now. In Stimpmeter terms, distraction is running at 14 in men's professional golf. It's raining distraction.
Distraction is a real thing. In 1981, Jack Nicklaus shot an 83 in the first round of the Open Championship. A bad night on the road for one of his sons at home, and Jack, a father first, was distracted. I once—once!—saw Tiger flat-out hit a flub, a fat-wedge third shot at Aronimink. His wife had served him divorce papers that day. Distraction was Greg Norman's Achilles heel. On the other side of the marker, it was focus that made Hogan Hogan, Nicklaus Nicklaus and Woods Woods. It's too early to say anything definitive about Koepka, but you're tempted to say that the distractions of modern life take up little space in the gray matter beneath his Just Do It baseball cap.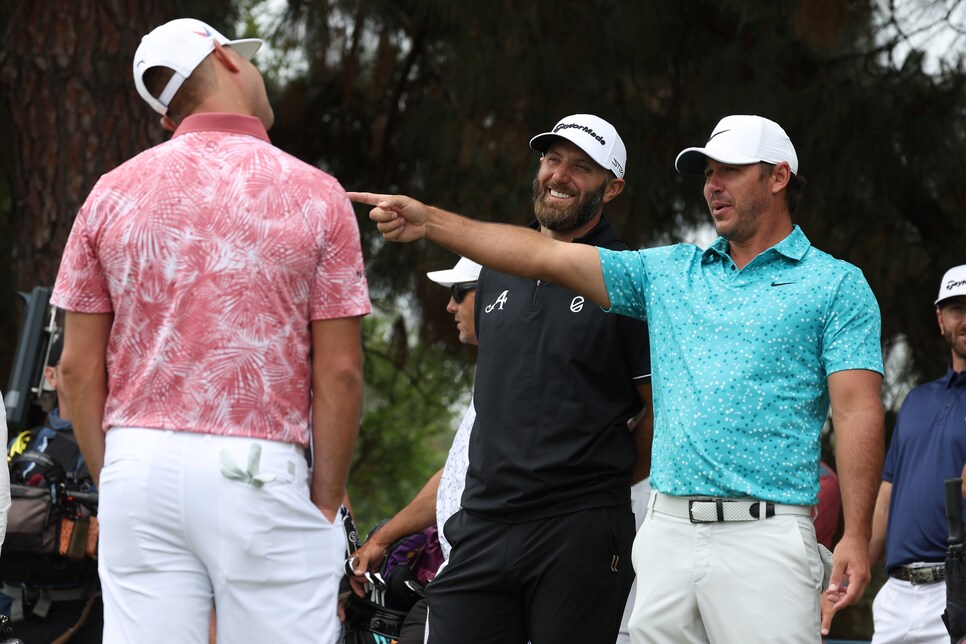 Only one player finished ahead of Koepka at the Masters in April, after the rules debacle on Thursday where it seemed obvious, at least to me, that he violated the give-no-advice rule. Then he won the PGA Championship last month at a U.S. Open course, Oak Hill. Now he's trying to win his third U.S. Open and sixth major title.
Pressure is one thing. There is always pressure in the majors. Distraction is an entirely different thing. Professional golf has never had more distraction than it has right now. It's hurting the game. We come to golf because we like golf. I got into a fist fight on Tuesday with my friend and colleague Alan Shipnuck over a winning score at this U.S. Open! (He was saying 280 gets you a win or in a playoff. First off, that's a pathetic dodge. I say 270 gets you the trophy and the girl.)
But here we are on the eve of American golf's greatest championship, and inquiring minds want to know:
What is Jay Monahan's "medical situation" and is he OK?
Who is the captain of this ship called the PGA Tour in his absence and for the near future? Yasir Al-Rumayyan? Monahan's deputies? Jimmy Dunne?
And what in the name of Old Tom Morris has happened to the most powerful person in golf, Tiger Woods?
Woods is only 47. He has the greatest USGA playing record ever, with nine wins in three USGA events. He's a proud son of southern California. Is there nothing meaningful he could say or do to stand up for the game and for this 123rd U.S. Open and the first one at the Los Angeles Country Club?
Nobody can speak with more authority about the golf ball than Woods. (Is it too hot?) Nobody could speak with more insight about the L.A. North course set-up. (Is it too wide?) Nobody could speak with more credibility about the influx of billions of Saudi dollars into the game. (Does it help or hurt golf?) If Tiger is here, nobody I know has seen him. If he's tweeting, he's using invisible ink.
So as you think about handicapping the field for this Open, you have to consider the ability to block out the white noise as a major, major component for success. And that is part of golf's greatness, that is part of the joy of following this game closely, that we can watch the golfers, watch how they go about their business, and make our own judgments about how they handle the shots and the thinking that goes into them.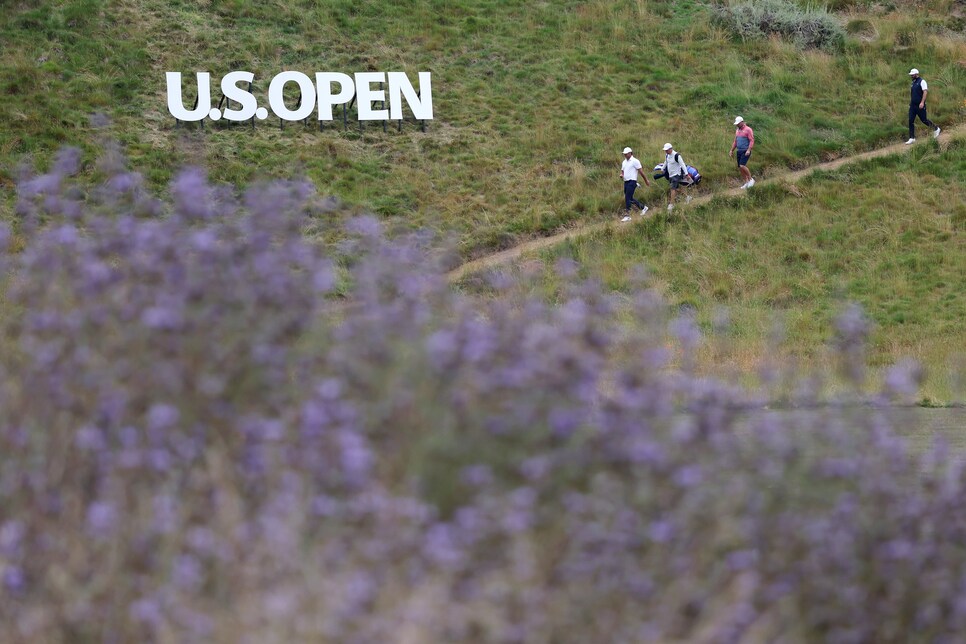 Phil Mickelson, when he won the PGA Championship at age 50 in 2021, was freakishly focused on the task at hand. His walk was notably slower than normal. So was his gum-chewing. He closed his eyes for several long seconds before playing each shot. It was a Phil I had never seen before, and not since. But he had something that week. Tiger has had his own version of it 100 times.
I like Patrick Cantlay, for focus. Not the "Paddy Ice" thing. I don't even get that. I'm just trying to say, having watched him for some years now, he doesn't care about much of anything except the task at hand.
Who else could you say that of? Jon Rahm. Maybe Xander Schauffele—maybe. Dustin Johnson. Cam Smith. Hideki Matsuyama. Sam Burns. Maybe Padraig Harrington—maybe. Matthew Fitzpatrick. Scottie Scheffler. Justin Thomas.
The four days of this 123rd U.S. Open are going to be what they're always about: execution, execution, execution. But this year more than most.
MORE FROM GOLF DIGEST @ THE U.S. OPEN