LOS ANGELES — Former U.S. Open champion Tony Jacklin loves to tell the story of his match with Jack Nicklaus at the 1969 Ryder Cup. All square in the game that would decide the destination of the trophy, the pair were marching down the 18th fairway at Royal Birkdale. Catching up to the Englishman, the Golden Bear had a question:
"Bloody petrified," replied Jacklin. At which point Nicklaus laughed. "Thought you would be," he responded. "I just wanted you to know that I'm petrified as well."
Pressure does that to anyone and everyone in and around the elite end of professional golf, the biennial Ryder Cup the only challenger to the four majors in the men's game when it comes to the feeling of foreboding that is such a big factor in the battle between winning and losing.
Mind you, it's not just the players who are well aware that a major championship like this week's U.S. Open at the Los Angeles Country Club is a little bit different from life on tour. Those closest to the competitors are also feeling it. And how they deal with it can have implications—both positive and negative—on the performance of "their" golfers on the course.
"During these weeks there is a heightened awareness of the prize and the pressures, one that applies to not just the player but everyone around him," says swing coach Denis Pugh, who is working with two players this week, former Open champion Francesco Molinari and 2010 Ryder Cup player, Ross Fisher. "Things are different during major weeks. They just are. Ideally you want to keep content to a minimum and spend most of the time polishing. The whole point of a major is examining every part of the player's games. But the biggest examination is always of the mind. The severity of the course plays into that, as does the hugeness of the potential rewards."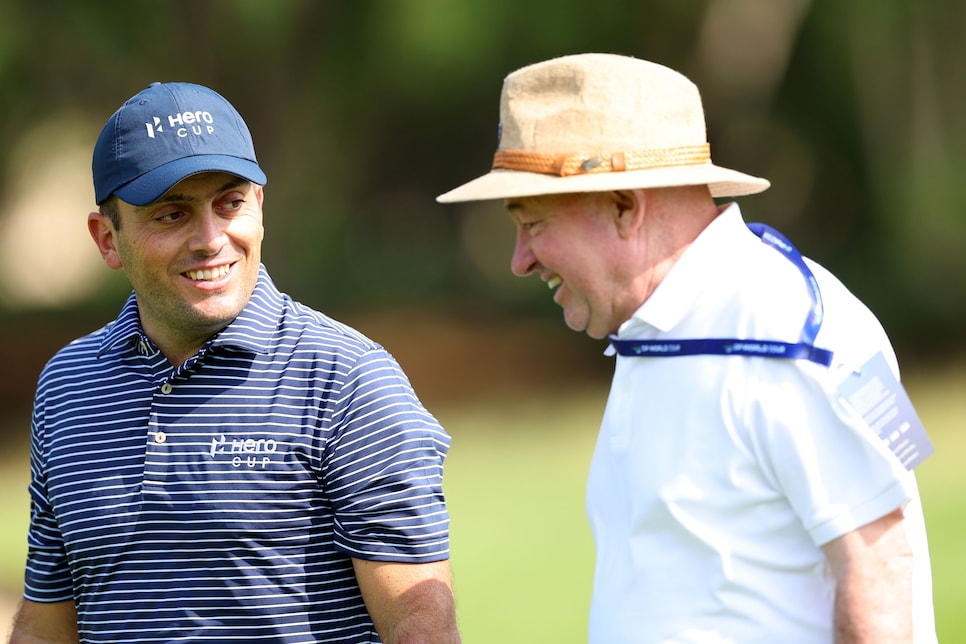 Denis Pugh (right with Francesco Molinari) says ideally during major week you're only spending time "polishing" a player's game.
Andrew Redington
So it is that, the people a player relies on most are feeling their own pressures when it comes to any of the four most important weeks on the calendar. Looking and sounding like this is just another event is not something that comes naturally to all, but it is something that can be learned. Especially when the relationship between player and coach/caddie/agent is strong and familiar.
"I am always a psychologist, but more so in a major week," Pugh says. "The most important aspect of tour coaching is not so much what you say but when and how you say it. That is the key to working with elite players. With younger players the couch takes on more of a mentoring role. But with more experienced individuals, the bulls*** has to stop. They can tell when you are cheerleading. That may seem the natural thing to do, it's not what the player needs. It is counter productive."
The level and quality of communication is clearly important for all concerned in a major championship scenario, but perhaps no more so than for the caddie. He is closest to the player when things are most crucial, the pressure to succeed at its highest level.
"What doesn't change is what I'm saying to Matt before a shot," says Billy Foster, who will be on the bag for this week's defending champion, Matt Fitzpatrick. "But at a major there is more emphasis on me getting things right. Everything just has to be more exact. I've done any extra homework required so the information I give him is the same, just a little bit more precise. I have to be perfect if I'm going to get the best out of him. This week the greens are going to get harder and faster every day. LACC is a great test, which means I have to be on top of my game too. It's a major, so I have to go that extra mile. This isn't the tiddlywinks Open."
The exactness Foster speaks of is emphasized this week by the challenge each player will face on and around the LACC's notoriously quick and sloping putting surfaces. That means putting coach Phil Kenyon's role in the preparations of Justin Rose, Tommy Fleetwood, Fitzpatrick, Max Homa, Keegan Bradley and Gary Woodland is elevated even more than usual.
"I don't feel like any extra pressure on the players affects what I do," Kenyon says. "But I do have to adjust when I see a guy getting more uptight than usual. That can lead to them second-guessing things, which is exactly what I don't want. So yes, I have to know the players to know what they need at different times in their preparations. I joke about it, but I've seen plenty of Wednesday meltdowns, especially at majors."
Billy Horschel can relate to that internal battle. The 36-year old Floridian has won big events, the BMW PGA Championship, the Tour Championship and the Memorial, but so far his career does nor feature a major victory.
"My teacher, Todd Anderson, and I try to keep things the same every week," Horschel says. "But I have been known to put a little bit more emphasis on majors. Still, if you do everything the same every week, whatever that is, then a major should be the same. I really think they should. I know some people think we should work harder. Todd says a lot of the same things most weeks, but he really emphasizes how I don't have to be perfect at a major. I've made that mistake before. So this week I'm trying not to do things just because it's a major. Reacting to the emotion of such a big event and what it means is going about things the wrong way."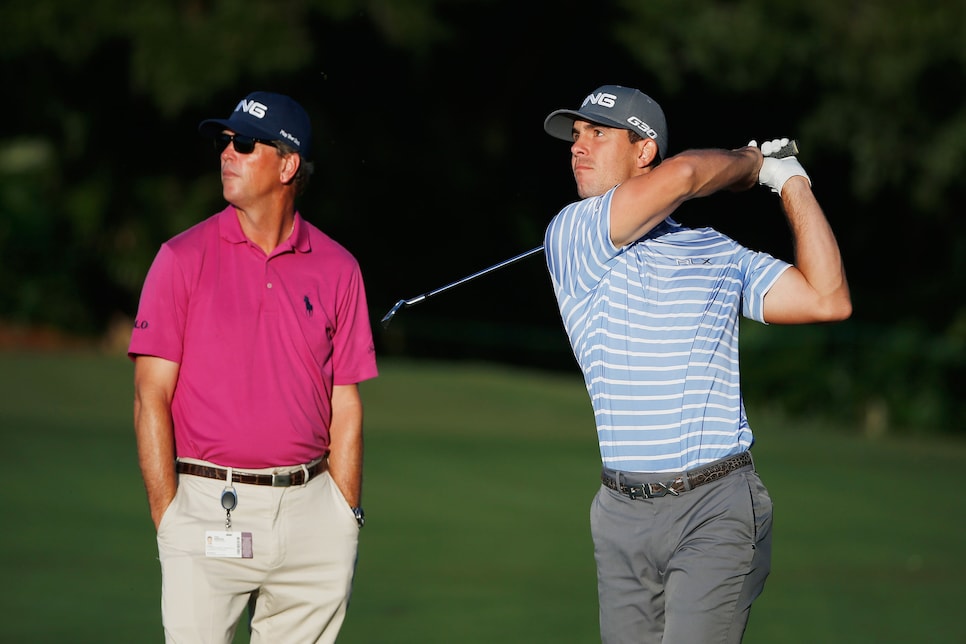 Billy Horschel says some of the best advice from instructor Todd Anderson is to not feel like you have to play perfect at a major.
Scott Halleran
It isn't just on the course that major championship pressure is felt. Away from the heat of competition, the agents are dealing with amped-up pressures on a player's time and attention.
"Major championship weeks tend to be much more complex due to the level of demands," says David Winkle, the CEO and President at Hambric Sports, who works for Dustin Johnson. "I just try to support as best I can, which is what I do every week. But at a major even that is magnified. It's a normal week on steroids really. There is just so much on the line. I feel that too, even if it affects my anxiety level more than my behavior. I want success for Dustin. And it's important in a business sense for my company. There's a commercial aspect to it. If Dustin does well it allows me to do what I do best."
Speaking of which, the coach who had the best feeling of all last year when Fitzpatrick emerged victorious at The Country Club was Mike Walker, the Englishman's swing coach. A year later, there is a different pressure for the pair— the pressure to repeat. It's different, but the same.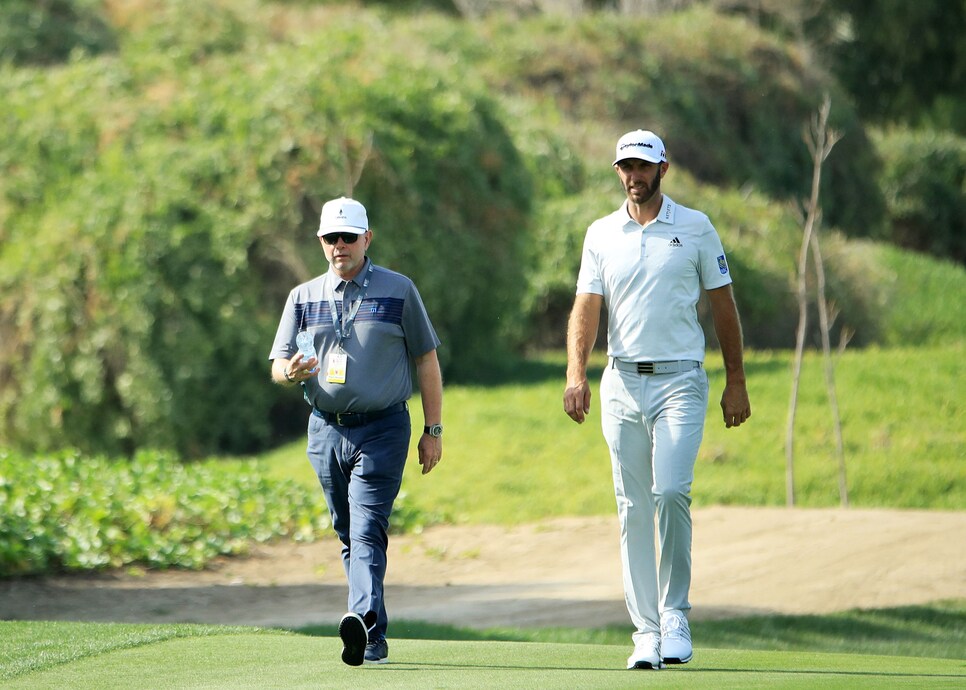 "I went to the Canadian Open with Matt last week," Walker says. "Ideally, I want him coming into this event with a clear idea of what he is doing. And we did that work last week. This week I want him looking at the course and not worrying about anything swing-wise. I'm only here this week in case we have to 'firefight' a problem, which can happen.
"There is a bit of extra psychology this week, too," Walker continues. "You can tell this is not a regular week. Like everyone, Matt is a little bit different at the biggest events. It means so much to him to do well. I feel that too. Tolerance levels are down and that can manifest itself in different ways. Could be anger. Could be panic. Could be almost anything. Even when things are going great there is stress involved. Everything is amped up. Every major is such a big deal. So there is a bit more desperation to succeed."
And the pressure to do just that just is felt by more than the players.
MORE FROM GOLF DIGEST @ THE U.S. OPEN