COMMISSIONER'S HEALTH
PGA Tour commissioner Jay Monahan suffers medical issue, steps away from day-to-day operations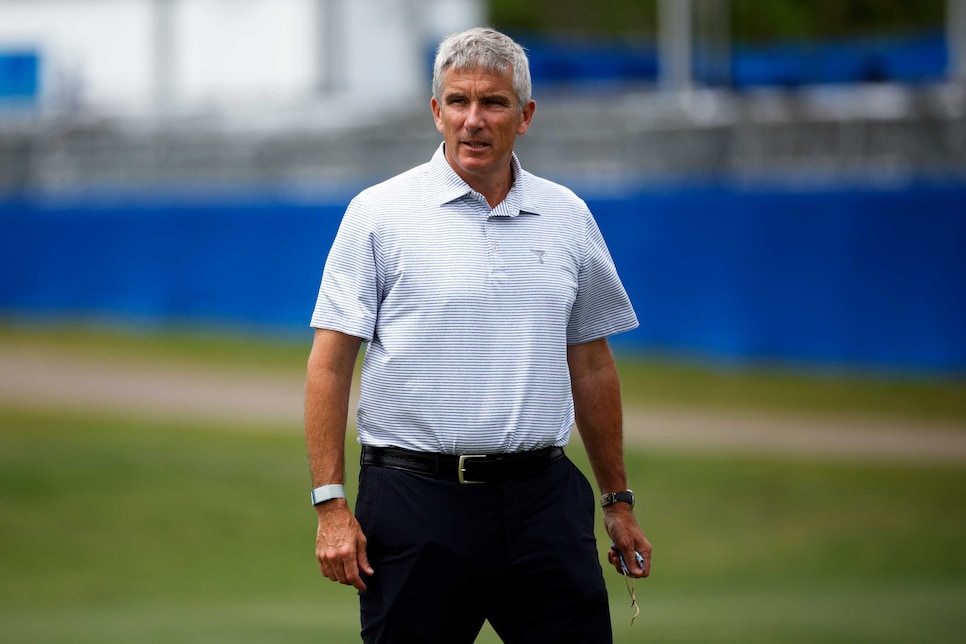 PGA Tour commissioner Jay Monahan has suffered a medical issue and has stepped away from his role.
In a statement Tuesday released by the PGA Tour, Monahan has informed the league that he is recovering from an unspecified medical situation.
"The Board fully supports Jay and appreciates everyone respecting his privacy," the statement read.
According to the tour, chief operating officer Ron Price and executive vice president Tyler Dennis will lead day-to-day operations in Monahan's absence. No additional details about Monahan's condition were released. Golf Channel reported that a phone call to relay the news to the policy board lasted 35 minutes but it was not given any more details than were given in the statement.
"Our thoughts are with Jay and his family during his absence, and we wish him a speedy recovery," Price and Dennis said in a joint statement. "We have a strong and experienced leadership team in place, and our priority is to support our players and continue the work underway to further lead the PGA Tour and golf's future."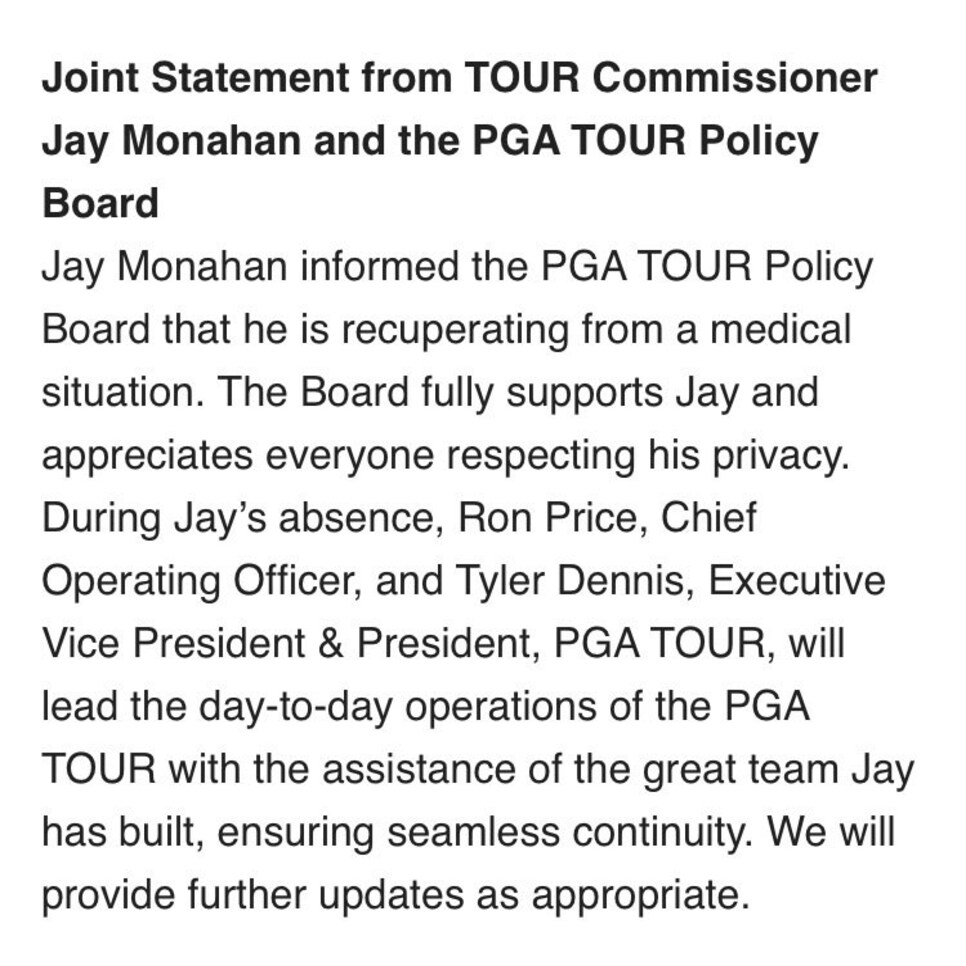 Monahan, 53, joined the tour in 2008 as executive director of the Players Championship. He moved over to an executive role with the tour in 2013, and took over as commissioner from Tim Finchem in 2017. Prior to taking over as commissioner, Monahan was deputy to Finchem for two years and also served as chief operating officer.
The news comes exactly a week after Monahan and the tour announced a surprise partnership with Saudi Arabia's Public Investment Fund, which is the primary financial backer of LIV Golf. As part of the proposed deal all litigation between the tour and LIV will be dismissed. As part of the proposed entity with Saudi's PIF, Monahan was expected to remain in charge as CEO, with PIF's governor, Yasir Al-Rumayyan, serving as chairman.
The tour remains involved in an antitrust probe by the Department of Justice, and this week was informed the U.S. Senate is opening an investigation into the alliance between the tour and Saudi Arabia.
Monahan was reportedly expected to meet with players and media next week at the Travelers Championship.
In the wake of the initial news, Masters chairman Fred Ridley issued the following statement on Wednesday morning:
"Jay Monahan is a leader in our sport and a friend to so many across the golf industry. Our thoughts and prayers are with Jay and his family during this time, and we wish him a healthy and speedy recovery."