PGA Tour-LIV Golf
PGA Tour, LIV Golf announce surprise merger, will form new 'commercial entity to unify golf'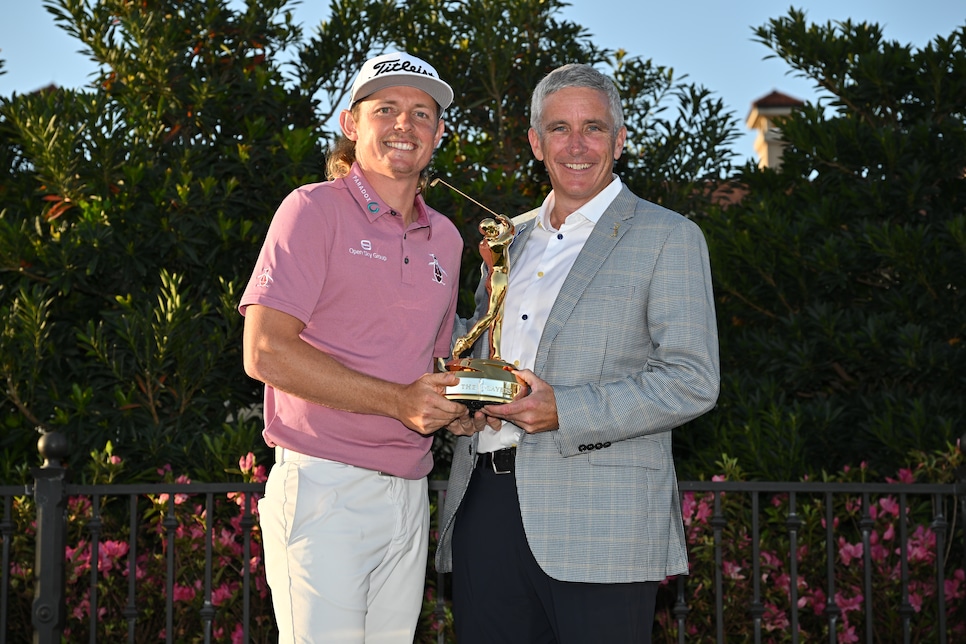 The PGA Tour and Saudi Arabia's Public Investment Fund, which is the primary financial backer of LIV Golf, have announced a treaty and potential merger, ending two years of civil war in professional golf.
In a surprise press release Tuesday morning, the two circuits, along with the DP World Tour, announced "a landmark agreement to unify the game of golf, on a global basis." The move comes on the one-year anniversary of the formal launch of LIV Golf in London, and 10 months after 11 LIV Golf members filed an antitrust lawsuit against the PGA Tour.
"The parties have signed an agreement that combines PIF's golf-related commercial businesses and rights (including LIV Golf) with the commercial businesses and rights of the PGA Tour and DP World Tour into a new, collectively owned, for-profit entity to ensure that all stakeholders benefit from a model that delivers maximum excitement and competition among the game's best players," the statement reads.
The PGA Tour, DP World Tour and LIV Golf announced they will mutually end all pending litigation between the entities. Additionally, the organizations will work cooperatively to allow a process for any LIV players to reapply for PGA Tour and DP World Tour membership following the 2023 season.
"After two years of disruption and distraction, this is a historic day for the game we all know and love," said PGA Tour commissioner Jay Monahan in a statement. "This transformational partnership recognizes the immeasurable strength of the PGA Tour's history, legacy and pro-competitive model and combines with it the DP World Tour and LIV—including the team golf concept—to create an organization that will benefit golf's players, commercial and charitable partners and fans. Going forward, fans can be confident that we will, collectively, deliver on the promise we've always made—to promote competition of the best in professional golf and that we are committed to securing and driving the game's future.
"We are pleased to move forward, in step with LIV and PIF's world-class investing experience, and I applaud PIF Governor Yasir Al-Rumayyan for his vision and collaborative and forward-thinking approach that is not just a solution to the rift in our game, but also a commitment to taking it to new heights. This will engender a new era in global golf, for the better."
"Today is a very exciting day for this special game and the people it touches around the world," said PIF governor Yasir Al-Rumayyan. "We are proud to partner with the PGA Tour to leverage PIF's unparalleled success and track record of unlocking value and bringing innovation and global best practices to business and sectors worldwide. We are committed to unifying, promoting and growing the game of golf around the world and offering the highest-quality product to the many millions of long-time fans globally, while cultivating new fans."
PGA Tour players reacted to the news on social media with surprise, and some, with anger.
"I love finding out news on Twitter," two-time major winner Collin Morikawa tweeted.
"Tell me why Jay Monahan basically got a promotion to CEO of all golf in the world by going back on everything he said the past 2 years. The hypocrisy," tweeted Dylan Wu. "Wish golf worked like that. I guess money always wins."
"I feel betrayed," Wesley Bryan tweeted, "and I will not be able to trust anyone within the corporate structure of the PGA Tour for a very long time."
Senator Chris Murphy (D-Conn.) weighed in by tweeing, "So weird. PGA officials were in my office just months ago talking about how the Saudis' human rights record should disqualify them from having a stake in a major American sport. I guess maybe their concerns weren't really about human rights?"
On the LIV Golf side, Phil Mickelson tweeted, "Awesome day today."
In a memo to members, Monahan said "There are many details to work through as we develop a definitive agreement, which will ultimately require PGA Tour Policy Board approval, and I know you have many questions." Monahan said there will be a comprehensive evaluation of LIV Golf to determine how best to integrate team golf into the professional game.
In addition to the financial investment in the new entity for an equity stake, the PIF will become a premier corporate sponsor of the PGA Tour, DP World Tour and other international tours. Monahan said PIF's investments will "build an even stronger and more robust commercial business, together.