Well, it happened: On Tuesday, the framework of a surprise merger between the PGA Tour and LIV Golf was announced, bringing to an end two-plus years of strife and what Joel Beall called, not incorrectly, "civil war in professional golf." If you're like us, you have lots of questions, and the major caveat for this post is that we don't have all the answers yet. Nevertheless, let's give it a try as we seek to clarify what quickly became the golf story of the year.
1. You promised one sentence. What's the gist here?
Deep breath in … the PGA Tour and LIV Golf's financial backer, Saudi Arabia's Public Investment Fund (along with the DP World Tour), will create one for-profit entity but with separate tours, the PGA Tour gets a huge infusions of cash while the lawsuits between the two are dead, the PGA Tour and DP World Tour and LIV Golf remain intact (for now) with future formats and schedules TBD, the PGA Tour keeps majority control while the PIF has "minority equity ownership" that includes "right of first refusal on any any future incoming capital commitments," the LIV players probably get to come back to the PGA Tour if they want next year after a "fair and objective process," and you can read the whole press release here if this isn't good enough.
Given a second sentence (yes, I'm already cheating): PGA Tour and LIV Golf are combining, the war is over, there's a lot of money here, and there are just an incredible amount of details to be worked out.
2. What did PGA Tour commissioner Jay Monahan tell the players?
Largely the same (read his letter here), emphasizing that the PGA Tour will have a majority of the new board of directors and a majority voting interest, that they still have to figure out how to integrate LIV Golf on the calendar, the PIF will be the "premier corporate sponsor" and will also give money to "positively impact the game on a global basis."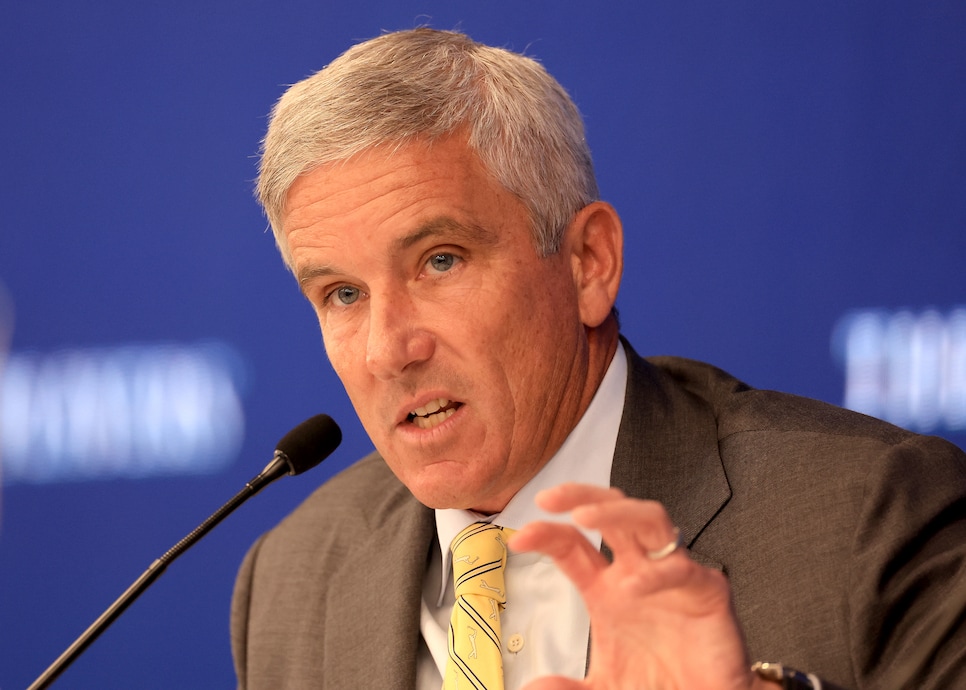 3. How secretive was this?
From Twitter reactions, it seems like the players didn't know, and according to Alan Shipnuck, who is writing a book about the LIV Golf journey, even a "key insider" at LIV didn't know, so they managed to keep it extremely hush-hush and essentially leak-proof.
Too early to tell, but there's a compelling argument being made that from a business standpoint, both come out ahead; the PGA Tour gets lots of money and an end to both a harmful schism and any potential revelations they didn't want to see in a deposition, and the Saudi PIF gets the influence in golf that was the entire raison d'etre for LIV Golf in the first place.
5. How is the actual golf schedule going to work when the merger is complete?
Get ready to hear the phrase "it's up in the air" quite a bit, but this is perhaps the most confusing because a potential amnesty for LIV players to return to the PGA Tour and DP World Tour next year raises the obvious question of "when are they going to play the team events?" and "who will actually play in them?"
With the caveat that everyone seems to have a theory right now and very few seem to have any facts, it's certainly possible that in the future LIV Golf happens in the fall, or is interspersed throughout the season in ways that make the non-elevated events (which could be dead on the vine?) lower status than they are now, but none of this is at all clear.
7. Is team golf here to stay in high-level professional golf?
This is a fascinating question given how much it was mentioned in the initial press release but can you really convince the best players to take on this extra duty in the fall/winter after a grueling spring and summer season, and if the answer is no, it's easy to see a world where this element is quietly dropped since both sides seem to have what they want out of the deal.
8. What about LIV players returning to the PGA Tour? Do we know anything more?
No, but we can safely assume that the very fact of a merger means there will probably be a process of relatively painless re-integration, only because it seems so unlikely that the sides would strike a deal and suddenly the PGA Tour or DP World Tour would play hardball on letting the defectors—even Phil Mickelson!—back in the ranks.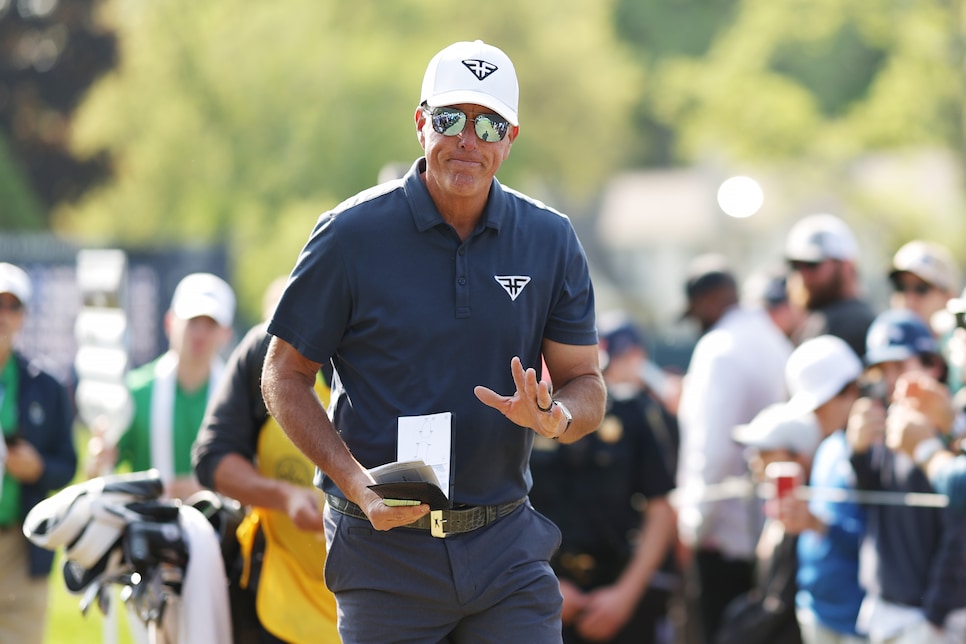 Maddie Meyer/PGA of America
9. Will there be any restitution required of the players who broke away, like paying back a portion of their LIV earnings?
It's understandably tempting to think along those lines just because your mind immediately goes to the PGA Tour players who didn't leave, and how they might feel about the idea of the LIV players getting a big paycheck and coming back without penalty, so maybe there's something there, but again, we have absolutely no idea at this stage.
10. What happens to Greg Norman?
It was very interesting to see on CNBC Tuesday when asked whether Norman knew, PIF Governor Yasir Al-Rumayyan said that he'd called him just before the interview, in a way that many interpreted to mean he had told him just before the interview, and if that's true—which isn't confirmed—it's not a big leap to think that he's out of the loop and maybe his days are numbered, except that (say it with me) we have absolutely no idea at this stage.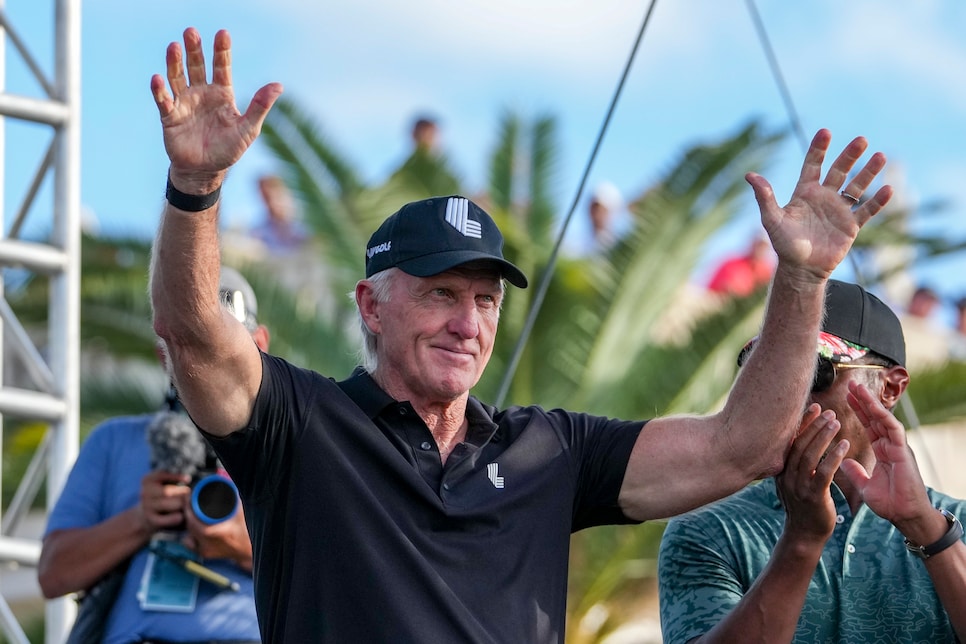 11. What does the DP World Tour look like now?
With all the usual disclaimers, they might actually be the biggest beneficiaries here; it wasn't long ago when they seemed to be the odd man out among the big players, vulnerable to being left in the dark by the PGA Tour and possibly facing direct competition from LIV Golf but without the PGA Tour's war chest, and now they're comfortably entrenched with two very wealthy allies to keep them afloat.
12. Speaking of Europe, what about the Ryder Cup? Can the excommunicated Europeans like Sergio, Poulter and others play?
If there's peace in the golf kingdom, it would certainly seem that the obvious next step is bringing this peace to the Ryder Cup, with the caveat that there's no indication any move will be made before 2024 (when re-integration onto the main tours happens) to "unify" the standings, and if that doesn't happen it will still be up to Luke Donald to select the LIV players with his six captain's picks.
13. On the American side, does this make it easier to take a LIV player?
Players like Brooks Koepka are able to make the top six automatic qualifying spots if they can (a hard task, since it means playing very well in majors to make up for all the Tour events they have to miss), but yes, maybe this makes it philosophically easier for Zach Johnson to pick someone like Dustin Johnson, with the caveat that his chief advisors are men like Davis Love III and Fred Couples who have been outspoken in their opposition to LIV Golf over the past year.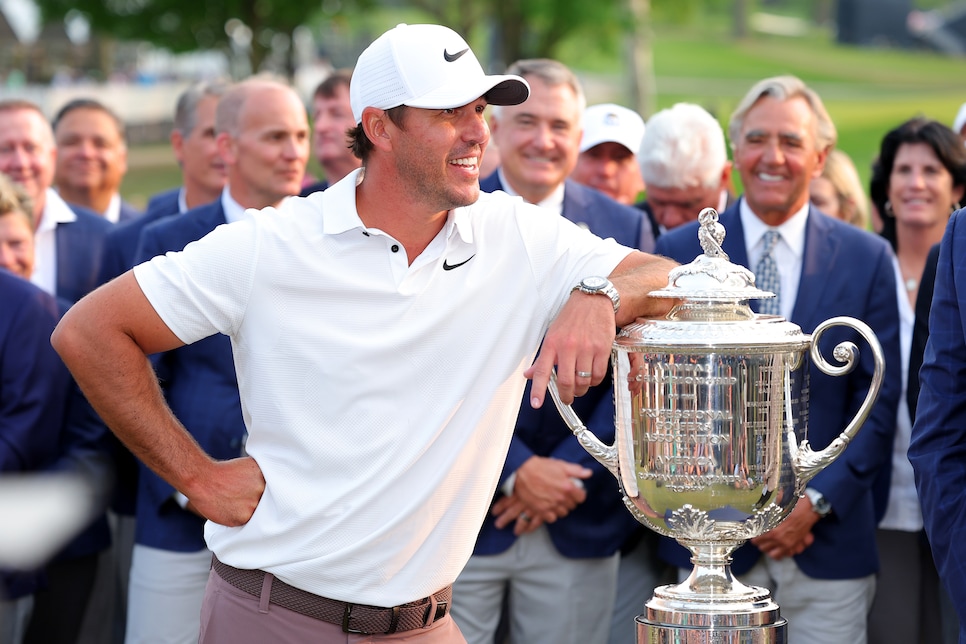 14. Can the new merged entity halt the USGA and R&A's distance rollback initiatives?
They definitely have the money to play by their own rules—and we mean that literally, deciding to adopt their own rules on equipment—or at least stop the rollback in its tracks, but like so much else, this is very much to be determined.
15. In the long run, is this good for professional golf?
You're going to make us say it again, aren't you?
Fine: It's too early to tell. It's very much to be determined. At this stage, we have absolutely no idea. Etc. etc. etc. ad infinitum. But if anyone thought we might be entering a slower golf news cycle after the events of the past year, they've got another thing coming.