The Loop
New PGA Tour Commissioner Jay Monahan's first-year goal: 'To Make Mr. Palmer proud'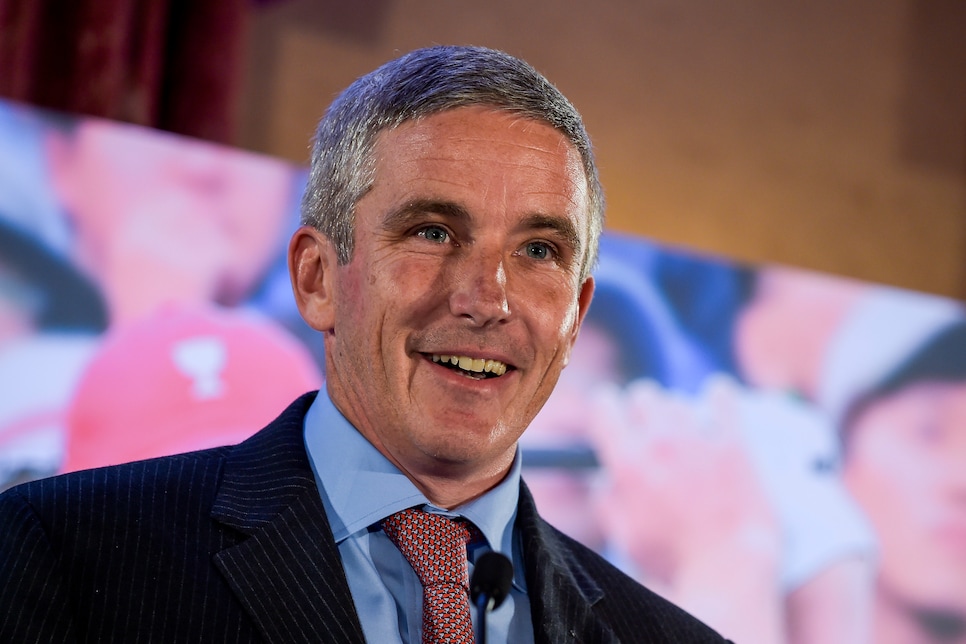 KAPALUA, Hawaii – Jay Monahan is seven days, officially, into his new job as PGA Tour commissioner, and, predictably, his schedule is full. He arrived in Maui on Thursday for the first event of the year, the SBS Tournament of Champions, and on Saturday morning he agreed to meet with a select group of media.
He budgets one hour. He stands up to shake hands and leave after one hour.
Succeeding Tim Finchem, who served at the helm for 22 years, Monahan, 46, is the fourth commissioner in tour history, groomed for the job since April of 2014. So the challenges of time management are not new. Nor are the challenges of the job. His answers during a wide-ranging round-table interview have the informed quality you expect of a man charged as caretaker of the game's richest organization.
There is also respect for its heritage. This is not surprising, since Monahan has been immersed in the game since childhood and was good enough to compete at Trinity College. Asked out of the box about priorities for this year, he invoked the name of the late Arnold Palmer. "I would say when we leave on December 31st, it's to make Mr. Palmer proud. So we can look up to heaven and feel great about what we accomplished," Monahan began. "Then I think all the things that we're trying to do as a business, we'd have largely gotten done. And the game will be better, and the Tour will be better."
From the coming scheduling changes, to slow play, to the impact of President-elect Donald Trump and the return of Tiger Woods, Monahan was largely forthright in sharing his thoughts and feelings on a number of subjects. Below are a few highlights:
On the biggest challenges facing the tour: "I would just say that the world is so dynamic. The rate of acceleration and change is unlike anything we've ever seen before, and we're not immune to that. So really, for us to grow, it all starts with the fan, and really understanding the fan, not just here in the U.S., but throughout the world. As we have more international stars on tour, making certain that we're relevant in those international markets and we're starting to continue to present our product in a way that the fan wants to consume it. Secondly, there's a lot of discussion around the participation side of our business, and I go back to growing and celebrating. We have to make certain we're doing everything we can to be part of the leadership in that regard."
On potential scheduling changes starting in 2019: "We've heard from a number of people that it would make sense for us to complete the FedEx Cup playoffs prior to the start of the NFL season, and we think there's a lot of merit to that."
On the impact of a President Donald Trump on golf: "We have a great history with the presidency, and we have a great appreciation for the office of the presidency. And I think the Presidents Cup itself has afforded us the opportunity to build relationships with the President of the United States. We see President-elect Trump as being probably the best golfer to ever sit in office, and certainly the most golf knowledgeable. And so for the game, I think that's a tremendous thing."
On the tour's practice of not announcing fines or suspensions: "I think the system works. I know there is a desire to know everything that happens, but we're a family. If there is an issue in your family you deal with it with your family. That has worked really well for us."
On the return of Tiger Woods to competitive golf: "I think it's exciting to think about what he could potentially accomplish in the coming weeks. I keep getting asked, do I think he's going to win this year? Just so we're clear, when he's 75 years old, I'm going to still think he can win on that given week."
On slow play: "The data that I've looked at a thousand times … it's 4 hours and 45 minutes for a threesome on Thursday and Friday, on average. It's 3 hours and 49 minutes on Saturday and Sunday. It's 38 seconds to hit a shot. That hasn't changed since 2000. ... [But] the reality is that things have to happen faster. I mean, that's the expectation on all of us."