Open Championship Rewind
The Open 2021: Collin Morikawa finds his 'major gear' and 17 other parting thoughts from Royal St. George's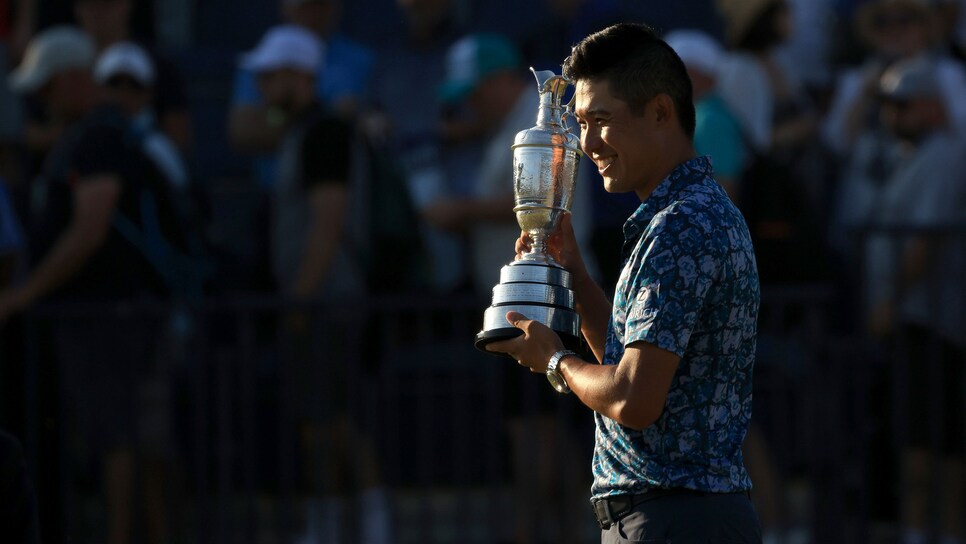 SANDWICH, England — Collin Morikawa is a multiple-major winner, Jordan Spieth remains the best show in golf, and the Open Championship scratched a links-golf itch two years in the making. There is much to discuss. Here are 18 parting thoughts from Royal St. George's.
1: We start, as always, with the winner. Coming into this week, the scouting report on Collin Morikawa read something like: very solid off the tee, incredible iron player, poor putter. The chief support for that description is found in the PGA Tour's stat ecosystem, which has him leading strokes gained/tee-to-green and 172nd in strokes gained/putting for the 2020-21 season. And yet, he now has two major championships to his name and putted beautifully in both. At TPC Harding Park last August, he led the field in strokes gained/putting, the only time he's ever done that, en route to winning this PGA Championship title. The Open did not offer putting statistics, but the man himself felt it was "as solid as it's going to get," and the eye test confirms. You have to think he'd have ranked somewhere inside the top 10.
"Yeah, everything about my stats say I'm not a good putter statistically," Morikawa said on Sunday. "I feel like I can get a lot better. But in these situations, I feel like everything is thrown off the table. Forget about all your stats … who can perform well in these situations? That's why I think over the past few majors you've seen a lot of the same names up there, because they believe in their game, they know what they're doing when they practice, and they're able to bring it out in these big moments."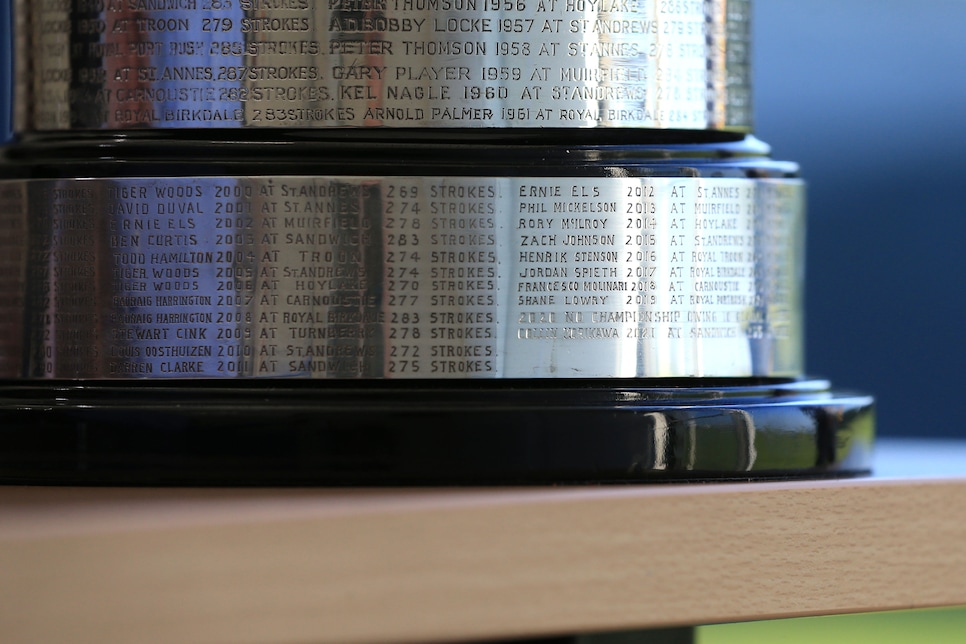 Perhaps we should take a hint from Brooks Koepka and start truly conceptualizing major championship golf and PGA Tour golf as two entirely separate entities. The "major gear" is absolutely a real thing; so while PGA Tour Collin might not be the best putter, Major Championship Collin is doing just fine.
2: This one stung Louis Oosthuizen. As my colleague John Huggan noted, the South African already looked perturbed while fielding questions about his near-misses on Saturday. No matter how even-keeled he appears on the exterior, it's only natural to be extremely frustrated after being so tantalizingly close so many times. Unlike last month at Torrey Pines, however, Oosthuizen did not play well enough to win. He was tentative from the first hole on Sunday and, after opening with 64-65, managed only level par on the weekend. It's much easier to accept a loss when you've put your best foot forward and simply gotten beat. But Oosthuizen knows his play worsened as the lights brightened, and he left without speaking to reporters Sunday evening.
The latest videos from Golf Digest
3: After a gasp-inducing missed two-footer on the 18th green to end his round on Saturday, Jordan Spieth pulled an all-time relatable move by bringing his putter with him back to the crib for some late-night stroke-grooving. He said Sunday that, after resisting the urge to break something, he hit close to 500 puts the prior evening. The only question is, just how relatable was it? Does he travel with some fancy putting mat, or did he place a cut-out solo cup on the ground 10 feet away, figure out which way the rug breaks and send his ball hopping down the carpet? We prefer the latter image.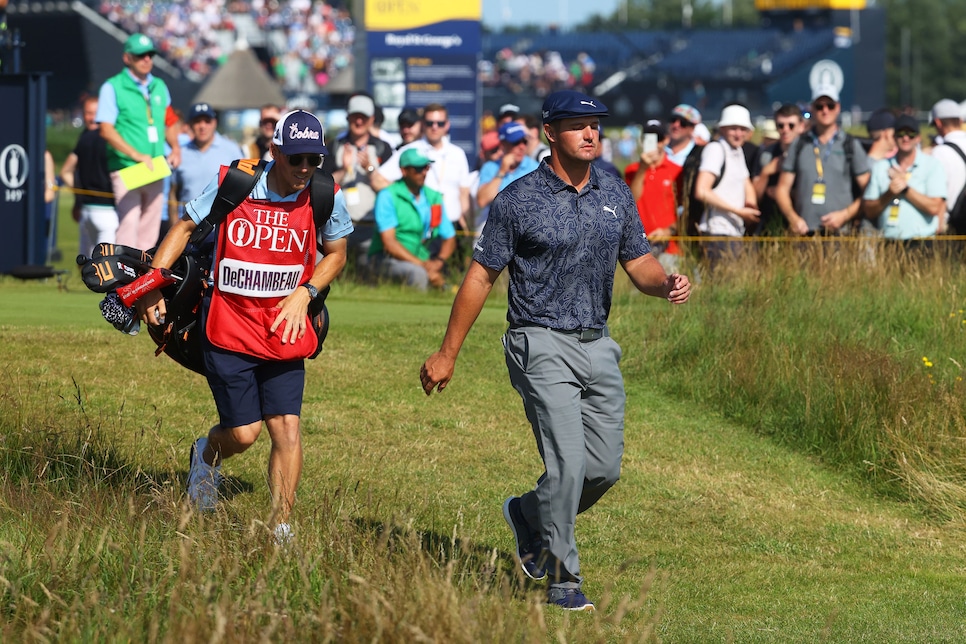 The reaction on the ground differed considerably. The vast majority of fans held no hard feelings at all. When he left the driving range, a solid half of the fans followed him. They welcomed him to every tee box and jostled for a better view. The crowds do not live deep inside the media ecosystem; they do not dissect every word he says with forensic fastidiousness. They see a guy who looks different and swings different. They see someone who breaks the monotony of the umpteen tour pros who all bleed together, and they love him for it. Of course, a vocal minority makes their presence known, even across the pond. But when you zoom out from the super inside-golf circles, it's clear there is more pro-Bryson people than anti. A certain statistic comes to mind, even if it's a few years old: in April 2019, the Pew Research Center found that less than a fourth of American adults use Twitter. There is a big, big world outside of the social-media vortex.
5: Speaking of Bryson, and at the risk of sounding blissfully naïve, this week seemed something of a turning point. Perhaps it happened Friday night, when he issued a rather remarkable statement. Consider the circumstances: Ben Schomin, a Cobra rep who caddied for DeChambeau in the Rocket Mortgage Classic, likened his employer's biggest star to an 8-year-old and called his comments "that stupid"… and then Bryson is the one who apologizes. Schomin's comments were not made by accident, and it's unlikely he went rogue—reading between the lines, the Cobra folks had reached something of a breaking point. Perhaps having his biggest sponsor fire back caused something to click in his head.
"I'm 27, I'm human, I make mistakes," DeChambeau said. "Yesterday was another one of those. I continue to keep making mistakes, unfortunately. It's frustration. Not thinking the right way, saying the right things. I've messed up in my career, and every time I mess up, I learn from it. This is another learning moment … in regards to the media, I've struggled sometimes with the words I say, and it's my fault."
Bryson clearly does not enjoy being at the center of this media merry-go-round. Maybe he used to, but he certainly doesn't anymore. After his round on Friday, he looked mentally exhausted and expressed a wish for all the non-golf noise to quiet down. It's possible, so long as he accepts responsibility for his past fracases and stops shooting himself in the foot.
6: There are no more majors until the Ryder Cup. Outsiders still have the Olympics and FedEx Cup playoffs to impress in, but both captains know that neither of those events will come as close to replicating Ryder Cup pressure like the majors do. So let's take our latest, greatest guess as to who will be on each team. These are not who we'd pick, necessarily, rather who we think will be at Whistling Straits:
USA: Collin Morikawa, Dustin Johnson, Justin Thomas, Brooks Koepka, Bryson DeChambeau, Xander Schauffele, Jordan Spieth, Patrick Reed, Tony Finau, Patrick Cantlay, Phil Mickelson, Harris English
Europe: Jon Rahm, Rory McIlroy, Tyrrell Hatton, Viktor Hovland, Matt Fitzpatrick, Tommy Fleetwood, Paul Casey, Lee Westwood, Shane Lowry, Ian Poulter, Sergio Garcia, Robert MacIntyre
7: In the two years since Royal Portrush, golf fans have become accustomed to a certain standard of technological offering. The PGA Tour has since launched TourCast—every office manager's worst nightmare—for it allows fans to real-time track every single group. The Masters has a similar tracking feature and almost instantaneously posts video of every shot hit. The U.S. Open and PGA aren't quite on the same level, but they have developed live tracking within their apps and also now provide strokes-gained data, the lifeblood of golf stats nerds everywhere. The Open has fallen woefully behind in this department. There is no live tracking of any holes, and the only stats available on the website are the now-antiquated fairways hit, greens in regulation and putting average. For one of the world's biggest golf tournament to, in 2021, still be stuck in the analog age defies belief—especially with the rise of golf betting, when so many have interest in analyzing advanced statistics and watching players outside the featured groups, the R&A must modernize to provide a better experience for those following from their couches.
8: We're left to wonder, then, what Collin Morikawa's strokes gained/approach would have been for his second-round 64. He did pour in two longer-range putts—he made it quite easy to categorize "long-range" this week, for he switched from his "saw" to a conventional grip for putts he felt needed some hit—but he also missed two shorties on 15 and 18. Most of the damage came with the irons. Every shot flew directly through its intended window; he holstered his club by his side, always an indicator of a flush, almost immediately after impact. It wasn't a surprise, given Morikawa is currently having the best non-Tiger approach season since the PGA Tour started measuring such things. Coming into this week, his lead over No. 2 in strokes gained approach, Paul Casey, was larger than Casey's lead over No. 55, Jason Kokrak. And yet even for him, that was an exceptional ball-striking day.
9: Given the hot-take climate of the modern media space, there's an urge to chalk up Rory McIlroy's major drought—now guaranteed to carry into its eighth year—to some larger narrative. On Friday, a journalist proposed the theory that he might be trying too hard to add that fifth major. McIlroy's response was telling:
"Not at all. I've got four of them. Geez, look, I've got—I'm the luckiest guy in the world. I get to do what I love for a living. I have a beautiful family. My life is absolutely perfect at the minute. I want for nothing, so it's not a case of trying too hard for sure."
If all you care about is Rory winning majors, those won't be your favorite seven sentences to read. Fans expect their athletes to be unsatisfied and hungry—"I just want more," as 24-year-old Morikawa put it after his victory. But McIlroy is not 24, and who among us cannot understand a gazillionaire athlete who's already a Hall of Famer perhaps not feeling the same urgency he did a decade ago? Is enjoying what you've earned the worst thing in the world?
10: Pardon the self-centeredness of this next item—there are no shortage of "American goes to The Open for the first time" articles—so I'll keep it brief. The best way I can summarize the difference between this and the other three majors is that this brings to mind a big, jolly county fair where everyone has gathered to watch the golf. There is a noticeable lack of pretension, a sense that the tournament doesn't take itself too seriously, and that starts with the walk to the golf course. From the Sandwich town center, one follows a two-foot wide concrete path over a bridge, under a canopy of bushes, into an open field, and under another canopy of bushes, guided only by the occasional inoffensive sign, before stumbling upon Royal St. George's.
There's not nearly as much corporate hospitality by the clubhouse (potentially a nod to the COVID protocols that the U.K. government had in place) and hardly any visible advertising on the actual golf course. The fans seem more concerned with how many birdies they've seen than how many beers they've had. They scream less.
The latest videos from Golf Digest
11: The Sandwich town center, one of the best-preserved Medieval towns in Britain, redefines quaint. Think of the most English town possible, and then add some more England, and you're nearly there. At the heart of town is a church from 1300s. Interspersed throughout the area are cobblestone streets far too narrow for cars. Thomas Paine's original cottage—you'll recall him from U.S. history class—sits on the main thoroughfare. Toward the edge of town lies a perfectly manicured crop of grass … for lawn bowling. Around the exterior runs a town wall that's straight out of "Game of Thrones." On Saturday morning, after housing a classic British breakfast of eggs, bacon (it's thick here) and tomatoes, I stepped outside to see a choir of middle-aged men singing old folk songs on the lawn of that church. It was, as they say, quite lovely.
12: Jordan Spieth summed up his love for links golf after shooting 65 on Friday: "instead of just a driving-range shot in Palm Springs, there's always some shot you have to play that gives you a little bit of an advantage or certain club selections based on you hit a fade or a draw; they go 15 to 20 yards different distances than between which shot you play. I guess to sum that up, there's a lot of external factors over here, and I think that external is where I need to be living."
We could try to dissect the concept of "living external," but such a profound nugget warrants a dissertation-level analysis, and we don't have time for that. Instead, let's focus on Palm Springs. Palm Springs! What did Palm Springs ever do to anyone? In all seriousness, it's kind of hilarious how Palm Springs has emerged as the placeholder for Average, Toothless PGA Tour Layout. It makes sense—the old Desert Classic is held in January, when winds are typically down. The courses don't have much bite and they're set up with even less bite to accommodate the amateurs in the field. Since 2009, the average winning score is 25.5 under par. Last year, Jim "Bones" Mackay cited our defenseless California enclave while lavishing praise on Matt Fitzpatrick's game: "It might not be as great in Palm Springs, but my goodness … you get to the U.S. Open, you get to these tough courses with some rough, and he can do a lot of damage." Next time you want to criticize an unimaginative golf course, you know which to compare it to.
13: We can all learn a lesson in acceptance from Marcel Siem. The fist-pumping, man-bun-sporting 41-year-old from Germany who the cameras could not look away from this week. Siem has four European Tour titles and a brief stint inside the world top 50 on his résumé. After that fourth victory, he decided life as an occasional winner wasn't cutting it, tried to start swinging like Dustin Johnson, and fell off the golfing planet. The Open marked the 13th straight week he played a tournament, and 10 of those came on the bare-bones Challenge Tour—so bare-bones that he didn't have a caddie for half those events. Here was a 40-year-old man, with millions in career earnings, lugging his own bag around fan-less tournaments in the minor leagues.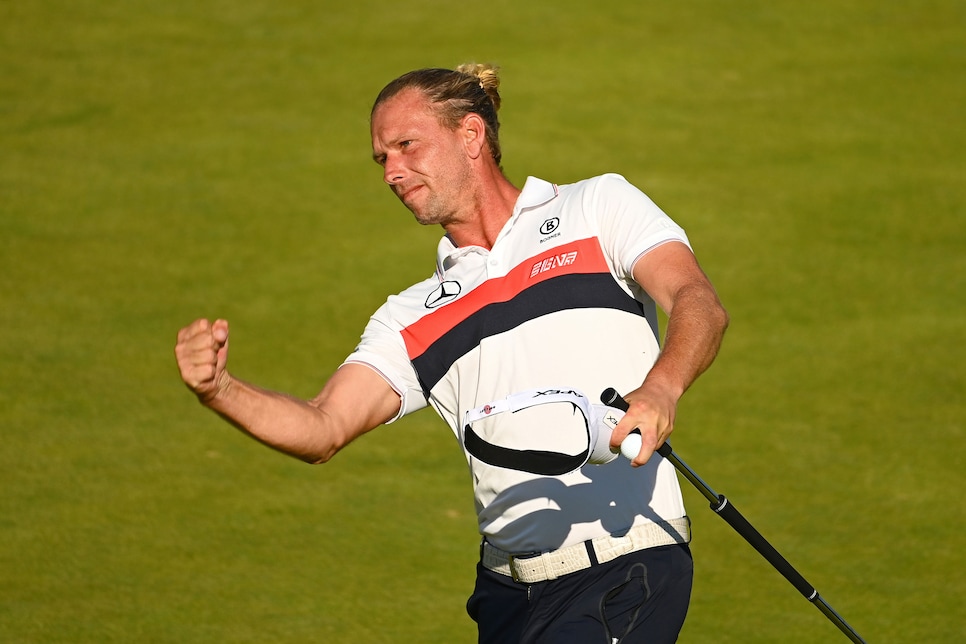 "Richard Bland, Gregory Havret—there's a lot guys in my age going back to the Challenge Tour," Siem said Friday. "If you don't accept that you lost your card, and you still think you're a European Tour player, and there should be a caddie around you, and you should be play for €2 million, you cannot compete on the Challenge Tour. There's no chance. You're grumpy, you're upset all the time. Once you make friends on the Challenge Tour and accept that's where I am, that's the only way forward. I'm so happy that I understood that. … You have to show the Challenge Tour some respect."
In related news, Siem won on the Challenge Tour the week before the Open and, with his excellent T-15 at Royal St. George's, assured a return to the European Tour. None of it would've happened had he not banished his pride and welcomed his new reality. The past is exactly that. It's what happens next that determines your future.
14: In other Challenge Tour news … any Challenge Tour player who made the cut this week had 10 percent of his prize money count toward the Challenge Tour points race. This has an outsized effect, as the purse for the Open is more than €9 million, while the average purse on the Challenge Tour is between €200,000 and €300,000. Thus, a top-10 finish at the Open holds way more weight than a top-10 finish in the Challenge de Caiz. As it should! The exposure guys like Siem and big Jonathan "Jigger" Thompson provided the second-level circuit simply by having the words "Challenge Tour" said on the broadcast alone warrants the points bump, to say nothing of the gaping divide in field strength.
Contrast this with the Korn Ferry Tour's major policy, or lack thereof. At last month's U.S. Open, Taylor Montgomery and Dylan Wu both made the cut at Torrey Pines and woke up Monday morning further from getting their PGA Tour cards. It may sound like a niche, inside-golf problem, but it's a problem nonetheless, and one with a clear solution.
15: Another major came and went without much of a word from Justin Thomas (T-40) or Patrick Cantlay (missed cut), two of the top seven players in the World Ranking. Thomas looked poised for a fruitful summer after winning the Players Championship with a scintillating display in March, but he failed to even semi-contend at any of the big four: a T-21 at the Masters, a missed cut at the PGA, a T-19 at the U.S. Open, to go along with the quiet week at Royal St. George's. He now has just two-10 finishes in his last 10 major starts; for a middle-of-the-road PGA Tour player, that's solid. For someone like Thomas, who continues to pick off PGA Tour events at a breakneck pace, it's highly disappointing.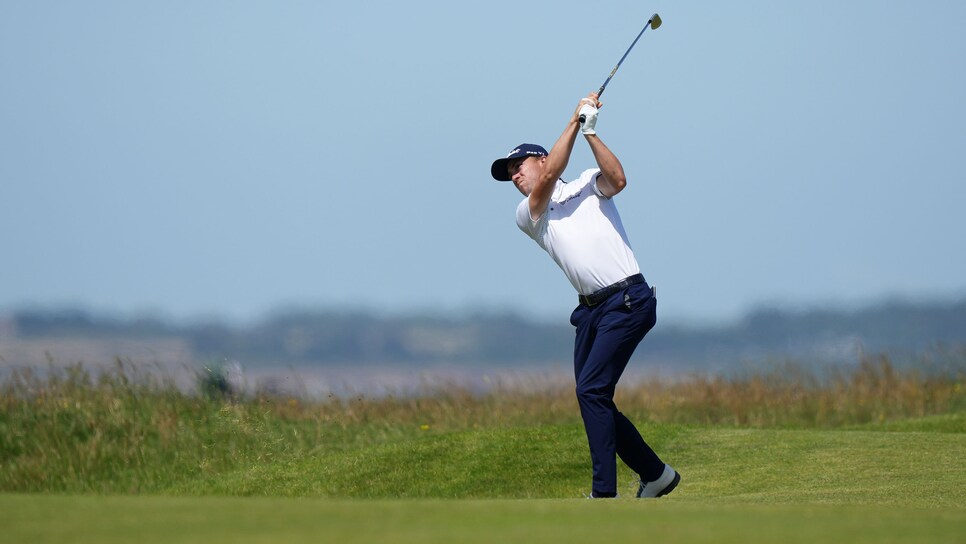 Cantlay has been even worse on the big stage, which makes hardly any sense given how well-rounded his game his. His ranks on the PGA Tour this season, where he came into the week leading the FedEx Cup: 14th in SG/off the tee, 25th in SG/approach, ninth in SG/around the green, 53rd in SG/putting, sixth in SG/overall. He's always a trendy pick coming into the majors and has repeatedly let down his backers, with missed cuts at the Masters and the Open sandwiching a T-23 at the PGA and a T-15 at the U.S. Open.
16: Royal St. George's won't find its way onto many people's bucket list, and it took its share of subtle daggers from players all week. (And one not-so subtle dagger from Brooks Koepka, never one to beat around the bush). It does, however, feature one of the great holes in championship golf. The par-4 fifth, dubbed "Sea Hole," is a masterclass in design. The hole turns left. Bold tee shots that challenge a venomous bunker left of the fairway are rewarded by a flat lie on a plateau, and a view of the green through two massive dunes. Bail out right and your ball will find its way to a hollowed-out valley, leaving a completely blind and much longer second shot. Once you trudge between those dunes, you're treated with your first proper view of the sea. Adding to its mystique is the role it played in an all-time quirky Open memory: in 1948, Harry Bradshaw's drive rolled onto parts of broken glass. He didn't know the rule and there wasn't an official around, so he took a whack. It didn't work, he made double, and wound up losing in a playoff.
17: Matthias Schmid impressed in winning the Silver Medal, beating out Yuxin Lin for the low-amateur honors. And he did so while following rule No. 1 of being a Low Amateur: you must wear a hat you picked up in the tournament merchandise tent.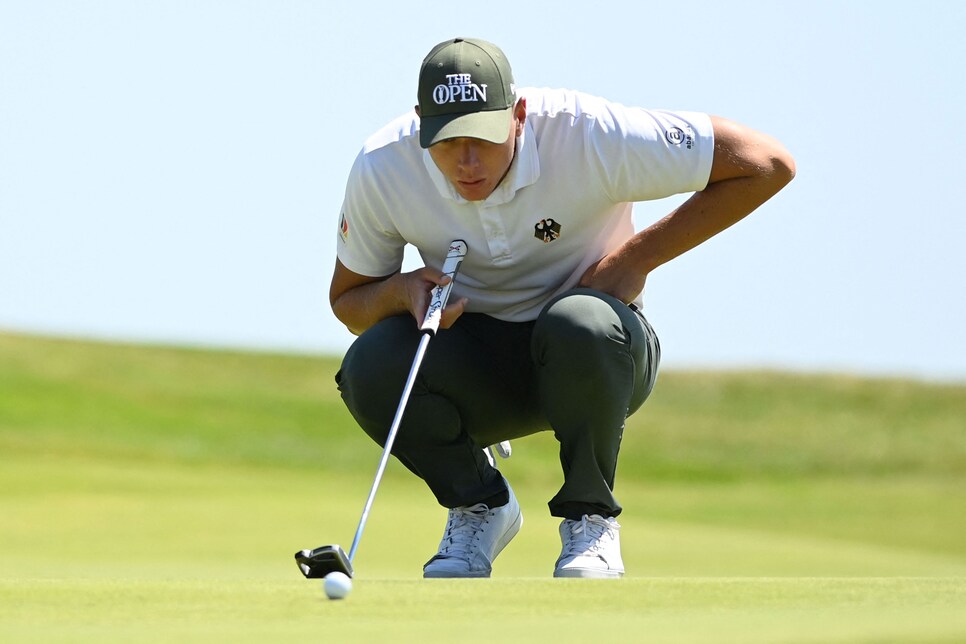 18: Let's hope it never happens again, for if it does, something terrible has likely happened. But we've been treated to seven major championships in 11 months and precisely zero of them produced an off-the-wall winner. There was no Ben Curtis here. We had: Collin, Bryson, Dustin, Hideki, Phil—still can't quite believe Phil—Rahm and Collin. It's been a breakneck, adrenaline-addled stretch, and the comedown's about to be real. We're now faced with 263 long days until Augusta … oh wait, we still have two more women's majors, the Olympics and two bi-annual exhibitions where the golfers scream more than usual. That comedown can wait at least a few months more.