The runner-up
The Open 2021: Jordan Spieth left to lament missed chances after disastrous Saturday finish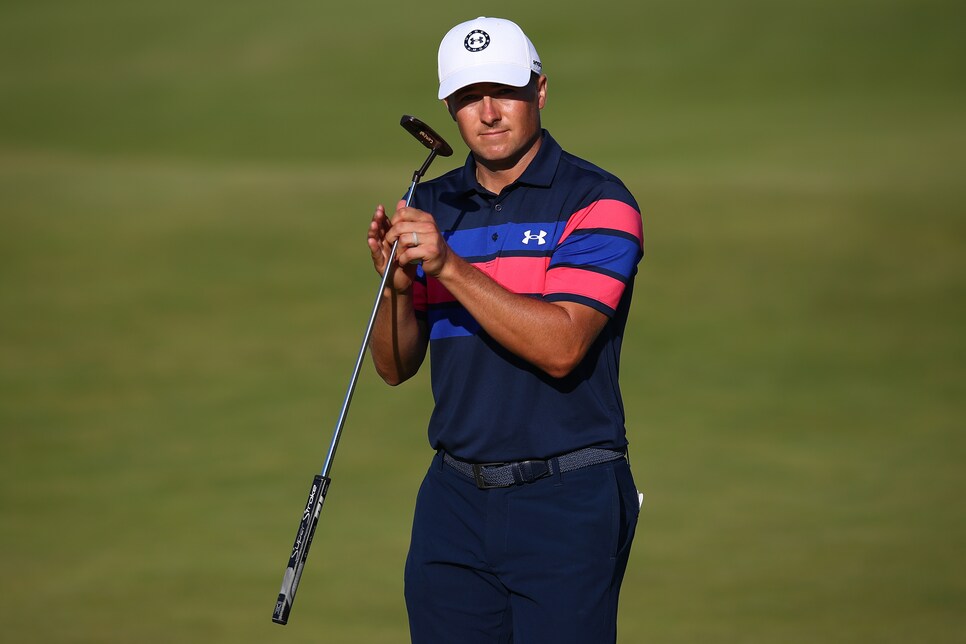 Jordan Spieth acknowledges the fans as he makes his way along the 18th hole.
Christopher Lee
SANDWICH, England—A lot of golf was played between the end of Jordan Spieth's third round in the 149th Open Championship and the moment when Collin Morikawa holed out on the 72nd green to claim the claret jug. Many great shots were hit. Putts were made and missed, although not too many of the latter by the two main protagonists. All in all, it was a fittingly dramatic and exciting return to action for golf's oldest major.
But the eventual two-stroke margin between Morikawa, the new "champion golfer of the year," and Spieth, the runner-up, begs an obvious question: How long did it take the man who would finish second to put the sloppy bogey-bogey climax to his Saturday afternoon on the links of Royal St. George's into a context he could manage going forward? Amidst an uncharacteristic fit of pique, Spieth had slunk off to practice his putting without offering any explanation of the two-footer he had just missed on the 18th green.
"The finish yesterday was about as upset as I've been taking a finish of a round to the house," confirmed Spieth. "I walked in and asked, 'Is there something that I can break?' I knew that was so important because I would have been in the final group. I mean, I was 60 yards out in the fairway and made bogey on 17. Then I had a good look straight up the hill on 18. I finished two-over on those holes, but what was frustrating was the separation it would have been. It would have been three of us at least three-shots ahead of the field and I would have been in the final group.
"It was kind of a double whammy there where you feel like you're not worried about someone going low behind you as much and you feel in control when you're in the final group," he continued. "So that was a new one for me. I would say it wasn't until after dinner that I calmed down a bit. But what good does it do to be upset? I kind of came out today with, 'yes, I should be leading the tournament.' That's how I felt. The only good thing was I got to play with a chaser's mentality, which sometimes can be with a bit more freedom."
What made Spieth's late lapses on day three so surprising is that the 27-year-old is one of the more mature members of golf's elite and typically the master of what four-time Open champion Bobby Locke used to call "the art of playing badly well." Former European Ryder Cup player Paul McGinley is another impressed by Spieth's ability to make the shots and putts that matter most.
"Jordan finds a way to make the putts for pars that really count," says the Irishman. "The ones that keep a score going when you are struggling a little bit."
"I've never seen a player prepare better to hit a shot than Jordan," says former PGA champion Wayne Grady. "His focus is so exact. He reminds me of a darts player homing in on his target."
Joining the chorus, former U.S. Open champion, Geoff Ogilvy, is also a fan of Spieth's scrambling abilities.
"You can always learn a lot, the way Jordan gets around a course," says the Australian. "More than anyone, he seems to always sign for one or two (shots) less than you think he maybe should have. Every day. That's always the sign of a great player. Tiger was like that; he always seemed to sign for five less than he should have. Jordan's one of those guys who gets the best out of his round almost every time you play with him. That's something we can all observe and get something out of."
So it is that Spieth's regret at not playing alongside Morikawa was so profound, a reaction that will surely resonate with every true competitor. Playing in the group ahead, the ability to influence an opponent is much diminished, especially when a putt is made. Looking the other guy right in the eye is much more likely to affect his subsequent play than hearing even a loud roar from a few hundred yards away.
"I've been in that position a lot of times, and it's a lot nicer when stuff's happening in front of you," said Spieth, the pursuer. "Then you have more control, versus I get off the 16th today and it's like, 'well, they could birdie behind,' and there's nothing I can do about it now. Plus, when you're the last to come in, you've got the last chance on 18. That's the easiest place to come from, especially when it's easier conditions. If we had wind and rain and all that, then obviously, as this tournament has shown at this venue, it's nice to post early. But that wasn't going to be the case today."
Amidst the doom and gloom of his still clearly raw failure to add a second Open title to that he won at Royal Birkdale four years ago, Spieth was able to express some pride in his play during his closing 66. Even if his putting isn't exactly where he would want it to be. And even after that bit of post-round practice on Saturday evening.
"I needed to put in a little bit of work trying to get a solid couple hundred to 500 putts in between yesterday's finish and today's round to think that I could go out and confidently stroke well enough to win" he said.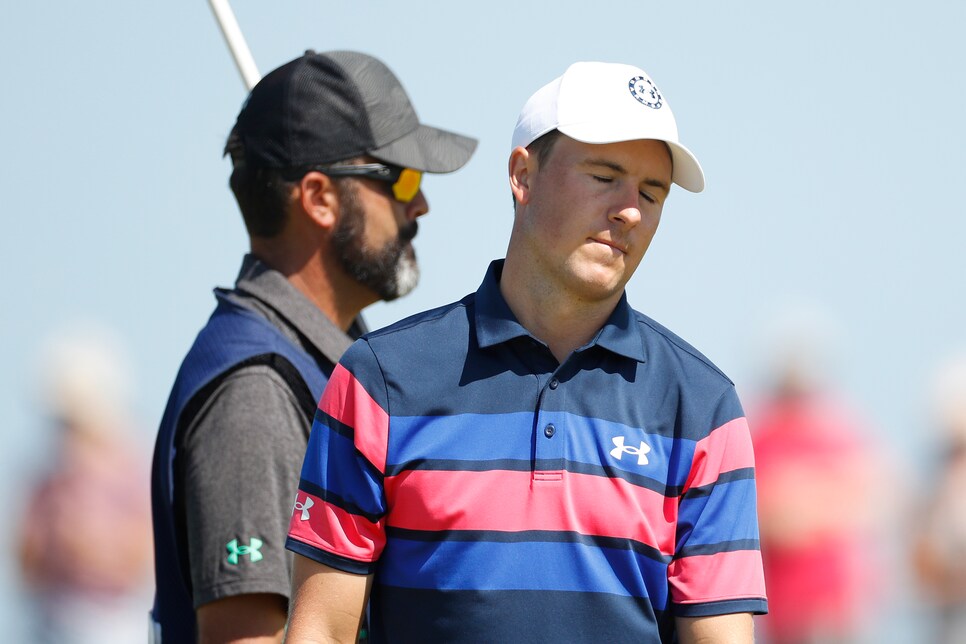 Jordan Spieth reacts on the sixth hole during the fourth round of the 149th Open.
Oisin Keniry
Still, things weren't all bad. Two over par through six-holes, Spieth sailed through the next eight holes in six unde, courtesy of four birdies and an eagle at the par-5 seventh. In other words, just the sort of run that might just have unnerved a playing partner, even one putting as well as Morikawa.
"I'm proud of going six under for the last 12 holes in this golf tournament and putting some pressure on Collin," said Spieth. "From what I've heard, I guess he made a big par save on 10, a putt up the ridge on 14 and a par save on 15. I needed a break, and I didn't get it from him. I did all I could. But I'm upset because I really felt like I played well enough to win, but made a couple of really dumb mistakes. If I had played the week before, I maybe wouldn't have made those. Like stepping in and missing a couple-footer on 18 yesterday, not really thinking about it. But at the same time, I did everything I could in the past few hours to win this championship."
There was time too for some kind words for the new champion. Warming to his theme, the 'real' Jordan Spieth was fast replacing the strangely grumpy Saturday evening version.
"Collin swings the club beautifully, gets it in positions that make it very, very difficult to not start the ball online," he said. "So he's going to be very consistent tee-to-green. With the shots he's hit and the putts he's holed, he's not afraid of high pressure situations and winning a major championship. Obviously, there's a bright future ahead. That's pretty special. I think winning one major can happen to a lot of people playing really good golf in one week. But winning two or more, he's proven that this stage is where he wants to be."
In other words, front and center. Where Jordan could have been.
MORE BRITISH OPEN 2021 STORIES FROM GOLF DIGEST: