Voices
British Open 2021: Bryson DeChambeau clearly wants a reset. It's possible, if he takes his own advice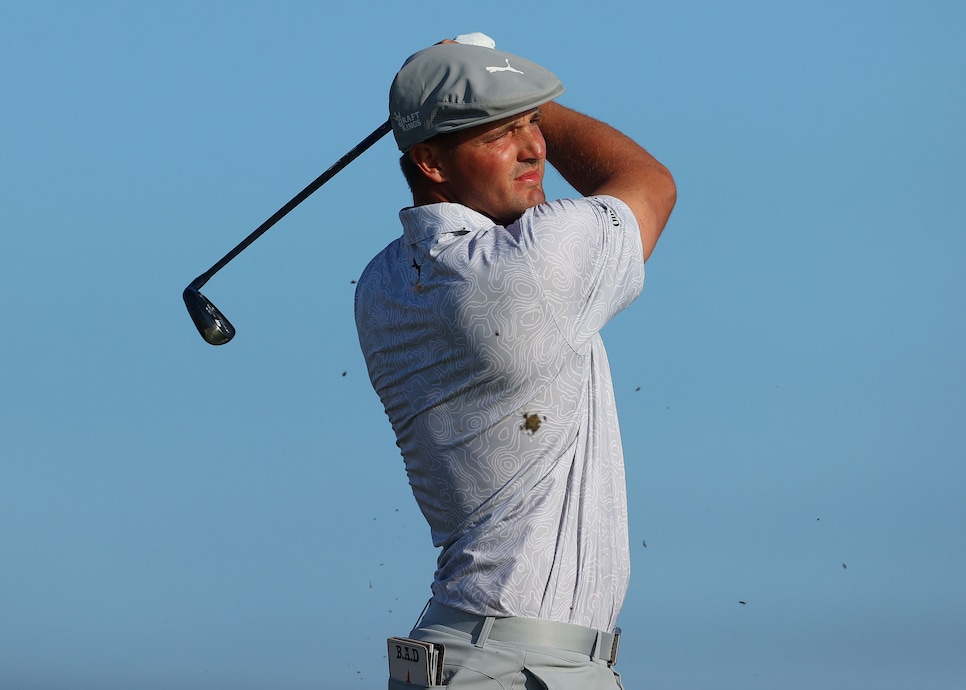 Photo By: Andrew Redington
SANDWICH, England — The question didn't have to cause any damage. Bryson, why don't you shout fore? DeChambeau could have swatted it away quite easily. I try to, but sometimes, in the heat of the moment, I forget. It's definitely something I need to work on. That would've been the end of it. Instead, when asked on Tuesday in his pre-tournament press conference at the 149th Open Championship, he opted to play defense.
"I do shout fore," he said, despite recent video clips that say otherwise. "I don't know what you're talking about."
The entire tenor of the conversation shifted. He felt attacked, and the media had its headline, and social media had its ammunition. Again. And this came before any queries about the feud that simply will not die. He seems to wish it would.
And therein lies the great contradiction at play. Bryson DeChambeau has repeatedly put himself at the center of a dizzying media circus he clearly does not enjoy. That was evidenced all too well this week at Royal St. Geroge's where DeChambeau rolled in a nervy five-footer for par on the 18th hole Friday to make the cut on the number at one-over 141. With that, DeChambeau will get two more rounds in southeast England to try to put some distance between himself and another hugely distracting off-course disturbance.
"We forget as outsiders that every player has their own personality," says Dr. Bhrett McCabe, a sports psychologist who works with a host of PGA Tour players. "Some people like to be left alone, some like to keep a really tight circle. For these types of people, outsiders can be very concerning, almost threatening. We have to remember these guys have personalities."
DeChambeau conveyed a similar sentiment in that same press conference on Tuesday, when asked if he might thrive off controversy. (He does not).
"Everybody is human. I'm definitely human. We all make mistakes and things happen. We have emotion. And I think that sometimes people objectify us big players at the top of the game too much, and they don't realize that we are human and we make mistakes and things happen. … Do I like showcasing something unique and different? Yeah, but I guess what comes with that is controversy, and I guess that's something that I don't necessarily deal the best with sometimes."
Only the controversy that perpetually follows DeChambeau does not come as an automatic byproduct of him being unique and different. Few who have given it more than five seconds of thought have taken issue with his single-length irons, or his math-based approach, or his late-night range sessions, or his quest for speed. Quite the contrary. His singularity is his most charming attribute. It is the reason he has his umpteen sponsorships. It's why he's a main attraction in every golf tournament he plays in. Among PGA Tour pros, there is something of a consensus: No matter your personal feelings about the guy, you have to respect his work ethic.
It's the other stuff that rubs people the wrong way, that prompts Jason Dufner and Luke Donald and Justin Thomas to take public shots after DeChambeau's one-over 71 during the first round, when he delivered another self-inflicted wound.
The question that prompted the already infamous "driver sucks" comment was an innocuous one, too. Encouraging, even: "You only hit four fairways from 14. Despite that obviously not looking great, you must take a lot of heart that you're still +1 and still in with a shout despite kind of wayward drives. If you straightened those up, you certainly must think you must be contending by the end of the week."
There was no reason to go there. It wasn't a trap. After battling back on Friday with two late birdies to shoot an even-par 70, DeChambeau struck a tone that suggests he finally understands that.
"I played the game growing up so I could win tournaments and be one of the best players in the world, not really to be famous. Obviously, it comes with it. I know that. But growing up, it was all about just playing golf."
A reporter then pointed out that it is, in fact, possible to be famous without being controversial.
"Oh, absolutely. I would love that to be the case. There are probably three or four things going on right now that everybody latches on to and says out there on the golf course. It is what it is. I'm 27, I'm human, I make mistakes. Yesterday was another one of those. I continue to keep making mistakes, unfortunately.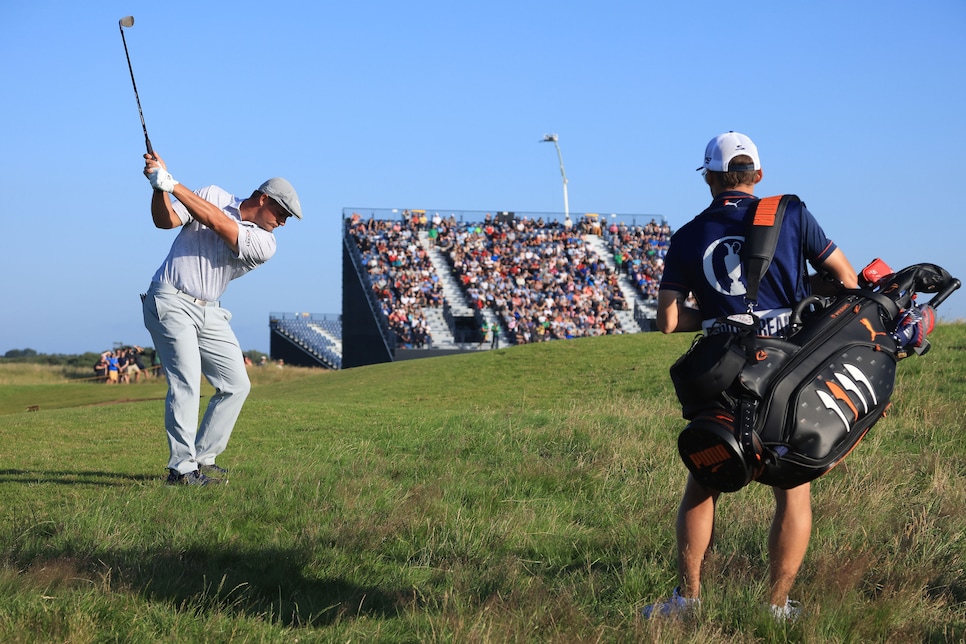 DeChambeau plays his second shot on the 17th hole Friday, en route to an even-par 70 and making the cut on the number.
Andrew Redington
"It's frustration. Not thinking the right way, saying the right things. I've messed up in my career, and every time I mess up, I learn from it. This is another learning moment … in regards to the media, I've struggled sometimes with the words I say, and it's my fault."
Self-awareness had replaced defensiveness, at least for a day, and self-awareness is key.
DeChambeau desperately wants to get back to basics. He'd love a reset button, to quiet the external noise and narrow the focus to what happens between the ropes, which is often extraordinary. He is a brilliant golfer, and he has been since before the bulk-up. One does not win the U.S. Amateur and the NCAA Championship and the U.S. Open and eight PGA Tour events on a fluke.
For those who followed DeChambeau around Royal St. George's on Friday, one thing was unmistakably clear: vocal minority aside, the fans by and large hold no hard feelings. They welcomed him to every tee and elbowed each other for a better view. They egged him on to hit driver and groaned when he pulled an iron, and he quipped back, which tickled them pink. There is a big, big world outside the Twitter vortex.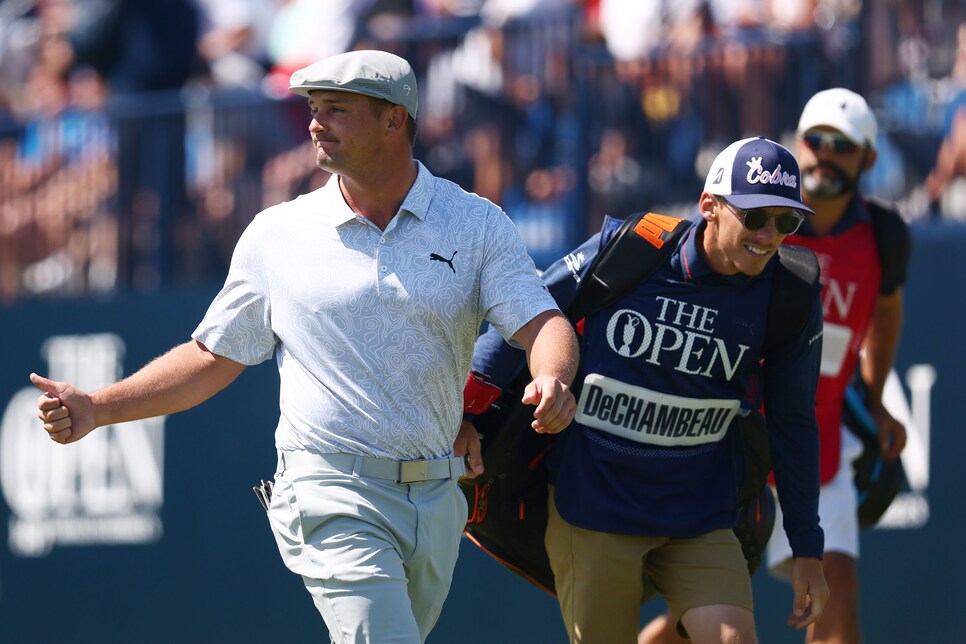 Dechambeau interacts with fans on first hole Friday during his second round at Royal St. George's.
Charlie Crowhurst/R&A
When Bryson's golf is the story, he is a huge asset to this game. Golf needs every ounce of different it can get, and the guy wearing a funky hat who slams protein shakes and swings like he's in a long-drive contest certainly qualifies. Think back to Bay Hill, when he damn near drove a par 5 and won the tournament to boot. Media coverage was overwhelmingly positive, and he relished the attention.
It's really not that complicated, nor is his reputation beyond repair. He said, with a look of genuine contrition, that he'll learn from this latest mistake. Hopefully he does, if only for his own sake.
MORE BRITISH OPEN 2021 STORIES FROM GOLF DIGEST: