Bryson Watch
British Open 2021: Bryson DeChambeau responds to criticism for not warning fans about wayward drives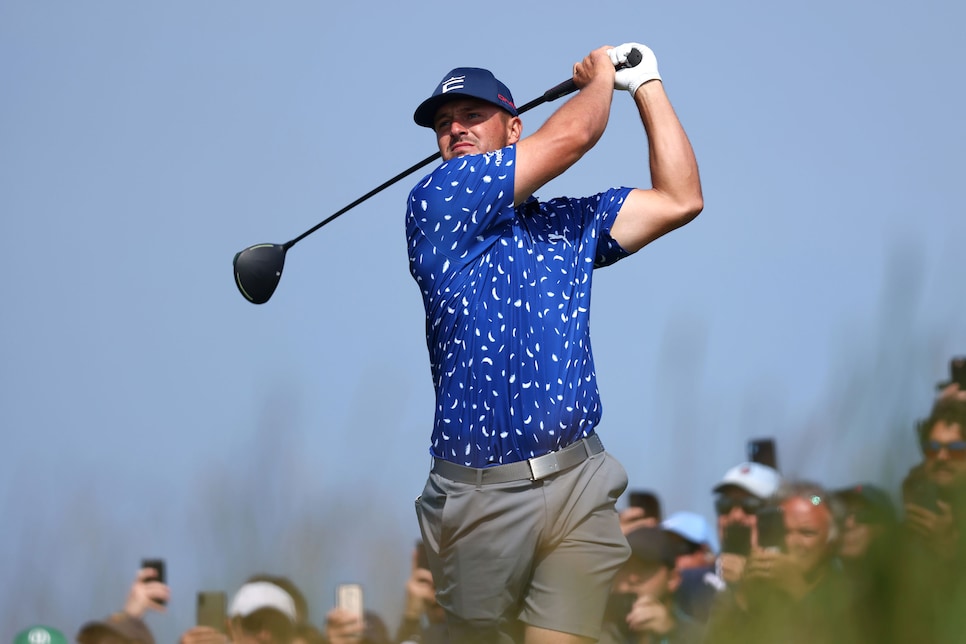 Bryson Dechambeau hits a drive during a practice round at Royal St. George's on Tuesday ahead of the 2021 Open
Charlie Crowhurst/R&A
SANDWICH, England — Like it or not, most pre-Open Championship press conferences have a sameness to them. How the course is playing gets an airing. So does the current form of the player being questioned. A bit of links-golf strategy invariably gets a mention. Performances in Opens past come up, too. In other words, there is a predictability about much of what goes on.
Then there is Bryson DeChambeau, a golfer for whom there is no same, only different. So, while his 15-minute visit with the media did contain some of the patented questions, even this short chat with the former U.S. Open champion provoked its share of drama.
Asked why, when he hits a drive that's headed toward a group of watching spectators, he is sometimes slow to yell the traditional word of warning—"Fore!"—DeChambeau feigned innocence, even in the wake of cinematic evidence to the contrary.
"I do shout 'Fore,'" he said. "I don't know what you're talking about. There are plenty of people on the tee box that do shout 'fore.' You're bringing up a very controversial thing, which is unfortunate. But 99 percent of the time I do [shout], and unfortunately people think I don't. But that's OK, they can say whatever they want."
Indeed, when it comes to the 27-year-old Californian, they invariably do. Brooks Koepka springs to mind. Earlier, the four-time major champion was asked if he and his not-so-close mate DeChambeau were likely to form any kind of partnership at this year's Ryder Cup. Predictably, Koepka gave the very notion a resounding thumbs-down. But DeChambeau claimed to be open to the idea.
"I think it would be kind of funny actually," he said. "I think we'd do well, to be honest. It would create a little interesting vibe for the team or for the guys we're playing against."
Still, the questions on the on-going spat between the two Americans weren't quite over with. Asked to comment on Koepka's assertion that he (DeChambeau) is "fair game" and that he (Koepka) would continue to "take his shots," the proposed target claimed the high ground rather than the high grass in which so many of his drives finish.
"He can say whatever he wants," DeChambeau said. "I think he said something back at Liberty National about me not upholding something. I don't know what he's talking about in that regard.
"Maybe that's on me. Maybe I didn't. I really don't remember anything about that. We just had a conversation that I really don't know what happened, because we haven't really bantered back and forth until now. So it's like why is that happening now? I'm just here to play golf and focus on that. If we want to keep bantering back and forth, obviously being respectful and keeping lines where they aren't getting crossed, yeah, I think it's fun and a good environment for people in golf."
Moving right along, DeChambeau adopted the same sort of philosophical approach to a question on his propensity to provoke controversy, something he claimed to "not necessarily like."
"Everybody is human," he said. "I'm definitely human. We all make mistakes and things happen. We have emotion. And I think that sometimes people objectify us big players at the top of the game too much and they don't realize that we are human and we make mistakes and things happen. I never grew up to become famous. I grew up to play golf, and that's something that people I don't think realize. Unfortunately, things don't come out the right way sometimes or happen the way you want it to.
"At the end of the day we have to move on and do the best we possibly can. I just like doing my own thing. Do I like showcasing something unique and different? Yeah, but I guess what comes with that is controversy. And I guess that's something I don't necessarily deal the best with sometimes. At the end of the day, I try to do the best. I'm trying to become better at it."
One part of DeChambeau's press conference did follow the usual norm. The rough left of the 15th fairway is "pretty thick stuff" and "pretty diabolical" apparently. And even DeChambeau is going to be forced to play safe occasionally. Into the wind off the par-5 14th tee is one example. So is the drive on the fifth, if he "can't cover the 338 number." And on the eighth he is likely to play short of the bunkers on the right, which will leave a wedge into the green.
"The key is driving it in the fairway this week," he said, returning to safer ground. "No matter what, you've got to be in the fairway. If I get more times than not in the hay, I'm probably not going to have a good chance this week. You've got to make sure the driver is well."
And, with that, he was gone. Until next time at least.