Team Dyanmics
British Open 2021: Brooks Koepka confirms the obvious, says he won't be paired with Bryson at the Ryder Cup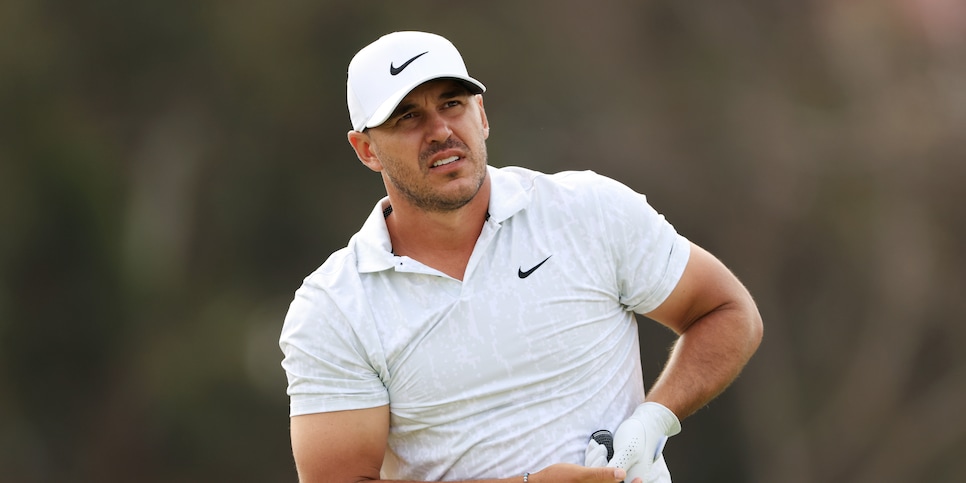 SANDWICH, England — The feud has been confined to the Interwebs. Brooks Koepka and Bryson DeChambeau have not been paired together since that viral video from the PGA Championship reignited a feud that dates back a few years now. They have not hashed it out face-to-face. Smart money says they haven't spoken a word to each other in many moons.
That's all about to change, though. Both men are all but certain to be a part of the 12-man team that will represent the United States at the upcoming Ryder Cup, which begins Sept. 24 at Whistling Straits in Haven, Wis. DeChambeau ranks second in the points race and Koepka is fourth, both comfortably inside the six qualifying spots.
They will be forced to share oxygen in the team room, to put their stark differences aside in the name of a common goal. This was presented to Koepka at his Tuesday press conference ahead of play at Royal St. George's.
"You realize it's only a week, right?" Koepka responded.
Yes, but surely an awkward one.
"It's only a week," the World No. 8 said. "I mean, look, I can put it aside for business. If we're going to be on the same team, I can deal with anybody in the world for a week.
"I'm not playing with him," Koepka added. "I'm pretty sure we're not going to be paired together, put it that way. I think it's kind of obvious. It doesn't matter. I don't think they're—we're not going to be high fiving and having late-night conversations. I do my thing, he does his thing. Yeah, we're on the same team, but it's not an issue at all. I don't view it as an issue. I don't think he does. Like I said, I can put anything aside for a team, business, whatever, just to get the job done. No problem with that."
It won't be the first time the two played on the same Ryder Cup team. Both were part of the U.S. team that was shellacked 17½-10½ at Le Golf National outside Paris in 2018. Koepka teamed up with Tony Finau twice and Dustin Johnson in the team matches and went 1-2-1 for week; DeChambeau played alongside Tiger Woods and Phil Mickelson and lost all three of his matches.
Koepka seemed entirely unbothered by what might happen in two months, for he's squarely in his major-championship comfort zone. The 31-year-old has finished T-7 or better in 11 of his past 15 major championships, including a T-4 at the 2019 Open Championship at Royal Portrush. After missing the cut at this year's Masters—where he was just one month removed from knee surgery and visibly hobbled—he rebounded with a T-2 at the PGA Championship and a T-4 at the U.S. Open.
At that U.S. Open, a large segment of golf fans tried to will the USGA to pair the two stars together for the first two rounds. It didn't happen, and the R&A similarly avoided stirring the pot this week. But governing bodies have no say over weekend pairings, and Koepka did not shy away from the possibility of playing with Koepka toward the business end of a major championship.
"I would enjoy it," he said. "I'll be close to the final group come Sunday. I always feel like I play well in the big events, the majors. I think it would be a lot more people tuning in, with everything that's gone on over the last two years, three years. So yeah, I think there would be a lot of people tuning in."
MORE BRITISH OPEN 2021 STORIES FROM GOLF DIGEST: