Bryson-Brooks
Brooks Koepka explains origin of Bryson beef, says DeChambeau 'went back on his word'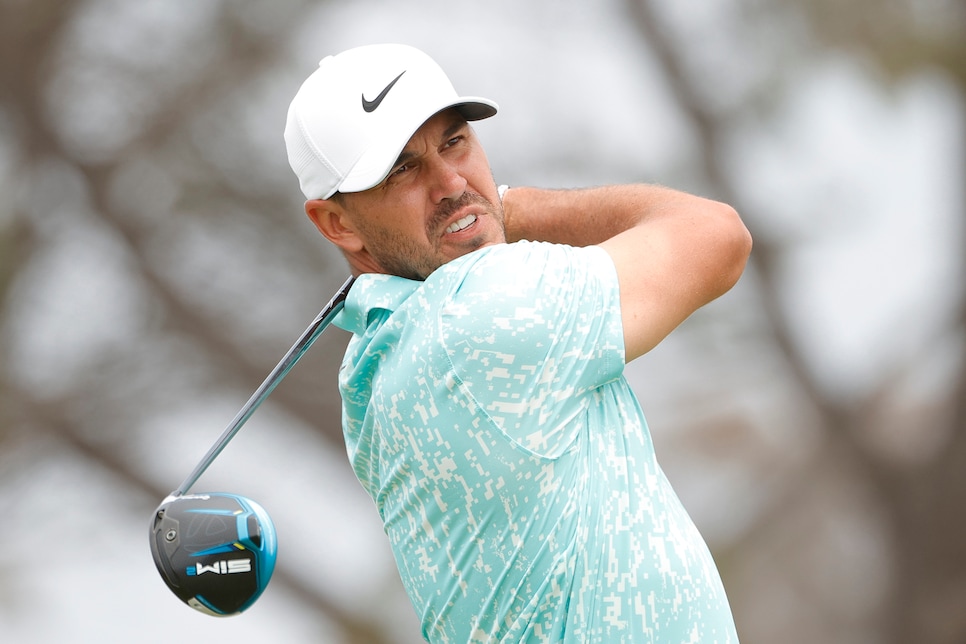 CROMWELL, Conn. — The ongoing feud between Brooks Koepka and Bryson DeChambeau has dominated golf headlines in recent weeks, but the origins of the beef remained a mystery. Did Brooks start it when he publicly griped about slow players back in 2019? Did Bryson light the match when he called out Brooks' lack of abs during a Twitch stream? Is it all a publicity stunt to drive up interest for some money-making operation down the line?
On Wednesday, speaking ahead of the Travelers Championship, Koepka shed some light on when he feels the disdain began.
"I thought it was just interesting when he walked up to my caddie and told Ricky [Elliott] that if I had something to say, to say it to his face," Koepka said. "I thought that was kind of odd, when you don't walk up to my face, and say it to my caddie."
Koepka would seem to be referring to a conversation the two had during the 2019 Northern Trust at Liberty National. That came after Koepka had publicly called out slow players in an appearance on the Golf Monthly podcast. "I just don't understand how it takes a minute and 20 seconds to hit a golf ball," Koepka said. "It's not that hard." He didn't call out DeChambeau by name, but it was widely seen as a reference to a European Tour video that showed DeChambeau taking an exorbitant amount of time to play a wedge shot. At Liberty National, DeChambeau and Koepka spoke before their final rounds, and DeChambeau told reporters that he "just wanted to clear the air."
On Wednesday at the Travelers, Koepka also suggested he and DeChambeau had come to some sort of agreement during that conversation two years ago.
"And when we had that conversation, we agreed on something and he went back on it," Koepka said Wednesday. "So, if you're gonna go back on your word, I don't have much respect for that."
The feud then faded until a rogue viral video surfaced last month. It showed Koepka, at the PGA Championship, rolling his eyes as DeChambeau walks by in the background during an interview Koepka was doing with the Golf Channel. The following week, at the Memorial Tournament, fans repeatedly referred to Bryson as "Brooksy," and Koepka offered free Michelob Ultra to any fans who were kicked off the grounds as a result of their conduct.
The feud loomed large at last week's U.S. Open, when Brad Faxon said that the USGA had approached DeChambeau's camp about a potential pairing with Koepka, and that DeChambeau declined. DeChambeau, his agent and the USGA all denied any such conversation.
After briefly playing into the back-and-forth on social media, DeChambeau has tried to distance himself from the feud and played down its significance.
"I've got nothing against [Koepka]," DeChambeau said at the Memorial. "I've got no issues at all. If he wants to play that game, that's great. I'm going to keep trying to play my best game and when it comes down to it, when somebody's that bothered by someone else it is flattering."