Captain's log
The Open 2021: Padraig Harrington gives a few more hints about his Ryder Cup picks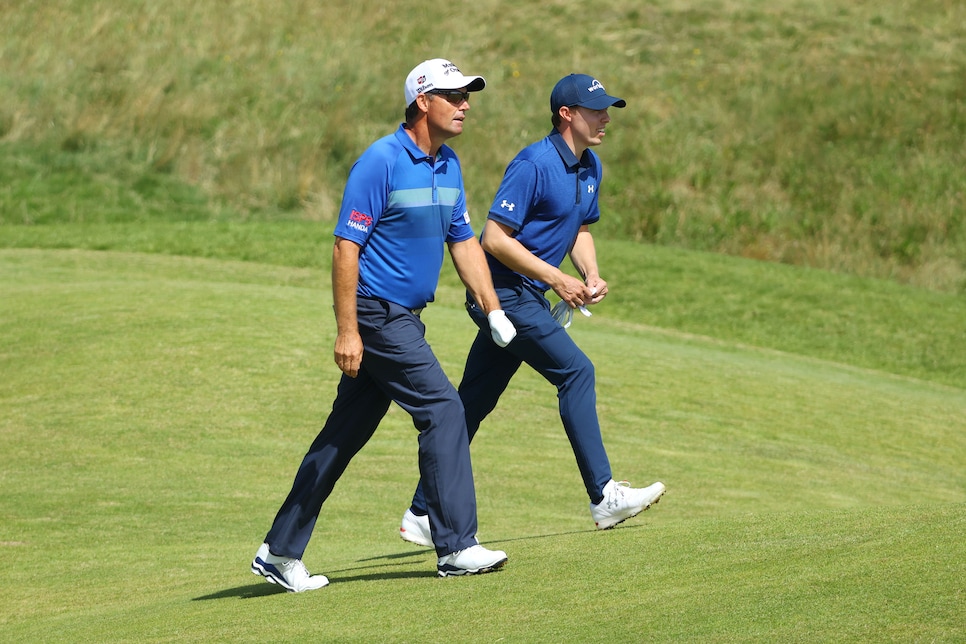 Padraig Harrington played alongside likely European Ryder Cupper Matt Fitzpatrick on Saturday at Royal St. George's.
Andrew Redington
SANDWICH, England — One of the greatest talkers in the history of golf, Padraig Harrington was unusually subdued, even after concluding his four circuits of Royal St. George's with a birdie. Four over par for the week represented steady but unspectacular golf, a struggle the two-time Open champion blamed on "not feeling good" on the greens.
Still, none of the media gathered around the European Ryder Cup captain were really interested in what Harrington shot today or any other day this past week. The clue is in the 49-year-old Irishman's current title: What, Padraig, is going on with the team you will take to Whistling Straits in September?
While no one was expecting to hear anything too definitive, Harrington was happy to share some of the details currently rattling around in his ever-active brain. As things stand, nine men—Jon Rahm, Tommy Fleetwood, Tyrrell Hatton, Rory McIlroy, Viktor Hovland, Paul Casey, Matt Fitzpatrick, Lee Westwood and Victor Perez—occupy the automatic qualifying spots. Perez is vulnerable, however, with Shane Lowry currently the nearest challenger for that last spot.
So Harrington was giving nothing away when he confirmed that eight of that nine are pretty much "stitched-on" to be part of what will eventually be a 12-man squad. In contrast though, the identities of the three captain's picks are more difficult to discern. If Perez maintains his position, it is likely that Harrington will go with more seasoned players for his wildcard selections, with Lowry, Sergio Garcia, Ian Poulter and Justin Rose all prime candidates.
"I place a lot of store on stressful rounds," Harrington said. "All major rounds are stressful, but especially those in contention. I place a lot of store in those. It's not about shooting 65 on Sunday to finish fifth; it's about playing well when you're leading or close to the lead. That's a different stress and the sort of feeling you're going to have in the Ryder Cup."
As for how many men—experienced or not—are actually in contention for selection, Harrington was again generous enough to be as specific as he can be. But, as he tends to do, he took some time to explain his thought process.
"I'd say there are probably six experienced and maybe three rookies vying for the picks," he said. "It's harder for the rookies. They have to do something exceptional to get a pick. Then again, if you do something exceptional it is likely you will make the team. But yes, nine guys are strongly in my mind as possible picks. A lot depends on who plays their way into that ninth spot. If Victor holds on, he will be a rookie. So I'd be more likely to go with experienced players as picks.
"Nothing has really changed this week though," he continued. "Anyone playing well I've been well aware of before this. I don't think any outliers appeared this week. I'm not disappointed by that. If they do, they do. I'm more focused on the ones I can see than the ones I can't. I'm not worried about anyone I don't know about. I'd rather see the players I'm interested in doing well and being up there. The players on the fringes of the team I want to see playing well. And I want to see those who are looking for a pick playing well too. It's not the unknown I'm looking at. If something happens, fine. But I'm looking more at the guys who are likely to be in the team."
All will eventually be revealed at close of play in the BMW PGA Championship at Wentworth Sept. 12, nine days before the 43rd Ryder Cup kicks off for real.