Champion Golfer of the Year
The Open 2021: Why Collin Morikawa's second major should scare his competition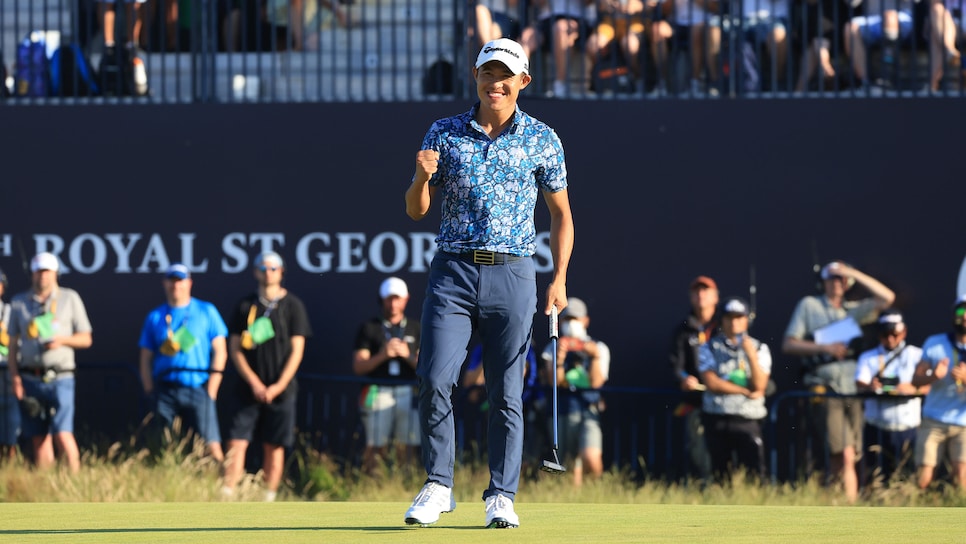 SANDWICH, England — Collin Morikawa captured his first major with a chip-in and an all-time drive. He earned his reputation as golf's premier ball-striker with a metronomic iron swing. He'd really be something, the thinking went, if he could just find common ground with the putter. The all-time greats find the bottom when they need it most.
On Sunday at Royal St. George's, Morikawa stood over a 20-footer on the 14th green that he needed, for the entire golf world was shaking around him. Jordan Spieth had rediscovered his Birkdale gear and played his last eight in a dizzying six under. A voracious Jon Rahm, overflowing with confidence but running short on holes, had a kick-in left at 16 for his fourth birdie in a row. Louis Oosthuizen finally showed signs of life, nearly jarring his third into the same par 5. Morikawa's cozy four-shot lead had dwindled to one in a jiff, and a meek chip had expired before climbing a ridge guarding the flag. He risked letting the tournament's last par 5 come and go without a birdie.
He placed his left hand on his wand, draped the grip between his right thumb and forefinger—the "saw" grip he switched to in February, out of sheer necessity—and poured in the one final birdie to clinch the Open Championship. A final-round, bogey-free 66 and 15-under 265 total delivered a two-shot victory over Spieth, with Rahm and Oosthuizen two further back in a tie for third.
The only buzzkill here: Morikawa's now out of majors to win in his first try. He catapulted to stardom 11 months ago in chilly, fan-less San Francisco, winning the PGA in impressive comeback fashion. On Sunday, the 24-year-old from Los Angeles became the first player ever to win two of the four in his debut—and did so in front of a (nearly) full house, on a sun-soaked afternoon that looked more Southern California than Southern England.
"At 24 years old, it's so hard to look back at the two short years that I have been a pro and see what I've done because I want more," said the Champion Golfer of the Year, the claret jug by his side. "I enjoy these moments and I love it, and I want to teach myself to embrace it a little more, maybe spend a few extra days and sit back and drink out of this. But I want to—yeah, I just want more."
Accomplishing anything that Tiger or Jack or Bobby never managed to is remarkable on its own; it's especially so considering how his Open began. Last week's Scottish Open marked Morikawa's first foray into links golf. He's not much of a golf nerd, never begged his parents for a trip to St. Andrews, and so he'd have to cram in Links 101 a week before the year's final major. It was quite the education. He hated the way his irons traveled through the firm Scottish turf and couldn't find the center of the face all week at The Renaissance Club.
"I was hitting these iron shots last week that I normally don't," he said Friday. Here was the best player on the PGA Tour—his lead over No. 2 in strokes gained/approach, Paul Casey, is larger than Casey's lead over No. 55, Jason Kokrak—struggling to find his fastball. What's more, he couldn't get a damn putt to the hole. That recipe produced a yucky T-71 finish. These were not-small issues that needed addressing, and he'd have to do so without any team members in sight.
The modern tour pro insulates himself behind the agent, the swing guru, the mental coach. The objective is to control as many variables as possible, to keep the machine churning without incident. Change, especially during a major week, is the enemy.
Morikawa is modern by any reasonable definition—born after Tiger turned pro, Gen Z, texted his girlfriend before they met in person. Yet he categorically rejects the notion that generational talent qualifies him for any sort of coddling. In an age of increasingly sheltered tour pros, he is refreshingly self-sufficient. He got to work, searching calmly but firmly for a solution.
"He has the ability to remain curious," says his coach of nearly 20 years, Rick Sessinghaus, from his couch in California. "He stays calm and present. He has a mastery mindset—always learning, very self-aware and willing to do the little things."
We're not sure if switching irons and putting grips on the eve of a major qualifies as little, but the point stands. A willingness to adapt. Morikawa switched out his blades in the 7-, 8- and 9-iron for a more forgiving model. On the putting front, with a nudge from caddie J.J. Jakovac, he decided to go with a conventional grip on long-range putts to get some extra hit. Jakovac, who won two D-II individual national championships back in his playing days—and celebrated his 39th birthday Sunday—is now two-for-two in putting tips. The week before the PGA, he suggested Morikawa put a little more weight on his left side at address. His boss led the field in putting that week and won his first major. The Open lags behind in the advanced-stats department, but the ol' eye test says the putter keyed the victory. Especially on Sunday.
Morikawa began the afternoon one shot behind Louis Oosthuizen, the perpetual runner-up who appealed to the crowd's romantic instincts. The two traded pars through the first two holes, with Oosthuizen cozying a fairway wood up to kick-in range for a nerve-settling up-and-down. On the tee at the par-3 third, Morikawa asked Jakovac if he liked starting 4-iron directly at the flag. "I like starting it a half-step left of it. If you land this 221, 222, it gets there."
There was no guess-work involved. Morikawa glided around this seaside links with utter conviction. He darted off the tees immediately after Oosthuizen made contact and played his brand of no-nonsense golf until Louis blinked first, bogeying the fourth with five tentative shots. The South African's uneasiness persisted all afternoon—after opening with 64-65, he played the weekend in even par to let yet another major slip through the cracks. He declined to speak with reporters after the round, gutted to his core. The juxtaposition in the two men's comportment brought to mind a poignant observation from another major winner.
"People often ask in a general term about 'experience,' " Padraig Harrington said at the PGA Championship in May. "Well, as you gain experience you lose innocence. I suppose if you drew a graph, there's a crossing point of equilibrium where you have some experience and a certain amount of innocence and enthusiasm."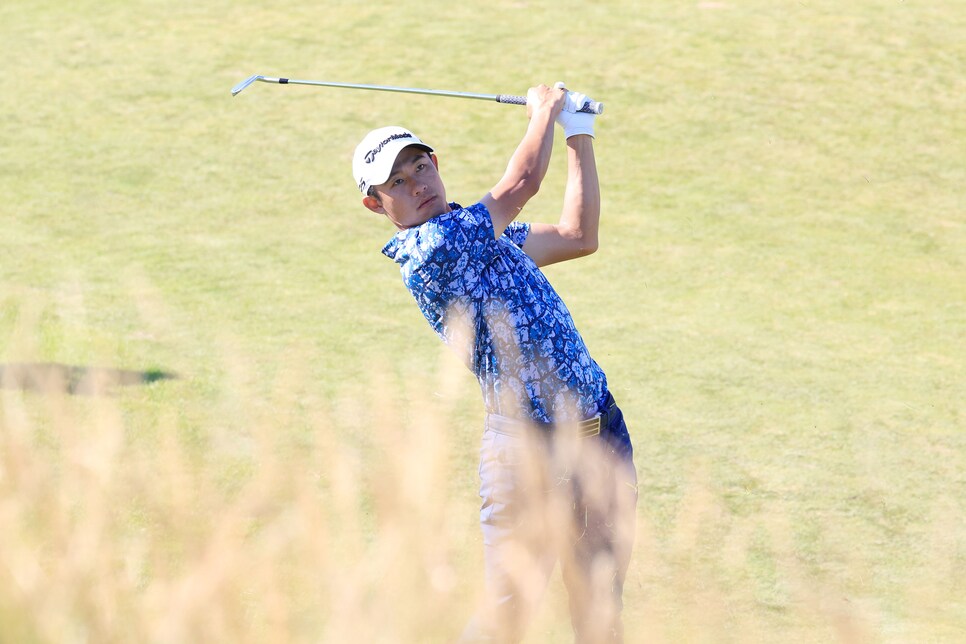 Morikawa is basking at the dead-center of that equilibrium. He entered this week with four PGA Tour victories but also just-enough scar tissue, having missed a three-footer to lose a playoff at Colonial last year and finishing second in another mano-y-mano at the Memorial last month. He never quite wrestled control of either of those events the way he did Sunday.
A comfortable birdie at the par-5 seventh coincided with a messy bogey from Oosthuizen. The lead was two. He nearly jarred his 195-yard approach at the eighth. The lead was three. A 20-footer found the bottom at nine. The lead was four. No major championship round is complete without its spots of bother, and Morikawa ran into his first one at 10, blocking his tee shot into the gorse and blocking his approach into the gorse. He played safely to 15 feet and jarred yet another. You got the sense that Collin making putts was like peak Tiger finding fairways: If he's doing that, it's over.
"Definitely one of the best [putting] weeks I've had, especially inside 10 feet. I felt like it was as solid as it's going to get. I don't think I really missed many from that distance. Especially in a major. I think in a major on a Sunday in contention, I wasn't thinking about anything other than making a putt. I'm going to tell myself probably tomorrow, 'Why can't I keep doing that all the time?' But I'm going to try to figure out what worked today and use that for the future because I know I can putt well. I know I can putt well in these pressure situations. I've just got to keep doing that."
As the putts kept falling, Spieth manufactured a spirited run out of thin air. The resurgent Texan looked genuinely disheveled after missing short par putts on 17 and 18 on Saturday and took his putter home with him that evening for last-minute, post-sunset practice. Hardly an encouraging sign, and the sloppiness bled into Sunday's opening holes. A two-way miss had him two over through six, only to eagle the par-5 seventh and birdie 9, 10, 13 and a final one at 14. He matched Morikawa's 66, but the late bricks on Saturday proved fatal.
"My putting is not where I want to be at all," Spieth said. "It's progressing the right direction, but it's not where it has been. And I know what needs to do to get there, and it's just very difficult to do. But it's rounds like today or this week, major championship rounds, where you have to obviously test not only your touch out here, but also a lot of knobs and breaking putts and trust lines. It's a good test for it. I just wasn't extremely sharp with the putter this week."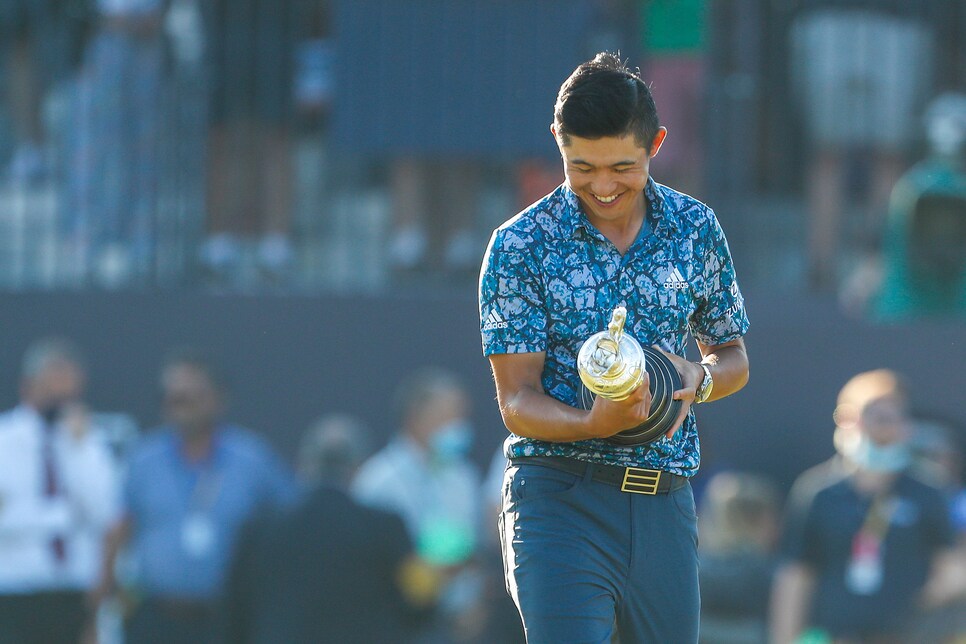 Morikawa eyes his newest prize, becoming just the fifth player to win two majors before turning 25.
Oisin Keniry
The pace of the final round suddenly hastened to breakneck territory, with world-class players flagging approaches left and right. And yet there was Morikawa, calm as ever on the 14th green, holing that 20-footer for some precious breathing room. The last four holes were not without stress; he yanked his approach long-left on 15, only to play safely to 12 feet and—you guessed it—holed the par effort. Solid pars at 16 and 17, and a splitsville tee shot on 18 ensured the type of stroll golf dreams are made of.
"To have this many people here, these are the moments you remember on TV," Morikawa said. "People tapping in for par, birdieing, whatever it may be, to win a tournament. To win a major. Those are the moments, the few seconds that you embrace so much. You look around, every seat is packed, everywhere is packed with people. That's just what's going through my head of just enjoying those moments."
Winning one major is impressive, life-changing, all that. But plenty of guys have won one major. The second vaults you in a different category. Having two before your 25th birthday, and you've got a major count going. Only a few players per generation ever reach major-count territory so early. Tiger was one. Jordan another. After conquering the game's oldest test in his first go, Collin is there, too.