Peak Rory
The Open 2021: Rory McIlroy had the perfect self-own following his latest even-par finish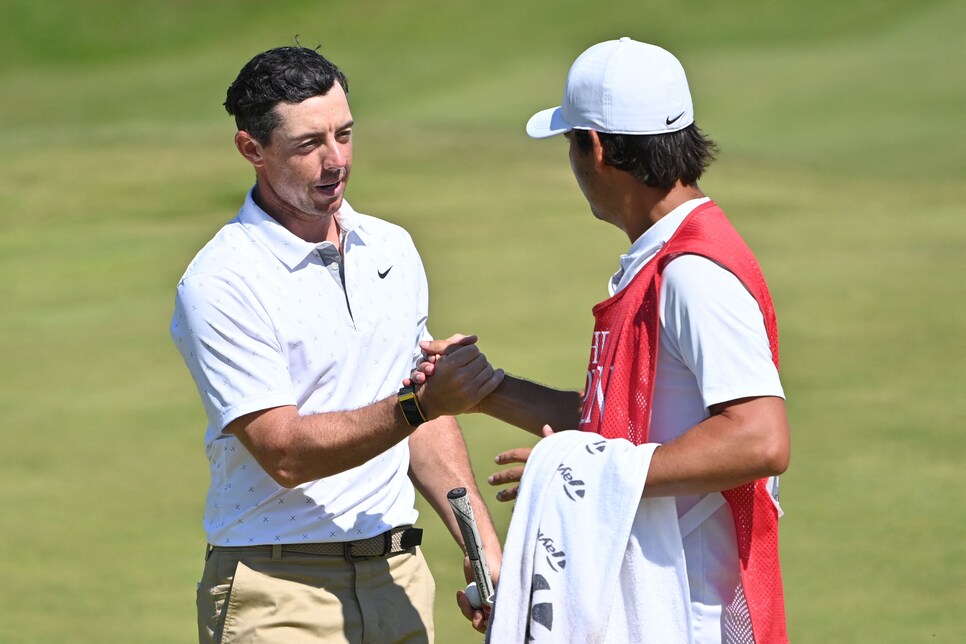 Whenever Rory McIlroy is in one of his mini ruts, he can often be honest to a fault as he searches for reasons for why he's struggling. He cares too much, he's doesn't care at all, he's trying to be indifferent, he needs to start swinging like a kid again. They're not excuses, they're just ways he's attempting to rationalize why a world-class player like himself isn't playing like one.
We've seen much of this from McIlroy at Royal St. George's, where he shot a one-over-par 71 on Sunday to finish at even par for the week, a distant T-46. It wasn't a terrible week, and it wasn't a particularly good one, either. He went 70-70-69-71. What the kids call "meh."
On Friday evening, the four-time major champ was asked if he was trying too hard, and his answer was an interesting one to say the least.
"Not at all. I've got four of them [majors]. Geez, look, I'm the luckiest guy in the world. I get to do what I love for a living. I have a beautiful family. My life is absolutely perfect at the minute. I want for nothing, so it's not a case of trying too hard for sure."
Solid perspective, no doubt, but makes you wonder, is he actually indifferent or is he just desperately trying to seem like it? Following his final round Sunday, he admitted it's a bit of a high-wire act.
"It's certainly a balance," he said. "I think you have to go by how you're feeling on the week as well. Some weeks you might need a little bit more indifference and some weeks you might need to be a little bit more aggressive.
"For me, at the minute, it's just the process of trying to work my way back to the sort of form and the sort of the level that I know I can play at."
It wasn't that long ago that McIlroy was playing at that level. He just won the Wells Fargo Championship in May, then posted consecutive top-18 finishes at the Memorial Tournament and the U.S. Open, where he was in serious contention on the weekend. Since heading over to Europe, though, he hasn't found similar success, tying for 59th in the Irish Open, missing the cut at the Scottish Open, and now likely finishing outside the top 40 at The Open. He summed up the recent stretch perfectly with a strong self-own.
"Obviously I haven't played at that [level] for … not going to say all the majors. Felt like I was close at Torrey Pines. But it's been one of those sort of … if you want someone to shoot even par for you for a week I'm your man."
Blunt honesty with a little self-deprecation mixed in. In other words, the perfect Rory quote.
MORE OPEN CHAMPIONSHIP 2021 STORIES FROM GOLF DIGEST: