News
Masters 2020 live updates: Dustin Johnson opens up four-shot lead after another 65—here's every highlight from Saturday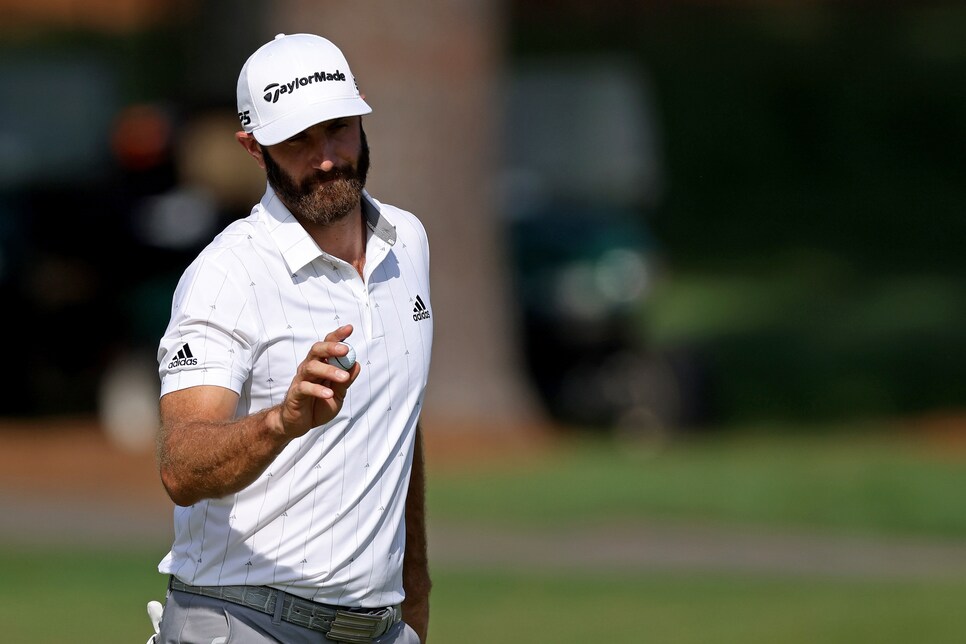 (Scroll down for the latest updates)
Plus, who knows what we'll see from Bryson DeChambeau? Every hole has been an adventure for the U.S. Open champion, and two big numbers, the triple-bogey 7 at the third hole Friday and the double-bogey 7 at the par-5 13th hole Thursday have summed up Bryson's week thus far. But he can still make the cut—so he can continue to captivate us.
Here's a look at the action from Day 3 at Augusta National.
5:12 p.m.: Justin Thomas' nightmare final hour and a half continues at the 18th hole with his fourth bogey of his final nine holes. That knocks him all the way back to 10-under—just a one-under 71 as JT now sits six back of Dustin Johnson.
Abraham Ancer and Cameron Smith, in the final group with JT, were both fantastic, shooting 3-under 69s to sit at 12-under, four back of Dustin Johnson's lead in a tie for second place. The Presidents Cuppers outperformed JT in this pressure spot, and especially for Ancer, in his first appearance at Augusta National, it's been impressive from these two blokes.
Smith hit 24 greens through 36 holes and was still tied for the lead, speaking to his proficient scrambling. That trend continued on the back nine on Saturday, with the Aussie only hitting three greens but he still shot 3-under on his back nine—and needed just nine putts (!). That's absolutely incredible playing around Augusta National and these difficult green complexes.
5:01 p.m.: DJ will end the day with a par after an incredible putt off of the green that looked as if it would find the bottom of the hole for a split-second. That will be his second 65 of this year's Masters and he will lead by four heading into Sunday. DJ also tied the Masters 54-hole scoring record. DJ is the sixth player to stand at 14-under or better after 54 holes at the Masters, and all five previous golfers have went onto win. lThe 72-hole scoring record of 18-under is also certainly in play for Johnson.
4:55 p.m.: After an outrageous par on 16, Cameron Smith follows that up with a similarly wild par on 17. He's keeping himself alive in this bogeyless round. Smith is three-under for the day and still T-2.
4:38 p.m.: "Ancer has the answer." With two straight birdies on 15 and 16, Abraham Ancer has jumped into the T-2 tier. At the same time, a long par putt from Cameron Smith will keep him knotted up with Ancer in the second place grouping. Sungjae Im will also end his day on 18 with a birdie jumping back up to the Ancer and Smith T-2 spot. On the par-4 17, DJ narrowly misses a chance to take a five stroke lead. He's 16-under heading into the 18th hole.
It's been an up-and-down Masters for Bryson as he's been searching for good health and his golf balls, but he finishes the day on a high note with two birdies. His last nine holes of the day featured three birdies and six pars and not one rules debacle.
4:29 p.m.: Patrick Reed won't be happy with how he finished the third round on Saturday. After birdies on 15 and 16, bogeys on 17 and 18 will drop him back to nine-under. Reed had four birdies over the first seven holes of the back-nine, but couldn't get it done at the end. He's seven strokes behind DJ.
4:20 p.m.: And that's a tough one for Justin Thomas on 15, who went for it all with his second shot on a par-5 and found his ball in the water behind the green. Massive error and massive club twirl. That's promptly followed by a par from Dustin Johnson, who's now five shots better than JT and will most likely increase that lead at the end of Thomas' hole. Sungjae Im has total control of second place right now at 12-under.
And look at that. A bogey from Im will give Johnson a five-stroke lead over all T-2 challengers, which now includes Frittelli, Im and Smith. JT will finish the 15th hole with a bogey, his second in a row and third of the last four holes. Thomas is now in the T-6 position.
Meanwhile, Cam Smith keeps making up ground—carding his third birdie by rolling in his putt at the 15th hole.
4:17 p.m.: And as expected, Johnson two-putts for birdie to get to 16 under and extend his lead to four shots. Rahm also makes birdie in the penultimate group, but he's fallen six shots back. Not only does Johnson have a great chance to win a second major, but he could potentially break the Masters 72-hole scoring record of 18 under, held by Tiger Woods (1997) and Jordan Spieth (2015). Not that he's thinking about that. There's already a lot on his mind with a possible green jacket and plenty of post-round sandwiches.
4:03 p.m.: DJ and Rahm provide some excitement with their second shots to the par-5 15th. First, Rahm's approach appears to be headed back toward the water, but it hangs up on the bank. Then, DJ hooks one around the trees and finds the putting surface. It was a bold play with a three-shot lead, but one that looks like it will stretch his lead to at least four.
3:53 p.m.: Justin Thomas bounces back from a bogey at 12 to birdie 13 and move back to 12 under. Meanwhile, playing partner Abraham Ancer makes a momentum-killing bogey with his par putt hanging on the lip. That's his first bogey of the day and he drops back to 10 under. Up ahead, Brooks Koepka pars 18 for a round of 69. He's at eight under and could find himself in a final-round pairing with Rory McIlroy. That would be neat. Of course, it would be neater if they weren't seven shots behind Dustin Johnson.
3:39 p.m.: Dustin Johnson makes a two-putt birdie at No. 13 to extend his lead to four. Considering how well he's played, a 4 there is almost a disappointment. Meanwhile, Dylan Frittelli has added his name to the logjam at 11 under. He joins Justin Thomas, Sungjae Im, and Abraham Ancer.
3:25 p.m.: Tiger Woods finishes a disappointing third round with a two-putt par on 18. An even-par 72 leaves him at five under through 54 holes, currently nine shots off Dustin Johnson's lead. As Jim Nantz notes, Woods has only made nine birdies through three rounds. That's not going to get it done with these soft conditions.
3:18 p.m.: Another odd situation for Jon Rahm, this time on the par-3 12th. His tee shot embeds above the bunker so he gets to take a drop, that winds up being a place. From there, he chips to gimme range. Behind him, Abraham Ancer looked like he'd hit his approach on No. 11 to gimme range, but he lips out the birdie putt. Ancer remains at 11 under, three back of Dustin Johnson.
3:09 p.m.: Some screaming is audible around Amen Corner, but it doesn't appear anything crazy happened? Potentially a hole-in-one at neighboring Augusta Country Club? While that's going on, Justin Thomas hits a fantastic wedge shot after having to punch out on No. 11. It looks like he'll save par and stay at 12 under, two back.
2:58 p.m.: Don't count out Justin Thomas just yet (not that you were). The World No. 3 makes a rare birdie at No. 10 to move to 12 under. He trails Dustin Johnson by two shots. Johnson parred 10 and is in good shape to par 11 after an approach to the front fringe. Meanwhile, Woods made par on 16. Again, done.
2:44 p.m.: The plan to reverse-jinx Tiger is already working as Woods hits a beautiful 5-wood to about 15 feet on No. 15. But. . . he misses the putt and has to settle for birdie so he still has no chance. None. Whatsoever.
2:33 p.m.: Dustin Johnson pars the ninth hole to cap an first-nine 31. Decent. Especially when you begin the round tied for the lead. With the explosive start, DJ now leads by three over Abraham Ancer and Justin Thomas. There's a lot of golf left, but the man who has five top-two finishes and a T-6 in his past six starts looks awfully comfortable out there.
2:23 p.m.: Tiger Woods misses a great look at birdie on No. 14. He remains at four under and is now 10 shots behind after starting the round just four shots back. So we're going to go ahead and declare it: He's not winning this week. He will not repeat this year. Tomorrow will be the last day you can call Tiger the defending Masters champ. Sigh. (Reverse jinxing is still a thing, right?)
2:17 p.m.: Dustin Johnson will be disappointed with a par on No. 8 after smashing a 333-yard drive down the middle, but he won't be anywhere near as disappointed as playing partner Jon Rahm. The Spaniard wound up making double bogey after that wild adventure in the trees and bushes left. Rahm falls back to eight under, now six shots behind DJ.
2:05 p.m.: After a perfect tee shot on the par-5 eighth, the Jon Rahm was in perfect shape to get deeper under par. Instead, he's in deep trouble. A smother hook into the trees put in him a tough spot that only got worse with a punch shot that hit a pine tree squarely in the center and bounced backward under some bushes. It looks like he'll be taking a drop and hitting his fifth shot from an impossible position. He'd probably sign up for a double bogey at this point.
1:57 p.m.: "Crystal!" Xander Schauffele eagles the par-5 13th hole after a birdie on 12 to make a little run of his own. He's at four-under now for the Masters and three-under just on the back-nine today. He also jumped up 11 spots to T-24.
1:46 p.m.: A BRUTAL bogey for Rory who goes from a nine-foot birdie try to not even saving par. He's had a tough go of it on the 13th hole all week. McIlroy is now seven-under and T-11.
Tiger birdies the par-3 11th hole to get back to four-under. That will be his first birdie of the day and a much-needed boost after a sluggish start to the third round. At the same time, Dustin Johnson birdies the seventh hole to take back his three-shot lead after JT's birdie on the sixth. Johnson is now five-under through seven and putting on quite a show to begin the weekend.
1:40 p.m.: Tiger will bogey the 11th hole after some putting troubles to drop to three-under for the week. He has yet to birdie a hole today. Woods is now T-27 and hasn't been able to get anything going yet on Saturday.
1:33 p.m.: DJ almost sinks a putt to get to 14-under for the weekend, but will have to settle for par and the three-stroke lead through six holes.
1:25 p.m.: Now five-under through his first 12, Rory sinks a shot from the bunker and is looking as formidable as ever. Imagine where he'd be without that opening-round 75. He's just five back from DJ's lead.
1:17 p.m.: DJ gets away with a bunker shot on the fifth hole and two-putts for a par, keeping his three-shot lead. Matsuyama birdies the sixth hole after a bogey on the fifth to pull back to T-6 and one-under for the day.
After watching Patrick Cantlay botch a similar par attempt, Rahm takes his time with his shot and sinks the putt to stay at 10-under. Rahm, JT, Im and Ancer all trail by three shots behind Johnson, who's putting on a show thus far through five holes.
1:11 p.m.: With a birdie on the 10th hole, Rory McIlroy is now four-under for the day and at the T-11 spot. DJ and Rory are having the two best outings so far today.
1:05 p.m.: A birdie on the par-3 fourth hole will give DJ a three-stroke lead. It was a 38-foot putt that hung on the edge for a second before falling in that pushed Johnson to four-under for the day and 13-under for the tournament, with the rest of the pack still at 10-under.
By the way, make sure to jump over to CBS if you haven't already. It's time for the luxurious Jim Nantz Augusta golf voice, which means that this is as good a time as any to plug The 10 most syrupy Jim Nantz Masters monologues. This is critical Masters reporting.
12:59 p.m.: Koepka just misses a birdie opportunity and will stick at five-under for the moment. At the same time, Mickelson misses a pretty easy par attempt on the seventh hole and his putting woes for the day will continue. Phil is now five-over for the day with five bogeys in his first seven holes.
12:50 p.m.: Tiger overshoots a birdie opportunity on the par-5 eighth hole and will have quite a bit of work to do in order to save par. Rickie uses Woods' read to get his shot closer to the hole.
Tiger will drop his first shot of the day on the eighth hole, missing a long par opportunity. Woods will drop to one-over for the day after seven straight pars to start this third round. At 12-under, DJ still has a firm grasp of the lead with a four-way tie of 10-under trailing.
12:43 p.m.: Koepka misses a par putt on the sixth hole as Oosthuizen double bogeys the same hole. Brooks is six shots back now for the tournament and even through six for the day. A tough back-to-back after two birdies out of the first three holes.
Outside of the Fowler chip-in, the players atop the leader board have slowed down a little.
12:35 p.m.: Tiger Woods is just parring his way around Augusta National right now. He missed the green at the seventh and hit a sub-standard chip, but he holes the seven-footer for par to remain at 5-under, which is now six back of Dustin Johnson's lead. Tiger's going to have to get going to keep pace with these leaders—and he'll have a great chance to do so at the par-5 eighth hole.
12:28 p.m.: Sungjae Im trims Dustin Johnson's lead to one shot with birdies at the second and third holes to start his day. He's at 10-under, one back of DJ. Justin Thomas putted from off the green for eagle at No. 2, missed but then made the comebacker for birdie to also join Sungjae at 10-under. You're going to have to make low numbers to keep pace with the lead today, as you'd suspect these leaders are going to keep making birdies with these soft greens at Augusta.
12:22 p.m.: And as we just typed it was a matter of time before someone got to 10-under, Dustin Johnson has leapfrogged that number with an eagle at the second hole to get to 11-under. So much for that nine-way tie for the lead. DJ hit it to 3 feet from 221 yards to make his second eagle of the week at the par-5 second hole (he did so in the first round, too). The 2016 U.S. Open champion has seized control of this tournament (very early) on Saturday.
Wait until you see Dustin Johnson's shot. DJ nearly holed his approach at the second hole, Louis Oosthuizen style, but settled for the three-footer for eagle. WOW.
In the same group as DJ, Jon Rahm and Patrick Cantlay both parred the par-5 second hole—so they watched as they lost a ton of ground to DJ there.
12:17 p.m.: It seems like a matter of time until the lead gets to 10-under, and Patrick Reed had a great chance to do it at the third hole. He hit a great shot from the fairway bunker to 8 feet, but missed the uphiller with break, so the 2018 Masters champion remains 9-under, tied with this group of nine golfers at that mark. Just absolutely crazy.
A couple interesting names have gotten to 8-under: Sebastian Munoz is 2-under through 3 holes; Dylan Frittelli as well. Justin Rose and Tommy Fleetwood remain at 8-under, being 1-under through their first three holes. That's 14 golfers within one shot of the lead.
12:12 p.m.: The final group of the third round—Justin Thomas, Abraham Ancer and Cameron Smith—are now on the course, so we have everybody teed off. And BOY, do we have an even more bunched up leader board than we did before the third round started.
There are now NINE players tied for the lead ... that's right NINE. Sungjae Im, C.T. Pan, Hideki Matsuyama and Patrick Reed all birdied the par-5 second hole, so this leader board has gotten even more thrilling. The action is going to be fast and thrilling on Saturday.
12:03 p.m.: Patrick Reed has now tied for the lead with a birdie at the second hole—giving us six players now tied for the lead. The second-to-last group is on the course, with Jon Rahm, Dustin Johnson and Patrick Cantlay. They all made par on No. 1. Englishmen Justin Rose and Tommy Fleetwood have also inched closer to the lead with birdies at the par-5 second hole, they're now one back. This is going to be an epic Saturday at Augusta National.
11:54 a.m.: Watch out for Brooks Koepka, folks. The four-time major champion birdied 2 and now 3 to get within two of the lead. That is sure to get the attention of the last few groups as they tee off.
Phil bogeys his second hole in a row—2 and 3—to drop back to 3-under, a pretty terrible start for the three-time Masters champion's hopes. He's in the same group as Koepka, and Louis Oosthuizen (-5), too, who had a bad bogey at the second hole.
11:47 a.m.: Tiger and Rickie Fowler both hit great short-game shots after missing the par-3 fourth hole to save their pars. Tiger remains 5-under and even par on his round. Rickie is even par through his first four holes and 4-under overall.
11:42 a.m.: Phil Mickelson drops a shot with a bad bogey at the par-5 second hole. His tee shot found the right bunkers and he had little room to navigate the high lip of the bunker, so he had to just hit a safe shot out of there. Phil's third then went into the greenside bunker, and he couldn't get up and down, dropping him to five back of the lead at 4-under total.
11:38 a.m.: Scottie Scheffler and Corey Conners have inched closer to the lead, both birdieing the par-5 second hole to get to 6-under and three back of the lead. Both players had great second rounds—Conners in particular, shooting a second-round 65, matching the low round of the week so far.
11:35 a.m.: Tiger's 17-footer for birdie at No. 3 misses but he makes the comebacker to remain 5-under and four back. That's three pars to start for the 15-time major champion—no harm but no ground made up just yet.
11:20 a.m.: Tiger's tee shot at the third hole is a beauty down the right side—that's his first fairway of the early day. With the back hole location at No. 3, you'll see a lot of guys take driver off the tee as they have a lot of room to navigate on this third green complex.
11:15 a.m.: After a stellar third shot from 173 yards at the par-5 second after finding the fairway off the tee, Tiger Woods had a slippery 9-footer for birdie. And gosh, it looked like he made it. He thought he made it, too—but the birdie bid slips by on the high side, and Tiger settles for par. He remains 5-under and four back.
Phil Mickelson's third round is underway with a par at the first hole. He had a nice look for birdie but will take the par, remaining 5-under—at the same spot as Tiger. Also at 5-under is Phil's playing partner, Brooks Koepka, who missed the green at the first but hit a nice chip to 2 feet to remain at 5-under. You know the leaders will keep their eyes on Koepka's position on the leader board as the day goes on.
Another one of those names is Rory McIlroy, who started the third round six behind the leaders but has added a birdie early to get within 5. Rory is going to need a special 36 holes to get back into contention, but if there's anybody who has the firepower to do it, it's the Northern Irishman.
11:00 a.m.: Tiger Woods will make it 2-for-2 in fairway bunkers to start his first round. Tiger's tee shot at No. 2 finds the right fairway bunkers: That means Tiger'll need to get up and down at the second hole to make birdie here, like he did on Friday.
10:56 a.m.: Tiger Woods' third round is officially underway. He makes par after finding the right fairway bunkers off the tee. The approach found the front half of the green, and it was a solid two-putt from there as Tiger remains 5-under and four back of the lead. Tiger's playing with Rickie Fowler and Billy Horschel, a comfortable pairing for the five-time Masters champion.
10:30 a.m.: There won't be too much of a break in the action before the start of the third round. Here are all the pairings in these threesomes on split tees.

10:00 a.m.: We're going to have a split-tee start for the third round as we try to hustle and get the entire third round in. There's a possibility that the entirety of the third round is completed, which would be impressive given the three-hour delay on Thursday morning. And that'd help complete the proceedings on Sunday afternoon.
Here are all the hole locations for the third round at Augusta National:
9:53 a.m.: Rafa Cabrera Bello doesn't chip in at the ninth green, and Jordan Spieth parred 18 (making an impressive putt after a not-so-impressive chip) to guarantee that golfers at even par will make the cut. Bryson DeChambeau, Matthew Fitzpatrick, Tony Finau, Collin Morikawa—they'll all stick around for the weekend.
9:43 a.m.: There's not too much more second-round drama to discuss, except the topic of the cut. Currently, players who are even par are at T-50, so that means if one of the remaining golfers on the course at even get to 1-under, that would push the cut line back up to 1-under. Here are the golfers at even par who would miss out: Bryson DeChambeau, Tony Finau, Matthew Fitzpatrick, Collin Morikawa, etc.
Two golfers remain at even par who have golf left: Jordan Spieth, who has a pitch shot upcoming where we almost saw Tiger Woods and Hideki Matsuyama hole their chips. And Rafa Cabrera-Bello at the ninth hole. We've seen a number of birdies at No. 9 this round, so that would cause an early exit for all those golfers above.
9:34 a.m.: Tiger Woods taps in for par on 18 to wrap up a second-round 71. He's four back and T-17 at the moment—and as Jim Nantz points out, matches the position that Jack Nicklaus was after 36 holes in 1986 when he won his sixth green jacket. Tiger also entered the week ranked 33rd in the world, the same position Jack was in 1986, too. That will give you the chill bumps as Tiger looks to defend his Masters title.
9:28 a.m.: What a fabulous chip shot from Tiger Woods at the 18th hole—that was a low running bump with spin, and it looked like it was going in five feet from the hole. What a tremendous shot, Tiger will have just inside 2 feet to remain at 5-under and four back of the lead. He'll wish he could've gotten one closer on the back nine, but these were some colder conditions this morning, so being four back is still in the mix for Tiger.
9:23 a.m.: Tiger Woods and Joe LaCava spent awhile discussing which club to hit at the 18th fairway. Tiger was about 185 yards out on the right side of the fairway. Tiger kind of smothers his 5-iron and it goes down to the left of the green. We saw Matsuyama nearly hole his pitch from this similar area about an hour ago—we'll see if Tiger can play a similar shot.
9:15 a.m.: Tiger played a great second shot at the 17th hole, sitting just 16 feet below the hole. But that birdie try never had a chance as it was low the whole way. That would've been a big birdie to get Tiger to 6-under, but he'll have to settle for par and see if he can get a birdie at the 18th hole like Patrick Reed just did.
9:13 a.m.: What a phenomenal birdie from Patrick Reed to complete his second round. Reed was in the second cut with tree trouble to the right of the 18th fairway, and played an amazing swooping cut that hit perfectly on the front of the green and rolled out to eight feet. Reed then curls in the birdie putt to move within one of the lead. What an impressive bounce back after the bogey at 17 for Reed. The 2018 Masters champion is in the MIX.
Casey's fourth shot from in front of the green went zipping by the hole, and he failed to convert his 20-footer for bogey, so that's a really costly double bogey for Casey to move him back to 5-under.
9:03 a.m.: Eesh, Paul Casey is in trouble at the 18th hole. He snapped his tee shot way left into the trees, and he had to come out sideways, and still didn't find the short grass. Casey, an 18-hole leader, still has 243 yards in on the 18th hole for his third shot. That's never a good thing. He's currently 7-under, where he finished his first round at, but he's in jeopardy of dropping at least one now. Casey comes up 28 yards short with his third shot, so he'll have to get up and down for a bogey.
9:01 a.m.: Tiger Woods hits another phenomenal tee shot, this at the par-4 17th hole. Tiger's been very steady early on Day 3 as he completes his second round—and he's really been steady for his entire week thus far at Augusta National as he remains factor. One more birdie and he'll get within three of the lead, where he'd really be a factor.
8:58 a.m.: Tiger misses the 20-footer for birdie at the 16th hole but settles for a par to remain four back of the lead with two more holes to play in his second round.
8:55 a.m.: Jon Rahm misses the birdie putt at 18 but settles for an easy par to wrap up a second-round 66, tying him for the lead after 36 holes along with Dustin Johnson, Justin Thomas, Abraham Ancer and Cameron Smith. Rahm gives us the Nos. 1, 2 and 3-ranked golfers in the world in the lead heading into the weekend, plus a bunched group behind them at 8-under and 7-under. AND, this is the first-time ever at the Masters we'll have five golfers tied for the lead after 36 holes. And according to the broadcast, it's the first time in ANY major that the Nos. 1, 2 and 3 golfers in the world have been tied for the lead after any major round. Setting up to be an amazing weekend.
8:52 a.m.: We said Bryson DeChambeau was safely inside the cut line after the birdie at the par-3 16th, which moved him to 2-under after four birdies in a five-hole stretch. But Bryson has bogeyed his final two holes, and now making the weekend is in doubt. Bryson moves to even par with a bogey at the last—which interestingly moves the cut line back to even par. But it'll just take one more golfer to get to 1-under and leapfrog Bryson, and the other even-par golfers, to move the cut back to 1-under. We'll have to see!
8:42 a.m.: Jon Rahm, Bryson DeChambeau and Louis Oosthuizen all hit great tee shots at 18 as they complete their second rounds. Rahm hits his approach from the right side to about 18 feet above the hole, giving him one last chance to grab the outright lead. Bryson sails the green, leaving himself a tough up and down to remain at 1-under after the dropped shot at 17. He needs that up and down to hang around for the weekend.
8:36 a.m.: Patrick Reed's charge is getting realer and realer. He buries the five-footer for birdie at the par-3 16th hole to get within one of the lead.
Ah, Tiger lays up at the par-5 15th. He had 248 yards in after his great tee shot, but just like Jon Rahm did behind him, Tiger lays up to a comfortable wedge distance. Tiger's third shot hits perfectly hole high but spins back to the front, about 20-25 feet away for his birdie.
8:34 a.m.: Jon Rahm complained about having a mud ball at the 17th hole, as his approach from 152 yards just rolls off the front right. But the Spaniard hits a nice touch to about 4 feet to save his par.
8:30 a.m.: Tiger Woods smokes his driver down the middle at the par-5 15th hole—he should have a chance to go at the par 5 in two. He's 5 back still at 4-under.
Just before, Patrick Reed hit a phenomenal tee shot at the par-3 16th hole—he'll have about 5 feet for another birdie to move within one of the lead. Paul Casey, tied with Reed at 7-under, will also have a birdie look but from about 25 feet.
8:23 a.m.: Jon Rahm hits another towering tee shot, this one a tight draw into the middle of the fairway at the par-4 17th hole for a chance to get a birdie and the outright lead.
Tiger's approach at 14 hit right next to the hole, but it spun back down the slope and off the green. The short-game wizard recovers nicely hitting a deft chip to within 3 feet, a nice par save to stay at 4-under. It's been all pars on his back nine—he'd like to get at least one more shot closer over his final four holes.
8:20 a.m.: Patrick Reed hits a great chip shot left of the 15th green, after he posed on his fairway wood from the fairway, but it just missed his spot. Regardless, he makes the birdie putt to move within two of the lead. The 2018 Masters champion hasn't been talked about much—overshadowed perhaps in the same group as the 18-hole leader Paul Casey. But Reed is firmly in the mix.
8:17 a.m.: Jon Rahm hits a great putt from 49 feet away at the 16th hole in his latest attempt to grab the outright lead. It's a good par from where he was—Verne Lundqvist and Nick Faldo were scoffing at Rahm a bit for yelling at the wind after hitting his tee shot at the 16th, noting how still the flagstick looked at the par 3. Rahm will take the par as he heads to 17, looking for one more birdie to take the outright lead before the second round's completed.
8:12 a.m.: Hideki Matsuyama missed the green with his approach but just played a magnificient pitch shot from the left side of the green—it looked like it had a chance to go in. It just slides by in the final two feet, as Matsuyama will settle for a par to remain at 8-under, just one back of the lead. Matsuyama is quietly in the mix as he pursues his first major.
8:10 a.m.: Tiger's great look at birdie at the par-5 13th hole misses on the high side. That never really looked like it had a chance—it started on that line and never moved. Dottie Pepper on the broadcast says Tiger called his caddie Joe LaCava in for a read again—like he did at 11—which is a bit unusual for Tiger, who knows these greens as well as anybody. But so does LaCava, of course. Regardless, it's a missed opportunity for Tiger, who remains five back at 4-under.
8:07 a.m.: WOW, what a save for Rahm! Looking like the potential for a dropped shot on the par 5, Rahm chips in from the fringe to avoid the disaster and stay at 9-under and in a share of the lead. That's a big momentum-saver for the Spaniard in his bid for his first major championship.
Bryson DeChambeau just misses his birdie putt at the 15th hole, so he remains at 1-under, right on the cut line as he hopes to stick around for the weekend. He can't have any more blemishes coming in—and the par at 15 snaps Bryson's streak of three straight birdies after red numbers at 12, 13 and 14.
8:03 a.m.: Oh my, Jon Rahm is making a mess now at the par-5 15th after his layup. His wedge from just under 115 yards out flew the green and went all the way down the large slope behind the green. With his fourth shot, Rahm is still off the green, but it just stays up in the collar.
7:59 a.m.: Tiger Woods' tee shot at the par-5 13th hole just caught the second cut with his fairway wood off the tee. He chooses to lay up from about 220 yards out all the way out right, leaving himself a little wedge in. Tiger plays it perfectly—as his ball hits just next to the hole and rolls about 10 feet below the cup for a great look at birdie.
7:53 a.m.: We have a disgusted Bryson DeChambeau once again at the 2020 Masters. His tee shot at the par-5 15h hole went high and right ... another miss off the tee for the U.S. Open champion. Jon Rahm hit a great tee shot but with 244 yards left, he elected to lay up for his third shot into the par 5.
7:50 a.m.: Paul Casey and Patrick Reed hit phenomenal approaches to the par-5 13th hole—Casey has a chance to make up the dropped shot he had at 10 late Friday. The 18-hole leader has about 18 feet for eagle at 13, but his downhiller slides by. He settles for a par to get back to 7-under, currently two back. Reed's eagle putt also slid by—after the sloppy bogey at the 12th hole he gets one back, moving the 2018 Masters champion to 6-under.
7:49 a.m.: Tiger Woods justttttt misses a birdie putt at the 12th hole from 16 feet that would've moved him within 4 of the lead. Tiger hit a great putt, it just graced the edge on the left side. He remains at 4-under after two pars to start his day.
7:48 a.m.: Jon Rahm missed a 10-footer for birdie at the 14th hole that would've given him the outright lead—he settles for an easy par heading to the par-5 15th hole. Who knows if the Spaniard would've made that—he would've had the opportunity to get on a real run to end his back nine and be maybe two or three up on the leaders. He'll still have a good chance to take the outright lead, but that was a missed opportunity at 14.
7:43 a.m.: Off the birdie make at the par-5 13th, Jon Rahm now has a chance to take the outright lead at the par-4 14th hole, hitting a great approach after a phenomenal drive, leaving him just 126 yards in at the 14th. Bryson's drive sailed right but got some tree help to find a little corner of the fairway, and Bryson's approach hit the slope on the undulating 14th green and rolled close to the hole for a chance at a second birdie in a row.
Louis Oosthuizen, in the same group at 14, came up short with his approach . . . and he comes up short with his putt, too. Oosthuizen's approach putt just barely came up short of carrying the large ridge in front of the green, but that putt comes all the way back off the green. That putt traveled a long ways, but he might be further from the hole than his third shot. Oosthuizen was 7-under and just two back before that putt.
7:40 a.m.: Tiger Woods played a little low chip from just in front of the 11th green and left himself a good 4 1/2 feet above the hole for his par putt. But Tiger slides the downhill slider in perfectly. That's a great par to start his morning here at Augusta as Tiger looks to get within striking distance of the lead.
7:34 a.m.: C.T. Pan birdies the par-5 eighth hole to get within one of the lead. As Jim Nantz points out—when Tiger Woods won the Masters last year, Pan won the following week at the RBC Heritage. Just a little nugget . . . when Pan's ball-striking is on, like it was at Harbour Town that week, his game looks elite. And that's what's happening thus far this week.
7:30 a.m.: Play resumed in the second round with a couple of crucial moments on the golf course. Jon Rahm makes his 5-footer above the hole for birdie at the par-5 13th hole to tie the lead of Dustin Johnson, Justin Thomas, Abraham Ancer and Cameron Smith.
Tiger Woods had a lie in the rough on the 11th hole, playing his second shot. He hit a solid shot just in front of the green.
Webb Simpson waited overnight to hit an eagle putt from about 6 feet at the par-5 15th hole, and he made the putt on these smoother greens in the morning. Webb had been struggling on Friday but he's now 5-under for the tournnament, just four back of the lead.
MORE MASTERS 2020 CONTENT FROM GOLF DIGEST: