News
Masters 2020: Why these five guys are going to have an especially restless Friday night in Augusta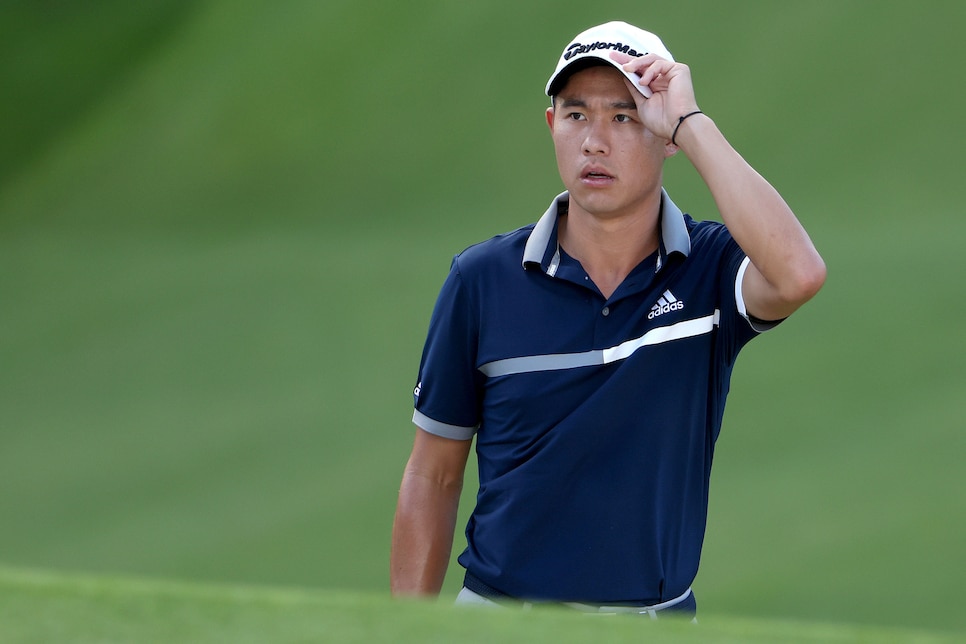 AUGUSTA, GEORGIA - NOVEMBER 12: Collin Morikawa of the United States plays a shot on the seventh hole during the first round of the Masters at Augusta National Golf Club on November 12, 2020 in Augusta, Georgia. (Photo by Jamie Squire/Getty Images)
Jamie Squire
AUGUSTA, Ga. — It's perhaps the most anxious position for a professional golfer: Sweating out the cut line at a major championship. Pros take pride in making the cut at any tournament, but missing the weekend at the Masters hurts that much more. And because of a slight rule change and an untimely thunderstorm, five players were stuck in purgatory for a whole lot longer than they'd like.
And as it stood after Friday's second round was stopped due to darkness, there were 11 players currently tied for 50th place at even par. In normal years, they'd be good to make the weekend so long as the 36-hole lead is 10 under or higher. (It ended up being nine under). But with no 10-shot rule, they were firmly in danger of missing the weekend. Six of those 11 still had at least eight holes of their second rounds, so they controlled their own destiny when play resumes at 7:30 a.m. Saturday—make birdies and make the cut.
Prior to this year, a player was guaranteed to make the weekend at the Masters so long as they were inside the top 50 (and ties) or within 10 shots of the lead. That rule changed this year so only the top 50 and ties will make the cut. The 10-shot rule is no more.
For the five guys who had already finisihed their second round—well, they were in for one uncomfortable night. The unlucky quintet: Collin Morikawa, Matthew Fitzpatrick, Zach Johnson, Sung Kang and Nick Taylor. In the end, their two-day total of 144 was just good enough to make the weekend. It came down to Rafa Cabrera Bello on the ninth hole—he was in the last group to finish their second round, and a birdie would have sent all of them packing. He made par, and 11 players wound up making the cut on the number.
As far as major championship golf goes, this was about was stressful as it gets.